Formula 1
News
Lewis Hamilton takes pole position under the lights in Jeddah, while Max crashes out! FP3 and Qualifying highlights from Saturday
FP3 was void of much action apart from a few drivers getting impeded, while qualifying was dramatic, and Mercedes triumphant with a 1-2 for tomorrow's race.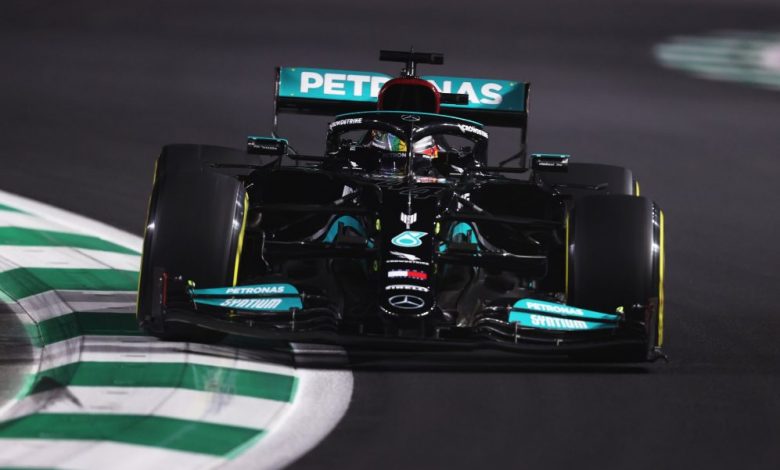 Saturday running at Jeddah was a mixed bag, with FP3 being a quiet session while Qualifying was dramatic, as we saw many dramatic moments like unexpected results, drivers getting impeded and a trip to the barriers for a championship contender!
Let's wait no further, and get straight into the events of Saturday's sessions!
FP3
FP3 was quiet for the most part, with not a lot going for it in terms of drama like how it was in FP2 yesterday. The Mercs were out setting the pace on the hard tyres early on, while others chose to try out the track conditions on the mediums and softs. The wind was quite absent as well, with a few drivers asking about it over the radio.
Happy Saturday, everyone! 👋

FP3 is go! One final practice before all-important qualifying…#SaudiArabianGP 🇸🇦 #F1 pic.twitter.com/IQ6HDGMoDY

— Formula 1 (@F1) December 4, 2021
The drivers kept it quite clean, though it was Lewis who had a few issues with front locking. He locked up going into Turn 1, though managed to keep going. The problem occured when he impeded Gasly while on a cooldown lap, ruining the Frenchman's quick lap attempt, and then proceeded to come in the way of Mazepin, very nearly coming to grief with the Russian. He was summoned to the stewards for the same, though in the end he got away with just a reprimand, and nothing more.
Lewis Hamilton has been summoned to the stewards for an alleged failure to respect double waved yellow flags and lights during FP3#SaudiArabianGP 🇸🇦 #F1https://t.co/ZjyVvhwLYJ

— Formula 1 (@F1) December 4, 2021
The rest of the session was quiet, and ended with Max topping the timesheets ahead of Lewis and Checo. The AlphaTauri cars showed great pace. as did the Ferrari cars. McLaren had yet another difficult session, while Aston had yet another shocker of a session.
Now, let's get onto Qualifying!
Qualifying
Q1
Q1 started under the lights, as the cars set out one by one onto the track to do their laps. Max and then Lewis set the initial pace, while others had to do multiple runs to get their tyres warmed up and ready to go for a quick lap. This saw a few drivers get out of place, but everyone managed to do their first lap- though not everyone was happy with their first laps.
Not a bad setting for some Saturday night fireworks 👀👌#SaudiArabianGP 🇸🇦 #F1 pic.twitter.com/VFyedXCDem

— Formula 1 (@F1) December 4, 2021
After everyone's final runs, we witnessed a shocker- both Astons were out in the very first session itself! Seb came over the radio to voice his displeasure, while Lance's attempt at a quick lap was hampered by traffic. Mazepin was last yet again, over an entire second behind Mick while Latifi finished 16th.
ELIMINATED: Q1

16 LAT
17 VET 📸
18 STR
19 MSC
20 MAZ#SaudiArabianGP 🇸🇦 #F1 pic.twitter.com/kovF3KAiie

— Formula 1 (@F1) December 4, 2021
Q2
Q2 saw most drivers head out on mediums, and we saw quite a few surprises. Max was well clear at the top, while Lewis seemed to struggle initially, though got the pace later on in the lap. Sainz then had a very dramatic spin at the Turn 10-11 section, damaging his rear wing endplate and flat-spotting and effectively ruining his tyres in the process as well.
It was an incident-packed qualifying session in Jeddah 👀

Watch all the best bits – including a dramatic ending under the lights 🎬 ⬇️#SaudiArabianGP 🇸🇦 #F1

— Formula 1 (@F1) December 4, 2021
Sainz came back in to change tyres and do another lap, but yet again messed up that very turn, and qualified a very disappointing 15th, and he commented that the car felt undriveable. Raikkonen had a good qualifying with 12th, and Daniel missed out on Q3 by the smallest of margins.
ELIMINATED: Q2

11 RIC
12 RAI
13 ALO
14 RUS
15 SAI 📸#SaudiArabianGP 🇸🇦 #F1 pic.twitter.com/0aEeElNkfC

— Formula 1 (@F1) December 4, 2021
Q3
Q3 had all the makings of a great qualifying session, and it started with a change in fortune for the championship contenders- Lewis struggled while Max was absolutely on it from his very first Q3 lap. Lewis just couldn't get a perfect lap together, and was provisionally only P3.
More struggles for Lewis Hamilton 👀

He's seeking a fifth pole of the season – but it hasn't been plain sailing for him so far #SaudiArabianGP 🇸🇦 #F1 pic.twitter.com/HKXok0nheO

— Formula 1 (@F1) December 4, 2021
The drivers then set out on their final runs. Lewis went quickest by just over a tenth, and was followed in P2 by teammate Bottas. However, Max was on the absolute lap of his life, over 2 tenths up at the end of the second sector itself. It seemed like he'd cruise to pole, but disaster- he hit the wall at the last corner on this rapid lap, damaging his suspension and ending his qualifying in the process. It was a big hit, and he might even have possible gearbox damage due to it. Not a great end to the session by the Dutchman!
Max Verstappen hits the barriers 💥@LewisHamilton takes pole 🏆

An extraordinary finish to qualifying in Jeddah 😮#SaudiArabianGP 🇸🇦 #F1 pic.twitter.com/t1xZnz0Baf

— Formula 1 (@F1) December 4, 2021
Max's dad Jos was also visibly livid with what had occured, though it was all great for Mercedes- they secured a fantastic front row lockout thanks to Max's crash. Leclerc did very well to line up P4, while Checo Perez will have his work cut out, starting P5. Pierre was a fantastic P6, while Lando is the only driver in the top 10 who will start tomorrow's race on the softs.
In Conclusion
All in all, I'd say it was a brilliant qualifying session. We had drama, moments where drivers were impeded, surprise results and a dramatic conclusion. I'll just say this- if this was qualifying, I cannot wait to see what we end up seeing in tomorrow's race! Bring it on, Jeddah!