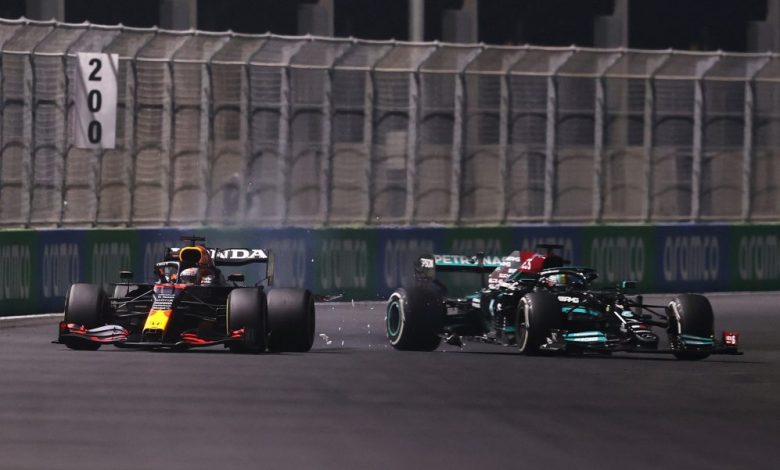 I think we can sum up the Saudi Arabian Grand Prix with one word- WOW! After yesterday's qualifying session, the race was certainly destined to be exciting, but I don't think many of us would've been able to imagine the sheer scale of what just happened- it showed the slow but certain progress of the race from being a normal one to having chaos and mayhem erupt and ensue! Let's take a brief look at the events of the race.
The Story Of The Race
The race started in normal circumstances, with not a whole lot of drama. The positions stayed as they were across the field, with only Ricciardo and Sainz moving up a fair few positions, while others made a bit of progress. Ocon and Tsunoda made contact going into Turn 1, though neither car had extensive damage thankfully.
LIGHTS OUT IN JEDDAH!

⚫️⚫️⚫️⚫️⚫️
⚫️⚫️⚫️⚫️⚫️#SaudiArabianGP 🇸🇦 #F1 pic.twitter.com/TDGZbEhU6M

— Formula 1 (@F1) December 5, 2021
A few more laps of nothingness ensued, until we got a yellow flag- Mick had gone heavily into the barriers in Turn 22. He was thankfully okay and walked out without any injuries, though his car was in tatters. The session was then red-flagged to repair the barrier, but this caused chaos up and down the field, as for 4 laps the cars followed the Safety Car around the track before the Red Flag was shown.
This was not very good news for a few of the drivers who had chosen to do pitstops under the Safety Car, as they lost out big time, while those who stayed out benefitted the most. Hamilton, Perez and Norris were the biggest losers due to this, while Valtteri slowed down so extensively that Max had to come on the radio and complain about it. It was blatantly obvious that it was done to prevent Max from gaining any sort of advantage on Lewis- clever tactics by Mercedes!
🚩 RED FLAG (LAP 14/50) 🚩

The race is suspended, as the barrier requires repair#SaudiArabianGP 🇸🇦 #F1 pic.twitter.com/BPqlos0TLg

— Formula 1 (@F1) December 5, 2021
The race was stopped for sometime, and once the race was confirmed to be restarted the drivers and teams took their places. It was to be a standing start, and it seemed like Mercedes was using "interesting tactics" as was quoted by Lewis at Monza 2019, as they were pushing every single limit of the FIA rulebook- Lewis was often well beyond the allocated 10 carlengths behind the car in front, and this prompted Max to come on the radio and complain about it also!
The race started, and Max did not have the best of starts. Lewis was ahead, though Max outbraked him, but had to cut the chicane in the process, which made Lewis lose P2 to Ocon, while Max moved up to P1. However, further back one of the scariest accidents of the year took place, and I can assure you that almost everyone who was watching the race live was shouting at that point!
🚩 RED FLAG (LAP 15/50) 🚩

The red flag flies again – Perez, Mazepin and Russell are all out after a melee on the restart#SaudiArabianGP 🇸🇦 #F1 pic.twitter.com/J6fM3pn9cY

— Formula 1 (@F1) December 5, 2021
Leclerc and Perez made contact, as did Russell and Mazepin. All 3 apart from Leclerc were out on the spot, and there was mass debris strewn over the track surface, and the Red Flag was put out yet again. Behind the scenes though, the FIA was busy conjuring up a definitive idea for what the starting grid should be, considering the chaos that had just ensued!
Race Director Michael Masi came to a conclusion with the teams to alter the Top 3 instead of sending the matter to the stewards- an unorthodox method, but as Race Director he has the ability to do so. It resulted in Ocon P1, Lewis P2 and Max P3 at the restart.
Verstappen waves Hamilton through, as decided by the FIA

Ocon will lead away Hamilton and Verstappen on the restart#SaudiArabianGP 🇸🇦 #F1 pic.twitter.com/CqauM7lA56

— Formula 1 (@F1) December 5, 2021
The race restarted again, and there was immediate drama. The championship contenders had differing tyre choices- Max was on the softer Mediums while Lewis was on the more durable Hards. Max absolutely went steaming down the inside into Turn 1, forcing Lewis to take evasive action. Max moved up to P1, Ocon was P2 while Lewis was P3.
LIGHTS OUT PT. III

Ocon, Hamilton and Verstappen squeeze at Turn 1!

Verstappen gets through and past Ocon, Hamilton drops to third#SaudiArabianGP 🇸🇦 #F1 pic.twitter.com/nEvWarlTno

— Formula 1 (@F1) December 5, 2021
Lewis took Ocon with ease, and set off chasing after Max. Tsunoda then made contact with Vettel in a bizarre incident, spinning the German around and himself getting his front wing destroyed, and his brakes overheating. This brought out the VSC.
VIRTUAL SAFETY CAR (LAP 23/50)

Tsunoda brings out the VSC after colliding with Vettel

He pits for repairs a the end of the lap#SaudiArabianGP 🇸🇦 #F1 pic.twitter.com/9wrUAquHLN

— Formula 1 (@F1) December 5, 2021
Alonso had a massively scary spin, though had no damage to the car. A few laps later, ex-teammates and good friends Raikkonen and Vettel crashed in a very unnecessary and certainly avoidable incident. Debris was strewn all around the track, and Vettel's car started losing pieces. This brought out the VSC yet again!
LAP VIRTUAL SAFETY CAR (LAP 30/50)

Raikkonen collides with his former team mate Vettel, and the VSC is called to retrieve the debris#SaudiArabianGP 🇸🇦 #F1 pic.twitter.com/G4CusdZzFX

— Formula 1 (@F1) December 5, 2021
Now this is the point where some unbelievable circumstances occured. Racing did resume, and when it did, oh my was it spicy! Max and Lewis had a scary moment going into Turn 1 on lap 37- Max had to cut the corner while fending off a brilliant attack by Lewis, who was looking to overtake around the outside. As Max was deemed to have overtaken off the track, he was ordered to give up the position to Lewis on the next lap.
As they were approaching the last turn on Lap 38, the TV feed showed Lewis' onboard. We saw Lewis get closer to Max, though it was apparent that Max was slowing down. As they approached the last turn, Max slowed. Lewis kept getting closer- it would certainly be a normal yielding of position by Max, right? It would certainly not result with both of them coming together, would it? As you would've guessed by now, that's exactly what happened!
The big talking point from Jeddah 😱#SaudiArabianGP 🇸🇦 #F1 pic.twitter.com/bkWWqlcbyO

— Formula 1 (@F1) December 5, 2021
A few laps later, Max was given a 5-second penalty for the Lap 37 incident, while the stewards decided to investigate the Lap 38 shambles after the race. Max was instructed to give up the position to Lewis, which he apparently did in an unsatisfactory manner on Lap 42, as the stewards considered him yielding for a brief moment and then immediately overtaking Lewis by going steaming down the inside to be against what was considered yielding the position. On Lap 43, Max yielded again, but this time Lewis pushed the Dutchman almost off the track, and the Mercedes driver was finally back in the lead. Also keep in mind, all throughout this ordeal both teams and both drivers were absolutely livid with the other over the radio- crazy stuff!
LAP 43/50

Hamilton takes the lead from Verstappen!#SaudiArabianGP 🇸🇦 #F1 pic.twitter.com/JdSyMtOefX

— Formula 1 (@F1) December 5, 2021
It stayed this way, with Lewis disappearing into the distance, while Max's tyres faded. Lewis also set the fastest lap, which Max couldn't steal thanks to not having a big enough gap to the car behind to come in and out while still being in P2. Hamilton took a remarkable win and extra point for fastest lap, and with Max P2, they enter Abu Dhabi being, I kid you not- absolutely neck and neck on points; the first time the top two go level on points into the last round since 1974!
The moment @LewisHamilton drew level in the championship fight, with victory in Saudi Arabia ⚔️#SaudiArabianGP 🇸🇦 #F1 pic.twitter.com/plmETztmoh

— Formula 1 (@F1) December 5, 2021
However, further back the race wasn't over yet. Ocon had to defend against Bottas who was in a far quicker and more superior car, but was overtaken by Bottas on the run up to the line, and lost P3 by just a tenth of a second; Baku 2017 vibes, anyone?
So, so close to a second podium of the season for @OconEsteban!@ValtteriBottas got him on the line 🤏#SaudiArabianGP 🇸🇦 #F1 pic.twitter.com/fYaONE7EPm

— Formula 1 (@F1) December 5, 2021
This is not something to usually write about, but the post-race cooldown and interviews were so tense that the tension could be cut with a knife! Max and Lewis both had very strong words to say, and almost took jabs at one another via their words!
Hear Max and Lewis' thoughts immediately after the race 🗣#SaudiArabianGP 🇸🇦 #F1 pic.twitter.com/a0efgGmUaF

— Formula 1 (@F1) December 5, 2021
The podium ceremony, drone show, fireworks and light show was amazing to watch, but the podium ceremony showed obvious signs of some sort of hatred between Max and Lewis and Mercedes and Red Bull, bordering on almost seeming to be hostile! No one seemed happy on the podium, and Max even walked off without spraying champagne or celebrating at all- It was not a great way to see the 20th appearance of the HAM-VER-BOT podium combo for the 20th time!
Max also got a 10-second penalty post-race for the Lap 38 "brakecheck", though it thankfully had no effect on his finishing position of P2. He finished just 6 seconds ahead of Bottas after all his penalties were applied, and
Hamilton, Verstappen and Bottas have now shared the podium 2️⃣0️⃣ times! 🏆#SaudiArabianGP 🇸🇦 #F1 pic.twitter.com/W68XfjS1Wh

— Formula 1 (@F1) December 6, 2021
And finally, it was also Jean Todt's last race as the acting FIA president. Whenever a significant figure from the F1 fraternity has their last race in F1, we see an exciting race take place- Monza 2020 and the Williams family's last race, Sakhir 2020 and Grosjean's F1 career ending crash the week before, Hockenheim 2018 and Dieter Zetsche's last race for Mercedes all were supremely important and exciting races.
Now, let's look at each team's race in detail!
Alpine
It was a mixed day for Alpine- one side of the garage almost got a podium while the other rued falling out of the points. Esteban had a great race, finishing P4. He almost ended up on the podium, had it not been for the super-quick Mercedes of Bottas pipping him just on the line!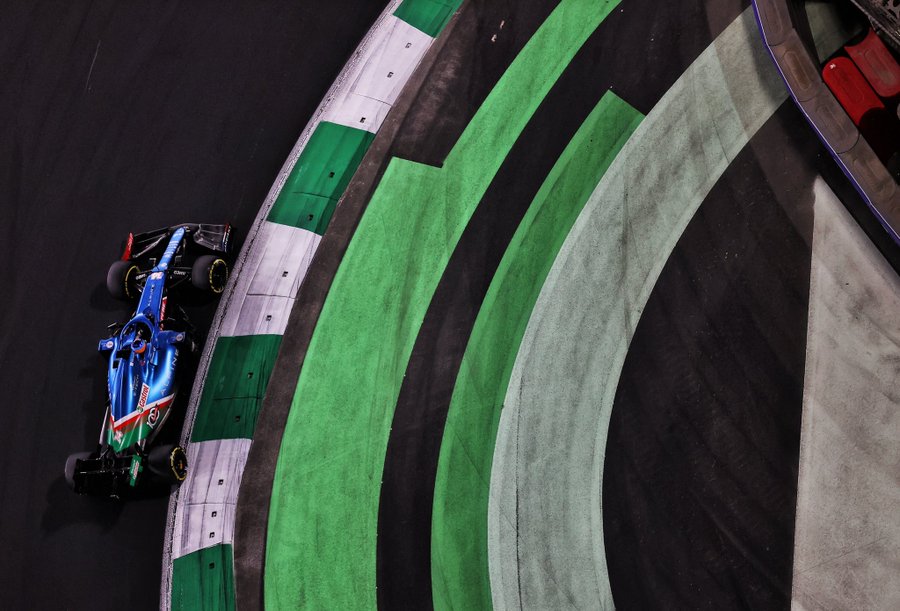 Fernando however had a difficult race. He finished a lowly 13th, and his bid to score points was ruined thanks to a very costly spin at the halfway stage on Lap 25, flat-spoting his tyres. Still, 12 points isn't a bad haul from the weekend, and they enter Abu Dhabi a very comfortable 29 points ahead of AlphaTauri, and with it have almost ascertained their grip on P5 in the constructors.
Aston Martin
It was a terrible weekend for the Silverstone-based team, as they had a terrible qualifying and then had a difficult race to follow up as well. Lance was invisible for the entirety of the race, and despite all the retirements and such, still finished P11 and outside the points.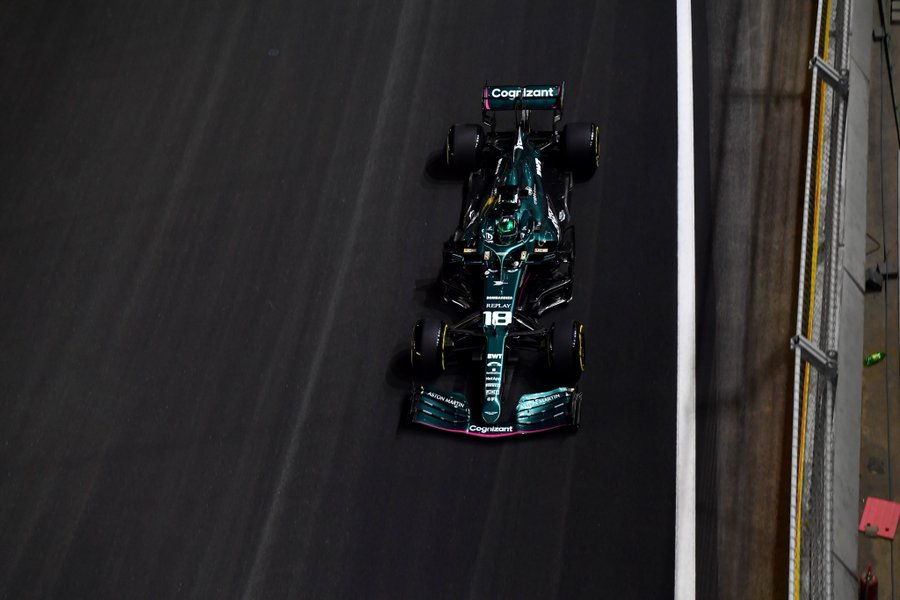 Seb Vettel was on track to possibly pick up a lucky P9 or P10 before 2 separate incidents saw him make contact with Tsunoda and then Kimi, and his car was too badly damaged which forced the team to retire him altogether. A very disappointing race for the outfit, and one which has confirmed that they will not be finishing higher in the constructor's than 7th this year with less than 100 points scored, a stark contrast given their P4 finish last year!
Williams
On the weekend where the team celebrated the passing of their beloved and revered founder Frank Williams, the team would've certainly hoped for much more to come. George was crashed into by Mazepin, and was out on the spot during the first restart, and took no further part in the race.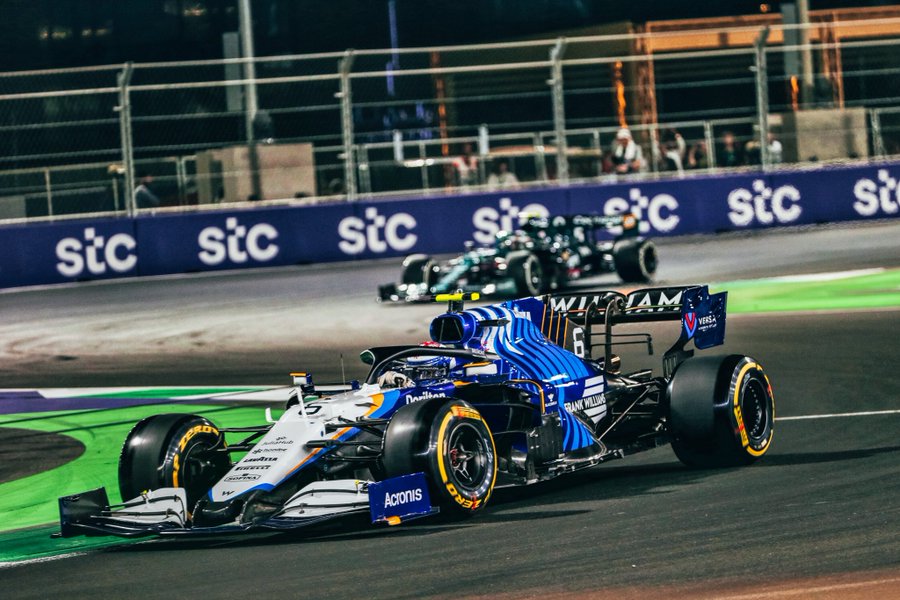 Nicholas was invisible for the entire race, and finished only 12th despite all the retirements up and down the field. Unless Abu Dhabi is a race of high attrition and Alfa secures a huge haul of points, Williams has confirmed a finishing position of P8 in the Constructor's championship this year, a far better result than the last 3 years all combined together!
AlphaTauri
If only Yuki had better luck and a calmer mind in races, he'd have been higher than 14th in the standings, and this was no exception. He scores points on a very rare basis, and his ability to be so incredibly volatile while racing doesn't help his cause for the same. A bizarre incident saw him crash with Vettel, lose his front wing and eventually finish down in 14th!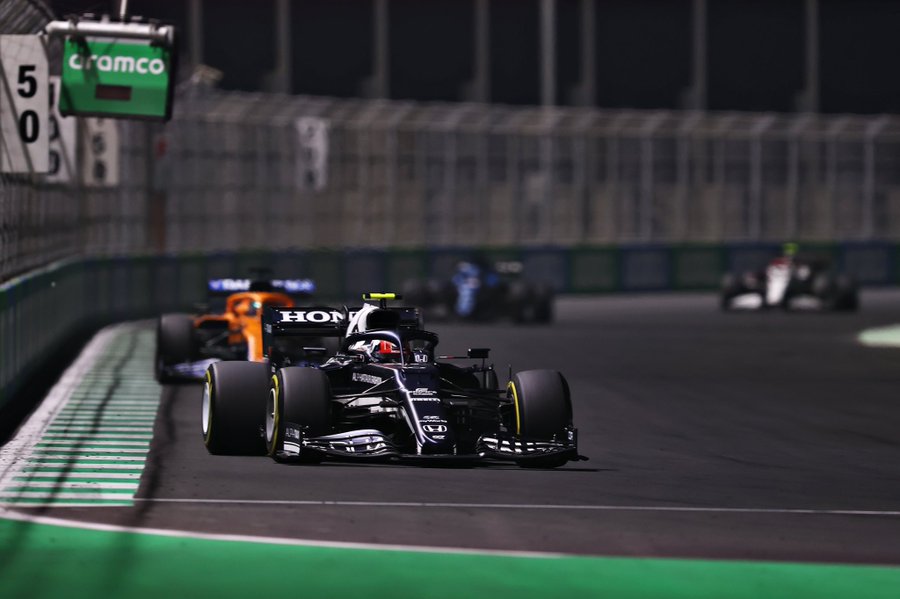 Pierre has been well and truly exceptional, and he proved the same here by finishing a very strong P6, no mistakes or slip-ups. The AlphaTauri looked so strong at Saudi, though Yuki's shenanigans didn't help their cause. Only a miracle will see them take P5 back in the constructor's championship, though it seems very unlikely.
McLaren
In my opinion, McLaren finally caught a break of good luck. Daniel finished P5 and Lando finished P10, and they took away one point more than Ferrari from this weekend. Daniel had a quiet race, and got lucky with the initial Safety Car when he decided not to pit, and he scored good points.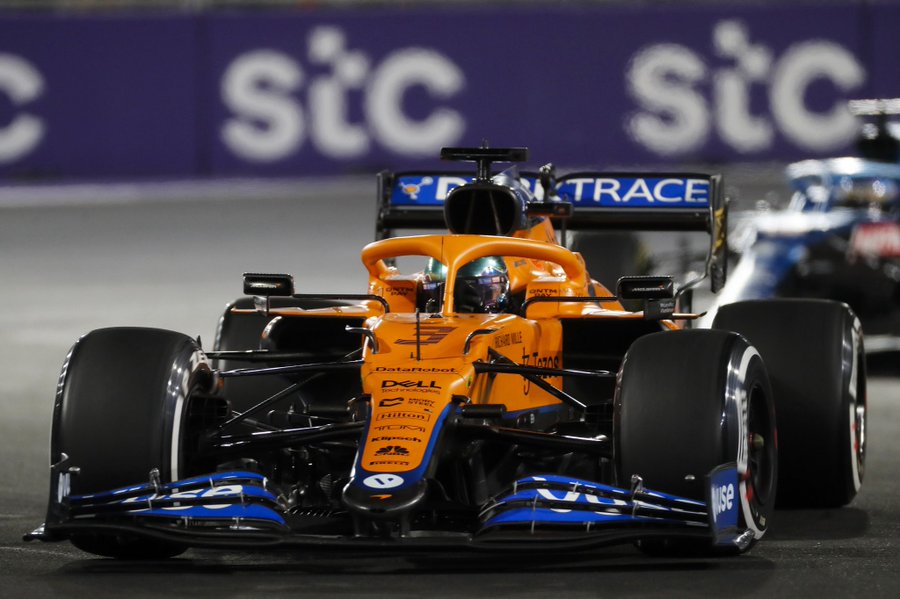 Lando got unlucky with the early pitstop, and then had nothing really to give in the end. Still, his point has meant that finally McLaren scored more points from a race than Ferrari. If they have some more luck in Abu Dhabi, they could still shock everyone by taking P3 in the constructors!
Ferrari
Charles had an action-packed race, with his strategy being compromised due to the early stop, and then he was involved in the crash with Perez at the restart. In the final few laps he caught and passed teammate Sainz for P7, and scored some good points in the process as well!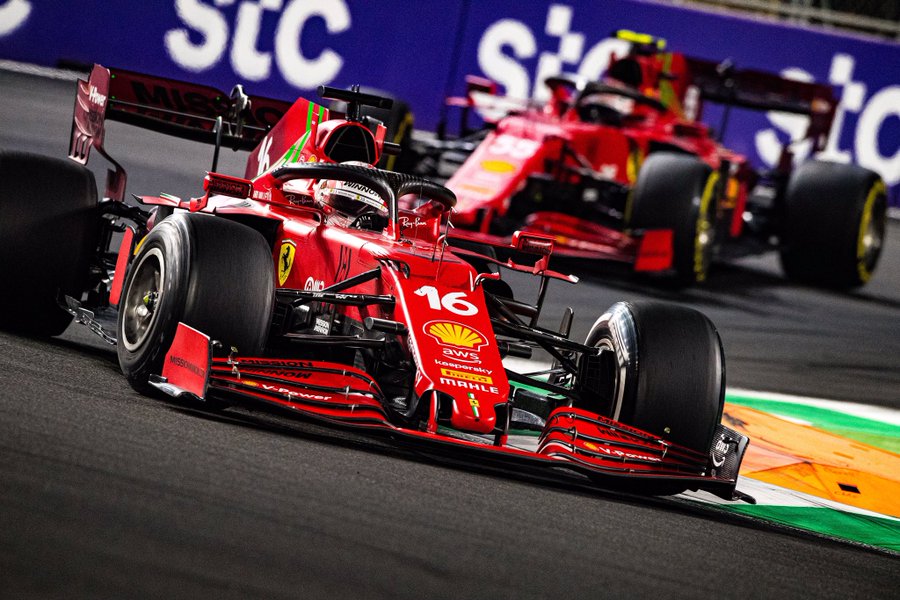 Carlos had a good recovery from 15th finishing just behind his teammate, in P8. He was overtaken a lap or two from the end, but still managed to finish 8th and score some good points. This meant that Ferrari scored 10 points while McLaren scored 11, and now Abu Dhabi will be the place where the showdown occurs between McLaren and Ferrari!
Alfa Romeo
For once, the team had a decent strategy to work with to benefit Antonio. The Italian scored his first points since Monaco, and this brings up his points tally to 3 for the year. It was a good drive from him, though one which will likely go underappreciated and ignored, though I give my kudos to him for driving so well!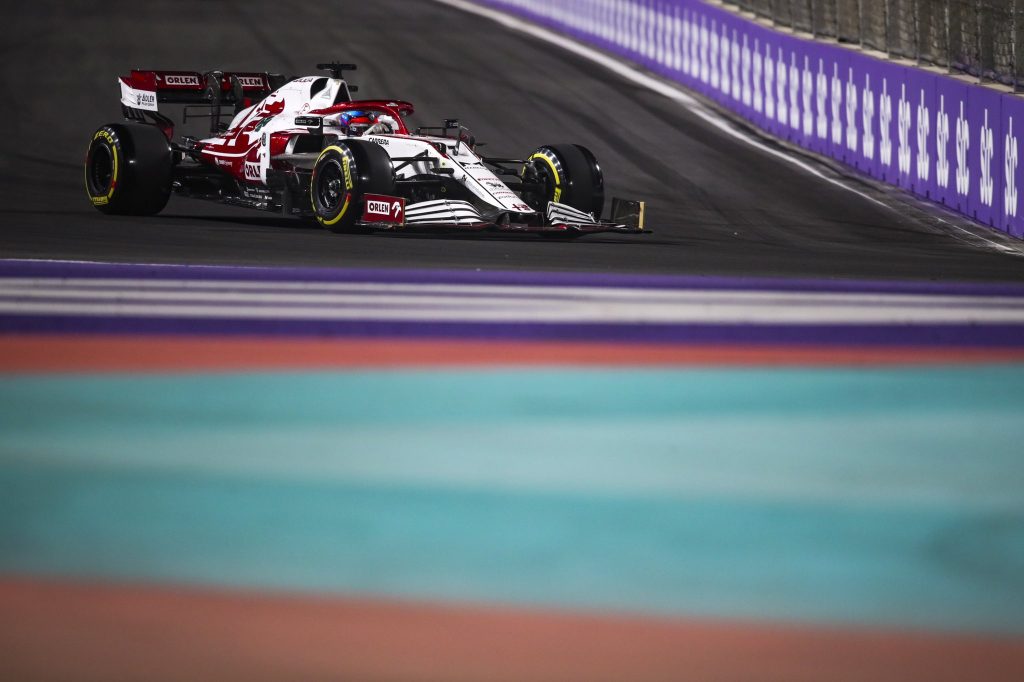 Kimi had a weird run-in and incident with his good friend Vettel, which saw him get front wing damage and effectively ruined his race. He finished last of the running cars in P15, a disappointing result for the Finn in the penultimate race of his F1 career!
Red Bull
It was a difficult race for Red Bull. They leave Saudi Arabia a whopping 28 points behind Mercedes in the constructor's championship. This leaves only a hypothetical chance for Red Bull to win the Constructor's crown, though it's very unlikely to actually materialise and become a reality!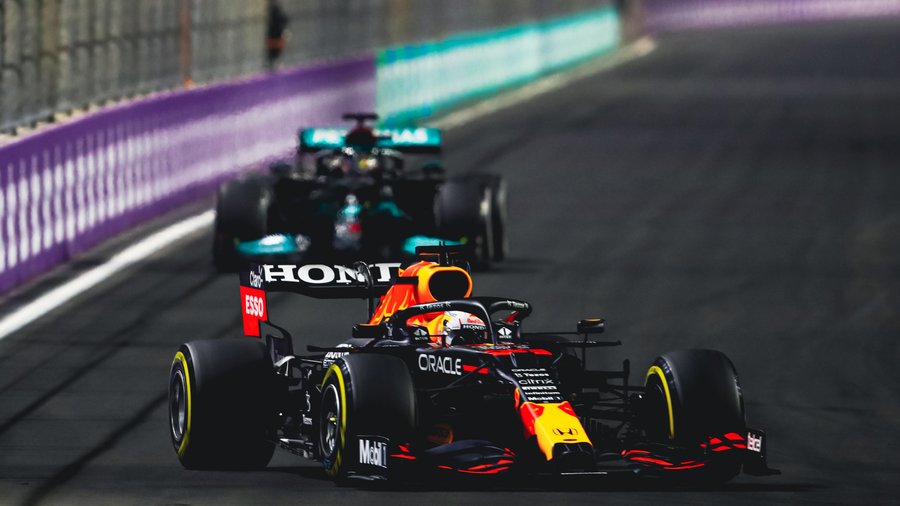 Max had one of the the most up and down races of his career, with a possible P1 ending up becoming a P2, with a bitter pill to swallow as his championship rival took top honours along with an extra point for fastest lap. He will now enter Abu Dhabi level on points, ahead just by virtue of winning more races than Lewis this year.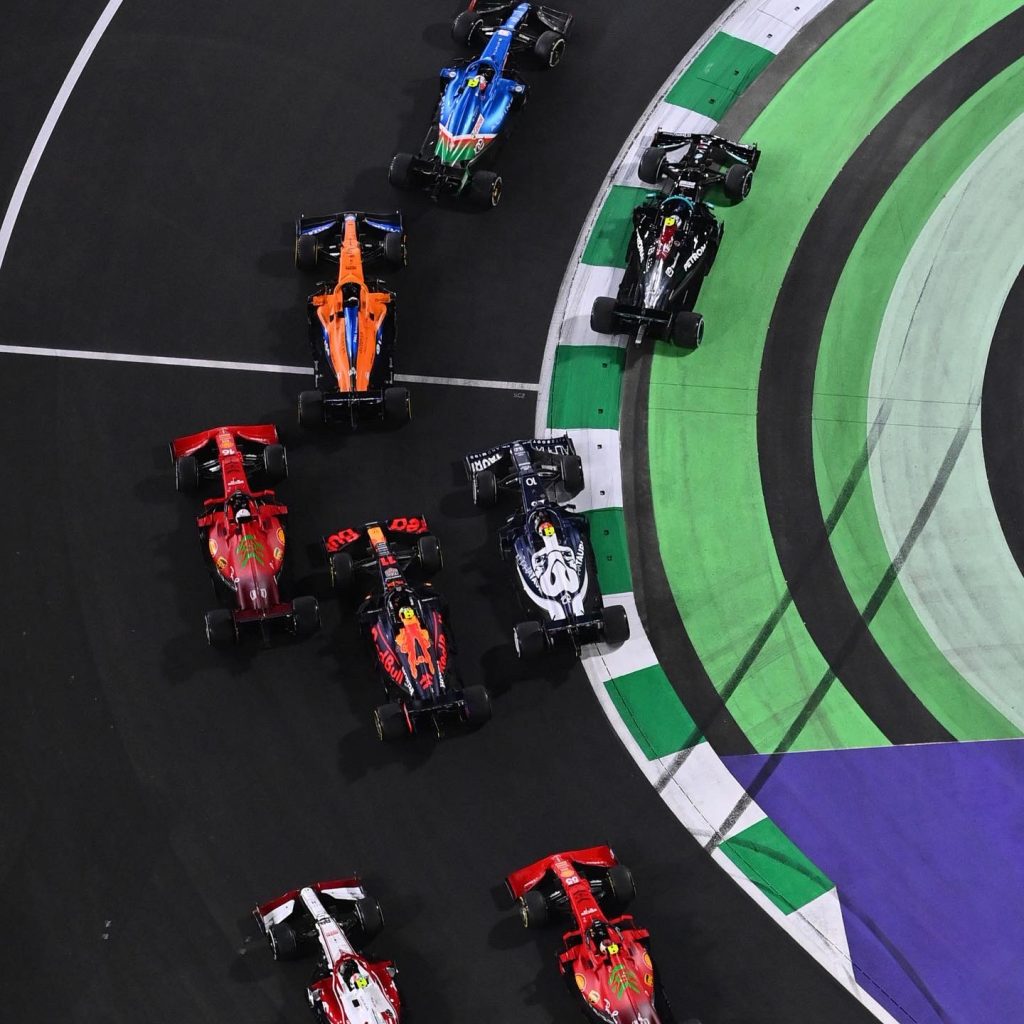 As for Checo Perez, it was a sad end to his race. He could've been in the hunt for P3 or P4 had it not been for the incident at the restart. His Power Unit was damaged, and he was forced to stop on track. The Constructor's looks like a lost cause for Red Bull, though as has been the case with the sport, we never really know the truth until it's all over!
Mercedes
Mercedes needed luck, and they got it. A P1 and P2 qualifying was in jeopardy after their advantage was nullified thanks to the red flag, but through pace, consistency and a touch of help from the FIA, they finished P1 and P3, scoring some fantastic points in the process. Their drivers however had a few things to answer for!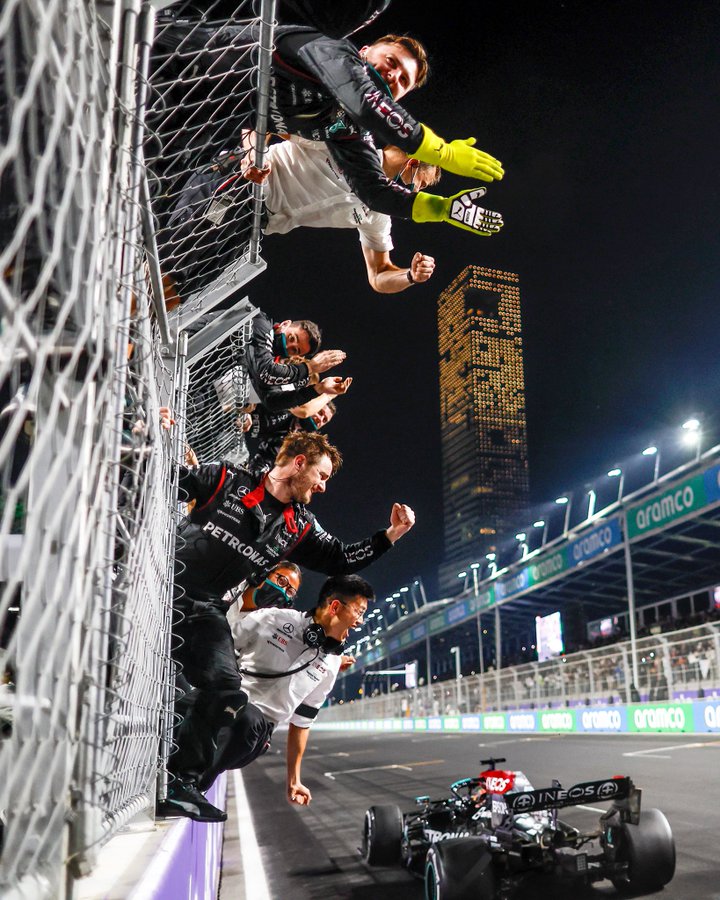 Lewis drove superbly, but questions were raised when he left more than 10 car lengths to Max during their lap to the grid- something which is against the FIA rulebook. He did eventually get P1 despite all the odds, but it was surprising that the FIA didn't take a look at the breach of regulations, something which Red Bull advisor Helmut Marko was quite vocal about.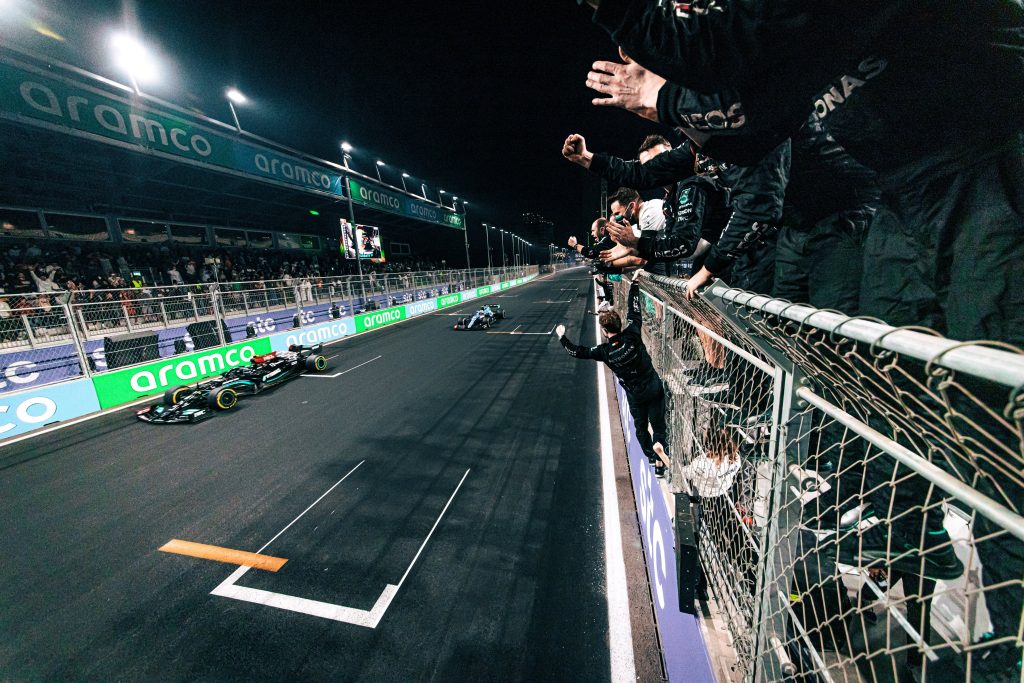 Valtteri also snatched P3 just on the line, but he wasn't all well behaved either. He slowed down excessively during the first Safety Car, which is also against the rules. Tactics were well and truly in play for Mercedes, and they really pushed the limits of the rule book. Red Bull advisor Marko also commented as it being Mercedes getting special treatment from the FIA, which was quite obvious due to these two events!
Haas
As for the last team in the constructor's, Haas had an eventful day. Both cars crashed out in spectacular style, with Mick losing the rear end while Nikita ploughed into the back of Russell, ending his and the Briton's race on the spot.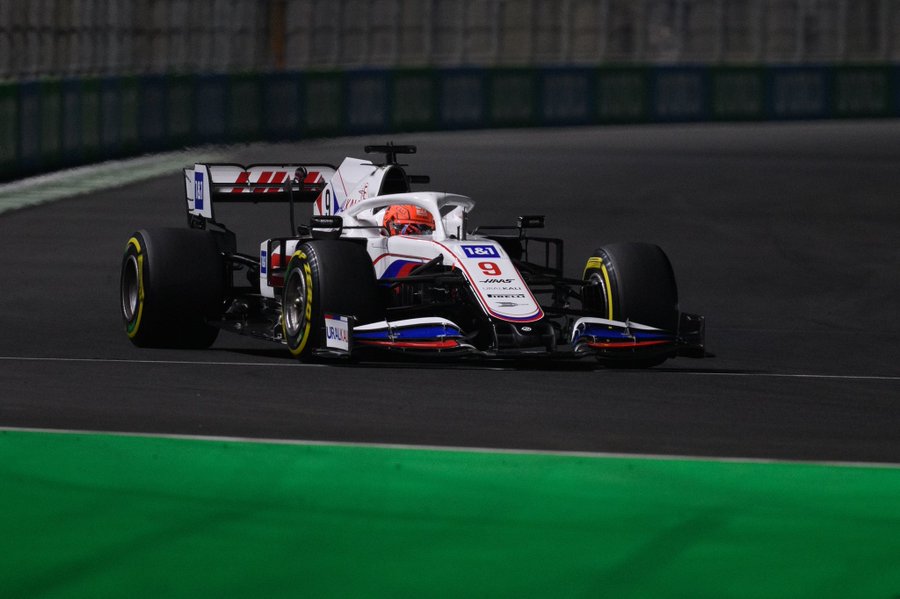 Haas' race can be summed up in one word- expensive. Two totalled F1 cars is not what a team strapped for cash like Haas needs, and especially when they need to utilise and allocate money and resources to 2022's project. The effects of this double retirement will likely be felt by Haas for a while to come.
In Conclusion
It was a fantastic debut race for Saudi Arabia. We saw high drama, crashes, penalties, and close finishes all in the span of 50 laps around the Jeddah Corniche Circuit! Abu Dhabi will be the scene of the championship finale, and it is most certainly not a race to be missed! We F1 fans love this sport, and we'll get to see one of the best championship seasons come to a close with a title-deciding finale at Abu Dhabi, the last race of the year! All we should do is thank Saudi Arabia for such a good and dramatic race, and wait a few days for Abu Dhabi- the excitement is well and truly palpable!