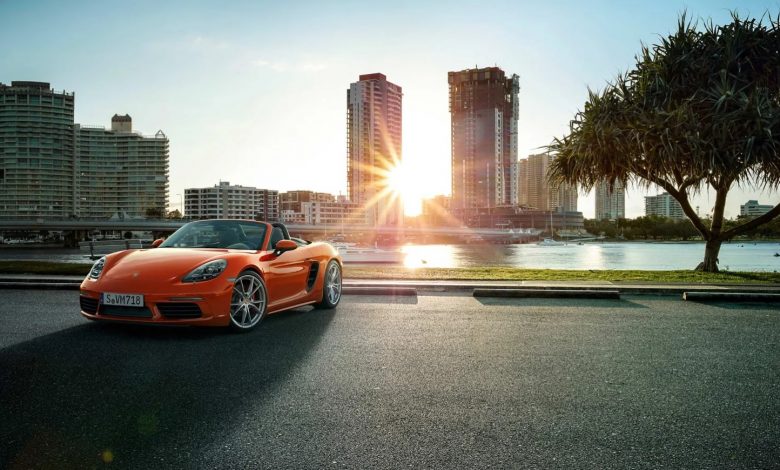 Porsche has introduced their 718 Cayman GTS 4.0 and 718 Boxster GTS 4.0 in India, with ex-showroom prices being Rs 1.46 crore and 1.49 crore respectively. Both are mid-engined sportscars, and though sales might not be through the roof considering their prices, it's still a welcome addition to Porsche's India lineup!
Given how their names are preceded by the number "4.0" its not hard to tell which engines they have, now does it? Both come with a 4.0L, flat 6-cylinder engines which deliver a stonking 395HP, and 420NM with the manual gearbox and 430NM with the automatic. 0-100 takes just 4.5 seconds, and the top speed is 293kph!
On the outside, there is an immediately apparent difference between the two cars- as despite both having two doors, the Cayman is a coupe while the Boxster is a cabrio. There are also tinted headlamps, 20″ all-black alloys, large air intakes, front spoiler, adaptive rear spoiler and also large tailpipes.
On the inside, both have a semi-digital instrument cluster and microfiber upholstery in the cockpit. There is also a GT-specific steering wheel, and Sports Plus seats as well. Both cars also get a 7″ infotainment system, 8-speaker sound system and there are also features like torque vectoring, power steering, launch control and more in the optional Sport Chrono package. Both cars also get PASM (Porsche Active Suspension Management), which stiffen up the springs and anti roll bars. Porsche's website doesn't reveal much more than vague details about the cars as of now, though that should change in the near future!