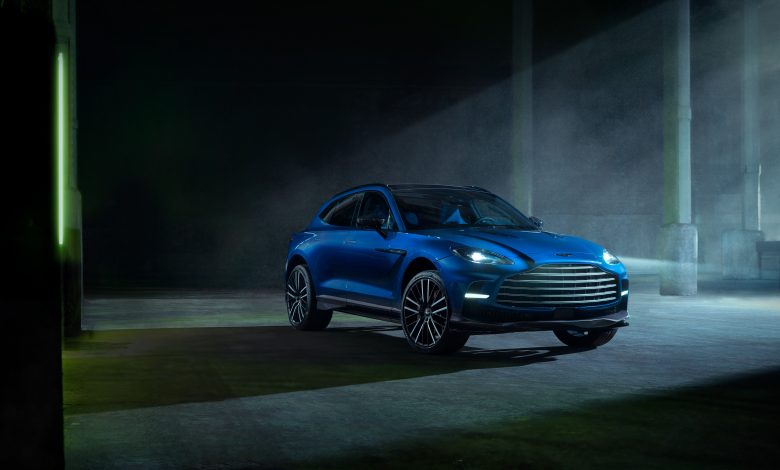 When it was teased a few weeks ago, it was but just a dream that this would be the end result, but here we are! Aston Martin has just unveiled the DBX 707, which is easily the world's most powerful luxury SUV. The DBX 707 builds on the foundations of the V8 DBX, and it shows- really!
The power? Not much, only 707PS(697HP)/900NM of engine power from a 4.0L V8 featuring ball bearing turbochargers and new engine calibration, which help the car extract more power and torque from the same power unit as is in the DBX V8 (for reference, it is an increase of 157PS/200NM over the standard V8)! All this is mated to a new 9-speed "wet clutch" automatic transmission, which helps the car manage increased torque loading compared to a regular gearbox, faster gear changes and a better sense of control. 0-62mph (0-100km/h) takes just 3.3 seconds, which is just unheard of.
"With this exceptional new model we have truly unlocked the performance potential within the DBX to create a world beating high-performance SUV. The huge gains we have found in both power and torque demonstrates not only the inherent prowess of the 4.0-litre biturbo V8, but Aston Martin's appetite and ability for finding uncompromising engineering solutions. The combination of this magnificent engine with a new 9-speed 'wet-clutch' transmission sits at the heart of DBX707's formidable capabilities and unforgettable character."

-Aston Martin Head of Powertrain, Ralph Illenberger
There are also new carbon ceramic brakes with 6-piston calipers, and yet there is a reduction in weight of 40.5KG! In terms of braking the hydraulic sizing and booster tune improve the feel of the pedals and enhance precision and braking response. The wheels are 22″ as standard with Sport or Ribbon design, though an optional 23″ set of wheels is also available in black or satin black. These large wheels improve stability, cornering response and improve lap times as well!
There is a new electronic LSD (e-diff) made specifically to handle 900NM of torque. The drive ratio has also been improved from 3.07 in the V8 to 3.27 in the 707. What it means is there is more torque in hand because of the higher drive ratio. The torque distribution remains automatic though, which gives the ability to send 10% of the power to the rear wheels only at will!
There is a new air suspension on offer, with new damper valving and dynamic spring volume switching which helps body control and improves steering response as well. The driver can also control the yaw of the car at will, which is done in a bid to increase stability. The dynamic drive modes have also been changed up- now there is a "Race Start" mode available which enhances and focusses on acceleration, and helps in precision.
"Creating the ultimate SUV presented formidable challenges for our engineering team. Too often this class of car is characterized by an obsession with brute force. With DBX707 our objective was to match immense performance with impeccable control and precision, combined with an authentic sporting character essential in every Aston Martin model. To this end we applied an uncompromising approach to every area of the vehicle. Engine, transmission, suspension, brakes, electronic systems and aerodynamics have all been subject to extensive enhancement and meticulous tuning. The result is a car which sets new standards and further distinguishes the DBX from its class rivals."

-Aston Martin Head of Vehicle Engineering and Procurement, Drummond Jacoy
There is also a new center console with new drive selection switches with dedicated switches for settings such as suspension mode, ESP, manual gear selection mode all of which give the driver ultimate control. There is also a new quad tailpipe on offer, which does make the car look (and sound) amazing!
As for looks, the front grille is now larger with new air intakes, brake cooling ducts and a new front splitter, which is done so as to help with cooling. The overall design is more sculpted by nature, which make the car look more like a sportscar than an SUV! There is also a new lip spoiler and a new twin rear diffuser which make the car stand out from the normal DBX. There are multiple seating finish options available as well, along with various colour finishes for the dashboard available as well.
No pricing has been announced yet, though production will start in the first quarter of 2022 and deliveries expected to start in Q2 2022. This is the most powerful SUV yet, and absolutely shreds the competition apart. Will Lamborghini beef up the Urus to rival this? Let's wait and find out, shall we?