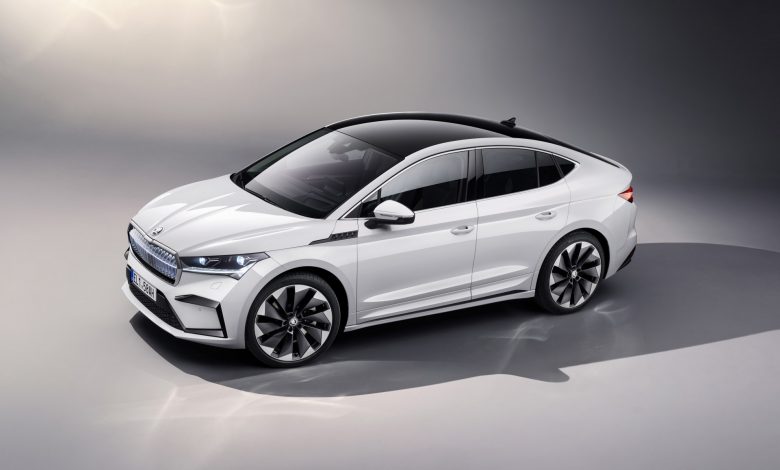 Skoda has unveiled the Enyad Coupe iV, a fresh new take on their Enyaq iV all-electric SUV which was launched back in 2020. A few changes have been made across the board, though the base platform of the car remains the same. The car is expected to go on sale internationally sometime later this year as well.
There have been some good changes made right off the bat- firstly, the car has been made more aerodynamically efficient, and now only has a drag coefficient of 0.234! The rear of the roof also has a gentle slope downwards to give it the coupe appeal, and the rear has also been redesigned to better suit the car's new design.
The interior has largely remained the same gizmo-wise, but there is one major change- the materials used. Sustainability has been given top honours, and that is apparent with the use of PET bottles and newer, more sustainable wool being used all while retaining the same premium look and feel. The 5.2″ digital instrument cluster carries on from the standard car, as does the 13″ touchscreen.
Power-wise there will be just the 82kWh battery pack on offer, however the base model will get a smaller 62kWh battery pack. There will also be a twin motor and AWD version available which produces upto 195kW of power! The 82kWh battery is also capable of fast charging, which means that it can charge from 10% to 80% in just 29 minutes, and the range of the car is a whopping 545KM!
There will also be an RS (Rally Sport) version available, the first time Skoda has done so on an electric car. Skoda says that this will be a key milestone in terms of their progress moving forward, and they've really gone all out on it! 0-100 takes just 6.5 seconds, has a power output of 220kW and 460NM, has two variant-specific interior designs available, and will be available in a unique paint scheme called "Mamba Green".
At the present moment that is all the info available, as Skoda has not revealed much to the public. No prices or release dates have been announced yet, and we expect Skoda to do so in due course of time. An India launch might not be all that unlikely given how the company is expected to being the standard Enyaq iV to our shores sometime this year, however it looks like we'll have to wait a while to see the Coupe iV here!