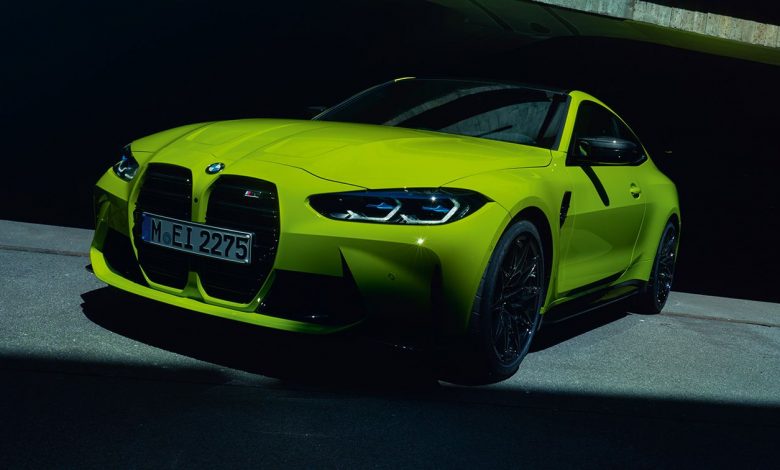 BMW has just launched the M4 Competition in India, and it sure will turn heads! The most integral part of an M-badged car is the engine, and this is no different, for it has a monstrous 3.0L TwinPower turbo in-line 6 cylinder petrol engine which produces 510HP/650NM of power, and 0-100 takes a mere 3.5 seconds. Phew!
This is mated to an 8-speed automatic M "Steptronic" gearbox which has BMW's Drivelogic inbuilt into it. Driving modes can be toggled between 4WD, 4WD Sport and 2WD with the M xDrive system, and an Active M Differential also guarantees a smooth driving experience at all times. This exclusivity carries on into the design language as well, with M-specific design cues on offer such as M-specific carbon features all around the exterior.
On the inside, the feeling of comfort and the sheer driving pleasure of an M car has been balanced quite well. There is an M-specific display and an M-specific HUD available for maximum driving pleasure and concentration. The driver assistance systems like the BMW live cockpit and an intelligent personal assistant are also available to make the driving seamlessly integrated with connectivity, and make the driving experience quite comfortable.
Certain performance parts specific to the M series are also available here, such as an M-specific carbon splitter and rear wing, a carbon rear winglet and air breather for cooling, and a choice between 20/21″ Frozen Gold Bronze wheels and 19/20″ Frozen Gunmetal Grey wheels. On the inside as well, the steering wheel, interior trims, door finish and floor mats all are unique to the M4. There are also extra-sporty performance parts available as an add-on, which effectively make it a track car for the road!
The M4 Competition will be available for bookings from a starting price of Rs 1.44 crore, and at the moment has few real competitors apart from the Audi RS5 Sportback. To say the M4 will turn heads is an understatement- for when one sees this car, nothing will drop harder than one's jaw hitting the floor!