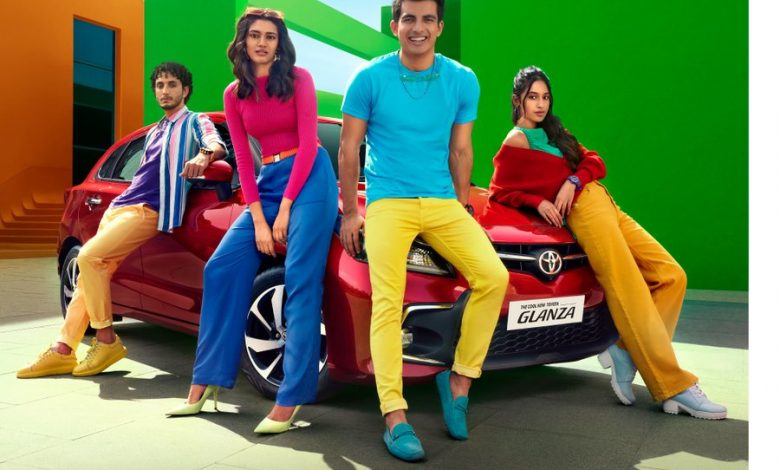 Toyota is giving daily teasers of its premium hatchback, the Glanza. Effectively a re-skinned Baleno, the Glanza and the Baleno are simply put the same car but with a slight visual difference and a different badge! To be fair to Toyota though, they've done a much better job of making the Glanza a bit more unique as compared to the Baleno this time out.
The main visible changes are on the front end, with a new mesh grille and chrome strips giving the car a slight rugged appeal. The alloys have also been given a new design, as has the front foglamp housing which is now marginally larger. It also seems like there are LED DRLs on offer, though we should have a clear answer soon enough.
On the inside, however, the changes are less obvious- the dashboard looks to be exactly the same as the Baleno with a 9″ touchscreen and a dash finished off in a dual-tone colour scheme. Toyota is also advertising a HUD to be on offer, though guess what- Maruti did the same a few weeks back! Effectively then, we can term the Baleno to have somewhat "spoiled" the Glanza's launch! Below is a gallery of the "awesome" teasers Toyota has given us till now.
[tie_slideshow]
[tie_slide]
[/tie_slide]
[tie_slide]
[/tie_slide]
[tie_slide]
[/tie_slide]
[tie_slide]
[/tie_slide]
[tie_slide]
[/tie_slide]
[tie_slide]
[/tie_slide]
[/tie_slideshow]
The engine department also remains the same, with the same 1.2L engine on offer along with a 5-speed AMT and a 5-speed manual available as an option. Pricing is an unknown at this point, though it is certain that the Glanza won't undercut the Baleno- after all, competition between twin cars will only hurt each other's sales in the end! Let's wait till March 15th for the official unveil.