Auto Business
News
Tata rolls out the 400,000th Tiago from its Sanand plant!
The milestone has been achieved in a compartively small timeframe, given how the company launched the car in 2016.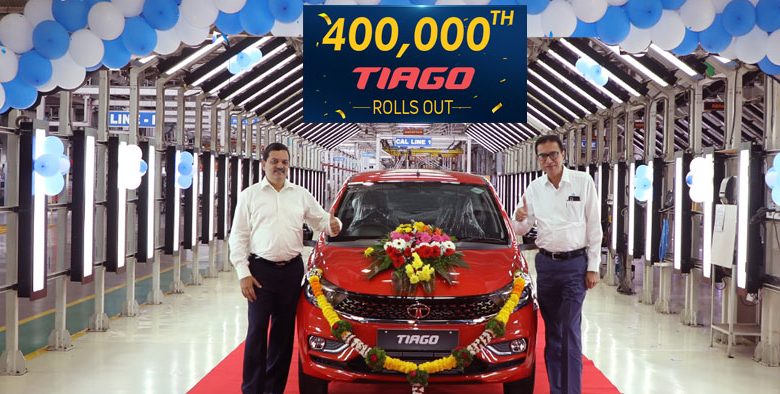 Tata Motors' popular hatchback Tiago's 400,000th unit rolled off the production line on Thursday. The 4 lakh milestone was celebrated by the company with a signature roll out from the factory floor, with the Vice Presidents of both the Product Line and Operations for Tata being present at the scene.
Since its 2016 debut, the Tiago has undergone many changes and updates to keep it relevant and fresh, and it has shown. The hatch still sells well, and Tata even says that it has a market share of 19%, which in such a competitive market is no joke whatsoever!
Recently, the Tiago iCNG was also launched, and the Tiago NRG was launched back in August 2021 which have helped keep the car fresh in people's minds. With it also came features like Direct CNG start, single ECU and other features which is all available starting from Rs 6.1 lakh! Safety is possibly the area which has been given the highest priority by Tata, as dual airbags, ABS, EBD, stability control and more are all standard on the car.
This is indeed a historic milestone for Tata Motors as Tiago is the first car to complete this milestone in a short span. Tiago has been a key product in our Turnaround 2.0 strategy and since its launch has been successful in grabbing a sizeable market share in the most crowded segment in the auto industry. The Tiago has become the preferred choice for youngsters who are looking for a stylish, feature-loaded, and safe car, with more than 60% of sales generated from first-time buyers. The recent interventions of Tiago NRG and Tiago CNG has gained quite the popularity among prospective buyers. We are confident that the Tata Tiago will continue to play an integral part in our New Forever range and will enhance our market performance in the Indian auto industry."

-Rajan Amba, VP Sales Marketing and Customer Care, Tata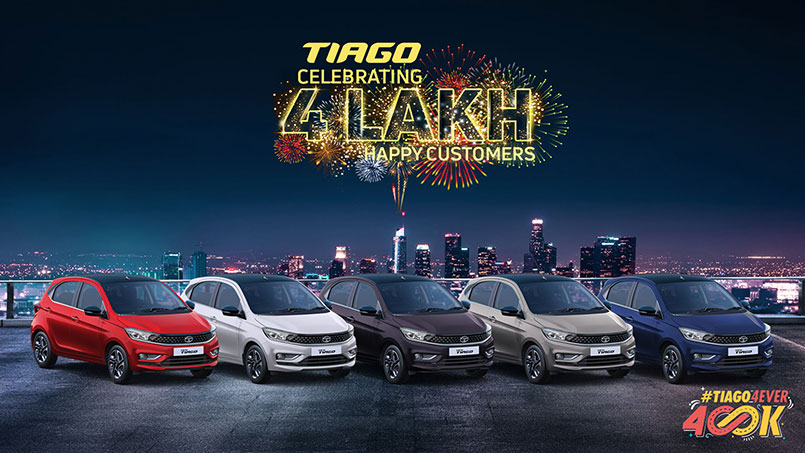 Tata's stronghold on the Indian auto market is ever-growing, and it is taking over in almost every segment possible. There has long been talk of a Tiago EV as well, though it is more often than not a "maybe, maybe not" though as things stand we could see a Tiago EV launch this year as well. Also as the car rolled out of the Sanand plant, Tata might soon be expanding its ventures more thanks to their recent deal struck with Ford to take over the American carmaker's now defunct Sanand plant, and in doing so increase production capacity even further.