Formula 1
Charles Leclerc on pole at his home grand prix – Qualifying report from the 2022 Monaco GP
Qualifying for the Monaco GP gave us many surprises, but it was home hero Charles Leclerc on pole leading a Ferrari 1-2 going into Sunday's race.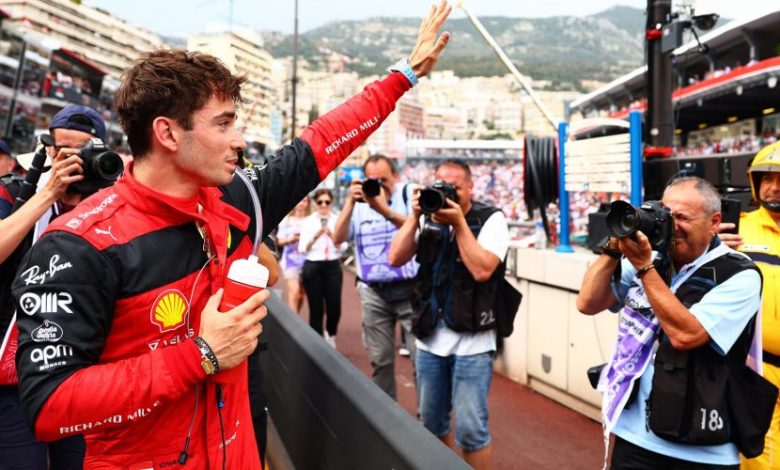 Qualifying for the 2022 Monaco GP was quite an exciting session, as we saw many surprises, a few crashes but most importantly Ferrari's 3rd pole position in a row at the Principality of Monaco. It was home hero Leclerc on pole, followed by teammate Sainz in P2 and the two Red Bulls of Checo Perez and Max Verstappen in P3 and P4. The end to qualifying was very similar to the way it ended last year- a pole position secured due to a crash, though this time the driver who crashed didn't get pole! Although, like Martin Brundle, we also believe it was looking like a pole from Leclerc even without the red flag anyway. There's no point beating around the bush anymore- here's the full rundown from Saturday qualifying.
Q1
The entirety of Q1 was entertaining, as certain big names were at risk for large parts of the session. The two Red Bulls and Ferraris were jockeying around for top honours, while on the other end of the field drivers were struggling to make it through into Q2- these even temporarily included names like Hamilton and Ricciardo!
With just under 2 and a half minutes left in the session, the red flags were called out as Tsunoda had crashed at the entry to the Nouvelle Chicane, though was able to return to his garage. The debris was cleared, and the session was set to resume in a few minutes, but it became obvious that a few drivers wouldn't be able to set their fast laps in time in order to save themselves from elimination.
That is the exact fate which befell both Williams cars, Zhou, Stroll and Gasly as well. Stroll was very vocal on the radio- for real! Gasly's elimination so early on was a massive shock, while Zhou was unfortunate to not be able to get even a single lap in when the session resumed. Neither Williams has had pace all weekend, so their Q1 exit wasn't a surprise at all.
ELIMINATED IN Q1

Albon
Gasly 📸
Stroll
Latifi
Zhou#MonacoGP #F1 pic.twitter.com/r6Xf9ijdz1

— Formula 1 (@F1) May 28, 2022
Q2
Q2 was also pretty much the same, except the fact that the result of this session would be incredibly crucial for the teams and drivers as they were all aiming to get into Q3. Some drivers came out on used soft tyres to attempt to set their laps, however at the top it was more of the same as Red Bull and Ferrari wrestled with one another in an attempt to come out on top. Leclerc had a close call with the stewards when he missed the weighbridge, though the team quickly got him out of said pickle.
As the session drew to a close, we had a few surprise entries into the next session, which included the likes of Vettel and Ocon. Unfortunately, it resulted in both Haas cars, Bottas, Tsunoda and 2018 winner Daniel Ricciardo's elimination in Q2. Daniel's early exit was certainly a shock, however the same fate befell him last year as well when he exit qualifying in Q2 so it seems like the Aussie needs a bit more from his car to be able to return to winning form again!
ELIMINATED IN Q2

Tsunoda
Bottas
Magnussen
Ricciardo 📸
Schumacher #MonacoGP #F1 pic.twitter.com/DvJXqg2qdl

— Formula 1 (@F1) May 28, 2022
Q3
The start of Q3 saw drivers being told to push right from the start, as last year's Q3 session showed us that at any point, the fastest lap set could be one's best attempt with potential red flags that could hamper the session at any time! Leclerc, much akin to last year, set a time good enough for provisional pole, but his lap was so blisteringly fast that he was over two tenths clear of the next fastest car! Teammate Sainz took P2, while Checo Perez took P3 and Max were provisionally P4.
Alonso was showing good pace, while Hamilton was looking to improve after a poor first flying lap. Hamilton was leading Russell for almost all of qualifying until Q3 when he had to back off from his final flying lap owing to a Perez red flag. Quite similar to last year and drivers like Gasly and Hamilton have consistently been on the receiving end of this misfortune lately. Leclerc was about 0.150 seconds up on his best time through Sector 1, while Perez was just 0.050 behind Charles' best time. The camera panned to a shot of Portier corner just before the entry to the tunnel, and Leclerc breezed past. Just before the camera switched to another angle, we caught a glimpse of a Red Bull going sideways into the corner- what had happened?
A few moments later, the camera switched back to Portier cam, and Perez's stricken Red Bull was in the barriers, sans rear wing. Just a second or two later, Sainz came barreling into the corner, and crashed with Perez. With the track blocked F1 game multiplayer style and very little time in the session, Q3 ended and home hero Leclerc was on pole, followed by teammate Sainz, then the two Red Bull cars of Checo Perez and Max Verstappen in that order!
A dramatic end to qualifying 😮#MonacoGP #F1 pic.twitter.com/w1A1K3a7wn

— Formula 1 (@F1) May 28, 2022
Further back, Alonso crashed all on his own after ending Sector 1, which was another crash that would've likely seen Q3 ended early had the Sainz-Perez crash not occurred. Norris had an incredible showing with P5, while the Mercedes duo will start 6th and 8th. Vettel did well to net P9 from what looks to be a hard to handle Aston Martin, while the Alpine duo were 7th and 10th respectively.
[toggle title="2022 Monaco GP: Qualifying Timings" state="closed"]
POS
DRIVER
Q1
Q2
Q3
1
16
 
FERRARI
1:12.569
1:11.864
1:11.376
24
2
55
 
FERRARI
1:12.616
1:12.074
1:11.601
25
3
11
 
RED BULL RACING RBPT
1:13.004
1:11.954
1:11.629
25
4
1
 
RED BULL RACING RBPT
1:12.993
1:12.117
1:11.666
25
5
4
 
MCLAREN MERCEDES
1:12.927
1:12.266
1:11.849
27
6
63
 
MERCEDES
1:12.787
1:12.617
1:12.112
27
7
14
 
ALPINE RENAULT
1:13.394
1:12.688
1:12.247
22
8
44
 
MERCEDES
1:13.444
1:12.595
1:12.560
29
9
5
 
ASTON MARTIN ARAMCO MERCEDES
1:13.313
1:12.613
1:12.732
28
10
31
 
ALPINE RENAULT
1:12.848
1:12.528
1:13.047
22
11
22
 
ALPHATAURI RBPT
1:13.110
1:12.797
20
12
77
 
ALFA ROMEO FERRARI
1:13.541
1:12.909
17
13
20
 
HAAS FERRARI
1:13.069
1:12.921
20
14
3
 
MCLAREN MERCEDES
1:13.338
1:12.964
21
15
47
 
HAAS FERRARI
1:13.469
1:13.081
17
16
23
 
WILLIAMS MERCEDES
1:13.611
14
17
10
 
ALPHATAURI RBPT
1:13.660
10
18
18
 
ASTON MARTIN ARAMCO MERCEDES
1:13.678
11
19
6
 
WILLIAMS MERCEDES
1:14.403
13
20
24
 
ALFA ROMEO FERRARI
1:15.606
9
Q1 107% time – 1:17.648
[/toggle]
Conclusion
Traffic, crashes and red flags made Qualifying a very entertaining session to watch and follow, and it ended with home hero Leclerc on pole. Controversy was yet again centre stage as yet another crash ended the drivers' final laps early, and hence stopped them from potentially improving their lap times. But, it was nowhere near the stir caused by Dr. Helmut Marko who wants Leclerc's pole disqualified for missing weighing regulations! I guess leclerc really is getting on RedBull's nerves. Let's just hope he doesn't have the same fate as Hamilton last year.
Perez's crash was heavy and because he hit the rear of the car hard into the barriers, he might have to change his gearbox which will certainly net him a penalty. The chances of the change happening are higher considering a possible DNF risk added with RedBull's questionable relaibility this season.
With some rain scheduled, a grid which is still subject to a few potential grid changes and nothing can be ascertained for Sunday's race as of now. In fact, we caught Russell saying he wants rain to occur or else it'd be a boring race with really nothing to look forward to. As is always the case with Monaco. Max Verstappen also stated he is relying on "chaos" at the race for things to be different. Something for certain is that with all these additional factors sure to affect the race, tomorrow's race is certainly not one to be missed!