Formula 1
Charles Leclerc takes a stunning pole position at the 2022 Azerbaijan Grand Prix Qualifying
The Ferrari driver amped up his performance to the his 15th career pole position in F1, and becomes the first person to take back to back poles at Baku.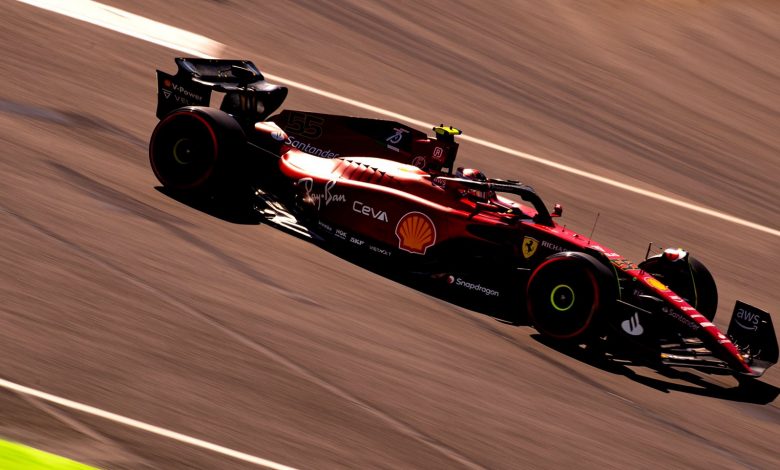 Baku is always a treat for us fans, be it qualifying or the main race. We saw crashes, lockups, mistakes, controversies, red flags, but above all very quick laps which all ended with Ferrari driver Charles Leclerc on pole position ahead of the two Red Bulls and teammate Sainz in P4. All 3 sessions were exciting, though in the end the battle came down to the two Ferraris and Red Bulls from which Leclerc emerged on top. Without any further ado, here's the rundown from qualifying.
Q1
Q1 was a busy session, and we had our fair share of drama and crashes as well. Traffic hampered a few drivers' laps, as they all battled to get to the line without being impeded by a slow moving car ahead of them. However for Lance Stroll, just like last year he went into the barrier, wrecked his car and red-flagged the session, though this time he went into the barriers twice, the second one wrecking his suspension and halting the session.
After the red flag ended, there was just under 2 and a half minutes left to go in the session. There was heavy bunching up, but in the end it was the two Williams and Haas cars who were eliminated, and of course Stroll as well. Albon however said that Alonso's supposed "mistake" at Turn 15 was pre-mediated and was just a ploy to retain his spot in Q2, as none of those behind him could improve on their laps. As Lewis Hamilton says, "Interesting tactics!"
ELIMINATED IN Q1

Magnussen 📸
Albon
Latifi
Stroll
Schumacher 📸#AzerbaijanGP #F1 pic.twitter.com/w2IiEDQTM8

— Formula 1 (@F1) June 11, 2022
Q2
Q2 was also a quiet session, as we saw drivers fighting for every bit of the track in order to get through to the final shootout. As the new regulations don't necessitate the drivers starting on their Q2 tyres, all the drivers had to push hard to get through into Q3!
Sebastian Vettel and his ex-teammate Charles Leclerc both had scary moments, with Vettel even hitting the wall though he recovered beautifully to finish the session in the Top 10. However, that came at the expense of both Alfas, Ocon and both McLarens. Interestingly, Zhou outqualified Bottas, meaning this is the first time he's outqualified a teammate in his F1 career, so it was a decent showing by the rookie!
ELIMINATED IN Q2

Norris 📸
Ricciardo
Ocon
Zhou
Bottas #AzerbaijanGP #F1 pic.twitter.com/5HKIqwtWSM

— Formula 1 (@F1) June 11, 2022
Q3
And then came the most important session of them all, Q3. Carlos Sainz rocketed to a stunning provisional pole after the drivers' first runs, and was followed by teammate Leclerc and both Red Bulls. Less than 2 tenths separated the quartet. As they set out to do their final runs, it was obvious that they would all need to push much harder to secure the fabled pole position! Guess what? They did.
The second runs commenced, and the fight was on. Sainz was first, though once he was down by over four and a half tenths it was obvious that he was out of contention in terms of defending his provisional pole. Then Leclerc arrived. Purple first and second sector. He crossed the line unimaginably half a second faster than Sainz, though the two Red Bulls were yet to complete the lap. At this point though, it was almost obvious Leclerc was in a different league. When this guy goes full on, he absolutely nails it! Eventually, Leclerc grabbed pole by over two and a half tenths to secure his 15th career pole position, and his 6th of the season, fourth in a row! With this he also became the only driver to have 2 poles at Baku.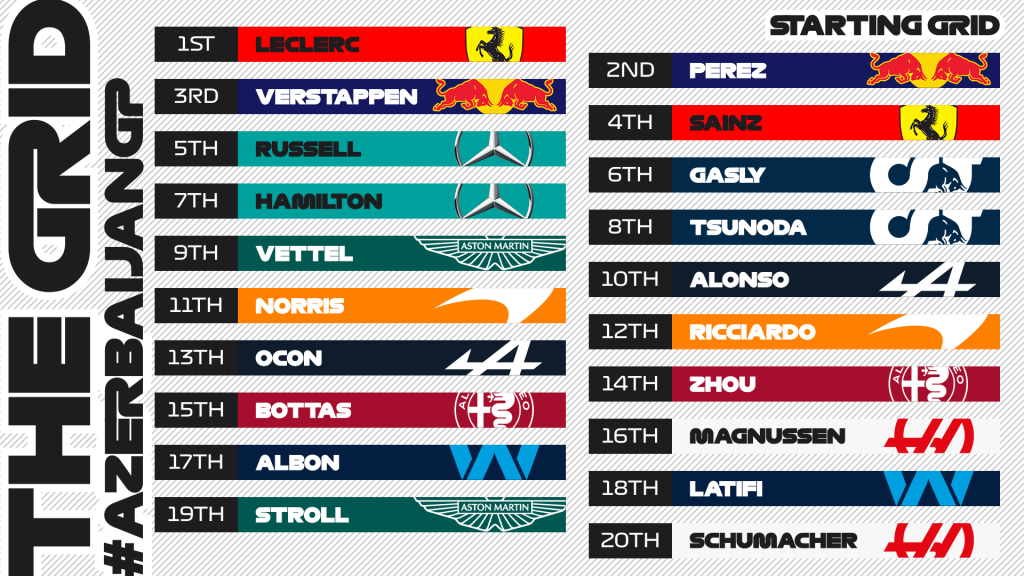 Further back, aided by his teammate's slipstream, Russell took a stunning P5 followed by a superfast Pierre Gasly outperforming his Alpha Tauri AT03. Hamilton and Tsunoda locked out the 4th row of the grid with P7 and P8 respectively, while old championship rivals and foes Vettel and Alonso lock out the 5th row with P9 and P10 respectively. Vettel was another guy who absolutely outperformed his car. Lewis Hamilton seemed to be on it in Q2 while he was faster than Russell but couldn't quite catch the same spirits in Q3. This continues the trend showing Russell's pace consistently faster than Hamilton at Mercedes. Mercedes look to be quite a way off the top 2 especially since Monaco right after there was a glimmer of hope at Barcelona.
Qualifying Timings, Baku 2022
POS
DRIVER
Q1
Q2
Q3
1
16
 
FERRARI
1:42.865
1:42.046
1:41.359
19
2
11
 
RED BULL RACING RBPT
1:42.733
1:41.955
1:41.641
18
3
1
 
RED BULL RACING RBPT
1:42.722
1:42.227
1:41.706
19
4
55
 
FERRARI
1:42.957
1:42.088
1:41.814
19
5
63
 
MERCEDES
1:43.754
1:43.281
1:42.712
23
6
10
 
ALPHATAURI RBPT
1:43.268
1:43.129
1:42.845
23
7
44
 
MERCEDES
1:43.939
1:43.182
1:42.924
22
8
22
 
ALPHATAURI RBPT
1:43.595
1:43.376
1:43.056
22
9
5
 
ASTON MARTIN ARAMCO MERCEDES
1:43.279
1:43.268
1:43.091
18
10
14
 
ALPINE RENAULT
1:44.083
1:43.360
1:43.173
20
11
4
 
MCLAREN MERCEDES
1:44.237
1:43.398
16
12
3
 
MCLAREN MERCEDES
1:44.437
1:43.574
17
13
31
 
ALPINE RENAULT
1:43.903
1:43.585
13
14
24
 
ALFA ROMEO FERRARI
1:43.777
1:43.790
13
15
77
 
ALFA ROMEO FERRARI
1:44.478
1:44.444
13
16
20
 
HAAS FERRARI
1:44.643
9
17
23
 
WILLIAMS MERCEDES
1:44.719
9
18
6
 
WILLIAMS MERCEDES
1:45.367
8
19
18
 
ASTON MARTIN ARAMCO MERCEDES
1:45.371
7
20
47
 
HAAS FERRARI
1:45.775
9
Q1 107% time – 1.49.912
Conclusion
Controversy and F1 go hand in hand, and this qualifying session at Baku was no different. The crashes and succeeding red flags caused chaos, and there was newfound controversy thanks to Alonso's supposed mistake which was done on purpose as per Alex Albon. In our fair opinion, it did seem quite odd that it occurred at one of the most crucial points of the session. Plus, this it was fernando Alonso so Albon wasn't out of his mind suggesting it was deliberate. Or maybe it just means a lot of these kinds of coincidences occur with Alonso always at the centre of them!
We just had the one red flag and one major crash, which means only Aston Martin have to worry about getting Stroll's car ready for tomorrow. It was a great showing by the likes of Zhou, Vettel, Gasly, Russell but none more so than Leclerc. The Ferrari driver did his fastest lap sans any slipstream, which makes the feat that much more impressive. In doing so he became the first driver to ever take back to back poles at Baku. He will be hoping to retain this form in the race tomorrow, but the Red Bulls won't let him rest easy, and this is one race you must absolutely not miss!