Formula 1
2 broken hearts, 1 broken back and 2 victorious RedBulls – 2022 Azerbaijan GP Race Report
Red Bull picked up the pieces as Ferrari were left pondering what could have been. Again!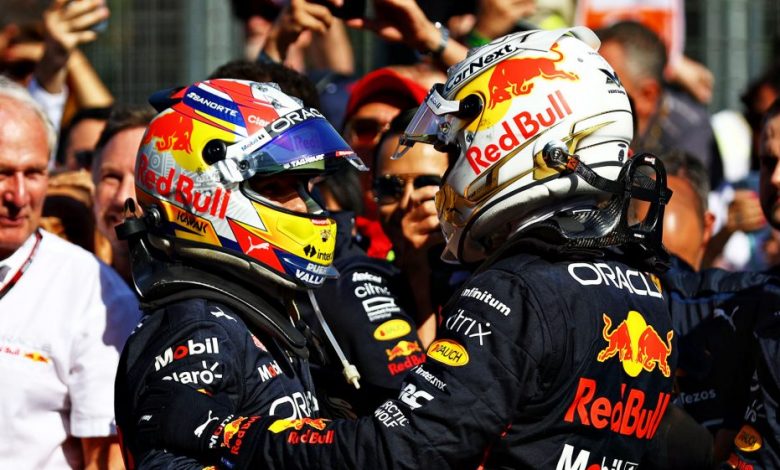 The Azerbaijan GP was one which had contrasting fortunes for Max Verstappen in 2021 and 2022. In 2021 a certain victory was snatched after a puncture in the dying stages made him crash and lose 25 certain points in a closely-fought championship battle. In 2022 though, it is Charles Leclerc facing those misfortunes first in Spain and now in Baku. Charles' hopes of inching closer to Verstappen in the championship battle were ripped apart as his Ferrari engine was again unreliable. While smoke came out of Leclerc's Ferrari, Carlos Sainz had a hydraulic and brake by wire issue and this meant none of the Ferrari cars finished the race. Abysmal, distant and frustrated both drivers gave post-race interviews trying to control their tongues about their constant displeasure.
Remember how in the beginning the worries were about RedBull's reliability? Well, it seems the RedBulls are almost as reliable as the Mercedes and as fast as the Ferraris. Mostly faster! A very well managed race and a superior pace to teammate Perez saw him take the win by over 20 seconds, one of the most dominant wins of his career leading him comfortably ahead of rival Leclerc. In fact, the driver in 2nd place in the championship is his teammate Perez, so Max is in a brilliant position to control the championship from here onwards!
Max's teammate Perez out qualified him for the second weekend in a row by qualifying 2nd to Max's 3rd, and despite running ahead of Max he was told by the team to hold station and not fight Max at all, so he could achieve no better than P2, though he did nab the fastest lap if that's any consolation. To be fair to Max, his race pace was beyond what even Perez could've imagined. Although, if the same thing would've happened between Hamilton and Bottas last year or even Hamilton and Russell this year, it would've made all the negative headlines so we felt the need to explain. George Russell had a boring but amazing race as Mr. Consistent took home his third podium and 15 crucial points for himself and Mercedes, a great performance by the young Brit. Another British Mercedes driver who performed exceptionally well was Lewis Hamilton finishing P4 after a queued pit stop winning the Driver of the day vote.
Mercedes' horrible porpoising issues had his back pain shoot up and hurt him the entire race. His voice on the radio was enough to make it clear to even the fans how horrible his position was. At one point he exclaimed that his seat has gone cold possibly owing to him feeling numb due to the bouncing. The porpoising was so bad that when the T-cam angle came on, you could hear the car hit the ground over the engine's sound. The pain was exerted to an extent that he could barely get out of his car post-race! Toto Wolff's post-race comments regarding the W13's performance might be seen as being a bit too harsh, but nonetheless it is mostly true.
Pierre Gasly made an ambitious one-stop work and secured his season's best finish as of now with P5, after choosing not to stop a second time like a few of those around him. It was a clean and well-managed race by the Frenchman, who even played a cheeky prank on his team on the last lap! Behind him was Sebastian Vettel, the German doing very well to finish P6 after also making one-stop work and recovering well from a minor mistake soon after his pitstop after quick thinking saved him time. If you didn't see the race, he went off in the run off area due to locking up but spontaneously did a 180-degree turn coming back just two places behind.
Fernando Alonso was a brilliant 7th, benefiting from Alpine's fantastic straight-line speed advantage in Sector 3 to keep the fast-charging McLaren duo behind him for a majority of the race. Alpine was THE fastest car on the straights when recorded during the Free Practice and Quali sessions. Daniel Ricciardo out-raced teammate Lando Norris by finishing P8 and picked up 4 points in the process, though only just. 9th-placed finisher Norris ran most of the race ahead of Daniel, and was quite eager to get past Daniel in the final stages before the team told him to hold station returning an earlier favor by Daniel.
Esteban Ocon was a lonely 10th, though kept his nose clean to score a solitary point at the end of the race. Valtteri Bottas had deja vu from the 2021 race today, as he was behind his teammate for the entirety of the race, and finished outside the points after a disappointing show. Alex Albon stayed out of trouble, though had a very uneventful race and finished in no man's land in P12, though quite comprehensively outclassed his teammate, finishing approximately one and a half minute ahead of Latifi by the drop of the chequered flag.
Yuki Tsunoda was running in the points, though once we spectators and the FIA saw the replay of half of his rear wing opening when he enabled DRS as opposed to the full wing opening, we saw a rare sight in F1- a black and orange flag which is a technical flag, and as per the regulations the team is supposed to either fix the issue or retire the affected car so as to not endanger the other drivers. AlphaTauri had an ingenious solution though – duct tape! They taped his rear wing and sent him on his way, telling him to refrain from using DRS for the rest of the race as David Croft and us fans were left befuddled. Considering how there's no investigation ongoing as of now regarding the same, AlphaTauri saw a problem, stuck it together with some tape and went about their merry way! Yuki did finish P13, so points were out of the equation in the end.
Mick Schumacher finished a dismal and distant P14, a far cry from where he or his team envisage him ideally finishing. Nicholas Latifi was the last of the finishers in P15, though he caused extra trouble for himself when he disobeyed blue flags and got himself a 5-second penalty for holding up Gasly while being lapped. Lance Stroll was classified 16th despite retiring, only because he completed 90% of the race distance.
One of the most important stat is that 4 Ferrari-powered cars failed to finish, which included the likes of Kevin Magnussen, Zhou Guanyu, Charles Leclerc and Carlos Sainz facing car issues which curtailed their running. It was a massive blow to their championship hopes, as they now sit over 80 points behind Red Bull- a dismal weekend to say the least!
[toggle title="Race Results- Azerbaijan 2022″ state="close"]
POS
DRIVER
CAR
LAPS
TIME/RETIRED
PTS
1
1
 
RED BULL RACING RBPT
51
1:34:05.941
25
2
11
 
RED BULL RACING RBPT
51
+20.823

s

19
3
63
 
MERCEDES
51
+45.995

s

15
4
44
 
MERCEDES
51
+71.679

s

12
5
10
 
ALPHATAURI RBPT
51
+77.299

s

10
6
5
 
ASTON MARTIN ARAMCO MERCEDES
51
+84.099

s

8
7
14
 
ALPINE RENAULT
51
+88.596

s

6
8
3
 
MCLAREN MERCEDES
51
+92.207

s

4
9
4
 
MCLAREN MERCEDES
51
+92.556

s

2
10
31
 
ALPINE RENAULT
51
+108.184

s

1
11
77
 
ALFA ROMEO FERRARI
50
+1

 lap

0
12
23
 
WILLIAMS MERCEDES
50
+1

 lap

0
13
22
 
ALPHATAURI RBPT
50
+1

 lap

0
14
47
 
HAAS FERRARI
50
+1

 lap

0
15
6
 
WILLIAMS MERCEDES
50
+1

 lap

0
16
18
 
ASTON MARTIN ARAMCO MERCEDES
46
DNF
0
NC
20
 
HAAS FERRARI
31
DNF
0
NC
24
 
ALFA ROMEO FERRARI
23
DNF
0
NC
16
 
FERRARI
21
DNF
0
NC
55
 
FERRARI
8
DNF
0
* Provisional results. Perez scored an additional point for setting the fastest lap of the race. Latifi received a five-second time penalty for ignoring blue flags.
[/toggle]
Here are a few drivers who would've wanted their race to go better:
Both Ferrari drivers: For the second weekend in a row the Ferrari pairing have had a miserable race, though unlike in Monaco they ended up scoring absolute nada from Baku! A disappointing race can be summed up with a very unfortunate stat- as of this race, Max Verstappen has won more times from Charles achieving pole position than Charles himself!
Guanyu Zhou: The young Chinese driver had outperformed his much more experienced teammate in qualifying and seemed to have the measure in the race as well, but his third retirement in 4 races saw him go back to the team quite dejected as he would logically be.
Esteban Ocon: Though he scored a point, his teammate Alonso did a whole lot better with P7 as compared to his P10. Ocon didn't have a terrible race per se, but would certainly have wished for more points on Sunday.