Formula 1
Verstappen wins the Canadian GP with Sainz and Hamilton rounding up the podium – 2022 Canadian GP race report
After a 2 year hiatus, the 2022 Canadian GP saw Max control the race from start to finish taking his fifth win in 6 races to extend his championship lead even further.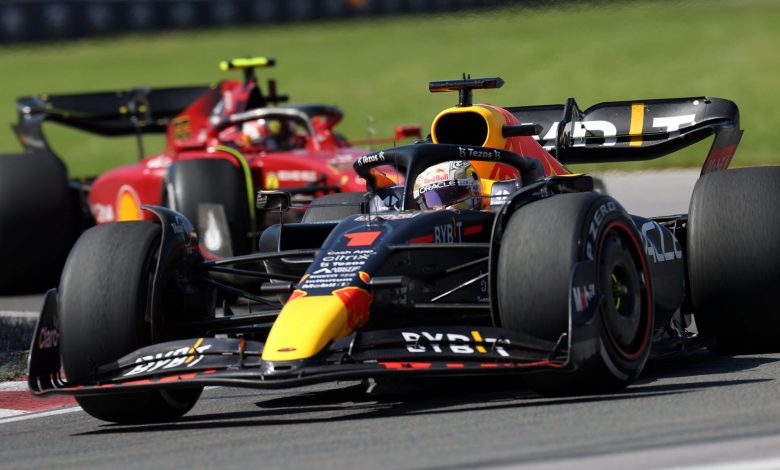 Max Verstappen's fantastic pole lap yesterday was converted into a win at the Canadian GP today, as he showed immense pace to keep the charging Ferrari of Carlos Sainz behind all race long. All props to Sainz with his incredible tyre management skills owing to which we saw Max work really hard to keep Sainz at bay. Max showed his mettle such that even when the car behind had DRS the entire lap, Max was able to hold onto the lead regardless taking a well-deserved race win.
Carlos Sainz finished P2, who despite making a stop later than Max for the hard tyres couldn't get past Max despite being on fresher tyres. He did get the fastest lap, but that's little consolation for the Spaniard who just like in Monza 2020 saw a chance at a maiden win go someone else's way, being unable to overtake even with DRS. The RedBull's pace is absolutely dominating the field and as much as we saw Sainz struggle, it was an almost faultless race by him. Lewis Hamilton outpaced teammate George Russell comfortably while finally breaking the safety car curse to finish P3, and this time at the end of the race Lewis' back was in much better shape as compared to last weekend! The W13 of Hamilton was at times putting in fastest laps and as told by his race engineer Pete Bonnington, Hamilton was amongst the fastest right before the restart after Tsunoda's retirement.
George Russell drove well to keep up his streak of finishing in the top 5 at each race this season, and finished P4 a few seconds adrift of Lewis. But, all eyes were on the driver in P5, Charles Leclerc who was voted Driver Of The Day and for good reason- he drove superbly to recover from his grid penalty which sent him to the back of the grid to finish P5 in the end. Traffic hampered his charge up the field and his rear diff was not in good shape. Add that with the hard tyres becoming useless sooner than expected for Charles and we see how mighty impressive his drive was. A late strategic call paid off as he became unstoppable on the mediums. Dare i say, a few more laps and Russell would be in P4.
Esteban Ocon had a quiet race finishing P6 sans much drama though there might be some animosity between him and teammate Alonso post-race. In the end, he brought home 8 points for himself and the team. Valtteri Bottas and Alfa Romeo benefited from a good strategy to come home 7th after the Finn was stuck in traffic for most of the race. Life was made even harder when Alonso started weaving on the straights for which hee got a 5-second penalty. Teammate Zhou faced similar issues with traffic but scored points for only the second time in his career with P8- though interesting to note is that the Alfa duo finished in P8 and P9 on track, and were moved up a place each due to Fernando's penalty.
The mighty qualifying in P2 Fernando Alonso himself saw his race unfold very poorly as he went on and on without a pit stop on his mediums. They thought they could catch to the rest at the end from a one-stop but I am not sure who did the math on that. Probably the same guys who taped Tsunoda's wing in Baku? Alonso finished P7, dropping 5 places from his starting position. He then dropped another 2 places to P9 after receiving a 5-second penalty for dangerous driving against Bottas as he weaved along the straight. The stewards are being praised for their rather appropriate and quicker decision making! I guess "all the time you DON'T have to leave space eh!" In the final stages, when told to hold position behind teammate Ocon, manage an engine issue and just bring it home he commented "Engine issue or not I'm a hundred times faster!"
Home hero Lance Stroll came back from a disappointing qualifying session to finish in the points with P10, and was the last driver to finish in the points. Both the Aston Martins gave a spectacle to the fans as the Alpines saw themselves stuck behind them for quite some time. It was a really good drive by the Canadian driver. Something we haven't seen much of in 2022.
Daniel Ricciardo was just outside the points in P11, having been passed by Stroll in the final stages of the race and losing out on a potential shot at points. Behind him was Sebastian Vettel, who despite looking good for points at one stage of the race fell back gradually and finished P12. Alex Albon held off faster cars during the initial part of the race and was even running in the points, but had little pace post his pitstop and finished an unlucky P13.
Pierre Gasly had a weekend to forget, finishing a distant P14 and being well off the pace in race trim. Lando Norris however had a terrible race, being screwed over by his first pitstop and finishing well out of place in P15. He also received a 5-second time penalty for speeding in the pit lane.
At his home race, Nicholas Latifi finished a dismal P16, though unlike most races he wasn't the last-placed finisher. Kevin Magnussen, who qualified a brilliant P5 in the damp conditions fell back after initially making contact with Hamilton, damaging his front wing which necessitated for a black and orange flag to be shown, and at the last SC restart he had little pace to hold back those on fresher tyres, and was the last of the classified finishers in P17.
Yuki Tsunoda made a rookie mistake while coming out of the pits on fresh but cold tyres, slamming hard into the wall and ending his race and bringing out the full Safety Car. Mick Schumacher was running in the points though on Lap 18 his PU conked off, and he stopped at the Turn 8 run-off, bringing out the VSC. This was a location we had already seen Sergio Perez retire at early on, when on Lap 7 he stopped at the very same place, and brought out the first VSC of the race.
[toggle title="2022 Canadian GP: Race Result" state="close"]
POS
DRIVER
CAR
LAPS
TIME/RETIRED
PTS
1
1
 
RED BULL RACING RBPT
70
1:36:21.757
25
2
55
 
FERRARI
70
+0.993

s

19
3
44
 
MERCEDES
70
+7.006

s

15
4
63
 
MERCEDES
70
+12.313

s

12
5
16
 
FERRARI
70
+15.168

s

10
6
31
 
ALPINE RENAULT
70
+23.890

s

8
7
77
 
ALFA ROMEO FERRARI
70
+25.247

s

6
8
24
 
ALFA ROMEO FERRARI
70
+26.952

s

4
9
14
 
ALPINE RENAULT
70
+29.945

s

2
10
18
 
ASTON MARTIN ARAMCO MERCEDES
70
+38.222

s

1
11
3
 
MCLAREN MERCEDES
70
+43.047

s

0
12
5
 
ASTON MARTIN ARAMCO MERCEDES
70
+44.245

s

0
13
23
 
WILLIAMS MERCEDES
70
+44.893

s

0
14
10
 
ALPHATAURI RBPT
70
+45.183

s

0
15
4
 
MCLAREN MERCEDES
70
+52.145

s

0
16
6
 
WILLIAMS MERCEDES
70
+59.978

s

0
17
20
 
HAAS FERRARI
70
+68.180

s

0
NC
22
 
ALPHATAURI RBPT
47
DNF
0
NC
47
 
HAAS FERRARI
18
DNF
0
NC
11
 
RED BULL RACING RBPT
7
DNF
0
[/toggle]
Here are a few drivers who would've wanted their race to go better:
Sebastian Vettel: After a good showing in FP3, Aston Martin's pace just dropped away at an incredible rate and despite running in the points for a fair bit of the race, Seb finished a disappointing P12. His 2-stop failed to yield points, while teammate Stroll's 1-stop got the team into the points- a disappointing weekend nonetheless.
The Haas F1 team: The headline was P5 and P6 for the American team in qualifying, and many expected double points and Mick's first F1 points as well. However, it was much like a repeat of Austria 2019 for the team, where after a fantastic qualifying the car struggled with race pace, and finished well outside the points. A hugely disappointing end to their race at Canada after showing so much promise.