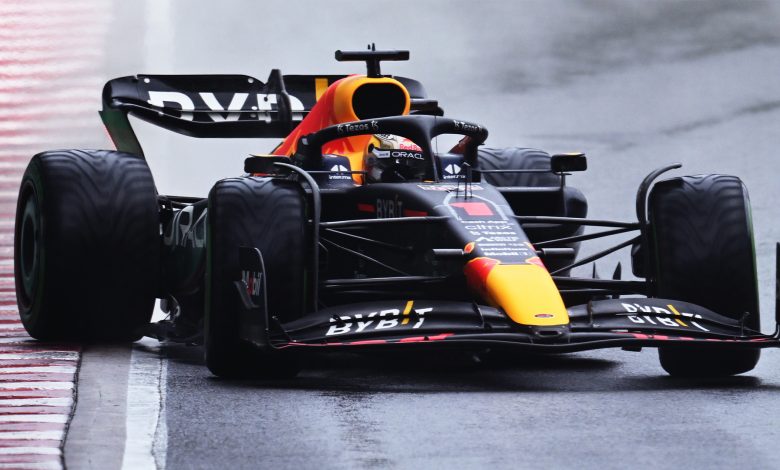 The Canadian GP saw a return to the calendar after a gap of two years, and we were in for an exciting race. We had the championship contenders starting from opposite ends of the grid, while many surprises in an exciting qualifying session saw many unusual and even a few new names qualify quite high up the grid as compared to where they woul. The rain had dissipated, and the sun was out for the first Canadian GP since 2019- and it was quite an enjoyable race!
The Race start and initial few laps
At the start of the race, it was a clean getaway for Verstappen, while Sainz and Hamilton battled going into Turn 1. Sainz came out on top in that particular battle, while Lewis fell back into Magnussen's clutches. The two went side by side into Turn 3, with Lewis coming out on top though there was contact which gave Magnussen front wing damage in the process.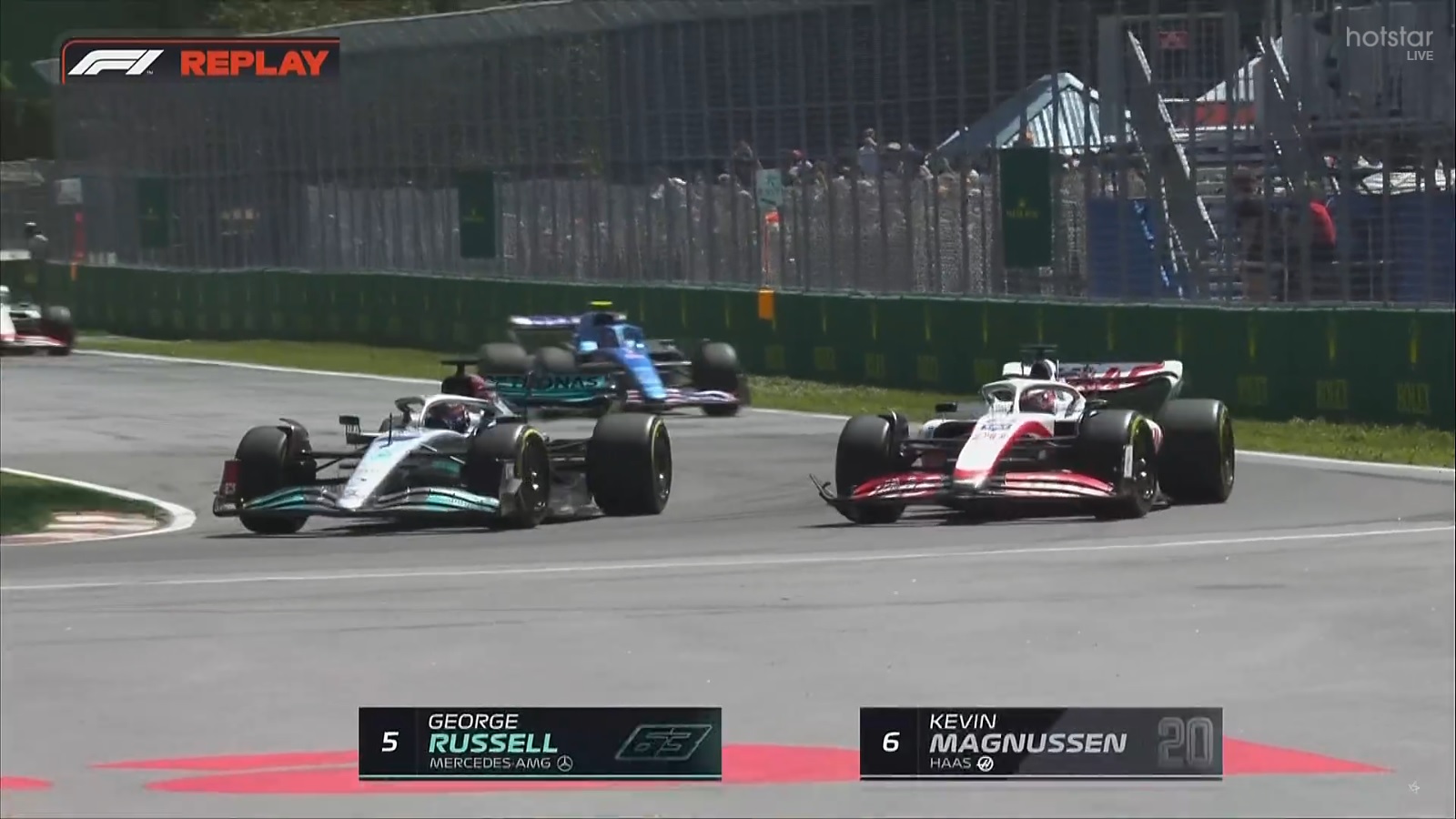 There was little more in terms of action, though a few overtakes happened up and down the field. Sainz started falling back from Verstappen after overtaking Alonso who was in P2, and both Spaniards and Hamilton fought for top honours in that particular battle. Gasly had a close call with Vettel which had the makings of a massive crash though thankfully he avoided the Aston Martin, though only just.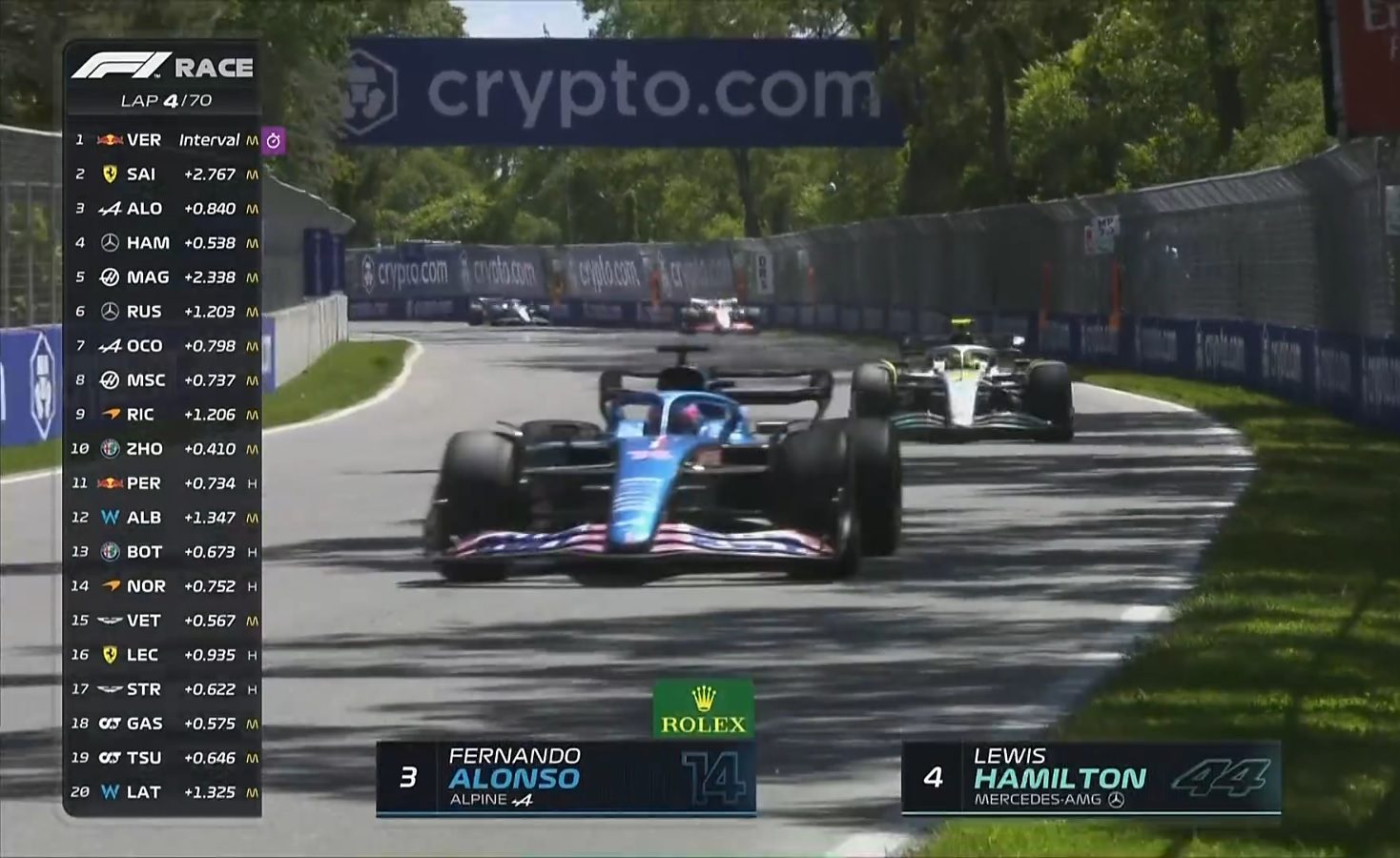 On Lap 8 we had our first retirement in the form of Sergio Perez, who stopped at the Turn 8 runoff area and brought out a VSC in the process. This saw Verstappen pit for hard tyres, and he was also followed in by Hamilton, Tsunoda and Latifi. Crucially, Sainz and Alonso stayed out and were 1-2 briefly!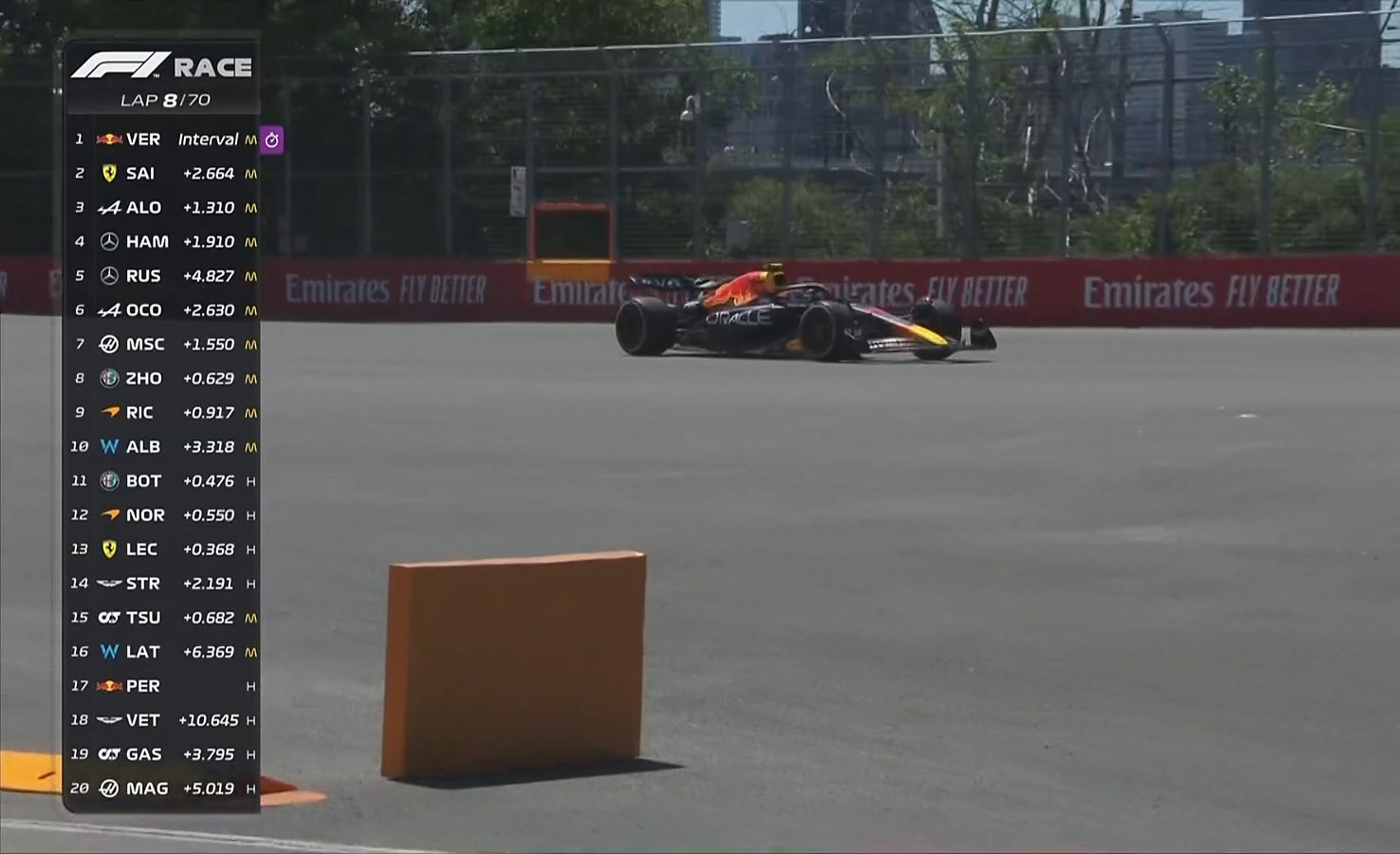 A few more laps in, Haas were in trouble- Schumacher pulled off at the same spot as Perez and retired, costing him a great chance at points in the process. Yet another VSC was deployed, which saw Sainz, Russell and a few others dive into the pits. Both McLarens stopped, but it was reminiscent of Sakhir 2020 in the McLaren camp, as Norris was left stranded without tyres and had to wait an obnoxiously long time to get serviced! Crucially in all this though, Alonso still opted to stay out- a bold call.
Mid-race stagnation and an unfortunate Safety Car
After the second VSC, the race seemed to stagnate and  not much happened in terms of action. Hamilton and Sainz got past Alonso who hadn't stopped yet, while further back Leclerc was making moves to claw his way up the field. Approaching the halfway point, Max led by just over 8.5 seconds from Sainz who was slowly closing in, while Hamilton was P3 and Russell P4.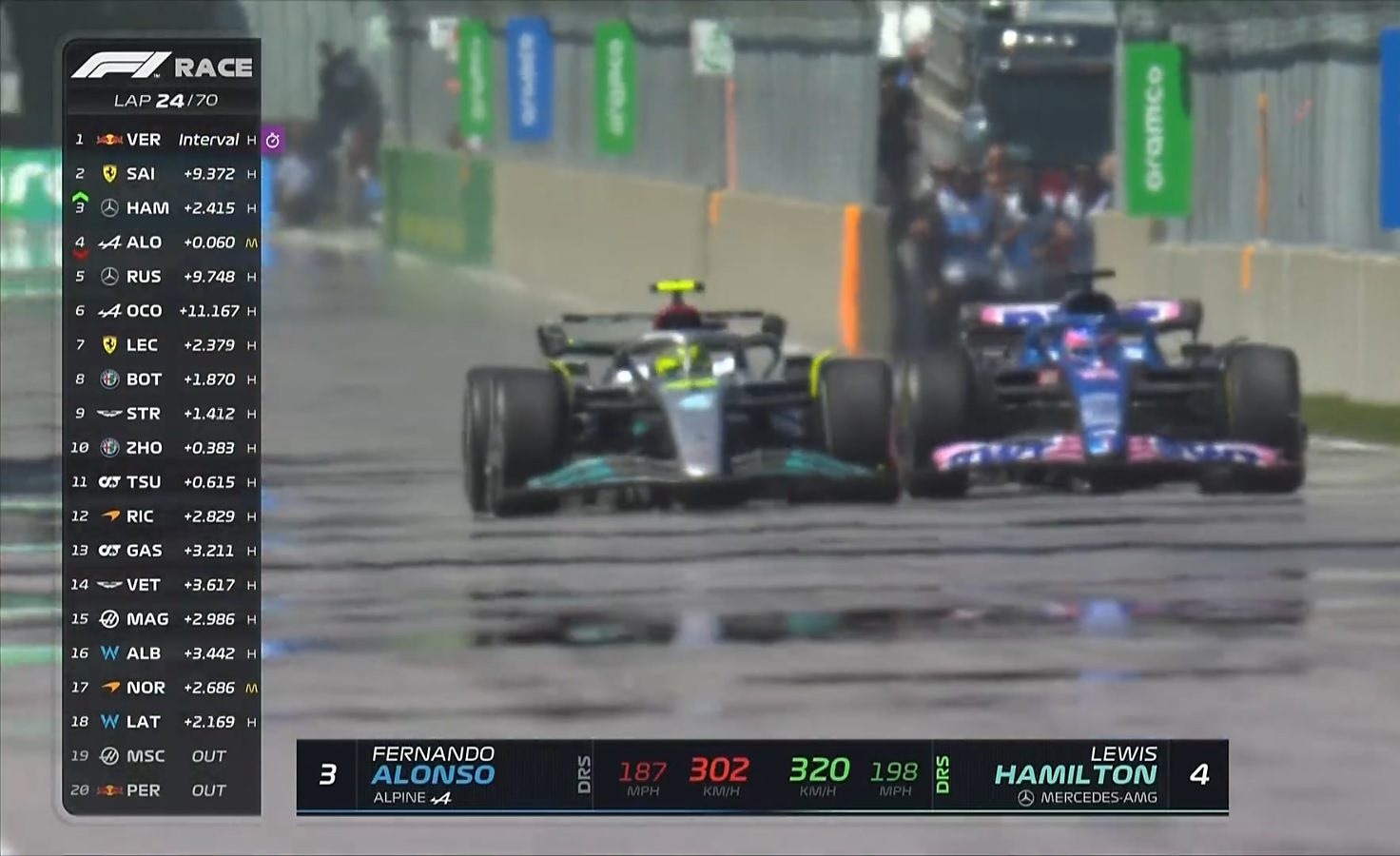 Red Bull then pit Max for a second time on Lap 43, though he emerged side by side with Hamilton. The two had many scraps across 2021, and now in 2022 they were side by side! Lewis was in front on track, which infuriated Max who angrily asked the team why he emerged behind Lewis on track. After a lap of being held up, Max got past with DRS assistance, though Lewis dove straight into the pits as well on that very lap. Russell followed Hamilton in a lap after that, and stayed P4.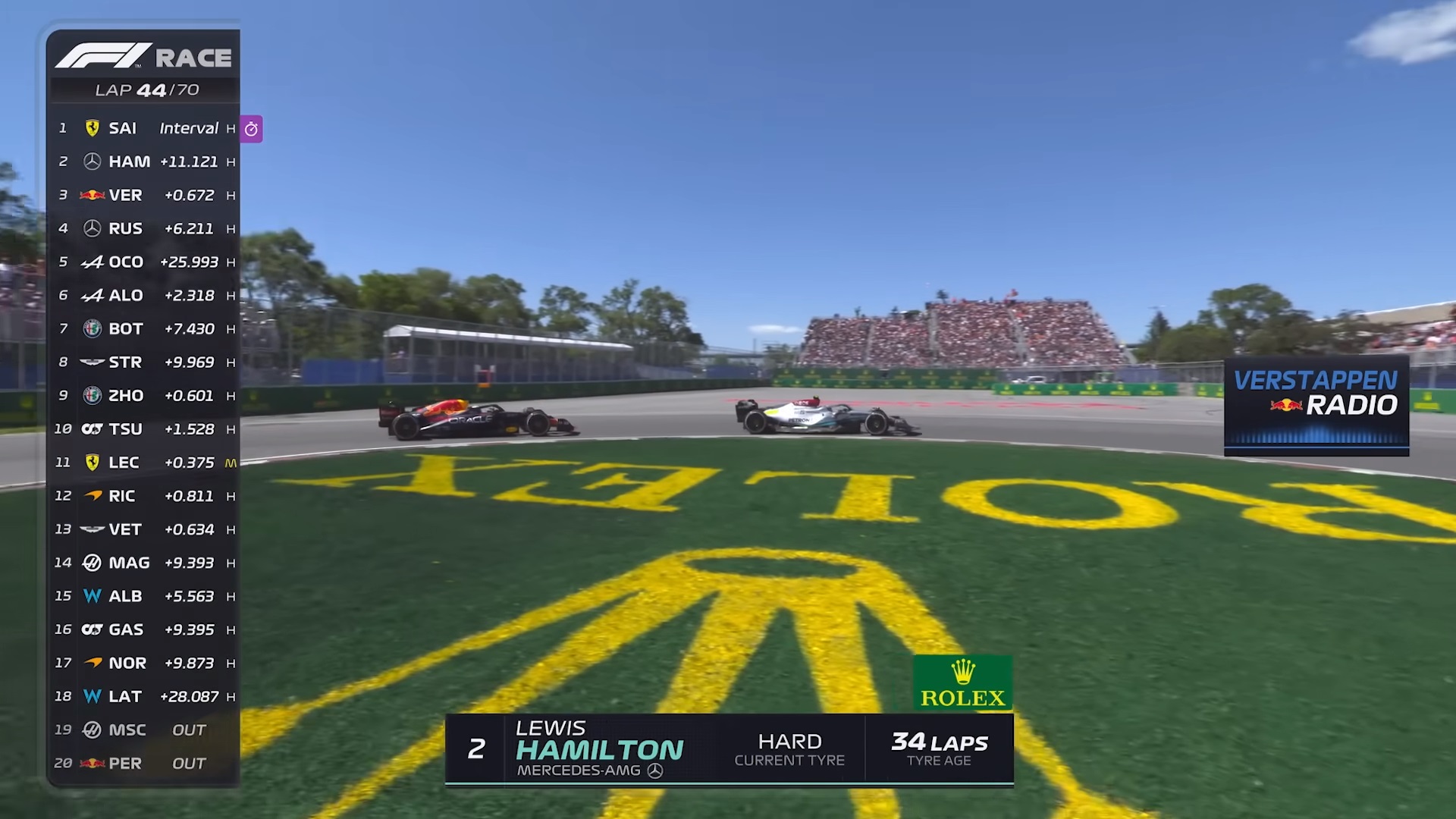 Leclerc had also pitted at long last for mediums, and started overtaking those ahead with ease. Seeing this commotion in the pits, AlphaTauri brought in Tsunoda and fitted a new set of hards onto his car. He exited the pits at high speed looking to lose as little time in doing so as possible, but went straight into the wall and ended his race in the grass at Turn 2. A VSC and then a full Safety Car was called out to clear the Japanese driver's stricken car.
The Safety Car period, race resumption and race finish
This played into Ferrari's hands, who pitted Sainz and saw him lose little to no time as under the Safety Car. Bottas and both Alpine cars also pitted, and gained the time which they would've lost had they pitted under green flag conditions. Stroll and Bottas had done almost 50 laps on the set of hard tyres they started the race on!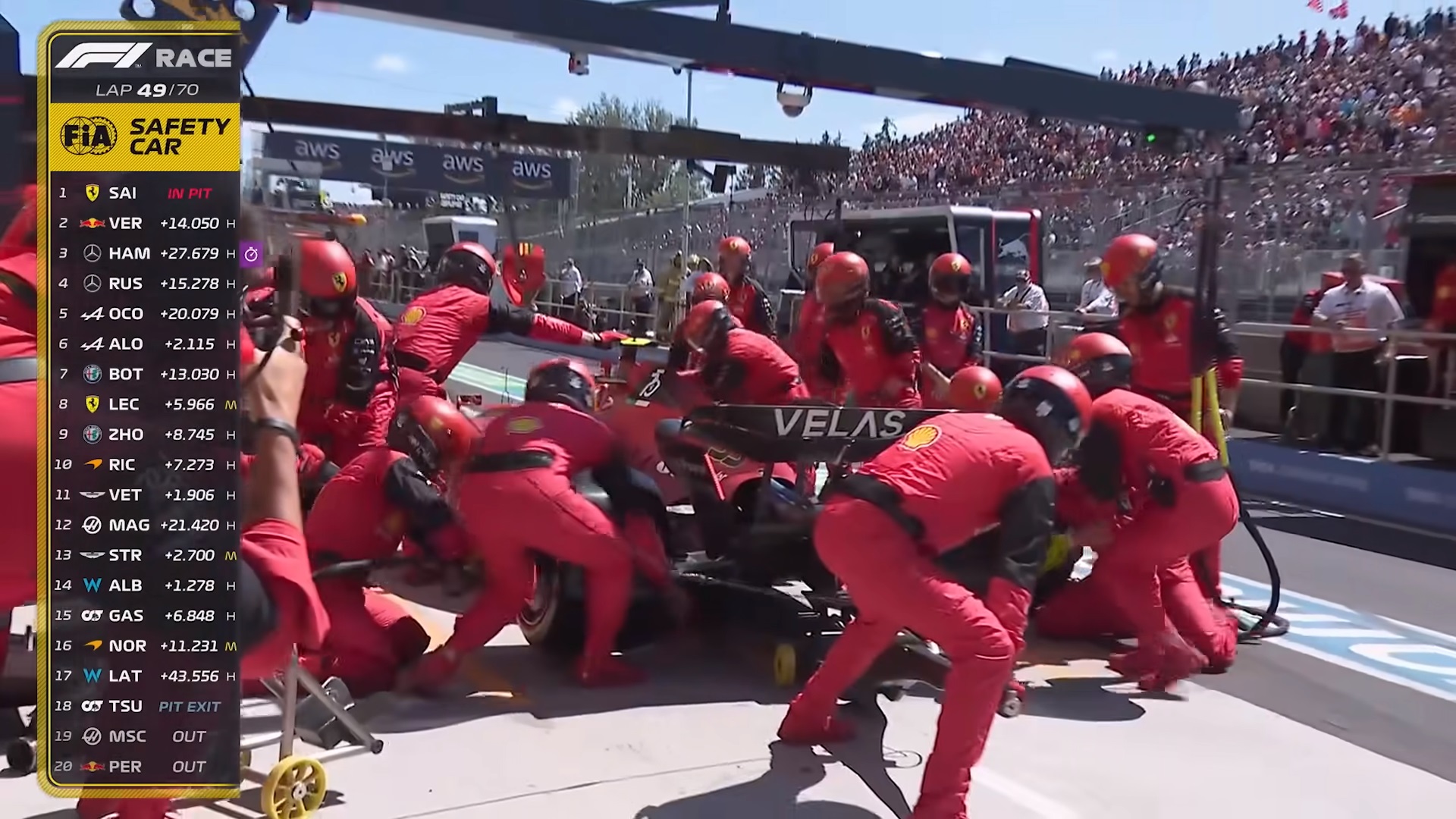 On Lap 55, the race resumed. Max bolted away, but Sainz was hungry for action and chasing down his maiden GP win. Max was almost untouchable despite Sainz having DRS, and stayed in the lead. Sainz meanwhile was being hunted by Hamilton, who was showing some great pace, which considering how tumultuous the season has been performance-wise for the Mercedes W13 was a welcome ray of hope!
Lap after lap, Sainz chased Max but to no avail- despite being chased down with the help of DRS as well, Verstappen won the race by just under 1 second from Sainz, and in 3rd and 4th were the Mercedes pairing of Hamilton and Russell respectively, Hamilton taking his second podium of the year while Russell, or rather Mr Consistency was P4 and kept up his very, very impressive record of a Top 5 finish in each race this year!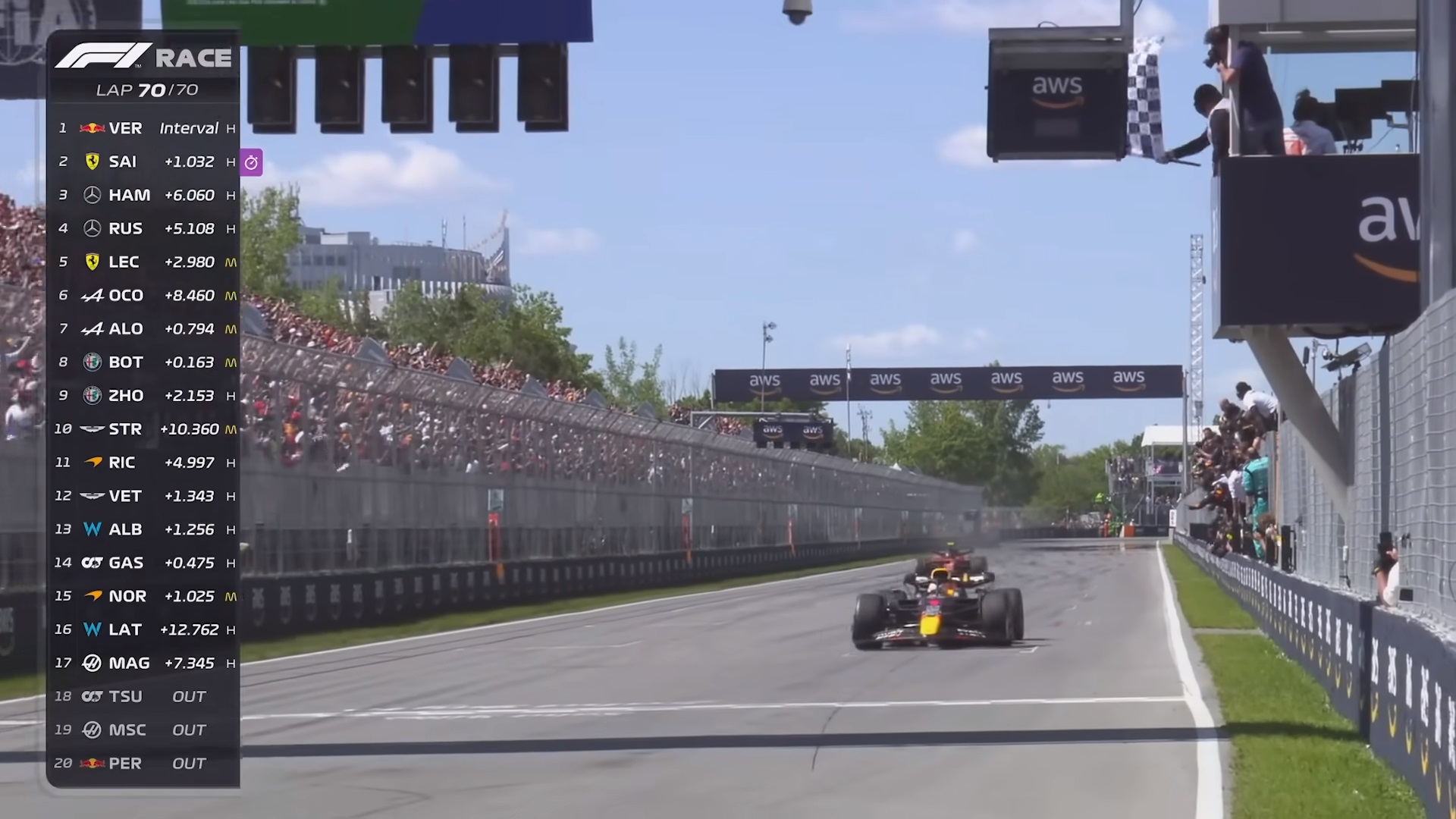 Leclerc was a fantastic 5th after starting 19th, while the Alpine duo finished 6th and 7th on-track. Why do I mention on-track? It's because Alonso got a 5-second penalty for aggressive defending against Bottas in the closing stages of the race, which dropped the Spaniard from P7 to P9 post-race. This saw Bottas and Zhou jump from P8 and P9 to P7 and P8- a great performance by them. Lance Stroll scored a point at home, and was the last of the finishers in the points.
In the end, it was a terrible weekend for the McLaren pairing, Vettel, both AlphaTauris but none more so than the Haas duo. Schumacher's retirement and Magnussen's poor strategy calls by the team saw a 5-6 start end up as a 17-DNF result, a shame for the American team and both drivers.
Here's the race result and standings at the end of the 2022 Canadian GP:
Race Result for the 2022 Monaco GP
POS
DRIVER
CAR
LAPS
TIME/RETIRED
PTS
1
1
 
RED BULL RACING RBPT
70
1:36:21.757
25
2
55
 
FERRARI
70
+0.993

s

19
3
44
 
MERCEDES
70
+7.006

s

15
4
63
 
MERCEDES
70
+12.313

s

12
5
16
 
FERRARI
70
+15.168

s

10
6
31
 
ALPINE RENAULT
70
+23.890

s

8
7
77
 
ALFA ROMEO FERRARI
70
+25.247

s

6
8
24
 
ALFA ROMEO FERRARI
70
+26.952

s

4
9
14
 
ALPINE RENAULT
70
+29.945

s

2
10
18
 
ASTON MARTIN ARAMCO MERCEDES
70
+38.222

s

1
11
3
 
MCLAREN MERCEDES
70
+43.047

s

0
12
5
 
ASTON MARTIN ARAMCO MERCEDES
70
+44.245

s

0
13
23
 
WILLIAMS MERCEDES
70
+44.893

s

0
14
10
 
ALPHATAURI RBPT
70
+45.183

s

0
15
4
 
MCLAREN MERCEDES
70
+52.145

s

0
16
6
 
WILLIAMS MERCEDES
70
+59.978

s

0
17
20
 
HAAS FERRARI
70
+68.180

s

0
NC
22
 
ALPHATAURI RBPT
47
DNF
0
NC
47
 
HAAS FERRARI
18
DNF
0
NC
11
 
RED BULL RACING RBPT
7
DNF
0
Sainz scored an additional point for setting the fastest lap of the race. Alonso received a five-second time penalty for making more than one change of direction to defend a position. Norris received a five-second time penalty for speeding in the pit lane.
Driver Standings after the 2022 Monaco GP
Constructor Standings after the 2022 Monaco GP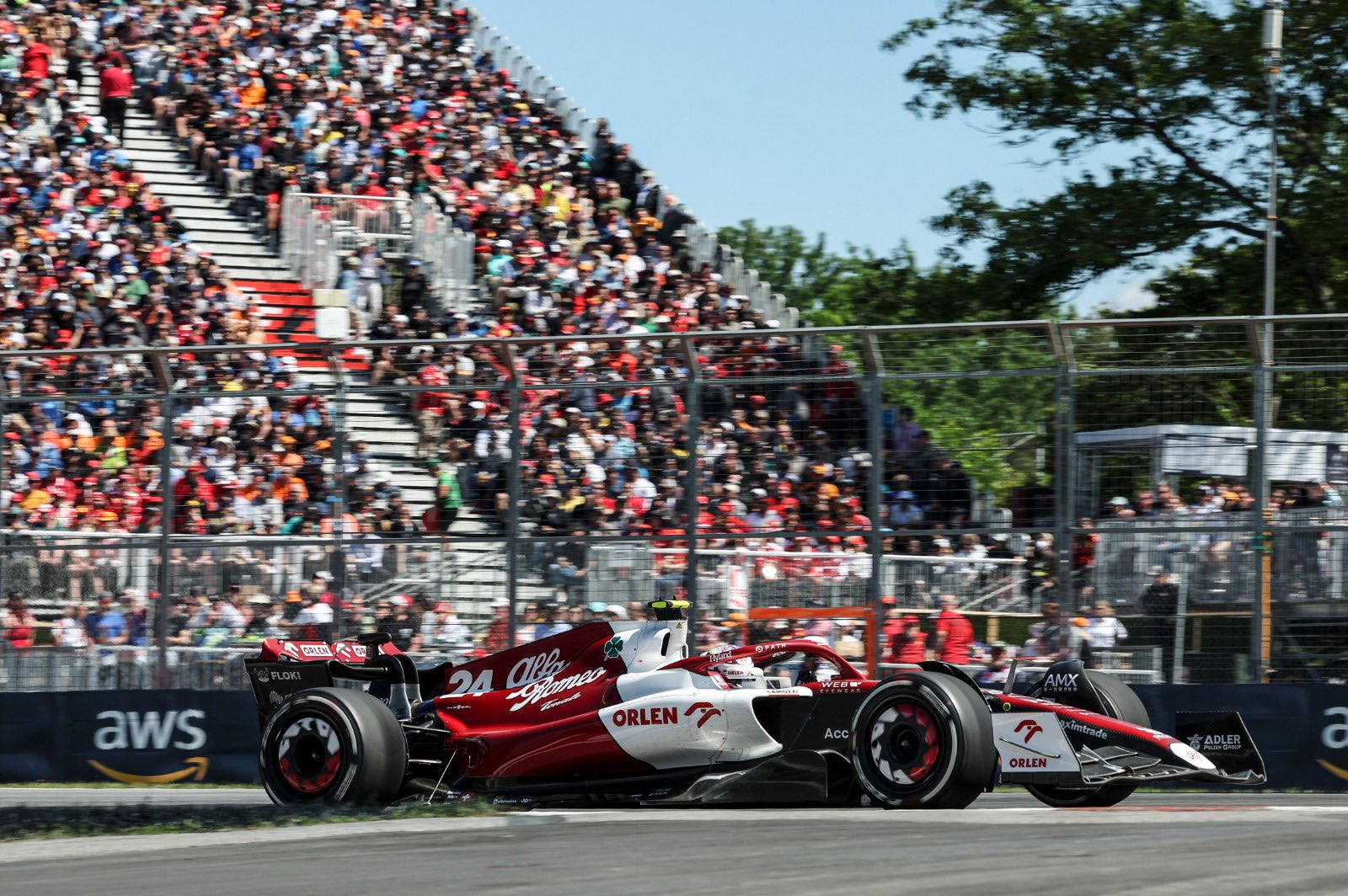 Now, here's the driver rankings for the 2022 Canadian GP!
1st: Max Verstappen
The championship leader had yet another near-perfect weekend, leading almost the entire race and then holding off a charging Sainz who despite DRS and a faster car, could not come close enough to challenge Max. An analysis after the race reveals to us that it was the hairpin where the Ferrari was losing and then the straightline speed advantage of the RedBulls added to Carlos' troubles. A great drive by the reigning champion to hold onto the win, his 5th of the season. All in all, a champion's drive by Max Verstappen!
Rating: 9.5/10
2nd: Carlos Sainz
Carlos drove well, but missed out on his maiden win yet again. He did get the fastest lap, but that's little consolation for he could have got his maiden win for the famous Prancing Horse. It was nonetheless his 5th podium of the season, and a decent haul of points as well.
Rating: 9/10
3rd: Lewis Hamilton
The 7-time champion drove very well in a car which he had just described 2 days prior to the race as being undriveable, and took a great podium in what is best described as being a moody car. The setup changes during Free Practice led the car to be even worse so, choosing a safer setup like Russell's was the pragmatic way to go. Hamilton coming out right as Verstappen came along, taking the lead and the crowd roaring for him was a scene to behold since, it has been a long time. He even challenged Sainz who was in a much quicker Ferrari for far longer than he should have, showing his true capability in the process.
Rating: 9/10
4th: George Russell
George had a quiet race, but stayed out of trouble and finished in the top 5 for the 9th race in a row. His consistency is simply unmatched this season, and that's why despite being in a far more inferior car than those around him, he's 4th in the championship, overachieving the performance of the W13 by a massive margin!
Rating: 8.5/10
5th: Charles Leclerc
Charles had a brilliant recovery race, going from P19 to P5 after slicing his way through the field with some brilliant overtakes up and down the field. He did get stuck behind Ocon for a very long time, but once he got back into his rhythm after his pitstop he made his way up into P5 where he finished.
Rating: 9/10
6th: Esteban Ocon
Ocon had a quiet but consistent race, and finished in Alpine's joint-best finishing position of 6th achieved this year. He stayed out of trouble and drove well to get home some great points for him and the Alpine team.
Rating: 8.5/10
7th: Valtteri Bottas
Valtteri's first stint on the hards was quite remarkable, and he and the team played the strategy to perfection and jumped up many places enroute to P8 on track, being elevated a place thanks to Alonso's penalty. Bottas' drive was probably the most-overlooked drive of the entire race!
Rating: 8.5/10
8th: Zhou Guanyu
Zhou had a good drive, but once stuck behind Stroll after his pitstop it took him too long to clear the Canadian and get past. Still, to finish in the points and score some crucial points for himself and the team is a great effort indeed. Zhou is already starting to appear as a more rounded driver. Although we need to see alot more, his racecraft and pace are looking to be better than we expected. With a mentor like Bottas, we could have a real race winner here or who knows, maybe a future world champion!
Rating: 9/10
9th: Fernando Alonso
Fernando had a messy end to the race, but his race was thrown into jeopardy thanks to Alpine temporarily hiring the Ferrari strategist to cook up Alonso's strategy! His and the team's reluctance to pit under VSCs saw him lose out on many places and crucial time, and at the end of the race to receive a 5-second penalty was icing on the cake. If only him and his team had the mathematics done right, they'd have definitely pit him on any one of the VSCs for a cheap pit-stop. Moreover, the dangerous weaving on a straight line as Bottas was about to overtake showed he still has no control over his frustration during the race. To fall from P2 at the start to P9 at the flag certainly infuriated him as well.
Rating: 7.5/10
10th: Lance Stroll
Lance hasn't been exceptional this year, but this was an odd instance of it. He had little in terms of quali pace, but in the race, he played the strategy game to perfection and drove well, something we haven't seen much of this year from him.
Rating: 8/10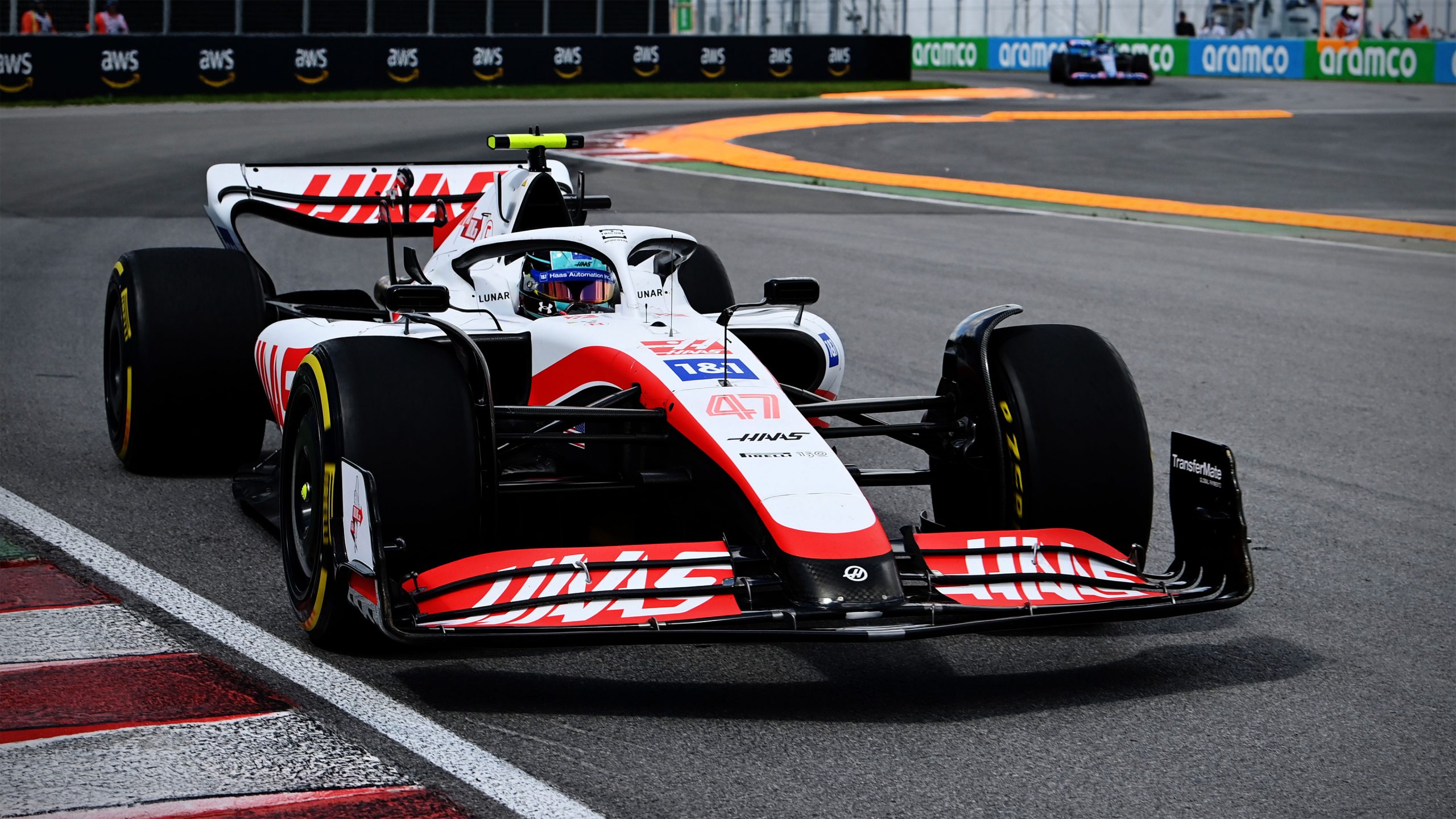 Honourable Mentions:
Mick Schumacher: Mick was driving in the points until his engine's unfortunate conking out, which saw his terrible run of luck continue as a DNF through no fault of his own while in contention for his maiden points was certainly unfortunate.
Alexander Albon: Albon drove well considering how slow the Williams looked in race trim. He held off faster cars for many a lap, something he has become quite well known for. The Safety Car nullified his track position advantage, and he finished 13th in the end, over 15 seconds ahead of teammate Latifi!