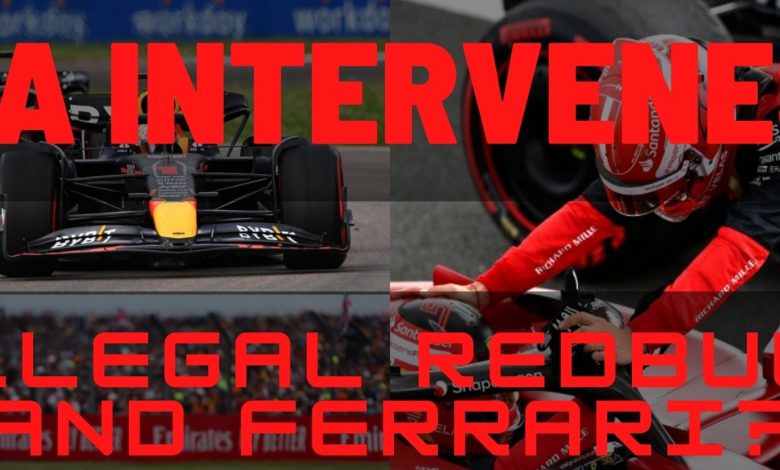 We return to the RedBull Ring excited to look at the sea of the Orange Army again this season! The previous 2 years saw sunny skies and lovely weather at the circuit, but this year weather forecasts predict a 40% chance of precipitation. A wet weekend is always entertaining for the fans but present interesting challenges to the teams and their strategies. A lot of development was observed last week at Silverstone with some teams looking to retrace their steps back into the competition.
Ferrari and RedBull asked to Rebuild Illegal Floor Planks
Reportedly, both Ferrari and Redbull have been exploiting a loophole in the technical guidelines issued by the FIA regarding the amount of flex the floor plank behind the driver can undergo, upon a certain amount of pressure. The regulations state that the floor planks should not flex more than 2mm under a given amount of pressure. However, the area around the driver seat was not discussed.
The two teams used this ambiguity to their advantage to reduce the porpoising around corners and on the straights. This point was taken up in the latest Technical Advisory Committee and FIA directed the teams to rectify the planks before the French Grand Prix. Few teams, including Mercedes and Aston Martin were "surprised" by these technique adopted by the teams and hope that the playing field will be levelled after the changes.
Mercedes End their Porpoising Woes?
The Brackley team finally seems to have found their mojo with this year's car, and as we saw at the British GP. Apart from the unfortunate incident with George Russell at the race start, it was more or less a satisfying weekend for the team, with Hamilton scoring a successive podium after Canada. He will surely try to carry the streak this Sunday as well. It's good to see the team having sorted out the flaws in the car, especially the porpoising snags, which was a real bother. Although we are also looking forward to see some more development in the car as Mercedes have confirmed that they will keep adding small developments until Hungary.
RedBull and Ferrari lock Horns
This season has been a topsy-turvy journey for both of these teams who look to be the prime contenders for this year's championship, even though the competition is a very close one among all the other teams as well. RedBull seem to have the upper hand at the moment, going into the weekend, with a big lead in the Constructor's championship with 328 points, and Ferrari a significant distance behind at 265 point. But we expect to see tough battles between the red and blue teams.
Verstappen has dominated this circuit since 2018 winning that year, in 2019 and in 2021, save 2020, where a mechanical failure ended his race. This year, he will be looking to extend his lead in the championship as well, especially in front of the crowd, which would be filled mostly by his supporters. Last week he had a bit of a misfortune with a piece of debris stealing away his pace and the potential race win. His teammate, Sergio Perez though, made a very strong comeback, and secured P2. Perez, who has had his own fair share of misfortune at the RedBull Ring in the past year will look to redeem himself as well.
Ferrari look to be on a roll from last week's victory, and go into the weekend highly motivated and in high spirits, with 2 very good drivers who have the potential to win. Although, few concerns were voiced on their questionable team strategy, when they did not pit Leclerc who was leading the race under the second safety car and had a strong chance to win, rather pit Sainz, who was a bit behind in pace in comparison, who went on to win the race. In the past years, Leclerc has also been strong at this circuit and the fans will be expecting a strong race from him. He will look to gain 2nd place in the Driver's championship, as he is just 11 points behind Sergio Perez with 138 points, with Carlos just behind him with 127 points.
Alpine vs Alfa Romeo vs McLaren
McLaren currently stand 4th in the Constructor's championship with 73 points, with Alpine following breathing down their neck, only 6 points behind them, with Alfa Romeo a bit behind them sitting at 6th place with 51 points. A good weekend from either of these teams will change the whole dynamic of the midfield. Alfa Romeo suffered a double whammy last week because of an unfortunate crash for Zhou Guanyu and a gearbox problem for Bottas causing him to retire the car, but will be looking to upturn their luck this weekend.
Alpine had a more or less bitter sweet race at Silverstone with Alonso securing P5 but Ocon having to retire because of a fuel pump issue. Both of these teams have a lot to work upon their hands in terms of reliability. McLaren, no doubt look the strongest out of these 3, only held back by Ricciardo who has not performed up to the mark in the last few races, thereby expecting Norris to lead the charge.
Norris eyeing for a Hat-trick
RedBull Ring was the circuit where Lando Norris won his first podium in Formula 1, in 2020, and secured another podium last last year as well. This year he has been reasonably consistent as well, apart from the torrid weekend at Canada. He looked particularly confident with the MCL36 last week at Silverstone and secured a P6, falling shy of just 2 seconds behind Fernando Alonso, who came P5. Although the conditions will be very different this week , it will be a treat to watch the young Briton make his way through.
In all the races this year, the fans have witnessed close battles and I am positive that we will see more of those in Austria as well and it will prove to be a fun orange strewn weekend!