Formula 1
Leclerc finally clinches Victory as Sainz' Ferrari catches fire! Race highlights from the Austrian GP
Drivers continued to be penalized for track limits, as Ferrari win the Battle of Strategies at the RedBull Ring.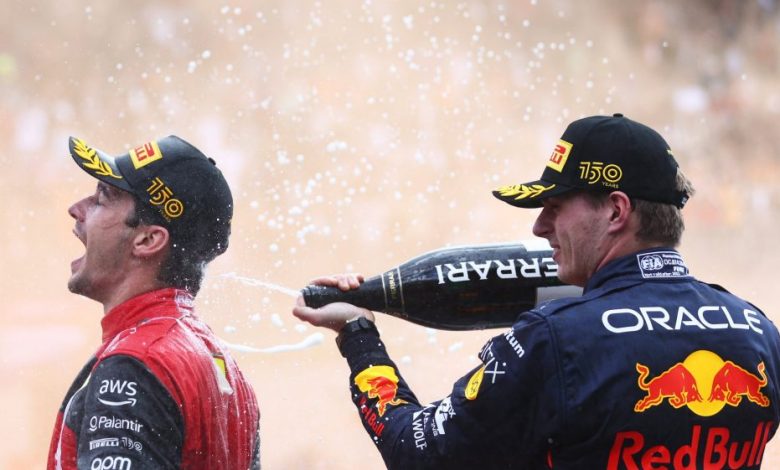 Ferrari have claimed victory at Spielberg after almost 2 decades. The last race winner here for Ferrari was Michael Schumacher in 2003. Many exciting battles ensued on track at the RedBull Ring making it a phenomenal experience for the Orange-clad fans. Verstappen, experiencing tire degradation issues came a close second, followed by Hamilton who dedicated his podium finish to the engineers who had to rebuild his car after his unfortunate crash on Friday.
Race Start
Verstappen, starting P1 got away well and took the lead of the race, closely followed by Leclerc, Sainz, Russell and Perez who starting P5, covered off Ocon (P6). Going into Turn 1, Sainz had to go off the track to avoid collision, and fell behind Russell in the process, but overtook him soon enough, given the massive pace he carried. As both of them battled into the hairpin corner of Turn 3, Perez attempted to go around the corner but could not stick the move. However, at Turn 4, he pressed Russell a bit too much and got knocked off into the gravel instead. That incident pretty much ended his race as he fell back by a lot and having sustained damages, could not revive the pace. He would later go on to retire his car. Russell was also handed a 5-second penalty for causing a collision.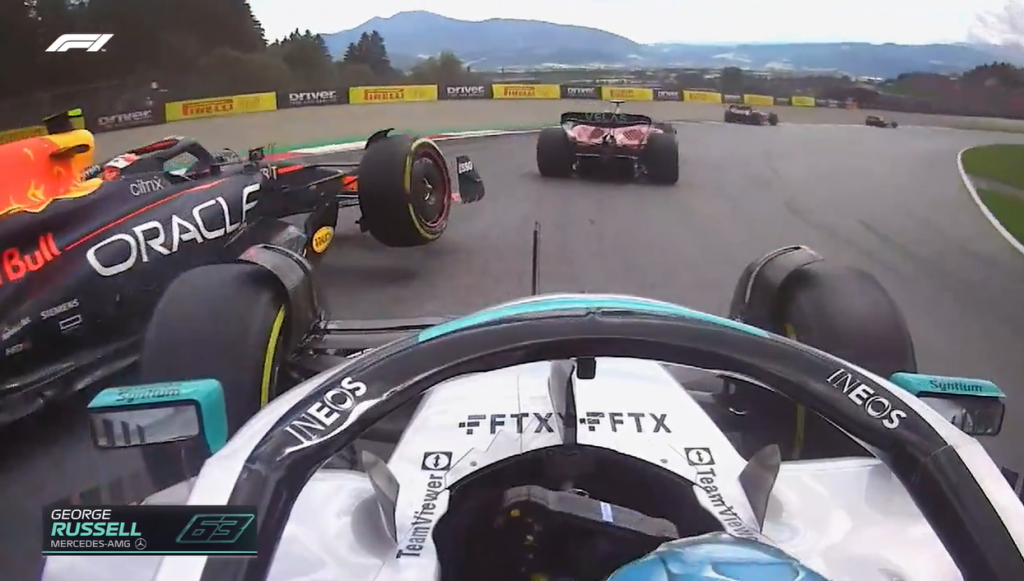 Meanwhile, Hamilton was unable to find the appropriate pace in his car and was even overtaken by rookie HAAS driver Mick Schumacher on Lap 4. Ferrari immediately began to show the immense pace that they carried as by Lap 12 itself Leclerc was able to overtake Verstappen who initially had a 2-second lead.
Mid-Race 5 car battle
Hamilton continued to battle with his pace and with the both HAAS cars, but eventually came out on top after a brilliant move in Lap 15, after overtaking both of them in consecutive corners. During this time, the cars began to start pitting for fresher tires and lots of position changes were observed as teams sought to even out strategies and undercut their immediate competitors.
For a long while, Alpine's Fernando Alonso seemed to be stuck behind Alfa Romeo's Zhou Guanyu. But, on lap 24, HAAS driver Kevin Magnussen, being on fresher tires overtook them both in a very brave move going into Turn 1 and asserted his dominance. All 3 of them lost a quarter of a second in that battle, an opportunity not wasted by Norris and Schumacher who looked to take advantage of the situation. This led into a very intense 5-way battle for the next 2 laps, ultimately having Magnussen emerge on top, followed by Norris, Schumacher, Alonso and Zhou respectively.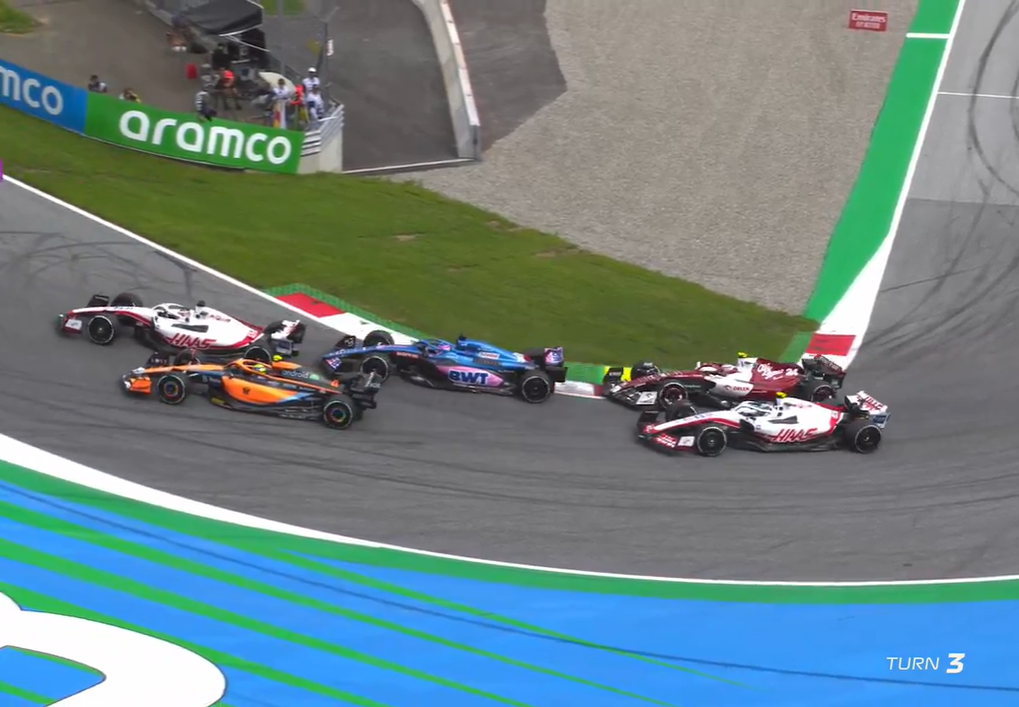 In the subsequent laps, Ferrari pit for fresher tires, and neatly strategized to undercut Verstappen who was struggling with pace. On Lap 40, Vettel and Gasly came together in a similar manner as Perez and Russell, this time Vettel being spun into the gravel. William's Latifi had to retire from the race shortly after, citing floor damage from debris.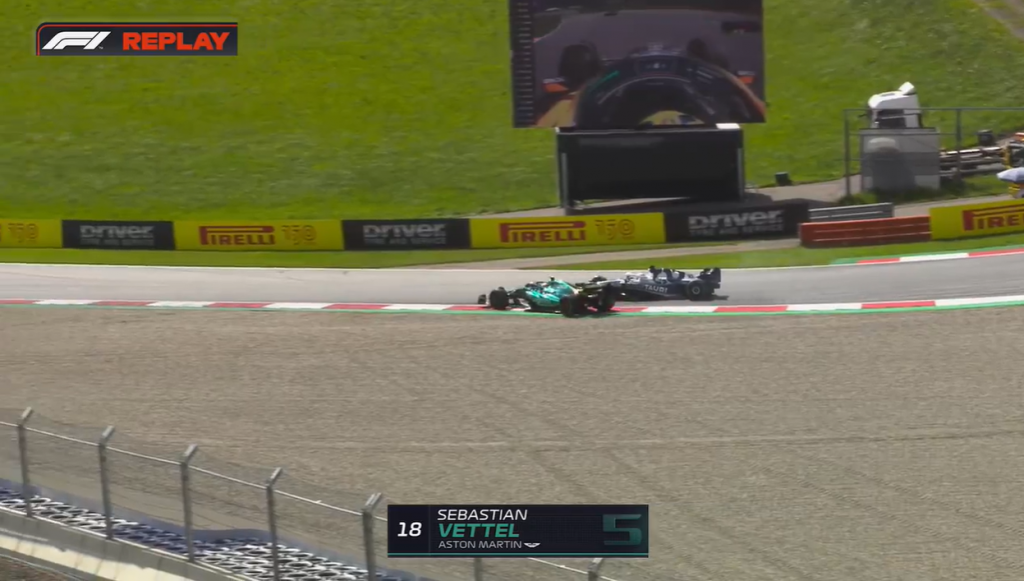 Final Stages and a Horror for Sainz
On lap 57, Ferrari seemed to have completely dominated RedBull with their perfect strategy and were looking for a strong 1-2 finish, But as luck would have it, the engine of Sainz's Ferrai blew out and caught fire. After some struggles, he was able to get out of the car with the help of the marshals in the run-off area. This is the 4th mechanical failure for Ferrari this season which has previously costed them a potential race win. In Austria, a Ferrari 1-2 seemed almost set which would've allowed Leclerc to get closer to Verstappen as Sainz would've snatched P2. VSC was deployed and racing resumed shortly after. This allowed drivers to take fresh tires with just 14 laps to go!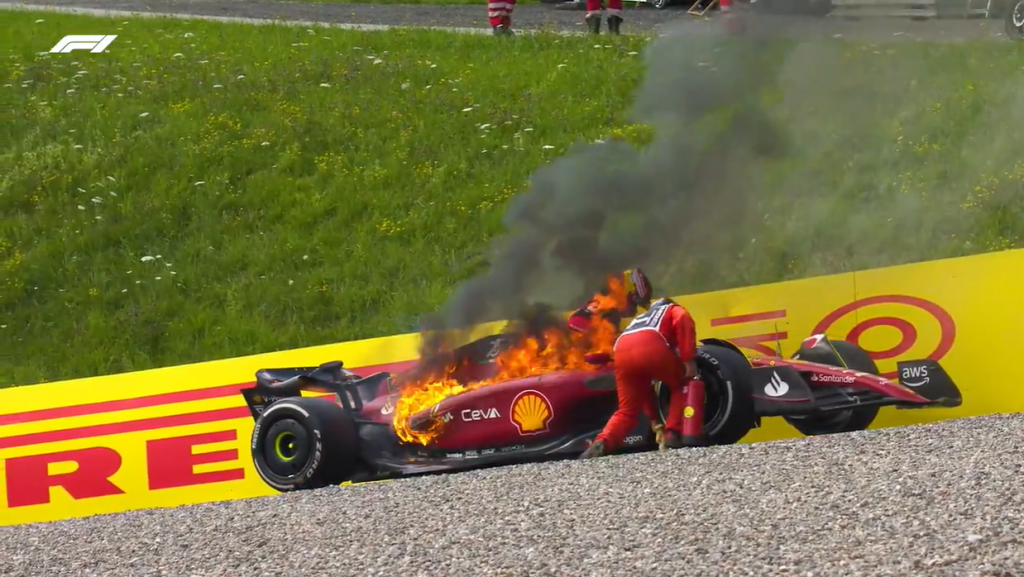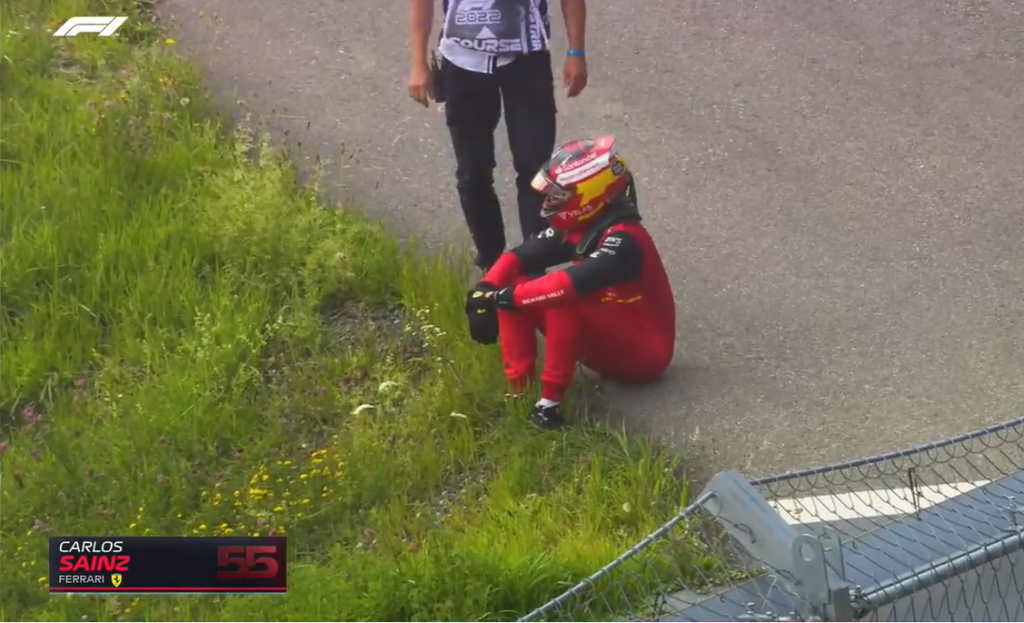 Leclerc wins whilst driving on a Knife's Edge
After the VSC ended, the drivers entered a final sprint to the chequered flag. Both Leclerc and Verstappen got a fresh set of mediums and thankfully, the Ferraro strategy team didn't let Leclerc stay out. Leclerc had a good lead, but to the scare of the team found his throttle to be jammed, and had to lift off of many corners for the final few laps. On asking his race engineer, it was clarified that there was some dust or debris on the throttle pedal and he had to lifet before in corners or the clutch would be stuck due to over-revving.
This allowed Verstappen to catch up and put him under pressure, but Verstappen ultimately ran out of laps and Leclerc held on to the win with a gap of just 1.5 seconds. A true Driver of the Day drive by Leclerc but, it was Mick Schumacher who got the fan's votes. Well deserved! Hamilton came 3rd after a strong drive to complete the podium spots making it his 4th podium for the 2022 season and his 3rd P3 in a row after having a TERRIBLE start to his 2022 season. The complete driver positions are given below:
POS
DRIVER
CAR
LAPS
TIME/RETIRED
PTS
1
16
 
FERRARI
71
1:24:24.312
25
2
1
 
RED BULL RACING RBPT
71
+1.532

s

19
3
44
 
MERCEDES
71
+41.217

s

15
4
63
 
MERCEDES
71
+58.972

s

12
5
31
 
ALPINE RENAULT
71
+68.436

s

10
6
47
 
HAAS FERRARI
70
+1

 lap

8
7
4
 
MCLAREN MERCEDES
70
+1

 lap

6
8
20
 
HAAS FERRARI
70
+1

 lap

4
9
3
 
MCLAREN MERCEDES
70
+1

 lap

2
10
14
 
ALPINE RENAULT
70
+1

 lap

1
11
77
 
ALFA ROMEO FERRARI
70
+1

 lap

0
12
23
 
WILLIAMS MERCEDES
70
+1

 lap

0
13
18
 
ASTON MARTIN ARAMCO MERCEDES
70
+1

 lap

0
14
24
 
ALFA ROMEO FERRARI
70
+1

 lap

0
15
10
 
ALPHATAURI RBPT
70
+1

 lap

0
16
22
 
ALPHATAURI RBPT
70
+1

 lap

0
17
5
 
ASTON MARTIN ARAMCO MERCEDES
70
+1

 lap

0
NC
55
 
FERRARI
56
DNF
0
NC
6
 
WILLIAMS MERCEDES
48
DNF
0
NC
11
 
RED BULL RACING RBPT
24
DNF
0