Formula 1
Verstappen wins the Sprint Qualifying as Schumacher battles Hamilton! Sprint highlights from Austria
A battle between the Ferraris, a quick Mercedes recovery and Max going super amidst the orange army at the RedBull ring.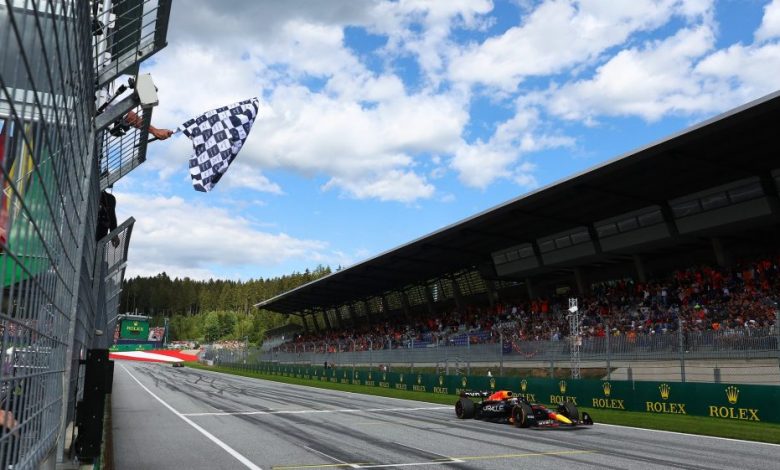 Max Verstappen will start P1 in tomorrow's race as he won his home Sprint qualifying while Fernando Alonso suffered a DNS (Did-not-start) and will take 20th on the grid in the main race. The Sprint start saw a brilliant getaway from both Carlos Sainz and Max Verstappen as George Russell almost caught up to Sainz in P3. Sainz overtook Leclerc on Turn 1 and this was followed by a racy battle between the Ferrari boys of Sainz and Leclerc both, keeping it within the limits. But, we were soon interrupted by an incident at the back where Hamilton was sandwiched between Gasly and Alon, putting him down in P11. This would be the second time Gasly moved left towards a Mercedes as the same happened on the race start in Silverstone when Gasly moved left over to Russell who then hit Zhou sandwiched in causing in the infamous Zhou car flip.
Sergio Perez was shifted down in P13 as all his times from Quali were deleted. This didn't stop Perez from making some incredible moves truly showing the potential of the RB18 and the immense speed it carries through. Perez made an inch perfect move on Schumacher going on to P7 by Lap 9. Incredible racing there as Perez slotted himself into P6 in the next lap overtaking the other Haas of Kevin Magnussen.
Talking about the Haas boys, it seemed like Schumacher had a rejuvenated spirit of racing after having his first points showing an incredible race pace as he was asked to stay behind K.mag even though he felt and kinda looked faster than his teammate. Then came Lap 11 and we saw Sebastian Vettel get nicked off the tarmac and into the gravel by Alex Albon at the exit of the fast left hander of Turn 6. No debates here and this one can simply be termed as a racing incident. Neither was trying to be overly aggressive but, Alex Albon got a 5-second penalty for forcing another driver off the track. Talking of penalties, Valtteri Bottas will start from the back for taking in additional PU elements.
Sergio Perez went up another place as he slid into P5 by lap 12 getting over Esteban Ocon. Right behind this overtake was a battle between Hamilton and Schumacher which made the last 5 laps quite interesting as Hamilton tried to get past Schumacher from Lap 19 onwards. It was good racing between the two and I must add that though Mick was aggressive, he was a more mature driver than what we have experienced from his generation of drivers.
Mick was aided by Magnussen's DRS just keeping Hamilton at bay. As soon as the gap to Kevin got over a second, Hamilton made a strong move on Mick at Turn 4 on Lap 21. Hamilton consistently got a better exit out of Turn 3 knwoing he'd need that for executing the overtake and he did. Both the Mercedes cars were happy to finish where they did as it required a lot of work to bring the cars back up after their crashes in Q3 yesterday. Both the W13s look like they can compete at the top of the table tomorrow so don't miss it. Here's the starting grid for tomorrow:
POS
DRIVER
CAR
LAPS
TIME/RETIRED
PTS
1
1
 
RED BULL RACING RBPT
23
26:30.059
8
2
16
 
FERRARI
23
+1.675

s

7
3
55
 
FERRARI
23
+5.644

s

6
4
63
 
MERCEDES
23
+13.429

s

5
5
11
 
RED BULL RACING RBPT
23
+18.302

s

4
6
31
 
ALPINE RENAULT
23
+31.032

s

3
7
20
 
HAAS FERRARI
23
+34.539

s

2
8
44
 
MERCEDES
23
+35.447

s

1
9
47
 
HAAS FERRARI
23
+37.163

s

0
10
77
 
ALFA ROMEO FERRARI
23
+37.557

s

0
11
4
 
MCLAREN MERCEDES
23
+38.580

s

0
12
3
 
MCLAREN MERCEDES
23
+39.738

s

0
13
18
 
ASTON MARTIN ARAMCO MERCEDES
23
+48.241

s

0
14
24
 
ALFA ROMEO FERRARI
23
+50.753

s

0
15
10
 
ALPHATAURI RBPT
23
+52.125

s

0
16
23
 
WILLIAMS MERCEDES
23
+52.412

s

0
17
22
 
ALPHATAURI RBPT
23
+54.556

s

0
18
6
 
WILLIAMS MERCEDES
23
+68.694

s

0
19
5
 
ASTON MARTIN ARAMCO MERCEDES
21
DNF
0
NC
14
 
ALPINE RENAULT
0
DNS
0