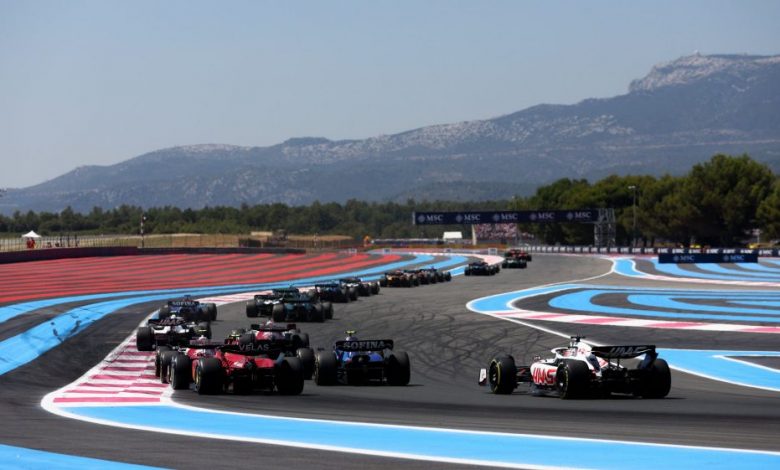 Defending world champion Max Verstappen took another comfortable victory as Charles Leclerc crashed out of the race and Mercedes picked up on their pieces. A nightmare of a race for Leclerc and Ferrari who clearly were the fastest car on the grid was replaced by the Mercedes on the podium.
Verstappen had a textbook strategy to win the race thereafter, while his teammate, Perez had a tough time fighting against Russell for P3, eventually losing out to the Mercedes driver. Hamilton too had a relatively enjoyable race which granted him P2 for his 300th race!
Race Start and Initial Few Laps
Leclerc got a very good start and led the race, keeping Verstappen at bay for a good 17 laps with nothing but sheer downforce and cornering speed. Perez, starting P3 had a poor start and dropped behind Hamilton by the first corner. Both Alpine drivers, Alonso and Ocon, starting P7 and P12 respectively had superb starts as they overtook both drivers ahead of them accordingly.
However, going into the chicane on the Mistral straight, Ocon could not turn adequately and knocked Tsunoda off, who eventually had to retire, due to heavy bodywork damage. Ocon was served a 5-second time penalty for that mishap later on in the race.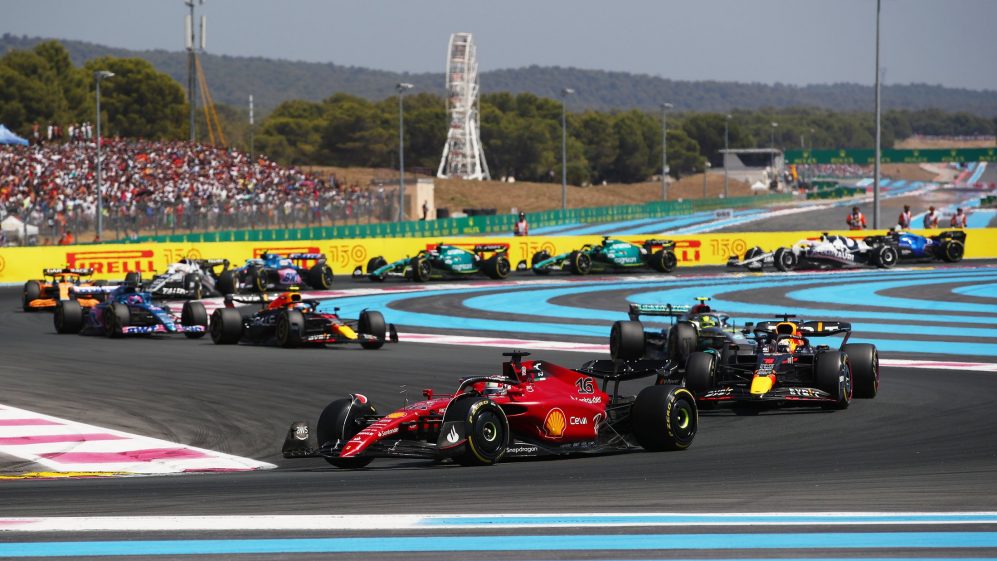 Leclerc Spins, Sainz gets Penalized for Unsafe Release!
On lap 18, while going around the long left-handed Turn 11, Leclerc spun out and crashed into the adjacent tire barriers. His rear tires had degraded a bit too much, and a bit too much throttle input by the Monegasque led them to give away. Notably, the throttle pedal got back to a zero level several seconds after Leclerc had come to a standstill. He expressed his frustration into the team radio as he retired out of the race. He later owned up to his mistake and took it upon himself to improve his driving.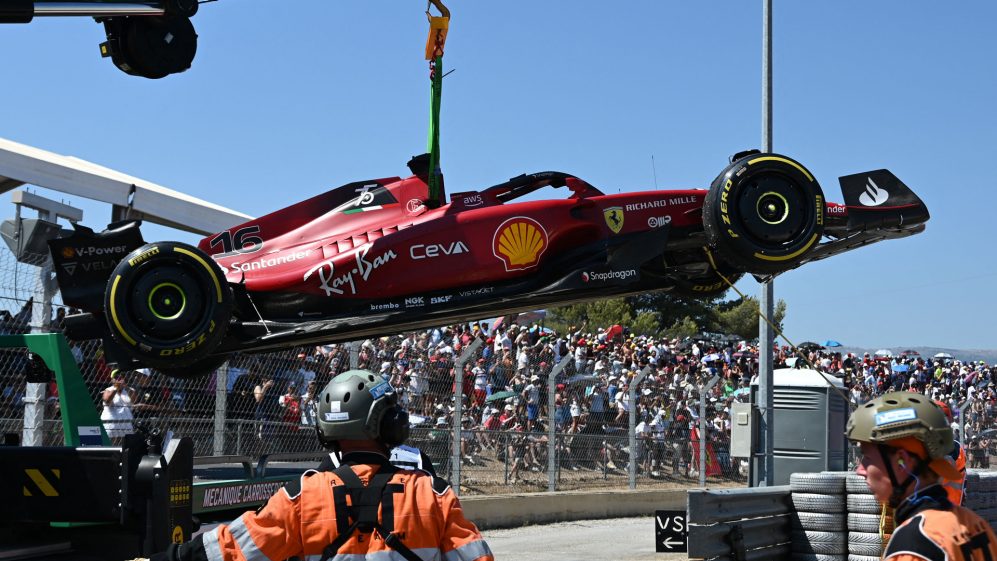 Under the safety car, Sainz, who had a brilliant start pit for new tires. But a slow pit-stop by his team and an unsafe release on to Albon who had to take evasive action led him for a 5-second time penalty which he served at his 2nd pit-stop.
Sainz slashes through the field!
With a new Power Unit, Sainz had an incredible pace throughout the race. Before the first safety car, he had reached up to P9 itself. As the race resumed, he immediately overtook both the McLarens ahead of him and Alonso as well. Using his beautiful maneuvers in subsequent laps he overtook Russell and Perez as well.
Sainz's second pit-stop was as chaotic as you'd expect from the Ferrari team in 2022. When Sainz asked to come in for a pit stop, he was denied. Then, right as he was racing hard against Perez, his engineer radios in to "Box for pits." The Ferrari team even went ahead to box him later on and get him to serve a stop-and-go 5-second penalty. Obviously he lost track position joining in at P9. Sainz still managed to grab P5.
Meanwhile, at the back of the pack, Magnussen and Latifi had a moment of contact which damaged the former's car a bit too much, causing him to retire from the race. Zhou Guanyu and Mick Schumacher also collided with each other which saw Schumacher spin out and Zhou sustain damage to his front wing.
A Late VSC and hard racing on the final laps
Zhou Guanyu had an engine on the 49th lap, which brought out the Virtual Safety Car. As racing resumed, Perez was caught unawares, as Russell easily overtook him. In the final laps, a strong battle between the two ensued, right until the chequered flag, with Russell coming on top with a podium finish. Aston Martin drivers, Vettel and Stroll also fought it out till the last corner, with Vettel eventually falling back, following team orders.