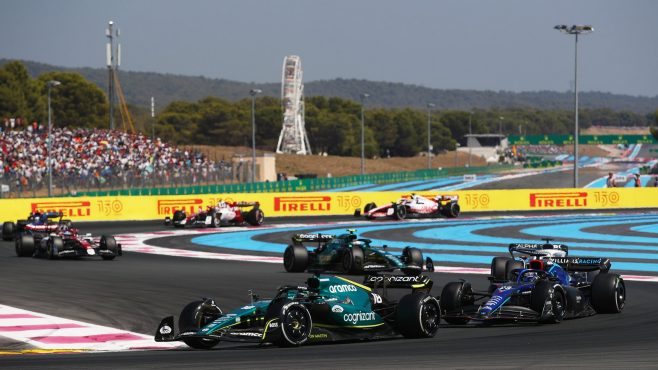 Ferrari fans had to experience yet another day of disappointment as Charles Leclerc, for the 3rd time this season, had to retire from the race while leading. Verstappen who could not have hoped to chase him down went on to win the race taking his lead to 63-points in the championship. Carlos Sainz, who had started from the back of the grid, hunted down his oppositions, but an ill-timed pit-stop by his team and the worst timed radio message for the pit meant more questions against Ferrari strategies. That relegated him to a not so impressive 5th place. As a result, both Mercedes drivers claimed a podium place, after Russell and Perez fought it out till the last lap.
Ferrari Unlucky or just not Up-to-the-Mark
Leclerc's most recent slip up spelled the 6th DNF for Ferrari this season. It is also the 3rd DNF for the driver himself, which has cost him 75 potential points in the Driver's Championship! His teammate, Sainz holds 4 DNFs to his name this season. There's no doubt that Ferrari have had serious potential to win the Constructor's trophy, but incidents like these make their hopes look bleak, and now even more with RedBull with an 82-point lead.
Discussing the French GP, Leclerc's rear tires had begun to wear a lot. At lap 18, while going around the long right handed Turn 11, a slightly higher throttle input caused the tires to give away and he spun out and crashed into the barriers, which ended his race. Leclerc later owned up to his mistake, also mentioning them being unacceptable and if he continues to make them, he does not deserve to contend for the championship.
Meanwhile, at the back, Sainz had made up to P9 from the back of the grid, and had come to change tires under the safety car. However, he lost some time due to a slow pit-stop, and to add to the misfortune, his pit-crew performed an unsafe release onto Albon who had to take evasive action.
The Spaniard was handed a 5-second time penalty as a consequence. He had made up good time given his new Power Unit and caught up to Perez at P3. During his battle with the RedBull driver, his race engineer quite questionably asked him to pit for new tires. Sainz was naturally enraged and responded with "Not now! Not now!". After overtaking Perez and with just 10 more laps to go, he pit for new tires. During this stop, his penalty was exercised. This strategy taken by Ferrari has confused everyone in the F1 community. Sainz lost valuable time and positions he had gained and eventually finished the race at P5.
Mercedes Celebrate their first Double Podium this Season!
After consistently scoring P3 and P4 for the past few races, Mercedes were able to secure P2 and P3 this weekend. Quite surely, a satisfying result for Hamilton's 300th Grand Prix appearance! The Silver Arrows have definitely improved over their flaws and have been showing great pace in the recent races, and were rewarded handsomely for it in France.
Hamilton had a relatively easy and straightforward drive with no real competition for P2. And I am guessing Hamilton was not complaining given how hard he has had to fight with unfortunate safety cars and the mid-field as well.
Russell nonetheless, put up a strong fight to Perez and Sainz, which gave the fans some brilliant on-track battles. A smart move under the VSC restart helped him overtake Perez easily as he caught Perez sleeping at the VSC restart but, it indeed was a VSC display message issue which led Perez to believe it hadn't ended.
The Mexican still put up a strong fight for the next 5 laps, but the young driver bravely kept him at bay. Perez later revealed that a software issue on the race control's part confused him, which led Russell to get the jump on him at the restart, costing him the podium. During the final few laps, he also got on the radio to let his engineers, and the race directors know that Russell was continuously infringing track limits. No response was given by the FIA upon this and Russell kept his position, and all the smiles in his garage. Although, if anything, the fans have started noticing that both the RedBull drivers start to complain about the drivers ahead as soon as they find themselves stuck behind.
RedBull team principal, Christian Horner was not at all impressed by the technical flaws in the data given to the driver, and has asked FIA to look into the issue so that these incidents are not repeated again. I know, Christian Horner complaining about a safety car issue that took away a P3 from his second driver seems like a bit much considering what had happened in Abu Dhabi last year.
Alpine take the lead over McLaren at Le Castellet
Alpine and McLaren were on equal points before the French GP. But, a superb performance by both their drivers have given them a breakthrough at their team's home GP. Alpine currently stands at  93 points with the British team trailing behind at 89 points. In the race, Alonso finished the race at P6, followed by Norris, teammate Ocon and Ricciardo respectively. Nevertheless, it was a good result on McLaren's part as well, given their recent performance.
Ocon had a slight mishap at race start as he ran into Tsunoda, which cost him a 5-second time penalty. But, to his home crowd's delight, he put up a strong drive and secured good points for his team. His teammate Alonso also set a strong drive, holding back Norris and for some corners, even Sainz. During the race, when informed by his engineers about close lap-times, he responded by saying quote, "If they want to fight, they will pay the price!" and "It's no problem. I want them close to me to kill their tires!".
McLaren have also shifted their gears in terms of race performance, obtaining double points finishes in the past couple races. The point deficit to Alpine is basically negligible and their battle is still on for now.
HAAS setback due to double collision
Both Schumacher and Magnussen were involved in collision incidents, which cost them their race. Magnussen was favoured for a top-ten spot with his new Power Unit, but an unfortunate incident with Latifi damaged his car, forcing him to retire from the race. His teammate, Schumacher on a separate occasion, tripped over Zhou Guanyu while attacking him at Turn 11 and spun out. This thus ended their short spell of double points streak, with neither scoring any in this race.
Alphatauri Updates make no Difference
The RedBull cousins were a hot favourite for the French Gp, firstly because it was French driver Pierre Gasly's home race, and second, because they had brought in a lot of modifications to their car. Their changes were focused on the floor, fences and edges of the body. Such heavy modifications though, bore no fruit as the pace was not visible all through the weekend. Tsunoda showed some decent form and qualified P8. But it was cut-short in the first lap itself as Ocon ran into him, leading to bodywork damage, ultimately having him to retire from the race. His teammate Gasly showed very poor form as he qualified P16 and could only promote himself to P12 in the race.
Driver Ratings
P1: Max Verstappen
It was a textbook run from Max after Leclerc crashed out. Qualifying P2, he did give Leclerc a run for his money initially, but had to fall back to manage his tires in the searing heat of the circuit. For the rest of the race he managed his tires well and won by a good 10-second lead over Hamilton.
Driver Rating: 8.5/10
P2: Lewis Hamilton
It was a boring race for Hamilton but, he had the pace and managed his tires really well. He could not catch up to Verstappen albeit beaten by the straight line speed of RedBull. The difference in straight line speeds is now upto 18 KPH which in F1 terms is huge, almost cancelling out any DRS effect. Even with Leclerc in the picture Hamilton looked set for a podium with no real threat from Perez. He surely has come a long way since the start of the season, and christened his 300th race with a podium place.
Driver Rating: 9/10
P3: George Russell
Russell definitely deserved the podium with his mature drive on Sunday. He held his ground strongly after a poor race start. He eventually gained back the positions and fought beautifully with Perez and Sainz. His trick on Perez at the restart after the VSC also paid off very well to grant him the podium.
Driver Rating: 9/10
P4: Sergio Perez
The Mexican admitted it to being a tough weekend for him as till the end he fought with the balance of his car. His pace was not up to the mark and he struggled a lot with tire wear which saw him fight desperately with Russell eventually losing out to him. He was a bit unlucky with the 2nd race restart and tried his best to overtake Russell, but ran out of laps to do so.
Driver Rating: 7.5/10
P5: Carlos Sainz
The scarlet red Ferrari of Sainz, shining with the new PU, easily cut through the field and was up into P9 in no time at all. Slight mishaps and a questionable pit strategy of his engineers cost him the podium but with his tremendous pace, he still managed to score good points, and was also rewarded Driver of the Day for his feats.
Driver Rating: 9/10
P6: Fernando Alonso
The experienced Spaniard never fails to disappoint, be it with his racecraft or fun banter on the team radio. His tire management and race pace kept Norris from closing on on him.
Driver Rating:8.5/10
P7: Lando Norris
The young Briton held his nerve throughout the race and was able to race his ex-teammate Sainz for a few laps. However, he expected to overtake Alonso ahead of him, but could not keep up and faced issues with tire wear.
Driver Rating: 8/10
P8: Esteban Ocon
The Frenchman scored good points for his home GP. His incident with Tsunoda on Lap 1 was a bit unfortunate, but he built up a good gap behind him, which did not hinder his race result because of the time penalty. In the end he could not have asked for more.
Driver Rating: 8/10
P9: Daniel Ricciardo
The McLaren team looks to be getting back on track with another double points finish. Ricciardo seems to have improved after his dismal performances earlier, and is slowly showing better results.
Driver Rating: 7.5/10
P10: Lance Stroll
The Canadian driver finally score some points, after a long stint being a backmarker. He managed his tires well and made up good positions. In the final lap he was able to hold off his teammate Vettel for the 10th place.