Formula 1
Russell leads Mercedes 1-2 at FP1 in Netherlands – Dutch Grand Prix FP1 highlights
Gearbox problems end Verstappen's FP1 outing as McLaren and Mercedes set strong lap times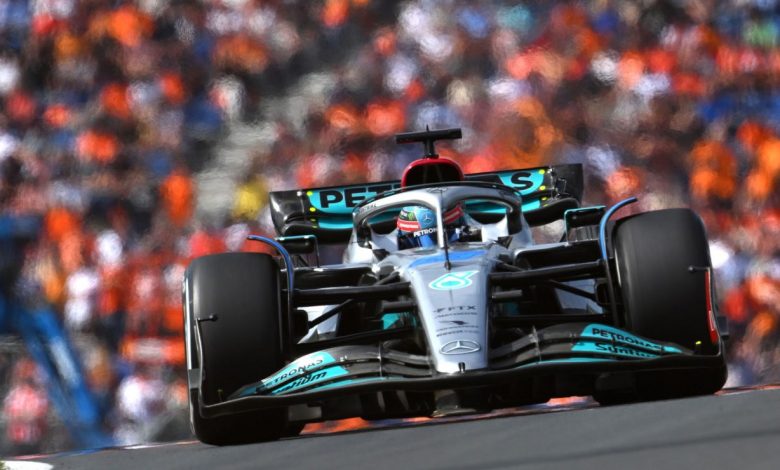 It was beholding to see the sea of orange at the Zandvoort a second year in succession. Verstappen set an initial fastest time on the hard tires, before having to stop his car on track due to gearbox issues. This brought out the red flags as the car was towed into the pits.
As the session resumed shortly after, Sergio Perez almost had an incident of his own, running wide into Turn 9, just narrowly missing the wall in the process.
The Mercedes duo, headed by Russell topped the session with a time of 1:12:455, with his teammate training behind by 0.24s. McLaren also had a strong showing in this session with Norris and Ricciardo holding P4 and P5 respectively, just around half a second off the leader.
Sebastian Vettel was seen doing his runs with aero testing kits on his car but eventually finished P15. The complete standings from the session are given below:
POS
DRIVER
TIME
GAP
LAPS
1

RUS

1:12.455
29
2

HAM

1:12.695
+0.240

s

28
3

SAI

1:12.845
+0.390

s

30
4

NOR

1:12.929
+0.474

s

32
5

RIC

1:13.077
+0.622

s

31
6

LEC

1:13.127
+0.672

s

30
7

PER

1:13.416
+0.961

s

30
8

ALO

1:13.633
+1.178

s

31
9

OCO

1:13.963
+1.508

s

33
10

ALB

1:14.063
+1.608

s

29
11

MSC

1:14.163
+1.708

s

29
12

STR

1:14.257
+1.802

s

30
13

MAG

1:14.405
+1.950

s

31
14

GAS

1:14.474
+2.019

s

28
15

VET

1:14.500
+2.045

s

28
16

ZHO

1:14.534
+2.079

s

18
17

TSU

1:14.630
+2.175

s

31
18

BOT

1:14.695
+2.240

s

22
19

VER

1:14.714
+2.259

s

7
20

LAT

1:15.122
+2.667

s

33