Auto Business
Trending
Take a look back at the top 6 car launches of 2019 in India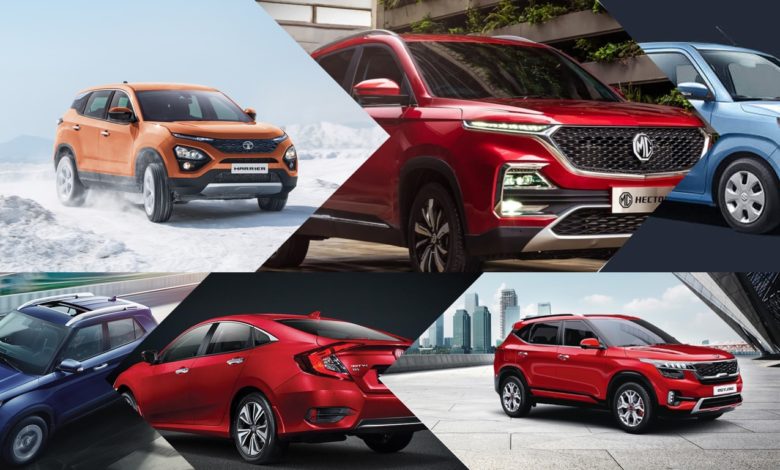 India was the 5th largest car market of the world in 2019 with around 2.5 million units sold. Moreover, exotic and luxury vehicles come at almost double their retail price in countries like the USA or even UK and yet managed to sell in good numbers. Well, this is a clear sign of how enthusiastic car buyers are here in India!

If you couple all of the above with the fact that India rose its car manufacturing number by 7.3% in 2018 which is expected to rise even more for 2019, despite slowdown in the country's automotive market, you'll not be wrong to say that India is one big important automotive market for the world. German manufactures from the Volkswagen group to Mercedes or Audi or even BMW are launching an increased number of their model lineup for Indian customers.
[dropcap]The[/dropcap] Aston Martin DBX, the upcoming Ferrari Purosangue, the Lamborghini Urus, the Rolls-Royce Cullinan or the Bentley Bentayga are all a result of the global SUV phenomenon. A trend started by Porsche back in the day with the Cayenne, is now a must for any car manufacturer with a wish to survive in the market. So, no wonder that 4 out of the below 6 cars are SUV's.
Anyway, check out the list of top 6 car launches in India:
1. Tata Harrier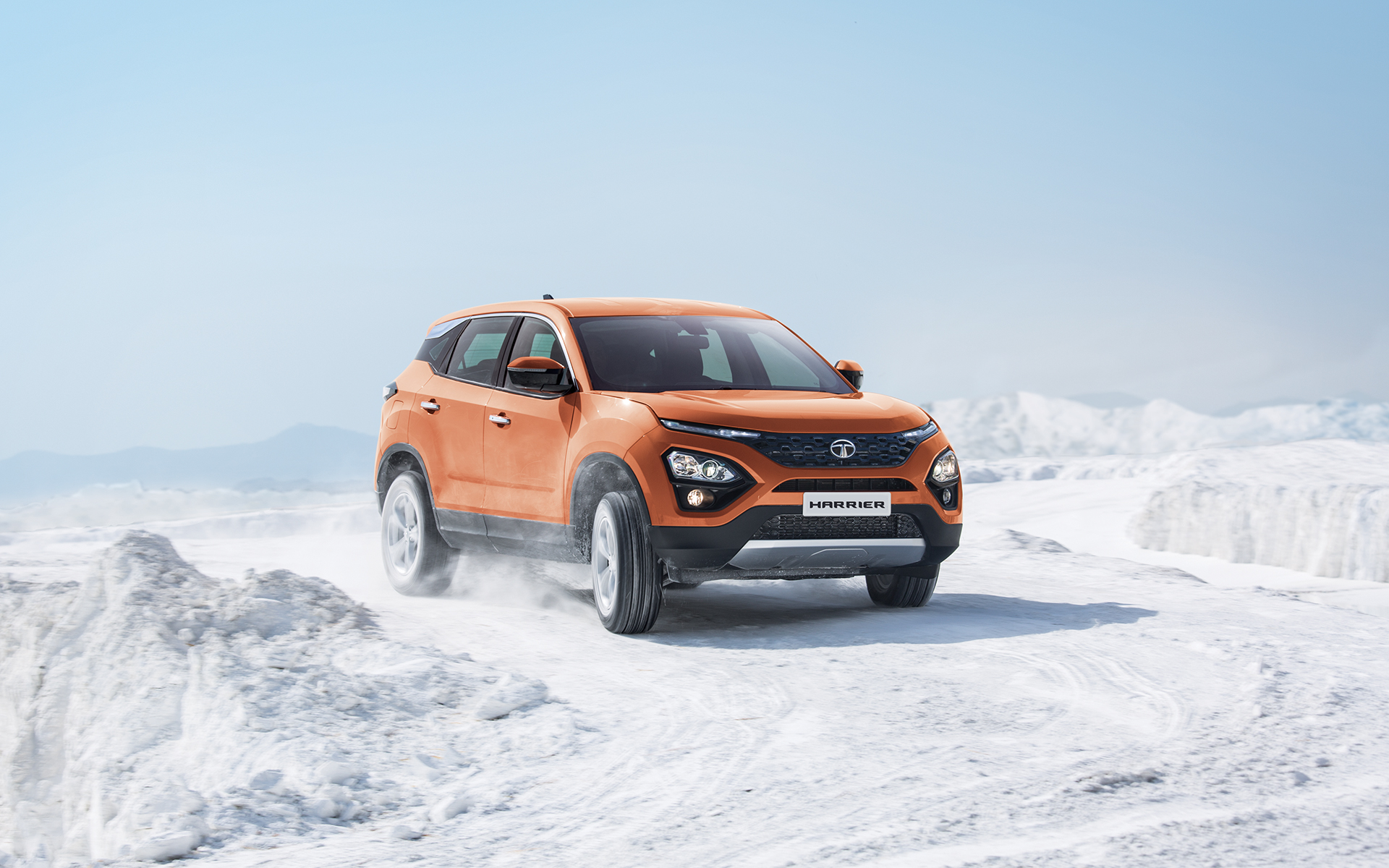 If there's a vehicle that changed the dynamics of the Indian car market; if there is an SUV that didn't scare the motorists because of the SUV trend; if there' s a car that broke the internet and the misconceptions about an Indian manufacturer, it was the Tata Harrier. The quality, fit and finish of its interior, the "floating island" infotainment screen, Tata's safety reliability for 4 and 5 star EURO NCAP ratings and the overall premium feel of the car favored in bringing the customers to spend 20 lacs on a Tata vehicle. The fact that it is based on Landrover's D8 or L550 platform along with their heritage for off-roading helped the SUV in breaking up Jeep Compass customers.
Although, it wasn't all sunshine. The lack of a 4×4 version, no automatic variant, lack of a sunroof and electrically adjustable seats were some of the major drawbacks since, these features are most looked for by an Indian buyer. Also, that mind shaking and crystal clear JBL Harman sound system is superb but, it still isn't enough to cover the engine noise showcasing the lack of refinement persisting in a Tata SUV. Moreover, the plethora of features offered in a Hyundai coupled with the lack of even an electric IRVM in the Harrier didn't please anyone either. Oh! And you wouldn't really like those ordinary and small looking alloy wheels on a car that makes its presence felt, even standing still.
The bar has now been set high with the MG Hector and the Kia Seltos and Tata will need to act accordingly. The 7 seat version of the Harrier, which is called Gravitas, is expected to have all of these missing features, a landrover derived 4×4 all terrain system, a pretty decent automatic transmission and the 170 HP Fiat sourced engine currently powering the Jeep Compass which was de-tuned for the Harrier. Some recent spy shots showcased a panoramic sunroof and bigger diamond cut alloys on the Harrier so our expectations may very well be even true.
2. MG Hector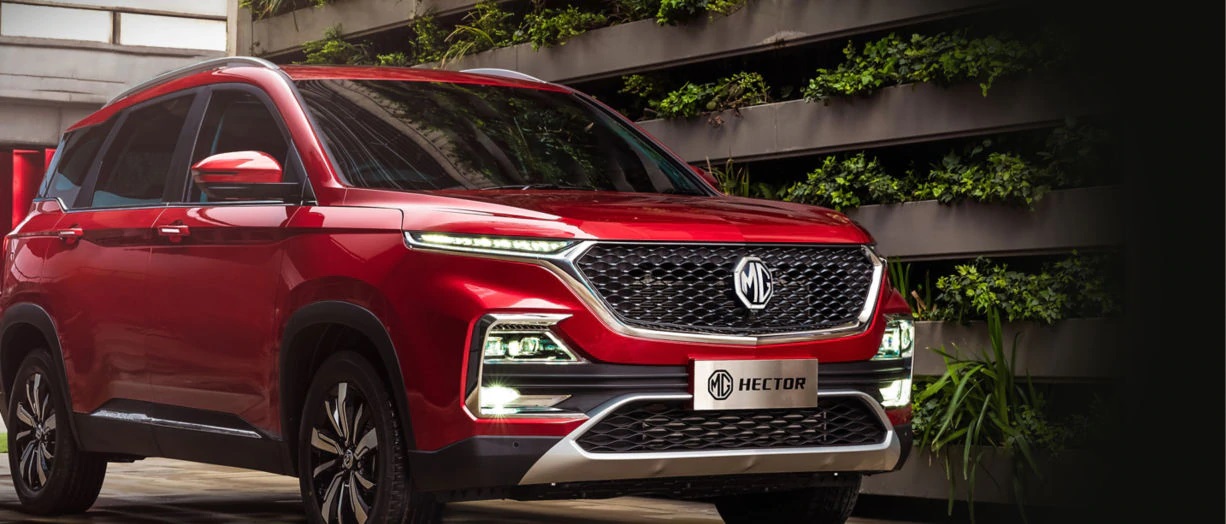 Its SUV era now so, no wonder that the second car on this list is also an SUV… kinda. The MG Hector entered the Indian market with a bang. Firstly, its hard to not fall for the car if Benedict Cumberbatch is showing you around its features in its advertisement. Secondly, the feature list of the car includes a 10.4 inch vertically positioned iPad like infotainment system, full LED lighting, a panoramic sunroof, a 48V mild-hybrid system, 360 degree cameras, electrically adjustable seats and well, you get the point. No wonder it started raking up sales figures because this car has very competitive pricing, some serious luggage capacity, very spacious and comfortable rear seats, a host of features and Doctor Strange himself talking to its voice commands.
Now, all this was pretty cool but, where the car lacked for me is its appeal. Needless to say that looks are subjective and may vary from person to person, there is still no denying the fact that the small wheels, cheaper quality interiors and mediocre fit and finish are what blemish the image of this otherwise perfect car. Peculiar readers would notice that I am referring to the Hector as a "car" rather than an SUV. This is not only because the small wheels and lower ride height make it more of an MPV for 5 than an SUV, but also because it has no off-roading capabilities whatsoever. The Harrier may not have a 4×4 system but, its capable enough for you to have some real off-road fun on your weekend trips. The Hector does pretty well on the performance front as well with its 2 liter diesel power train but, don't expect much out of the 1.5 liter petrol engine.
3. Kia Seltos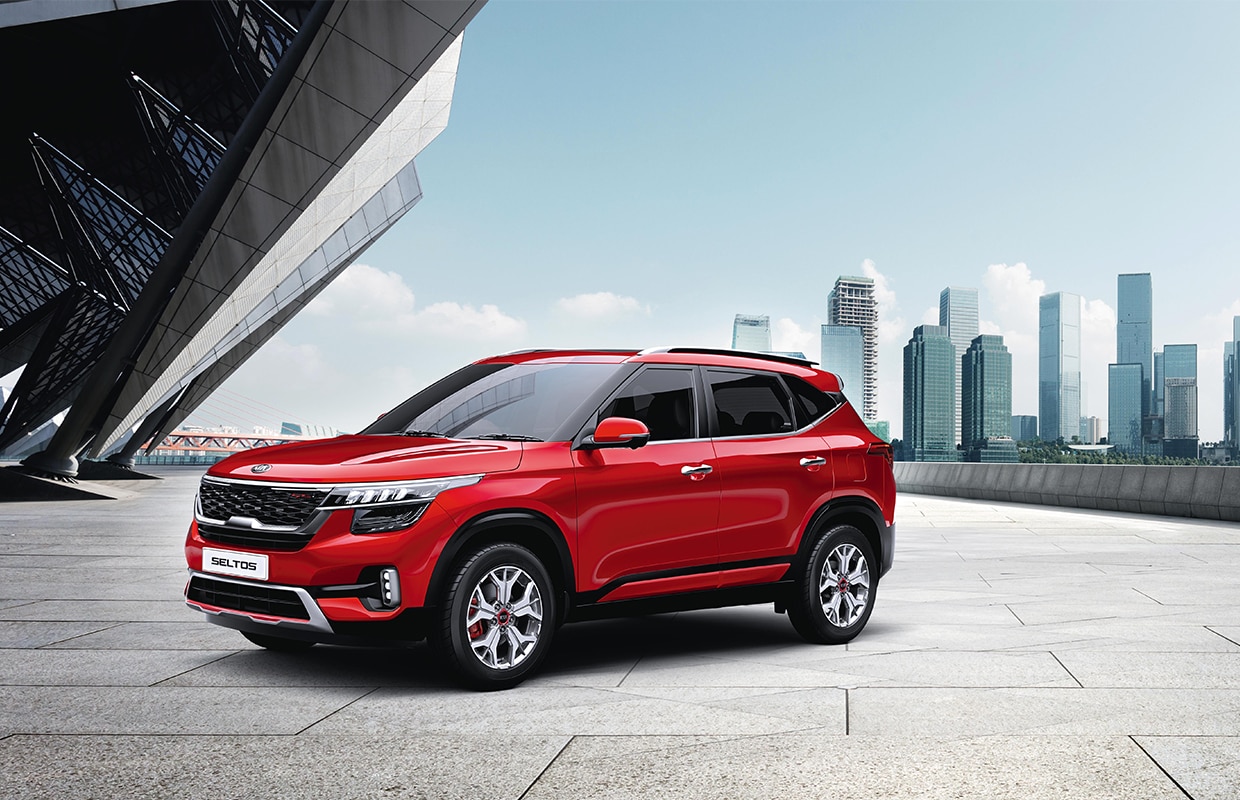 Let's first talk sales numbers for this car as I believe this is the best introduction for this "car" (SUV). Kia received around 60,000 bookings for the Seltos and was able to sell over two dozen of these in total withing 3 months of its launch. And we cannot ignore the fact that this is Kia's first car for India. Wanna recall the last brand that did so well with its first car in India, well there is none. The Kia Seltos is one smart looking and feature loaded that comes with the backing of Hyundai. As you might already know, Hyundai and Kia are sister companies i.e. Hyundai owns a part of Kia since, 2007 when Kia had filed for bankruptcy. Hence, its resemblance to the Creta.
The Kia Seltos took a grand entry in the mid-size SUV (crossover) segment in India. It has that Mercedes like 2 displays, one for the MID and the other being a 10.2 infotainment screen, 360 degree cameras, a panoramic sunroof, an HUD, full LED headlights and a turbo petrol engine. It comes in a total of 18 variant choices with 3 engine options and 4 transmission choices. You can configure your Seltos through their website with a 1.4 liter petrol or a 1.5 liter diesel or a 1.5 liter turbo-petrol engine. You can mate these to the compatible DCT or IVT or Auto or Manual transmissions. Phew!
All of the above numbers, choices and options may be too complex to understand by reading but, it truly is exactly the reason for why it sold in such huge numbers and continues to dominate while Kia opens up a bunch of new showrooms near you. The design of the car is quite good as well. The tiger nose grille and the angular profile give it a sporty stance but, it still is more of a bland and "lets keep it safe" design. The car has very little to fault ever since it received its 5 star ANCAP rating for the Australian Seltos. Although, a little over 18 lacs for a car of this size seems a bit much when the options available are the likes of Harrier and Hector. Yes, the turbo petrol is a pretty fun motor but, it still can't justify the price when cars like the Tiago JTP are available for almost 11 lacs cheaper or if you want an SUV (not really) then, the Hyundai Venue's turbo petrol offers that as well. For 18 lacs you'd probably even get the VW Polo GTI and that is one serious performance vehicle.
4. Honda Civic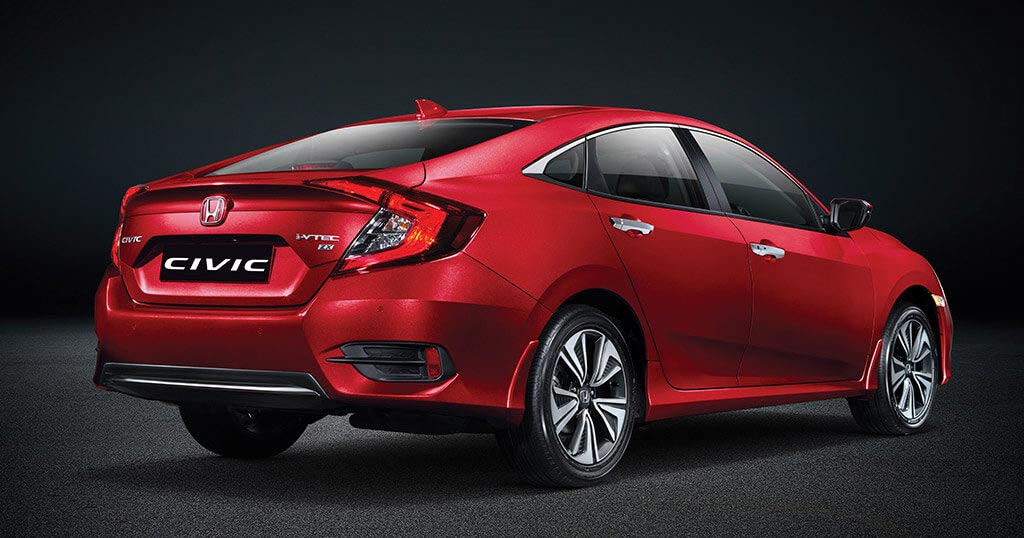 Yes, oh yes! Finally, India gets to taste the Civic. The 8th gen Civic was one big car for Honda India. It sold in huge numbers and why would it not have! It had striking looks on the outside, a very premium and stylish looking cabin, a brilliant petrol motor and above all, it sold for around the Rs. 12 lacs mark which was expensive but, seemed pretty reasonable for what the car offered. I am pretty sure you still see a lot of those 8th gen Civics on the road even now. Unfortunately, it was discontinued almost 6.5 years ago which means that Honda skipped the 9th gen civic for India. But, then Honda declared that they would launch the 10th gen Civic in India and voila, that would bring things back in order. Or would they?
Enter the 10th gen, brand-spanking Honda Civic. There is no denying the fact that you won't stare at this beauty at least twice when it passes by. The sloping coupe design, those big C-shaped taillights, the full LED headlights and the low-slung sporty stance make it a feast for the eyes. The interior is quite smart as well. Although, its no as radical as the exterior, it still is very high quality and very well put together. The infotainment screen and MID are pretty standard looking but they do their job well. It seems like Honda didn't leave the good bits for the US or European markets only and brought them to India in full swing as well. Or did they?
To answer it in a word, no. The Civic comes in 2 engine options and both of them are not even close to being as rad as the design of the car. The 1.8 liter petrol motor produces 140 HP and 174 NM of torque. These figures compare quite badly to the competition since, the Elantra has a 2 liter 150 HP and 192 NM engine while the Octavia has a 1.4 liter turbo petrol producing 148 HP and 250 NM of torque. The 1.6 liter iDTEC diesel motor of the Civic is the same engine found in the C-RV which produces a measly 119 HP. Moreover, the Civic starts at around Rs.20.7 lacs on the road which is about 2 lacs more than the Elantra. The value for money factor of the Civic is no more existent and Honda has no plans to launch the sportier Civic Type-R model in India unlike Skoda's Octavia RS.
One of the main reasons for the C-RV's failure was also the 119 HP diesel motor especially at that price. Consider this, the Rs. 19 lac Tata Hexa XT 4×2 MT has a 2.2 liter 156 HP Varicor diesel engine that generates 400 NM of torque. And it has 7 seats. So, you get the point. Honda needs to buckle up and bring their A-game back with the new Honda City or its gonna be a very rough ride in the coming years especially due to MG, Kia, Toyota-Suzuki partnership and a very rapid Tata motors bringing in surprise after surprise.
5. Hyundai Venue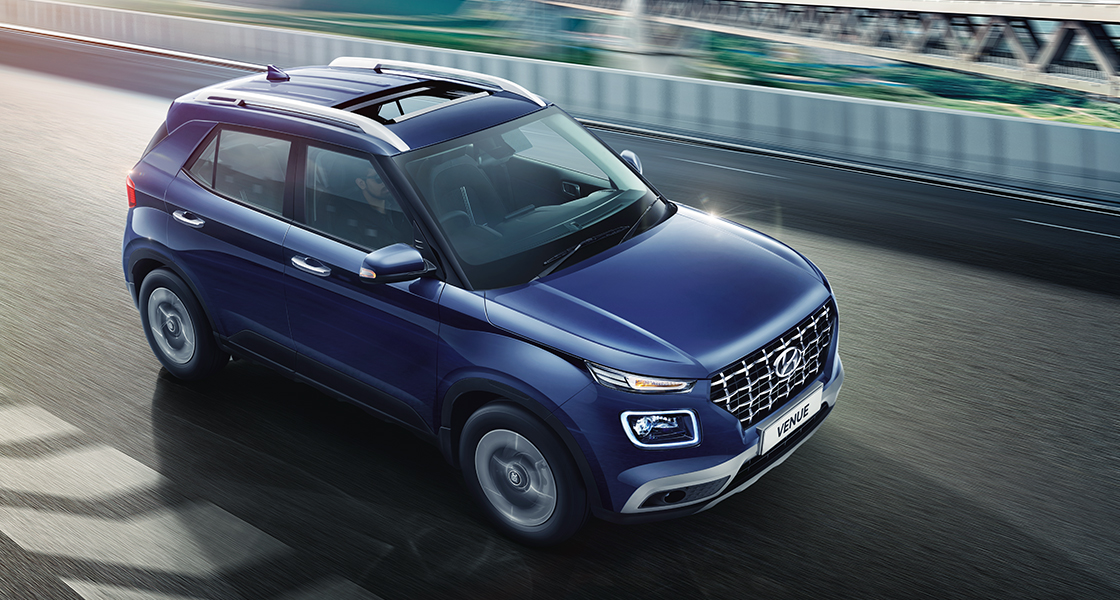 The Hyundai Venue truly set the benchmark for a "global car" from India. It was designed for the Indian sub 4 meter category and was very well received. Partly because of the premium feel of a Hyundai at a reasonable price and partly because of the connectivity features it offers. The Venue is available in 3 engine options and the most interesting choice for that matter has to be the 1.0 liter turbo petrol engine with 118 HP. Its a peppy engine with a very nice power band i.e. it revs up to 6000 rpm. The engine produces 172 NM of torque and does not lack the refinement that we associate with Hyundai. Meaning the car is absolutely silent and smooth on city drives while packing enough power for the high way.
The Venue comes loaded with features. It offers a sunroof, connected infotainment, automatic and cornering headlamps, diamond cut alloy wheels and even cruise control. So, it is great to drive, appropriately priced and comes loaded with features. But, and you know there is always a but. The Venue is not a particularly bold looking car and fails to fake an image of an SUV unlike the robust looking Maruti Vitara Brezza or the muscular Tata Nexon. Its low-profile makes it more of a hatchback on heels. Also, it continues to have the typical Hyundai problem of its very light steering. While, it is a welcome feature for congested city roads, it surely does not help in confident handling of the car on highways as there is little to none feedback.
6. Maruti Suzuki WagonR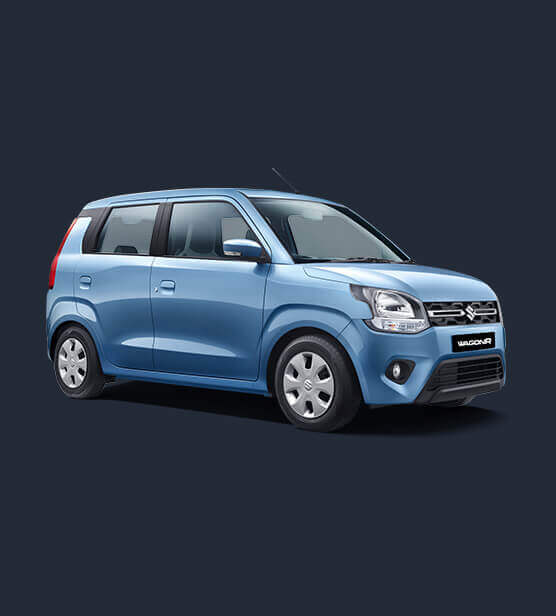 Is any list of cars even complete without mentioning Maruti Suzuki?
The Maruti Suzuki WagonR has been an iconic car for the company. It sold in numbers much higher than anyone can fathom. Being a Maruti, it required very little investment to purchase it and even lower to maintain it. Moreover, it would have a really high re-sale value and hence, it deemed to be the most prudent investment. The car's tall boy and boxy design helped it carry taller passengers with ease. Not only that, you could carry your luggage and other household goods with ease. But, this was all before cars like the Hyundai Eon, Renault Kwid, Tata Tiago or the new Hyundai Santro showed up.
Maruti was being hit hard on its sales numbers and it was due to the higher quality and significantly safer products offered by its competitors. Car buyers in India had been showcased what features can be made available to them at just a slightly higher price like Touchscreen in the Hyundai Santro or that bass-thumping Harman audio system of the Tiago. These features were offered in much higher segment cars earlier and Maruti would cash in on the customers who were price sensitive.
But, Maruti Suzuki had taken notes. They were prepping up a car that would suit their customers at prices lower than those offered by the competition with more space, more features, low maintenance aspect and a really good mileage for these ever rising fuel prices. Did Maruti deliver it with the new WagonR? Partly. The problem with the WagonR is that its still a pre-2012 car. Don't get me wrong, it is the perfect choice for someone not willing to shell out more money or for those who are looking for their first car and cannot afford the high maintenance costs of new gen cars.
But, the WagonR is not a good looking car when it stands besides the likes of Hyundai Eon, Renault Kwid or Tata Tiago. It still does not offer the quality and the car's build quality lacks the feel of robust sheet metal. I agree that at Rs 5.25 lacs on the road, it is the most value for money car out there but, I cannot help but recommend spending 50k more on a Hyundai or Tata of this segment as those 50k bucks take it to another segment altogether. But, this is just my opinion and the best thing about cars is that they can be very subjective depeding upon the price and affordability of each individual.