Auto Business
Electric
News
Tesla's Cybertruck gets 600k bookings even with the ongoing pandemic!
Apparently the Cybertruck has obtained more than 600,000 bookings and the autobot looking vehicle is on it's way for a million mark.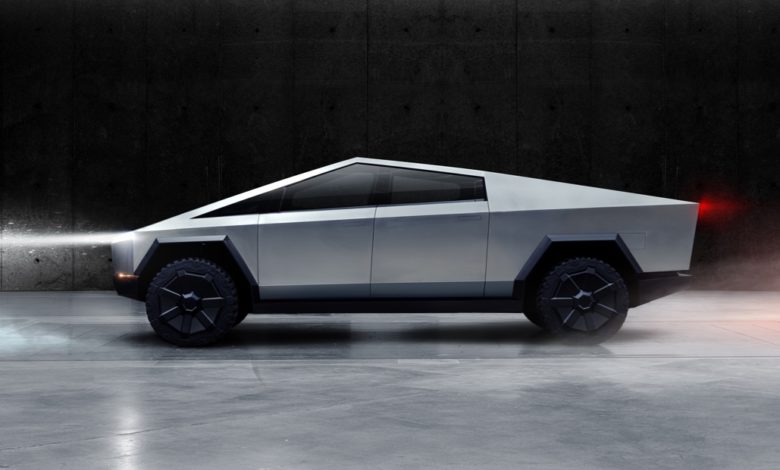 Tesla Cybertruck, the vehicle which looks something which has been brought out from a game, is still going strong and is receiving a 1000 bookings a day. This kind of feedback has taken the total number of bookings to over 600,000.
The Cybertruck starts at $39,000 for the single motor version, the dual motor is priced at $49,000 and the top line tri-motor model can purchased for $69,000. Amongst these models, maximum bookings have been received for the dual and the tri-motor ones because well, obviously!
In spite of not much having information on the vehicle, people have still chosen to make these bookings, which just shows the kind of belief that consumers have in Tesla. As outrageous (not in a hateful way, I am a big fan of this autobot) as the truck might look, it has garnered a significant interest, the maximum interest being from the U.S.A, whose citizens have booked 76.15% Cybertrucks from the total bookings collected.
The country after U.S.A who has booked it in the maximum proportion is Canada after whom Australia, who stands on the third place.  From within U.S.A, California and its citizens have booked the most cars, and most of the customers who have made their bookings, should receive delivery by next year, which is when the Cybertruck will be released.
Tesla has promised to prioritise the Tri-Motor variant, and will make sure that they production of this specific variant is ready by late 2021. As for the Single Motor variants, the release has been rumoured to be somewhere in 2022.
An important thing to remember, is the fact that the booking amount itself is not a very hefty and an interested individual could the book the car for $100. Furthermore, if at any time you desire to pull out of this booking, anytime before the delivery period, you are entitled to receiving a full refund.
However, Tesla has not made a statement on whether or not the Cybertruck and its launch has been affected by the Covid-19 crisis, so it can be assumed that the future of the Cybertruck is secure and uninterrupted.
When the Cybertruck launches it will be taking on the Rivian R1T and the rumoured electric Hummer. As a car enthusiast, we live for these kind of moments, all these cars seem like they have been brought to our timeline by pulling them from future. While being green, these behemoths of nature friendly SUVs will be powerful enough to make its fossil fuel based competitors quite uneasy, and if the old school based cars don't adapt quickly, we need to explain what happened to the dinosaurs ey!