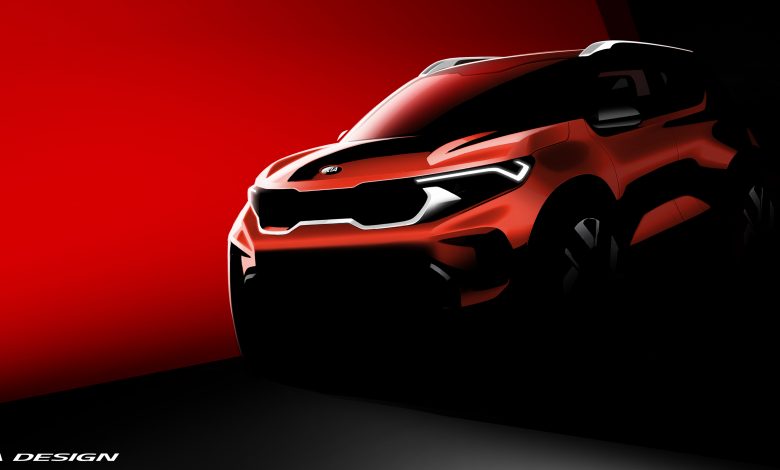 Kia Motors India launches their second teaser of the Sonet SUV ahead of its world premiere on August 7. The teaser shows the official front rendering of the Sonet and is expected to match the final production version. The Sonet concept was first unveiled at the 2020 Delhi Auto Expo and was well recieved by audiences. This teaser is a follow up with their first one which primarily featured the rear design of the car. The fresh appearance is aimed at setting higher 'designing benchmarks' for compact SUVs.
So, what can we see?
Well first off, the main takeaway from the design rendering is Kia's signature 'Tiger Nose grille'. The unmistakable grille uses a 3-D  'stepwell' geometric grille mesh to give it a stronger front appearance. The car also seems to be sportier and bolder in terms of design as well as colour. In the previous teaser, we were able to catch glimpses of the rear. The SUV takes a pretty aggressive stance and sports wrap-around LED tailights. The rear glass looks wide enough but in terms of height, it is a tad bit short. It is trapezoidal of course and we can also see the roof rails protruding out of the top of the car.
With the Sonet, Kia is targeting the younger generation as they take a better liking to striking bold designs and savvy technological features. The SUV will be Kia's way of saying it's not just for families and basic transport functionality but also for the enthusiastic and social youth of today.
Senior Vice President and Head of Kia Design Center( Kia Motor Corp.), Karim Habib says: "As a whole we believe the new KIA Sonet will be a fantastic SUV with a very compelling and attaching character to our young and young at heart, always connected customers in India and beyond…"
Additionally, it was also revealed that the Sonet will come with a list of high-end features, connectivity options and choice of powertrains alongside appropriate safety aquipment.
The introduction of the Sonet will mark Kia's second 'Made in India' car following the first one, the Kia Seltos. The facts show that the Seltos performed really well in its segment and was a close competitor of the Hyundai Creta, selling 7,114 in June 2020. If history truly does repeat itself, the Sonet stands a good chance of being a successful launch like its predecessors. Futher specs are expected to be revealed along the way to its world premiere in August.