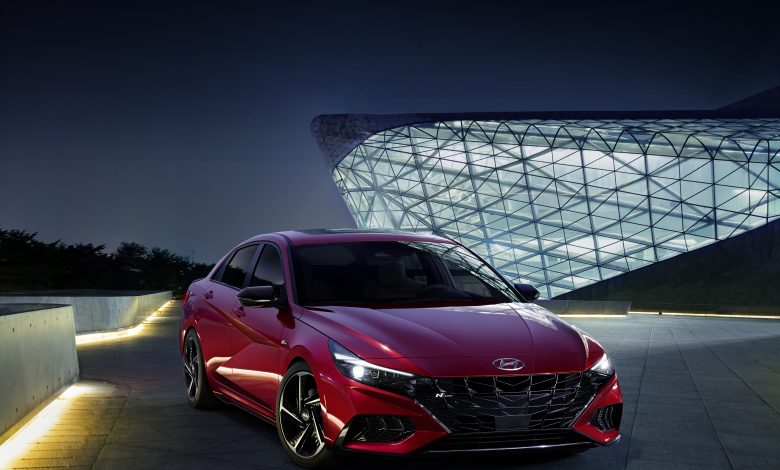 Following the launch of the bold new Elantra in April, Hyundai is now announcing the N line and Hybrid version for the same. This will mark Hyundai's entry into their long awaited N performance lineup. Characterized by an N specific design and enhanced performance, the Elantra N will help Hyundai cement a spot in the compact sedan segment, where it competes with the likes of Honda Civic and Toyota Corolla.
The Elantra N is powered by a 1.6-liter GDI turbocharged engine that can be paired with either a six-speed manual or seven-speed DCT. This combo will be able to produce output levels of up to 201 horsepower and 195 lb-ft of torque.
The N line for Elantra also rides low, and with a strong grip, thanks to its 18-inch alloy wheels and multi-link independent rear suspension. The cascade grille with an N Line badge adds to its ruggedness along with  intricate geometric pattern and arrow-shaped air curtains on the lower fascia for improved aero.
Executive Vice President and Head of Product Division at Hyundai Motor Group,Thomas Schemera said: "The new Elantra lineup, with N Line and HEV variants, will satisfy a wider variety of customers. The N Line model will appeal to customers who favor a sporty look and spirited driving performance while the HEV model will appeal to those who prefer high fuel efficiency. The expanded selection will help solidify Elantra's position in the compact sedan segment."
Other features offered in the N line include:
paddle shifters and Drive Mode Selector system
leather-wrapped perforated N steering wheel
gearshift with metal accents
Forward Collision-Avoidance Assist (FCA)
Lane Keeping Assist (LKA)
Blind-Spot Collision Avoidance Assist (BCA)
High Beam Assist (HBA)
Wireless CarPlay and Android Auto connectivity.
The Elantra line is further expanded with the launch of a 2.5-liter turbocharged GDI engine Elantra later this year along with a 1.6-liter GDI Atkinson-cycle four-cylinder engine hybrid that will follow the launch of the N line. It will be powered by a lithium-ion-polymer battery with 1.32 kWh of capacity and will have a combined output of 139 horsepower and up to 195 lb-ft of torque.
This is the first hybrid for the Elantra since the LPI Hybrid launched in 2009. The new Hybrid is also expected to have a combined  EPA-estimated fuel economy rating of more than 50 miles per gallon. It is also worth noting that currently, N performance parts are only available in South Korea, further details are yet to be announced. The specifications may also vary based on region.
In other news, Hyundai also announced their Ioniq sub-brand for an electrified lineup with the first launch coming out early next year. Big moves on the South Korean automaker's behalf indeed.