Motorsport
2021 Emilia Romagna GP: Qualifying and Free Practice highlights
There is resurgence, there is surprise, there is hope of not giving up and then there is Sergio Perez.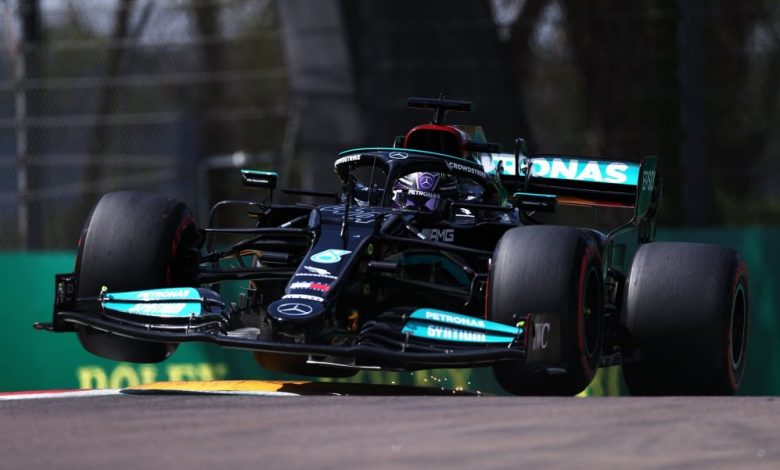 The F1 grid is back at a track where it is quite difficult to overtake. But then again, the lack of overtaking is due to the nature of the current breed of cars. Anyway, let's talk about the shape and condition of the grid all set for tomorrow's race.
Mercedes-AMG Petronas
Even if the Mercedes boys finished 1-3 last time out in Bahrain, they were not in the mood to be called as the favorites for this round because, to be honest, they weren't. However, results from FP1 & FP2 said otherwise. The team brought some new parts for them to win over the bumpy track which, according to its Trackside Chief Andrew Shovlin, is working.
Additionally, cooler conditions are perhaps the biggest reason why the team is so strong here. And it did prove to be a strong one for them but only partially as Lewis took his 99th career pole while Bottas gave another abysmal performance. There was a time when everyone favored Vallteri Bottas and blamed Hamilton claiming Bottas was unlucky, suppressed by the team and MUCH more talented. I'd like all of them to please step forward and tell me how a driver could be THAT underperforming in qualifying when he has a seat in one of the best cars on the grid.
It was initially Valtteri Bottas who looked the most comfortable out on a track where he dominated all three segments of the one-hour shoot-out last time out at Imola, but he didn't deliver in Q3. And he failed to deliver by some margin as he ended up in P8… behind the two Mclaren drivers.
Red Bull Racing
Having startled everybody in Bahrain with its pace and consistency, RB came to Imola with high hopes, but fate had other plans. First, Sergio collided with Ocon resulting in a left-rear puncture as well as some damage and Max was later out of FP2 due to a driveshaft issue because he ran over the kerbs probably a bit too much.
But, as we have come to accept from RB drivers, they get wiiings in the qualifying session. But, it was only Max who would have those wings since the last 2 seasons. This time though, they had Sergio Perez and if you knew anything about him… or saw his last race, you'd know what to expect. Did he deliver? My god did he deliver. A stunning lap in Q3 put him AHEAD of Max and that DID NOT make Max happy at all. Moreover, his gap to Hamilton was three-hundredths of a second! Even if racing terms, it is equally as good as Ham's. 
Securing his first-ever front row starts in his 193rd Grand Prix start, Segio perez is halfway through to winning driver of the day because he has our heart. We are definitely hoping to see him perform similarly tomorrow. His Red Bull team mate Max Verstappen slotted into third, outqualified by a team mate (without any penalties/red flag) for the first time since Daniel Ricciardo left the team at the end of 2018. He was also not that far behind with his gap to Perez being just around five-hundredths of a second.
AlphaTauri & Scuderia Ferrari
The home-grown heroes are quick. AlphaTauri looks to be the best-of-the-rest for now, with Gasly and the ever-so-quick Yuki making sure that they stay where they are come tomorrow to take home a big haul of points. In fact. this 'best of the rest' sister team to RBR is actually outshining Ferrari in a few cases like the last race and also in today's qualifying as their only standing driver Pierre Gasly finished P5. Although, team boss Franz Tost left feeling bitter sweet when rookie Yuki Tsunoda got it all wrong at the Variante Alta and clattered into the barrier, bringing out the red flag.
He was just five-hundredths of a second behind Ferrai star Charles Leclerc and finished 6 places ahead of Carlos Sainz Jr. with the latter giving a more disappointing finish than even Bottas at P11. A Ferrari finishing one place ahead of a Williams. This season is really going to be epic.
Ferrari had suddenly managed to turn around its fortunes as both the drivers were well inside the Top 5 in free practice and were looking quite strong for qualifying today, but the factor of them not being able to extract the most of their cars on several one-laps still loom over their heads. 
McLaren, Aston Martin, Alpine, Alfa Romeo, Williams, & Haas
All the teams had it tough yesterday mainly because the track limits are very strict out here and not every team was able to go quick as soon as the green light went on.
McLaren was lacking confidence in Free Practice but things changed drastically in qualifying as Daniel Ricciardo and Lando Norris took P6 and P7 respectively. When the seven-time world champion failed to improve on his second run, his pole looked under threat as Lando Norris set a purple first sector and then a purple second to have at least a front row in his grasp. But he lost time in the final sector and though he went second, his time was deleted for exceeding track limits. This is exactly when Sergio Perez grabbed the opportunity to shine and show Verstappen how maturity and consistency can outshine aggression in Formula 1
AM had some concepts of the car which were hurting it, although the upgrades brought in were working. Alpine is working to move up the order. Alfa and Williams are in a battle of their own to find out who ends up as the second-slowest team. And while that might seem funny enough, George Russell soon shut up everyone by securing P12 in that Williams. AHEAD of Sebastian Vettel at P13!
Haas, on the other hand, has had a rather terrible situation on its hands. And you guessed it right, it involves Nikita Mazepin. Team Boss Guenther Steiner has already stated that the team will bring only one upgrade this entire season as it chooses to develop its next year's car instead, but even then, Mazepin is repeatedly trying to extract something that isn't there and in turn, is spinning and crashing. Or maybe he just isn't that good of a driver? Giovinazzi sure seems to think so as Mazepin ruined his run getting him down at P17.
Getting a clean lap in and securing a good position at a track where it is difficult to overtake will be the key to this race so, let's hope we get great racing, but not at the cost of crashes.