Formula 1
Glorious racing as Verstappen wins at the 2021 Emilia Romagna GP! Race analysis and highlights
Well, that was a tricky one. And as we know, seducing the Imola circuit is not everyone's cup of tea. Don't worry if you missed it cause we have you covered.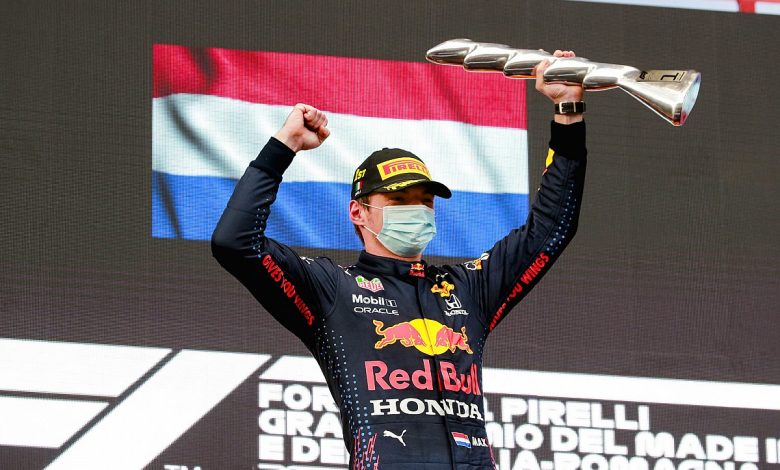 Fun, thrilling and surprising. I guess these would be the perfect words to sum up the eventful Imola GP. And it will be after a painfully long time that an F1 race has been THIS surprising. With sort of a heavy downpour at the Imola circuit less than an hour before the start of the race the newly created slippery conditions only added to the drama when the race got underway. Not only would the driver skills be tested but, each team will now have to formulate a new strategy all within that time!
From Verstappen taking a lead at the launch to Hamilton losing the grip on the tarmac (which is as rare as a Merc CLK GTR Super Sport) then going from P9 to P2, last night was anything but predictable and boring. All the drivers were struggling for grip on the slippery track throughout the race, only raising the thrill quotient for the viewers.
The race saw a red flag restart with 30 laps remaining after a heavy accident between Valtteri Bottas and George Russell. But none of it distracted Verstappen from retaining his lead throughout the race. After the second leg of the ongoing F1 World Championships, Lewis Hamilton is just 1 point clear of Max Verstappen. This F1 Championship is getting more interested and we can't wait for the second leg. But while every team prepares for the Portuguese GP on May 2nd, let's analyze what went for some of the teams at the Emilia Romagna Grand Prix.
Red Bull Racing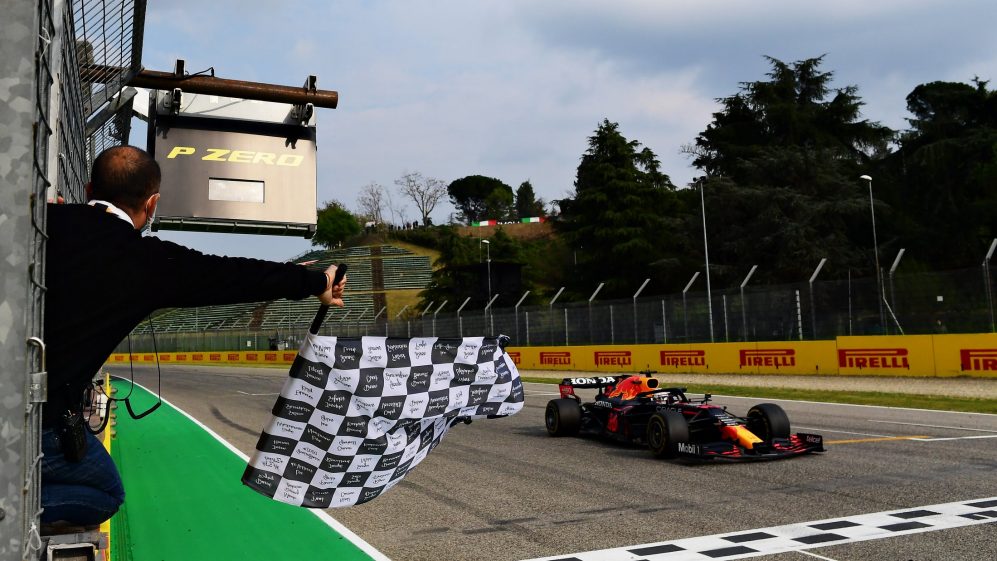 Starting with the victor, when the lights went out at Imola GP, Max Verstappen got a superb launch off the line from third and shot ahead of his Red Bull teammate Sergio Perez in second, and then pulled alongside polesitter Lewis Hamilton, taking the racing line into the chicane at Tamburello to take the lead.
Talking about Verstappen's teammate Sergio Perez, despite lined up a career-best P2 on the grid, having outpaced his Dutch teammate on Saturday's qualifier, the incident-filled race saw him come 12th at the flag. However, retirement for Mercedes' Valtteri Bottas at least meant that Red Bull outscored Mercedes 25 to 19 at Imola. And now the team is just seven points adrift of the Silver Arrows after the second leg of the Championship.
Editor's note: RBR's Max Verstappen started in 2nd gear for more traction on the track and hence, that glorious start. A genius move from him proving he is championship material. Teammate Sergio though, had a very unsuccessful and sort of unfortunate race. His pace was blisteringly fast but, I guess being his second race in a brand new chassis on a rainy day didn't mean good news. He accepted his errors, looked disappointed and that means he'll be fierce in the next one!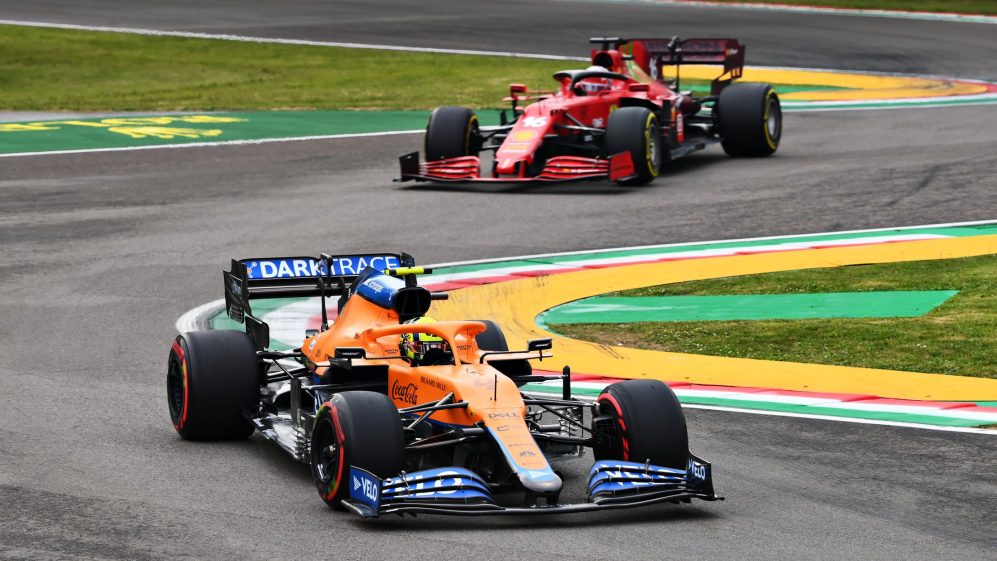 McLaren – Lando Norris made it from seventh to third with a terrific drive that earned him the Driver of the Day title. In hugely testing conditions at Imola, the McLaren star held his nerve to show maturity well beyond his years and beat both Ferraris starting ahead of him to the podium. Norris had been in third place for the restart on lap 35, after the race was red-flagged and managed to get on the second place by overtaking Ferrari's driver Leclerc, but only to lose it to a recovering Lewis Hamilton late on. His Australian teammate Daniel Ricciardo took sixth for McLaren, the same position he kicked off the race.
Editor's note: Danny Ric showed team spirit when he was told to let Lando pass as he had much more race pace. Daniel didn't hesitate and Lando also proved that it was worth it. This kid could very well be a multi world champ but, don't quote me on that!
AlphaTauri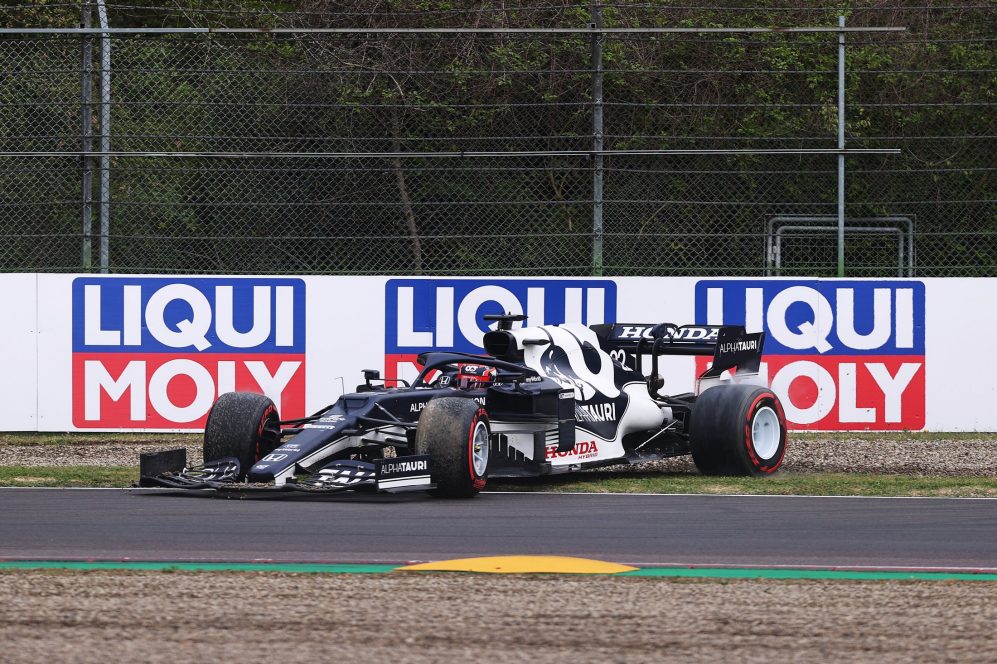 The team is having a really bad week. First Yuki Tsunoda broke the gearbox of his car in half in his qualifying crash at Imola, then Pierre Gasly finished at seventh position after starting from P5 that too only after Aston Martin's Lance Stroll was slapped with a 5-second penalty which dropped him to the eighth position from seventh. Starting from the twentieth position Tsunoda made a strong progress climbing up to finish twelfth.
Editor's note: Yuki is a brilliant driver but he needs more maturity. His spin did not do any advantage at all. Pierre was on a set of wets when he was outpacing and racing with the top 5 and that shows how strong both Gasly and AlphaTauri are. You'd be aware of that if you were on twitter thanks to memes. We could see Gasly in one of the top teams very soon, especially with the way he is driving currently.
Aston Martin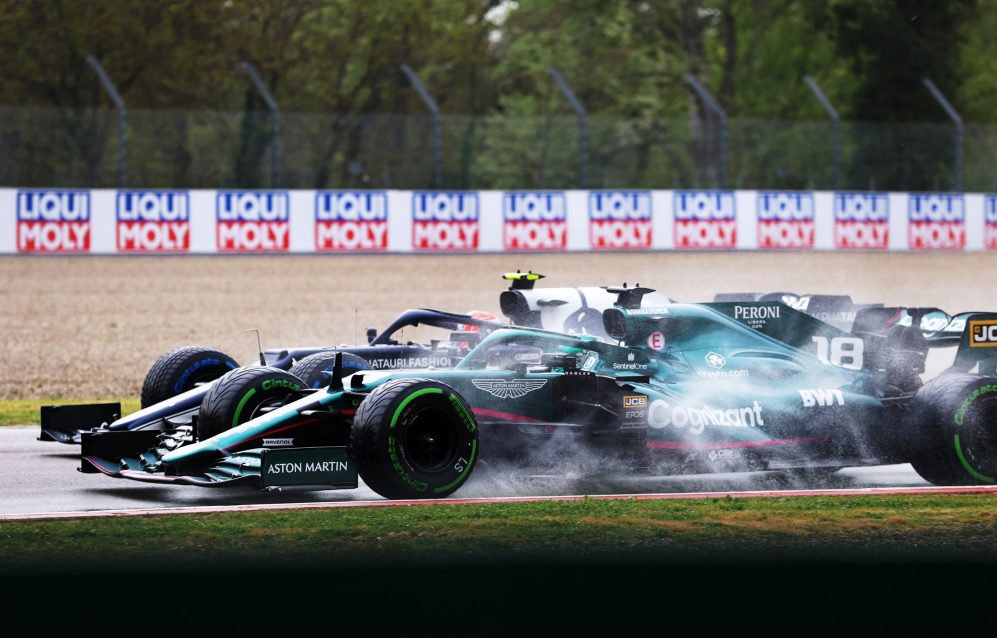 Aston Martin's Lance Stroll took P7 on the road at the Emilia Romagna Grand Prix. But that became P8 in the aftermath of the race after an overtake on AlphaTauri's Pierre Gasly was deemed to have been made illegally – with the Canadian handed a five-second race penalty.
The five-second penalty dropped the Canadian racer from seventh to eighth behind Gasly in the final standings. This also resulted in Aston Martin losing their fifth place in the constructors' standings post in Imola to Gasly's AlphaTauri squad.
Editor's note: Now, while there isn't much to say about Aston Martin currently, Lance Stroll is actually doing pretty good and proving his worth while it seems Vettel has lost his pace. Might take him time but, he could be back to his championship days soon.
Alpine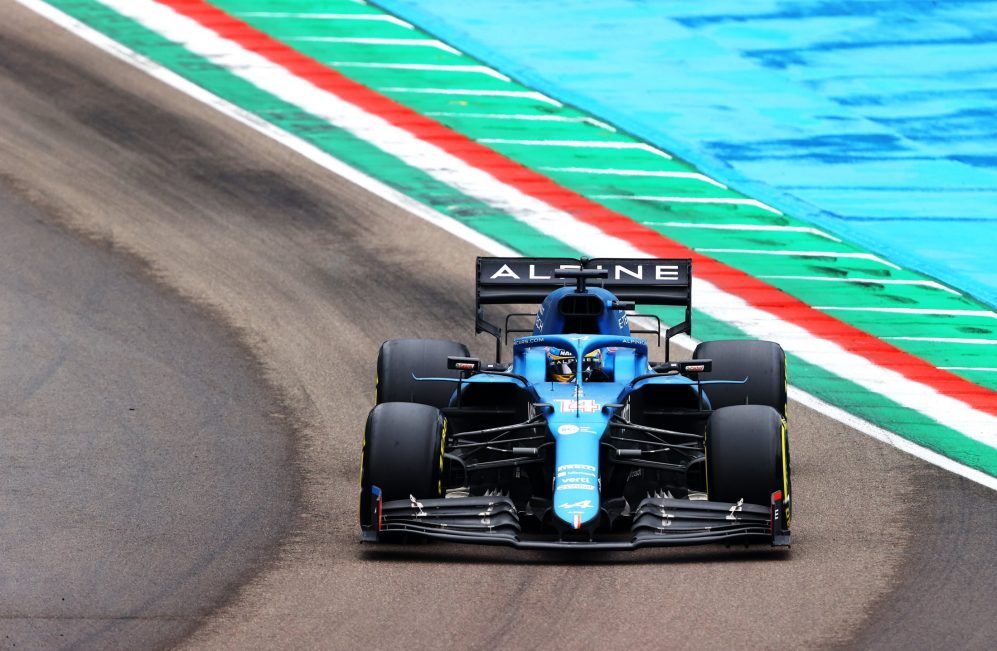 Esteban Ocon was handed ninth after Kimi Raikkonen's errors were detected post-race. Alpine's other driver Fernando Alonso finished 10th, giving the team a double-points haul from Imola and the two-time champion a first point on his return to F1. Raikkonen has been demoted from ninth and out of the points as he received a 30-second time penalty for an infringement during the Emilia Romagna GP, promoting Fernando Alonso to P10.
Mercedes-AMG Petronas F1 Team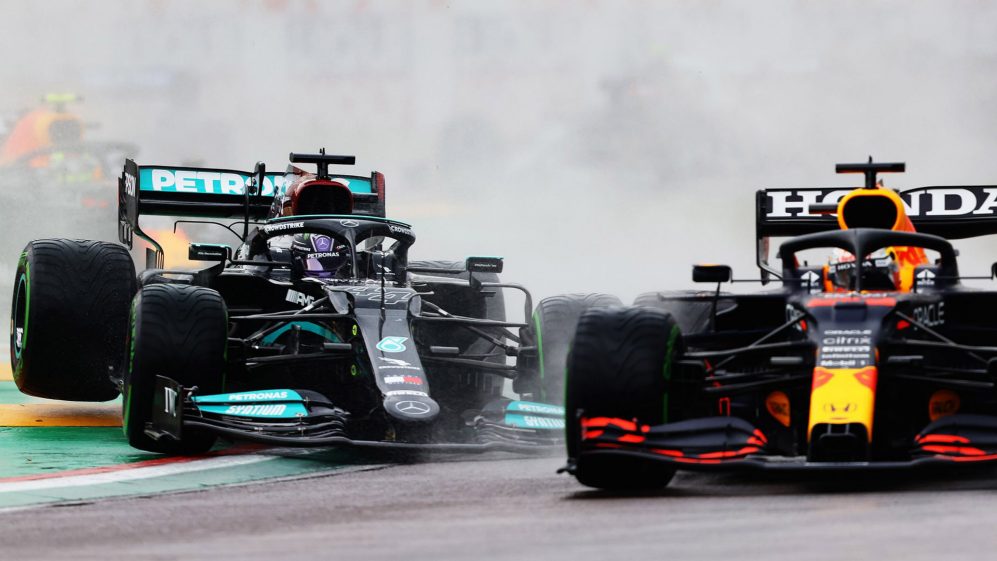 Lewis on Pole, Valtteri down in P8, both charged up to get the usual 1-2 for the team. However, even before T1, things changed for good. Before T2, the track was getting narrower and as such, two cars in a chicane was never going to work, but Hamilton still went ahead, collided with Verstappen, lost his front-wing's endplate, struggled for downforce, but didn't pit.
Lewis found it difficult to keep his W12 on track, Valtteri was losing ground until he didn't. Both him & Russell, were side-by-side at T1, and as the track was moving to the right, it was getting narrower and was still wet (grass), and as so, disaster was bound to strike. Especially if both the drivers aren't mature enough to have a proper race.
George put his right-rear onto the grass, spun into Valtteri, who then had a monumental crash at somewhere around 295kmph. Russell's front-left was almost on Valtteri's head but was saved by the Halo. Both the drivers blamed each other and even showed the world their emotions live.
Editor's note: Lewis made a mistake. A very rare incident indeed because I genuinely cannot remember Lewis making this kind of a mistake in a race. At the T7 hairpin, he went into the barriers, damaged his front-wing and lost a lot of time. But, he was determined. After some struggle, he made a 200 IQ move to get the car back in reverse and did manage to get back on the tarmac and well, you know the rest.
Bottas has to literally bring a monster out of hat as people question his skills as to how Hamilton went from P9 to P2 while Bottas struggled at P8. So, now most people know it is not JUST the car. That does not bring you 7 championship title. It might bring you one and you retire… (cough cough Nico).
Williams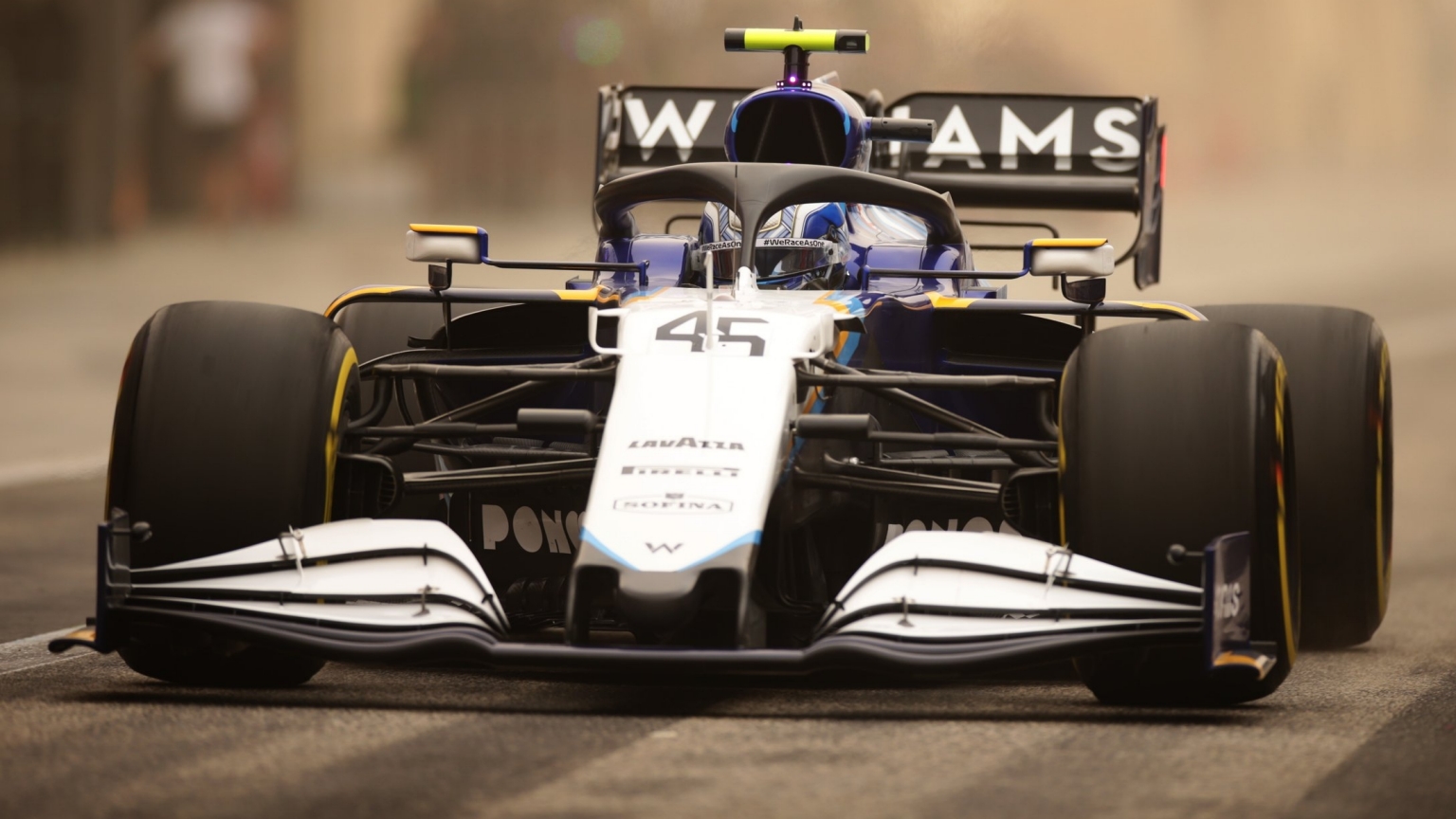 On the first lap, Nicholas Latifi was involved in a big crash with Nikita Mazepin and was out of the race. However, replays showed Nikita couldn't have done anything to avoid him. It was actually Latifi's fault as Martin Brundle was quick to suggest too. He joined the track without observing who's behind. As for George, it just wasn't his race. Williams deserved some points, but it wasn't just meant to be.
Editor's note: While George Russell sure showed how fast he really is competing and overtaking a Mercedes in a Williams, he still needs to learn a lot about this gentleman's sport. So many fans have been complaining on twitter of how is behavior might actually affect his likeability outside of F1. It did seem like it was a racing incident and both were equally responsible.
Scuderia Ferrari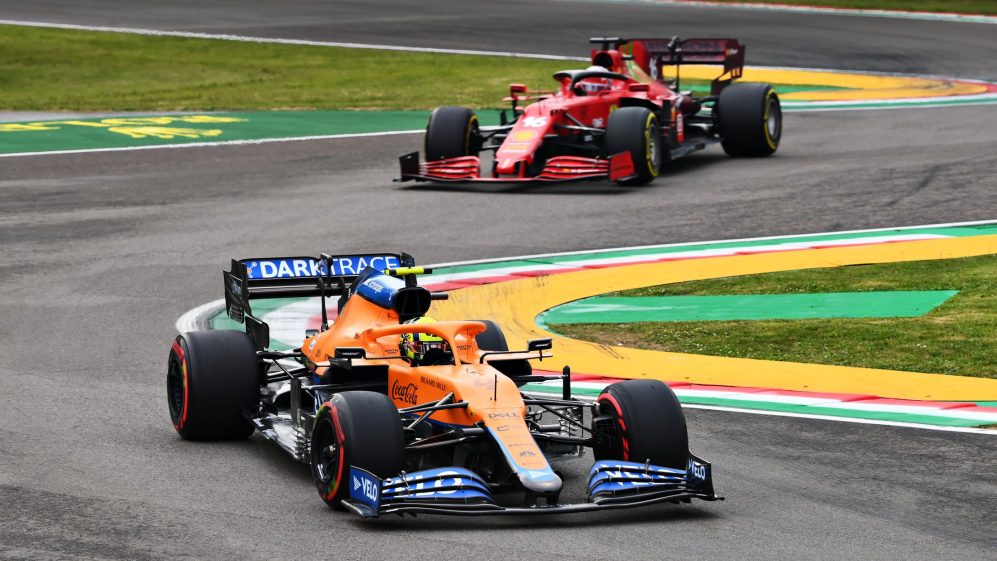 The Scuderia was motivated to better their qualifying results by fighting at the front, and this is what they did. But as soon as the race began, Carlos especially was struggling to find heat in the tyres and as a result, ran wide onto the gravel at the second-last corner followed by another mistake.
On Charles' side, it was calm and composed – he was consistent, fast in a straight line, at least when compared with the McLaren of Lando, and finished P4, one place ahead of his teammate, Carlos Sainz Jr. The weather, prayers of the Tifosis, all played into the Prancing Horse's hands.
Editor's note: Charles Leclerc proves time and again that he is no less. Competing to be at the podium in THAT Ferrari is seriously not a joke. The car isn't exactly as 'great' as a Ferrari should be. Ask Carlos, he'll tell you better!
Alfa Romeo
It was a rather dull race for the Alfas – Kimi saved himself from the debris from Bottas and Russell's crash, brake issues for Giovinazzi meant he had to come to the pits meaning he was out of the running for some points. Although Raikkonen was comfortably inside the Top 10 and finished P9 until he was stripped off of his position due to a restart infringement. The IceMan was awarded a 30-sec time penalty for the same.
Haas
What could you expect from a team which is certainly the slowest on the grid? Nothing, right? Well, Mazepin didn't think so. First, Nikita was responsible for the Latifi crash, second, when Nicholas' car was being cleared up, during the SC period, Mick binned it in the pit-straight wall damaging his front wing, but the race went on.
However, Mazepin was tired of driving in the same direction and hence, spun again. And again, before finishing in the last place, with Mick Schumacher ahead of him. All in all, it was bound to be a bad race for them, so don't feel too bad for them.