Motorsport
Bottas takes away Hamilton's historic 100th pole at the 2021 Portuguese GP qualifier
While Hamilton looked strong through-out, many surprises appeared from Norris and Bottas as Bottas proves he's not out of the championship battle just yet.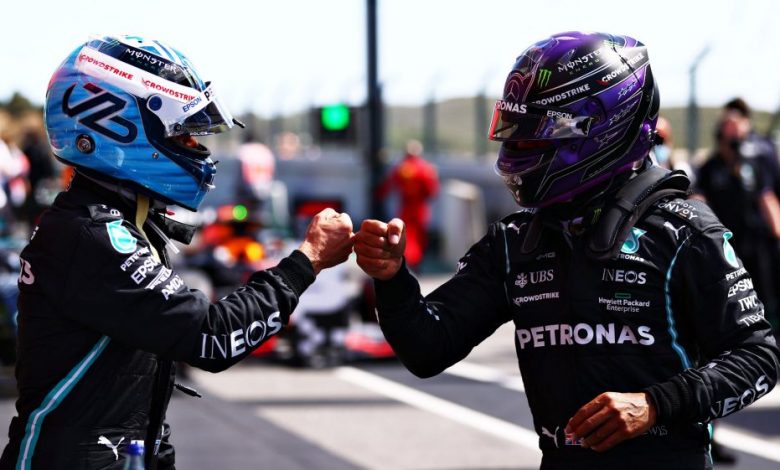 After an eventful day at the EMILIA ROMAGNA GRAND PRIX last fortnight, the world's best drivers have reached Portugal to compete against each other once again. The 3rd leg of the ongoing F1 world championship has been scheduled at Algarve International Circuit on May 2nd.
All the racing teams did P1 & P2 test runs on Friday morning with FP3 and Qualifying on Saturday at the Portuguese circuit. The very circuit that made its debut last year and is back again on the F1 schedules this year. Although earlier, the racing event was supposed to happen in Vietnam, they once again backed out from the event, and Portugal stepped in to fill the vacant spot.
Free Practice highlights
It won't be wrong to call the Portuguese GP – Lewis Hamilton's hunting ground. After all, he surpassed Michael Schumacher's record for most Grand Prix wins last year. Although he had a rough start at the Imola circuit, Hamilton looked back in grip at the Algarve during the practice runs. The British racer managed a clean sweep during the practice runs 1 and 2. He will be planning to maintain the streak on the Sunday race as well.
Sitting just a point behind Lewis Hamilton on the driver's championship tally, Max Verstappen wasn't that far from the leader on the Algarve Circuit during FP1 and FP2. The young Dutch powerhouse was just 0.143s behind the Mercedes car slotting into second position at the end of the day. However, Verstappen faced a brake-by-wire scare during the practice which RBR camp will definitely fix before FP3. The Bull and Silver Arrows are looking closely matched at this stage of the weekend, and this just adds up to our excitement for Sunday's race.
Valtteri Bottas also had a good run for the Silver Arrow Camp finishing third, with a margin of 0.344s off his teammate. Overall Mercedes looked quite strong during the practice runs, especially after Bottas' frustrating experience on track in Imola two weeks back. What has been surprising and quite stunning to watch was Bottas' qualifying lap. More on that later.
Ferrari also looked fast on the Algarve tracks with Carlos Sainz confirming the P4 position, trailing off Bottas by just 0.016s through the finish line. The Italian racing team also secured P4 at its home turf – Autodromo Enzo e Dino Ferrari, a fortnight ago but the driver securing that position was Sainz' teammate from Monaco, Charles Leclerc. The Monegasque driver found himself outgunned by teammate Sainz as he took P7 at Friday's practice runs.
Leclerc's position was also affected by those rapid French cars from Alpine-Renault. Without any doubt they had the most impressive team performance at the Friday race. The A521s came out from nowhere to take P5 and P6 with their noticeably remarkable pace. Alpine's Fernando Alonso finished fifth with just a 0.015s lead over his teammate, Esteban Ocon.
Lando Norris, Driver of the Day at Imola, didn't have an impressive trail at Algarve International Circuit during the Free Practice. The British racer only managed to secure the P12 while his ever-smiling Australian team-mate, Daniel Ricciardo also slipped to P8 after finishing P6 in Italy on April 18th. However, the British team were off the pace this weekend, which will surely keep their engineers up for overnight shifts before the qualifier.
Making a comeback on the Formula 1 circuits after 6 decades, things clearly don't seem working for Aston Martin as per the plan. Going through a financial low, the British racing marquee isn't seeing the highs on the F1 charts either. Lance Stroll was P9 for AM while his teammate and 4 times World Champion, Sebastian Vettel, still doesn't seem confident in the AMR21 and could do no better than P15.
Red Bull's Sergio Perez finished a disappointing P10, the Mexican blocked on one of his quickest laps by the Haas of Nikita Mazepin. And that is no more even a surprise now. Sister team Alpha Tauri's Pierre Gasly could only take 11th in FP2 as the fastest AlphaTauri driver, even when he had finished sixth in FP1.
It is the first time the Frenchman has finished outside the top 10 in a practice session this year. Gasly's teammate Yuki Tsunoda was 14th, following the Williams' driver and Imola troublemaker, George Russell who claimed the P13 as he was unable to match his P7 heroics from the morning run.
Sitting behind the wheel of the two Alfa Romeos, Kimi Raikkonen and his teammate Antonio Giovinazzi managed P16 and P17 respectively. Rounding out the field was the same bottom three as in FP1, Mick Schumacher overcoming a power unit worry to take P18 for Haas, while Nicholas Latifi endured a trip into the Turn 8 gravel before taking 19th – as Mazepin finished over a second off his teammate in P20.
So, it was Sir Lewis Hamilton who came on top during the Friday practice runs (FP1 & FP2) at the Portuguese GP. One thing we know for sure is that Max Verstappen might be young but, he won't be repeating one mistake more than once. And not to forget, the Portimao track is one of the windiest circuits in the world with the wind speed averaging a 30km/h mark, which could be an issue for the Silver Arrow chassis. Moreover, at 124m above sea level, the track has quite a bit of a mountaineering side to it.
Qualifying
It was the W12 of Vallteri Bottas that grabbed P1 at the Portuguese GP qualifying denying Lewis Hamilton's history making 100th pole. That too at one of Hamilton's strongest circuits. Bottas managed to stay ahead by 7 thousands of a second. That's right, Bottas' lap was faster by 0.007s. The Finn set the pace on soft tyres after the first run, with Mercedes opting to send both cars out on the mediums, which they seemed to be quicker on, for the second runs.
However, the wind had picked up for the second runs, and both drivers failed to improve, meaning Bottas will be third different pole sitter in as many races this season. Hamilton beat Verstappen for P2 by almost 4-tenths giving Mercedes an easy front-row lockout. Verstappen having been forced onto the back foot when his best lap was deleted for track limits infringements. Team-mate Sergio Perez managed to grab P4 behind team-mate Max Verstappen by 0.15s.
Carlos Sainz was best of the rest in fifth, the Ferrari driver having softs to get through to Q3 after he made an error in his medium run in Q2. Although, he got it together when it mattered, edging Esteban Ocon's Alpine by just 0.003s. What's with the time differences in this qualifier. Finally making us feel that FIA's time measuring equipmenta are indeed important.
Lando Norris failed to replicate his uber impressive pace in the first two segments of qualifying, when he troubled the top three. Ending up seventh for the third straight race, it seemed more like his own limitation than the car's. No doubt on his skill though as he was well clear of McLaren team mate Daniel Ricciardo who made a surprise exit in Q1 itself.
Charles Leclerc couldn't find pace as he finished three tenths adrift of team mate Sainz in eighth, ahead of Pierre Gasly, as Sebastian Vettel finally stopped his 15-race streak of failing to reach Q3 by closing out the top 10. The curse is lifted? I sure hope to see Vettel in his final form.