Formula 1
Mercedes' clean sweep at Portimão as Hamilton registers season's second and his career's 97th victory
Lewis Hamilton won his 97th F1 race stretching his lead over Max Verstappen by 8 points. Mercedes now sits 17 points clear of Red Bull in the Constructors Championship.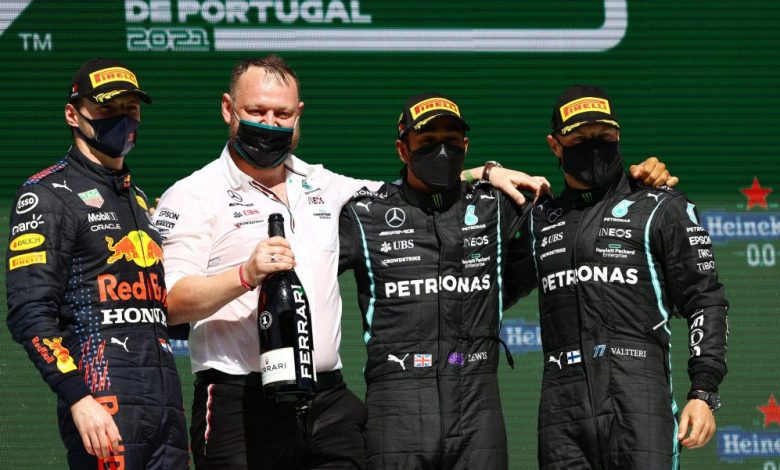 After an eventful Imola, the Portuguese GP felt kind of anti-climatic (the last week's race spoiled us and had our expectations raised high). The rather uneventful race had some intra-team competitiveness. Possibly the only incident being a crash between the two Alfa Romeo drivers with Kimi Raikkonen getting retired midway causing a restart. Apart from the crash, the Algarve Circuit witnessed a few stats getting registered in the record book. By the end of the event, Lewis Hamilton managed to seal his second win of the 2021 season stretching his 1 point lead to 8. Has a record 97 wins in his career and has proven for the 20th time that it is not just about the car and being rapid. Being consistent is so much more important.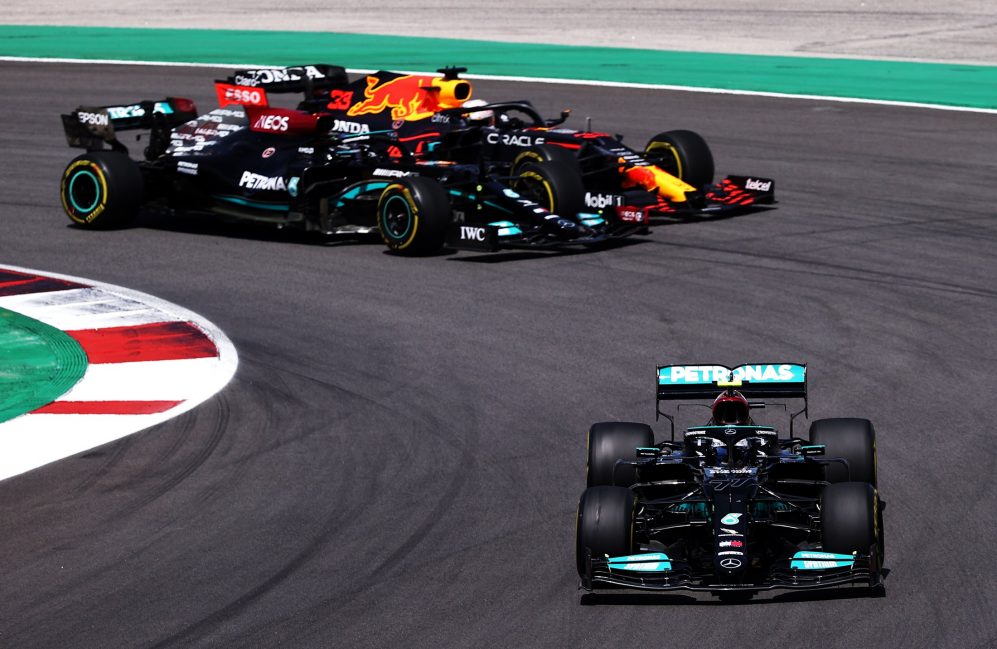 Verstappen also had a good run, but his final lap was deleted post-race for exceeding track limits giving Bottas the extra point. However, the Dutchman's new teammate, Sergio Perez, got the Driver of the Day for his battling drive to P4. Overall the race wrapped up as a clean sweep for Mercedes after 66 laps on the Portuguese turf. Now all the teams will be flying to Barcelona for the Spanish Grand Prix with the FP1 getting underway on Friday (May 7) at Circuit de Barcelona-Catalunya. But before that let's analyse each team's performance at Portimão.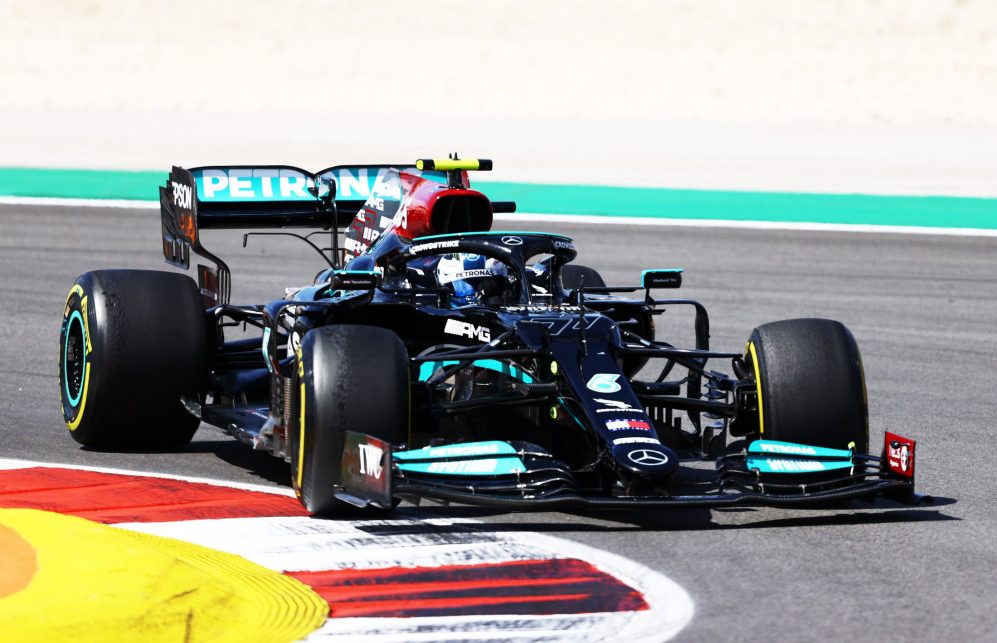 Mercedes
Sir Lewis Hamilton marked his 97th career victory with an almost flawless performance at the Portuguese GP. Well, we did tell you in our qualifying analysis that Algarve is Lewis Hamilton's hunting ground, and his lead today only attests to our claims. The race witnessed Hamilton starting at P3 after the restart, yet he overcame his teammate and the Dutchman on wings to finish first with Max Verstappen trailing behind by around 5 secs. The gap was increased to 30 seconds because Max had made a free pit stop for fast tyres to grab that extra point all because Bottas also had stopped for the same. Checo was almost 28 seconds behind so it was a free pit stop.
It was Lewis' 4th consecutive win starting from 2nd on this grid. He also leads the drivers' championship for the 123rd race, having passed Michael Schumacher's previous record at the last round in Imola. Last year Hamilton surpassed Schumacher's record of 91 wins at the Algarve. The funniest bit was when Hamilton demanded blue flags for Perez thinking he was lapping Perez when Perez was at P1 because of his very late pit-stop. A little too confident there Ham?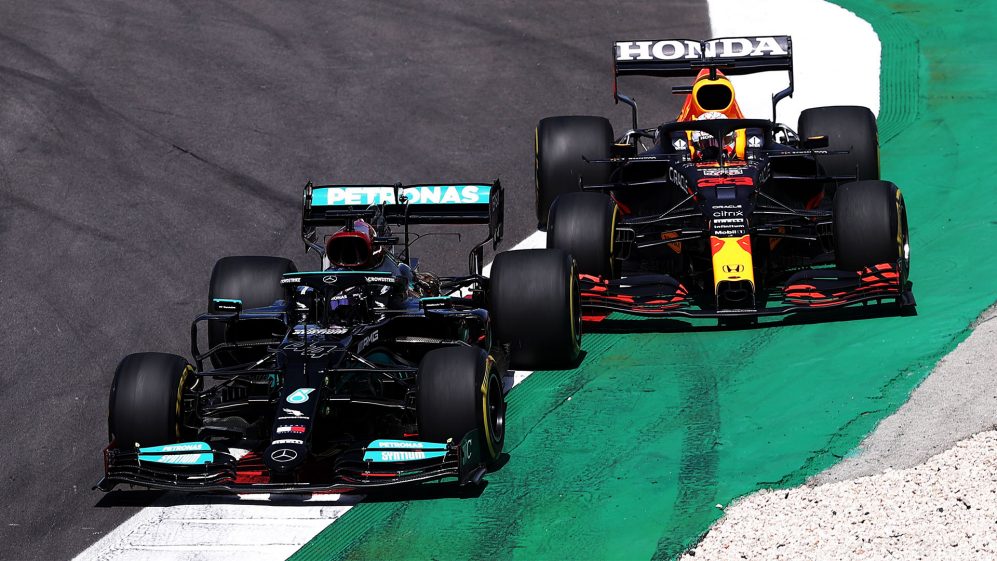 Talking about Mercedes, Valtteri Bottas had a brilliant start from his season's first pole at the Portuguese circuit, after his fantastic run during the qualifiers a day earlier. The Finnish driver led 19 laps in Portugal but lost the lead to his teammate in the 20th. In the end, Bottas had to settle up for a "disappointing" third from first on the grid, losing position to Verstappen shortly after his pit stop. A sensor issue on his car cost him a chance to retake the place from the Dutchman and the only consolation – apart from his 58th podium for Mercedes – was a fastest lap bonus point as Verstappen's benchmark was struck off for track limits violations.
But overall it was a good day for the Silver Arrow camp in Portugal as Mercedes now sits 17 points clear of Red Bull in this year's Constructors Championship.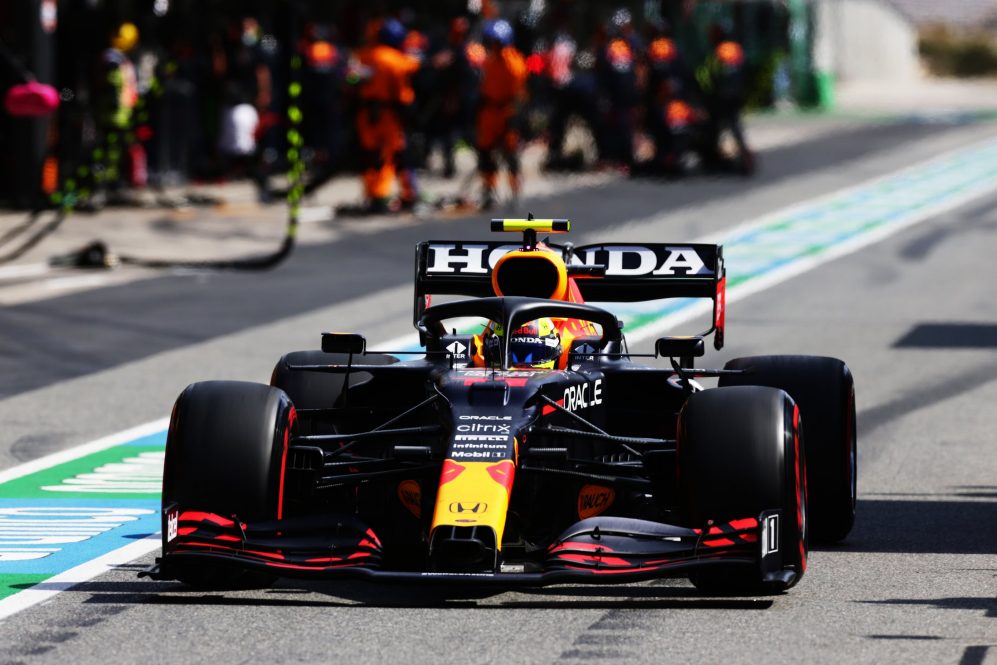 Red Bull Racing
Perhaps the favorites for the race, Max with his teammate Sergio Perez starting off the grid at P3 and P4 respectively. Max launched off the line in a good manner, not his best of starts, but soon used Lewis to jump past him for P2. Sergio, on the other hand, found it difficult to adjust and lost his place to Carlos after a relatively slow getaway. This is what's coming to notice on everyone's visors. Perez is not doing great with race starts and loses a lot of race pace at the beginning which costs him the podium no matter how impeccably he drives for the rest of the race.
The race went on, Max managed to make a mistake coming out Turn 14 resulting in Hamilton gaining a massive slipstream as he zoomed past the Dutchman. Perez was back in P4 after overtaking Norris and that is where he remained for the rest of the race because he had no pace to fight in the front. Of course, owing to his sensational tyre-management skills, he led the race for several laps before pitting for Softs to try and get the Fastest Lap but Bottas was marginally quicker. Perez saw the chequered flag in P4.
Verstappen had a handsome pitstop-worthy lead over Bottas and as such, Red Bull decided to bring him in and gun for the Fastest Lap. Safe to say, the mechanics were fast yet, careful as they served Max in 1.9 seconds but Verstappen had it all until his lap was deleted due to track limits violation at T14. He finished the race in P2.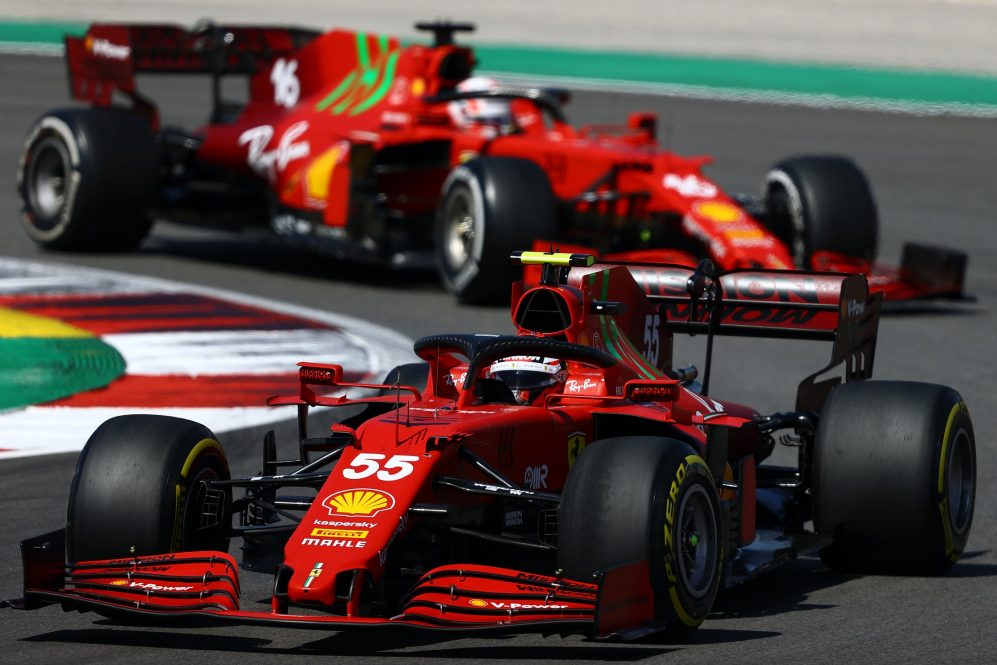 Ferrari
Talking about constructors' win, the Italian racing brand holds the highest victory record of 7 titles at the Portuguese Grand Prix. However, things didn't look in Ferrari's favor on Sunday. Having a good run at the qualifier a day before, Ferrari looked fast on the Portimao circuits with Carlos Sainz confirming P4. But even after a high up sitting position, Sainz Jr only managed to finish 11th.
Ferrari clearly failed to live up to its expectations with only Charles Leclerc getting the points, finishing sixth. The Monegasque delivered a solid performance, crossing the line two places higher than his grid position. That's two in a row for Charles delivering such a performance.
Sainz was stripped of his lead because of Ferrari's planning blunders. He was fighting Alpine racers on tyres that were much older. An absolute nightmare of planning led to Sainz being helpless out there on the grid. Of course, Sainz also needs to improve his race pace but Ferrari's terrible planning only does worse for his confidence.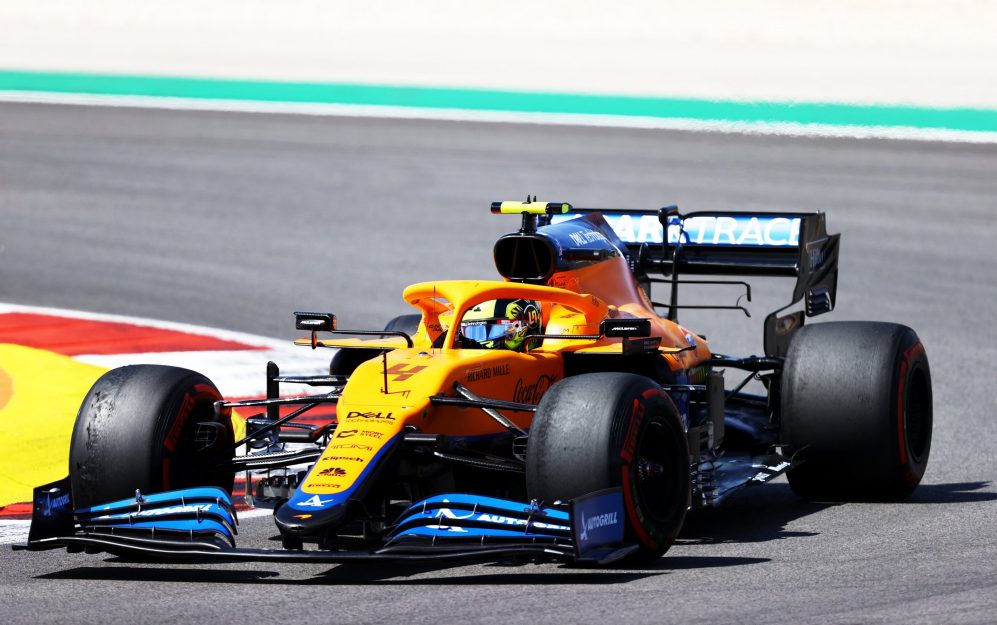 McLaren
Starting at P7 and P16 for Norris and Daniel respectively, they couldn't make any valuable progress for the first few laps. This was until Lando took charge and overtook Esteban Ocon in the Alpine for P6. Daniel, by then, was also in the groove and started to make steady progress overtaking Vettel for P10 at one point.
While his pace looked promising, a really slow pitstop by the McLaren boys (4.8 seconds) meant he lost ground and time and was down in P9 after hovering in the top 5 at one point. It was about to get worse for Ricciardo as a fast-charging Alonso overtook him for P9, but he had Carlos Sainz Jr. to thank as he finished the race in P9. And as for Lando, it was yet another strong race for him finishing P5. According to the stats, in every race so far this year, he has finished in the top 5. Not too bad considering how Friday & Saturday went.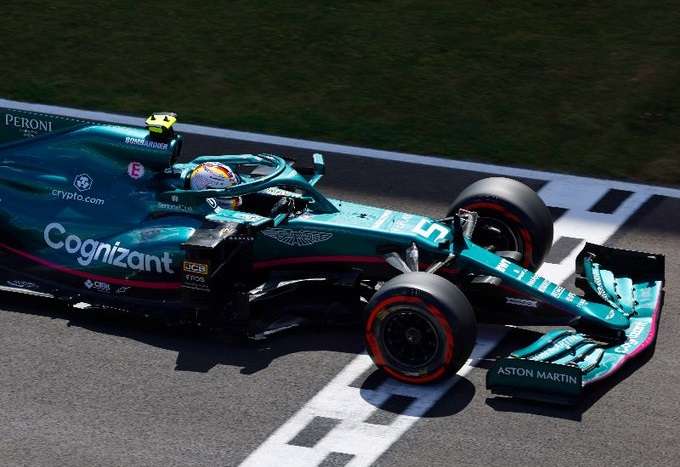 Aston Martin
Sebastian started the race in P10 after a brilliant effort on Saturday to get into Q3. Lance was down in P17. When the race began, it was again, more-or-less the way it was at the beginning as drivers struggled for grip, but Stroll made quick progress and moved up the order whereas Vettel was losing touch with Gasly ahead in P9. Half-distance of the race, Sebastian's troubles escalated as he now had to fight with Daniel for P10 on the Softs which were long gone.
Lap-after-lap, the Portimao circuit didn't particularly suit Aston Martin as both the drivers lacked the race-pace. Lance Stroll finished the race in P13, one better than his teammate in P14. This weekend in Spain, Aston is planning to bring more upgrades so hopefully, a much better race for them.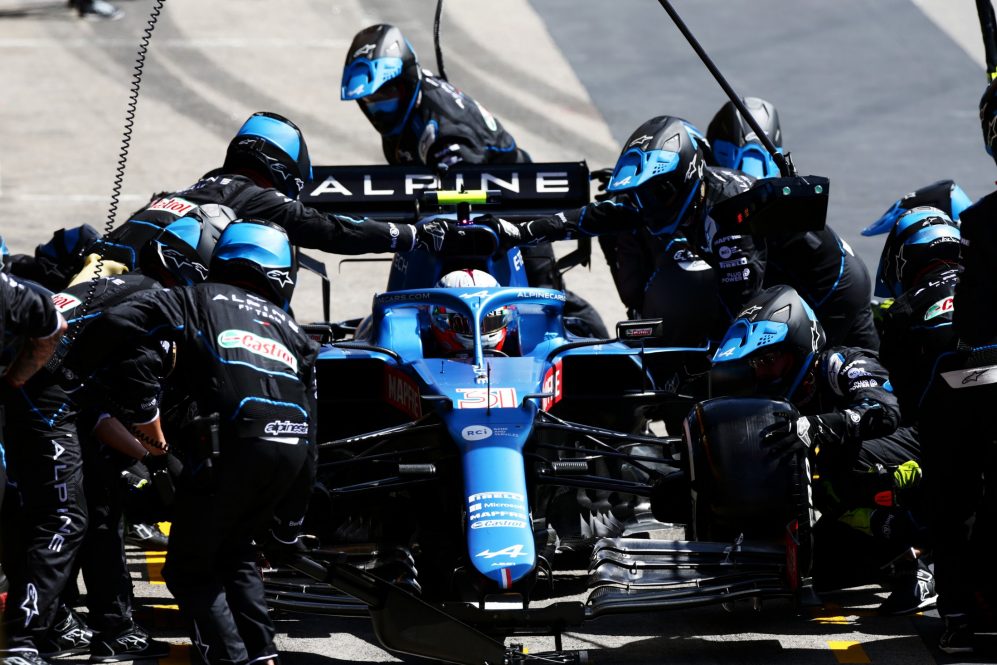 Alpine
Esteban Ocon was unarguably the star of Quali as he put his Alpine into P6 while Fernando Alonso struggled and started the race in P13. However, they both didn't know what was coming. Even though Ocon lost ground at the start and ran in P8 for some time, he quickly overtook Carlos for P7 and stayed there the entirety of the race. As for his star teammate, Nando (not Lando) was suddenly, and surprisingly, on a mission as he overtook Daniel and Carlos before finishing the race in a strong P8. Alonso saying the pace of the Alpine isn't real is nothing but a lie. Also, what is with the older drivers showing faster pace and agility than the newer ones? Talking about Hamilton too here.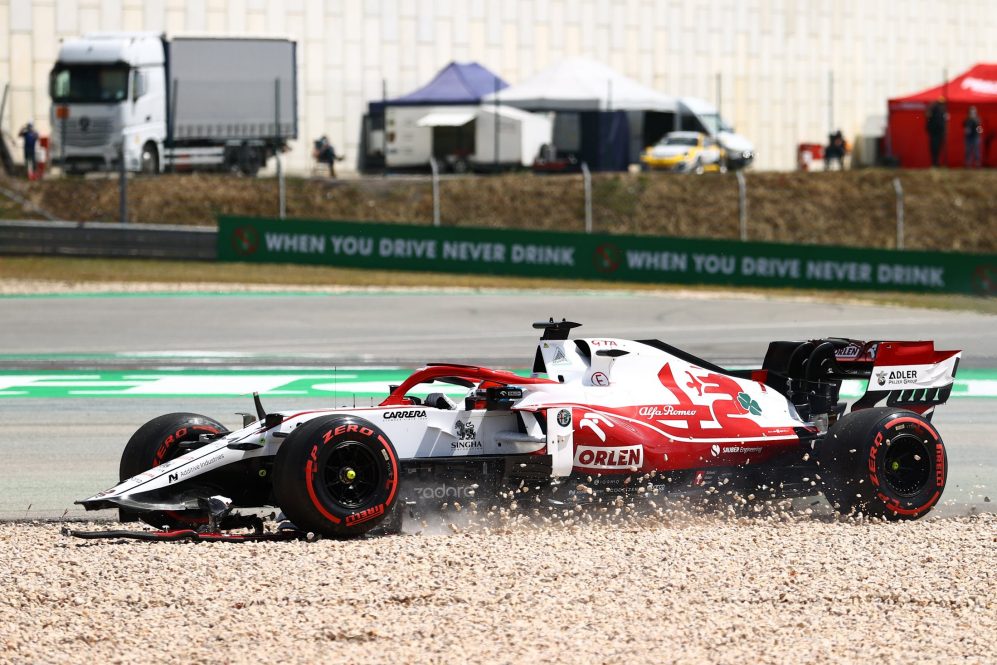 Alfa Romeo
Qualifying for the Portuguese GP in the lower end of the table, the Alfa camp went one man short when their cars crashed into each other during the main race. Kimi Raikkonen got prematurely retired off the track after a contact with his teammate Antonio Giovinazzi. The contact caused Raikkonen's front wing to get jammed under his front tyres, sending the 41-year-old helplessly into the gravel, and ultimately out of the race.
Post-match he admitted the incident as his fault saying "I had to change some switch and got it wrong on the first try, and then I was checking it was right and I just ended up driving into him." Giovinazzi was able to finish the match after the crash and ended up at P12, the same position where he began the race. Vettel and Giovinazzi are the only 2 racers I have seen Kimi smile with so, this was not really a Netflix-worthy moment.
Alfa Romeo sits eighth at the constructors' tally with no points yet on the board.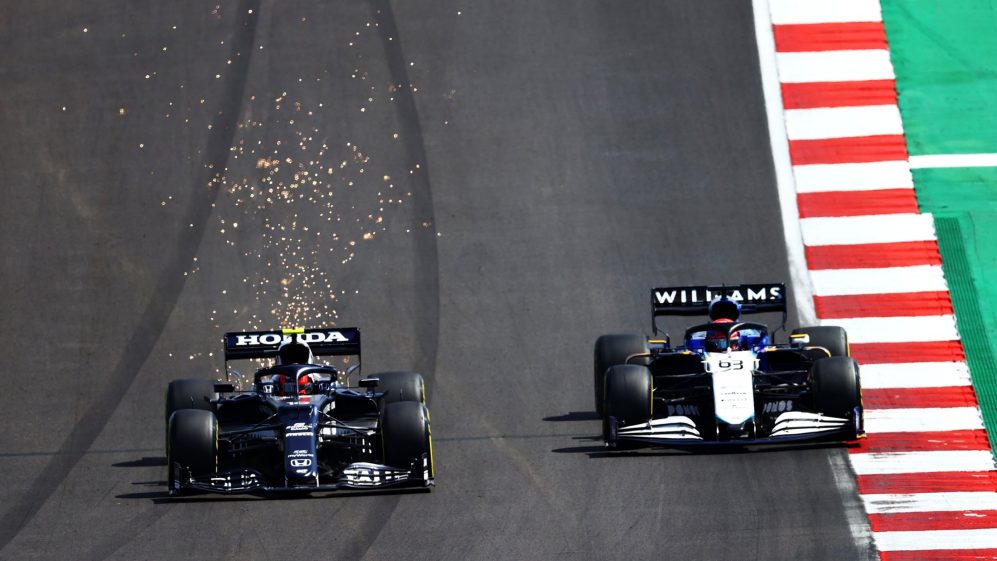 Williams
Following the Italian racecar manufacturer in the table, Williams too has 0 points so far in this season. After such a good Saturday qualifying run, Russell couldn't replicate that form or pace even after starting P11. The Williams not only share the engine from the Silver Arrows but also their wind sensitivity issue, which proved quite troublesome throughout the race.
Despite a mid-position start in the beginning the Englishman tumbled backwards at the restart. His teammate Nicholas Latifi was also seen struggling throughout the race, unable to make any headway from a lowly grid slot.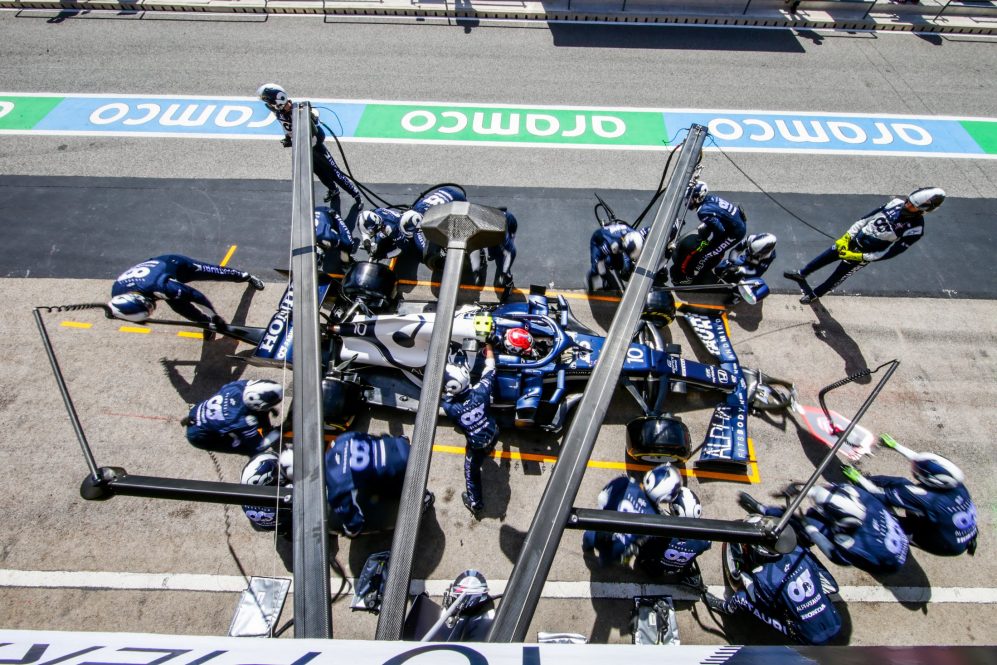 AlphaTauri
There were plenty of expectations from AT, but they could never showcase what their car was capable of. The legend of Pierre Gasly also couldn't do much starting in P9. Yuki Tsunoda launched off the line from P14 but somehow, the kid was so excited about Portimao that he kept on abusing the track limits at Turn 1.
He was on the verge of receiving a 5-sec time penalty. Anyway, Tsunoda ended his race in P15, whereas Pierre took the chequered flag in P10, after having been overtaken by Daniel and Fernando. What was expected from tsunoda's acrobatic style racing is yet to be seen. The hype and expectations from Tsunoda were almost as if Gasly would now be the second driver for even Alpha Tauri but, that does not seem to be happening anytime soon.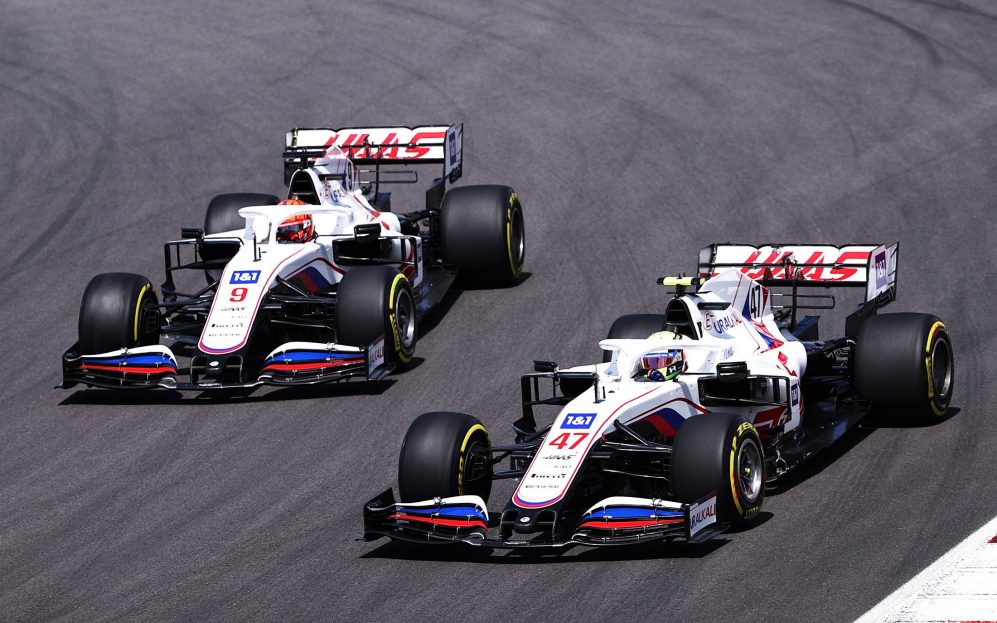 Haas
With the youngest drivers in its camp, Haas sits on the rock bottom of the constructors' list. The fresh inexperienced F2 graduates have failed to leave any solid marks on the tracks yet. Mick Schumacher showed a strong outing among the season regular bottom three, pulling a late pass on the second Williams driver, Latifi to claim P17. Nikita Mazepin was saved from his usual title of the bottom finisher by Raikkonen's mid-race retirement from the Portuguese Grand Prix. Mazepin also DID finish the race but didn't shy away from showing his personality when he tried to race Perez who was lapping him.