Formula 1
Vettel leading Hamilton like the good old days! 2021 Spanish GP Free Practice highlights
The action, at least in FP2, was closer than expected.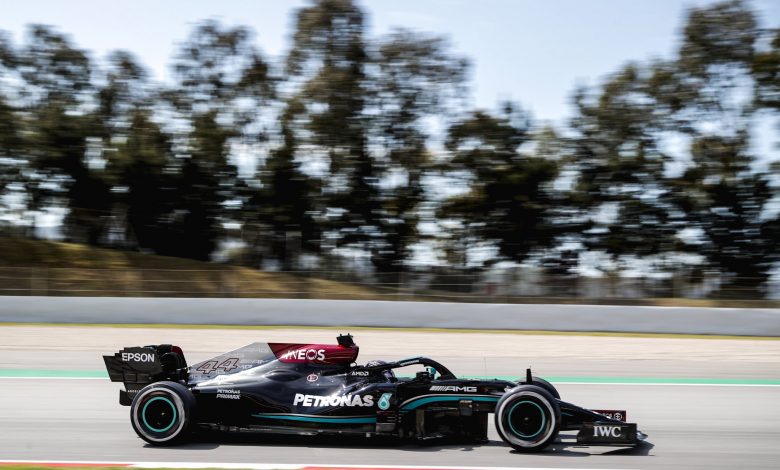 To talk straight of the action, most of it was in FP2. The field was so close that the Top 14 finished under a second of each other. Now, in more recent F1's terms, it is a feat in its own. Some might say it is a little too close for comfort for Mercedes? Anyway, let's talk about where do the teams and drivers stand for the all-important qualifying session tomorrow.
Mercedes-AMG Petronas F1 Team
Starting with 'the' champs. Mr. 'Friday' Valtteri Bottas led the field in Free Practice 1 but it wasn't the smoothest of the sessions for him as in the later stages of the session, he was *very* close to hitting the rear of Carlos' Ferrari at the chicane. All while Carlos was on the racing line. But, Bottas managed to avoid the contact and switch to the grass. In FP2, it was a calmer and straightforward session. His best time of the weekend so far – 1:18:309.
On Lewis' side, it was business as usual as he raked in lap-after-lap and did what he does best – being fast and consistent. No troubles for him meant he finished FP2 on top with a time of 1:18:170.
Red Bull Racing
I was quite surprised with how Red Bull finished their Friday. In FP1, Sergio Perez finished down in P9, with Max Verstappen right on Bottas' tail, just 0.033 behind in P2. Come FP2, though, it all went down. Perez finished in P10, with a time of 1:18:918 whereas Max failed to deliver a quick lap because, he couldn't keep his car on the track meaning he ended his session in P9, with a time of 1:18:785, just over six tenths behind Hamilton.
Some say Red Bull are sandbagging, I say, Max is kicking off the sands. Be as it may, the Dutchman starts his 100th race for the Red Bull team this Sunday, and having won on debut with them in 2016, at the same track, there should be some determination to do better. Time will tell.
Scuderia Ferrari
Lewis said that he was surprised with the progress, Ferrari and McLaren have made. He wasn't wrong, you see. Both the Ferraris were comfortably inside the Top 6 in FP1, while in FP2, things got better as Leclerc ended his session in a handsome P3, only .165 seconds behind Lewis. For Sainz, it wasn't an ideal session as he struggled to find the pace over one lap meaning he ended his day down in P8 with a time of 1:18:674.
Don't expect the Ferraris to race up there in the podium spots you know, because Red Bull is yet to show what their pace looks like. However, Charles did give a lot of hope to the people at Maranello.
McLaren F1
Another shocker. After a strong outing in Portugal, it was as if the team suddenly lost its mojo as it ended the day in P12 and P15. Lando did post some respectable times, but he still finished in twelfth with a time of 1:19:092. For Ricciardo, it was yet another 'learning' day as he failed to capitalize on the opportunities offered to him which meant he was down in 15th, with the best time of 1:19:195.
Whether McLaren is sandbagging or not, is yet to be known. But if the situation remains the same tomorrow and the day after, well, safe to say, people fans won't be too happy.
Aston Martin F1
Happy and positive vibes everywhere. Aston gave Sebastian the upgrades Lance was running last week and suddenly, he was happy and felt more connected with his car, the Honey Ryder. He traded the fastest sectors with Lewis at one point, too. After staying inside the Top 10 for the majority of the two sessions, in FP2, he finished his day in P11, with 30 laps to his name, and the best timed-lap of 1:18:947.
Lance Stroll seemed to be just slower than his teammate on the track, maybe because Seb has much more experience here. Nonetheless, he too managed 29 laps and set a lap of 1:19:134, good enough for P14. Aston says there is scope for more improvement so we just wait and watch.
Alpine F1
"Wowza!" My exact reaction after watching the two Alpine cars smash the circuit. All in a good sense, you see. With Free Practice 2 being the most representative session of the weekend, the times both, Nando and Ocon set, are probably greater than what they had expected.
Esteban finished in P4, just under three tenths behind Lewis, with a time of 1:18:466. For Fernando, it was P5 and a time of 1:18:518. If indeed, the pace showcased by the two drivers turns out to be real come qualifying, the midfield has a lot to think about…
AlphaTauri
A much better, and cleaner session for the two drivers at Alpha. Pierre set a time of 1:18:593 as he finished his day in P6, while Yuki managed to settle for P7, with a lap of 1:18:619. As I was listening to Mr. Karun Chandok, all that AT wants from Tsunoda is a clean weekend with no mistakes and unnecessary efforts of trying to go faster than his teammate. We all know that Yuki is a fast driver, but how fast, let's hope we find that answer come Race Day.
Alfa Romeo, Williams, & Haas
Over at Alfa's side, FP1 was rather dull as Robert Kubica, who stood in for Kimi, made his to the gravel and ended his session there itself, meaning he lost valuable track time. In FP2, it was back to normal as Antonio Giovinazzi set a time of 1:19:122, good for P13, while the IceMan finished down the order in P16, having set a time of 1:19:213.
At Williams, both the sessions went without any concerns as the team did away with its programs. George finished the day in P17 with a time of 1:19:957 and his teammate, Nicholas Latifi, ended his day behind him in P18, with the best time of 1:20:046. Getting into Q2 for one of the Williams drivers seems to be out of reach at the moment.
Speaking of not being able to reach Q2, Haas is again, struggling. Well, it shan't, in the hands of the very talented Mick Schumacher who, let's recall, made his first-ever on-track pass last time out at Portugal when he overtook Nicholas Latifi. Nevertheless, he finished his day in P19, with the best time of 1:20:326. For Nikita Mazespin, it was business as usual – few minutes into FP1, he managed to throw it in T8 but didn't touch the barrier somehow. That was it. He finished plum-last in both the sessions. Oh, what consistent driving.
Conclusion
Well, nothing major to conclude except for the fact that since the Top 14 were covered under a second, we can expect plenty of action tomorrow as drivers try their luck to reach Q3 without coming in each other's way. Lewis looks set to achieve his 100th Pole tomorrow but, who do you think will be able to stop him?