Formula 1
Hamilton wins the 2021 Spanish GP proving F1 is very much a teamsport!
The reigning champion shows another masterful performance to get a brilliant fightback win against Max Verstappen replaying the 2019 Hungarian GP.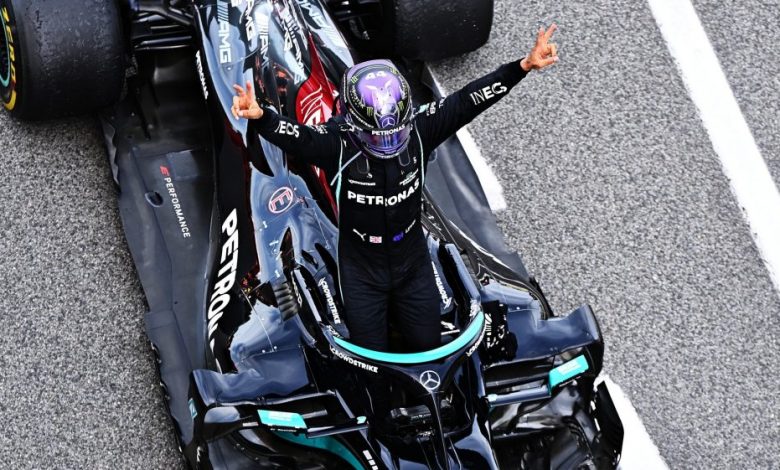 Four races down, Hamilton bags three! Well, this F1 season is starting to feel quite familiar. After a rather anticlimactic race at Algarve International Circuit last week, the affairs at the Catalunya circuit was something like a breath of fresh air (read thrilling) for the racing fans.
The Spanish GP was full of titles for Lewis Hamilton who now sits 14 points clear in the drivers' standings from his RBR rival Max Verstappen who was just a "sitting duck" at the end and finished 15.841 seconds behind the victor. However, the Dutch powerhouse looked well in the mix for the win early on, but ultimately the might of Mercedes and Hamilton was too strong (what a brilliant two-stop strategy the Silver Arrows pulled off btw).
The other regular events of the race was the consistent performance of the Haas boys who again finished at the bottom (Okay almost, but only because Yuki Tsunoda retired earlier due to a PU issue). And some other irregular sights at the circuit when Mercedes got in a very awkward moment as Valtteri Bottas held up a charging Lewis Hamilton! (What was that Bottas? Your answer for the Blue Flag Lewis asked for you during the Portuguese GP!)
Overall Circuit de Barcelona witnessed quite a thrilling tale between the two title protagonists on Sunday's race along with a thousand local spectators. Now the F1 season will resume on the F1's shortest circuit in Monaco on May 23. The tight and twisty layout of the Circuit de Monaco is only going to add up to this season's fun quotient.
We're also excited for the titanic battle on the streets of Monaco because it's the first street circuit race since 2019 and three different teams have won the last three races there. Will we have a fourth? Well, we will have to wait for another fortnight to figure that out, but before we get carried away with the thoughts of Monte Carlo's glamour & luxury, let's just quickly recap what went through at the Catalunya.
Mercedes 
Another masterful performance from Lewis Hamilton in Barcelona, as the reigning world champion channelizes his inner samurai to overcome the Red Bull challenge from Max Verstappen. He had lost his pole lead going into  the opening turn to Verstappen after that 600m drag race at the start. It took him 60 laps… but Hamilton finally re-claimed his P1 by the end of the race.
Lewis Hamilton pulled off a brilliant fightback win against Max Verstappen in the Spanish GP after overtaking his Red Bull rival in the closing laps at Barcelona to extend his world title lead. Overall, a 100th Pole position and just 2 steps away from a century of race wins, this is nothing less than a sort of celebration cake for the British driver. And this cake got a cherry on the top (two actually) as Sir Hamilton also bags the Driver of the Day Award and claims fifth win in a row in Barcelona equaling Michael Schumacher's record at the Spanish GP.
"What a day!" as the victor himself said. (But then, records keep tumbling if you're Lewis Hamiton, right?) The Brit was undoubtedly excellent, but his team deserve as much if not more credit for that win. The decision to commit to a two-stop race early on was a big call, but a genius one.
Talking about the team, let's come to Hamilton's teammate, Valtteri Bottas comes home third trailing behind Verstappen's RB16. For starters, Bottas could well have a telling off by the Merc Management after the race for holding Lewis up during the race. However, he himself got held up for the whole of the first stint by Charles Leclerc, which ultimately cost the Finn the chance to fight for the win. Bottas ultimately finished 3rd, securing his 50th podium for the Silver Arrows. 
Mercedes also passed McLaren for 2nd place in the all-time points scored table with Hamilton's and Bottas' 4th consecutive year podium finishes.
Editor's note: I understand Bottas. I mean you shouldn't follow team orders when your teammate was 10 seconds ahead of you, stopped for a strategic pit stop and still caught up to you. Moreover, overtook you still and you were in the pits a lap later. All makes sense to make Lewis lose those seconds catching up to Max, right? Valtteri Bottas is that one driver who gained a lot of fan momentum creating a bias against Hamilton for team orders. Now though, his performance shows exactly why he can't really be trusted for a win. I mean "stuck" behind Leclerc is not really stuck. It is incompetence.
Ferrari
Talking about Charles Leclerc, he had a race-long battle with Bottas and overcame Ferrari's 2021 race pace woes to take an excellent fourth at the Spanish Grand Prix. The Prancing Horse had a real chance to get the podium this time with the Monégasque racer dominating in the third place for a majority of the time but missed again by almost half a minute. 
However, during his duel with Bottas, Charles Leclerc matched Ferrari's best 2021 finish to date. His teammate Carlos Sainz also had a head to head race with McLaren's Daniel Ricciardo at his home country before finishing seventh in Ferrari's SF21. Overall, Sainz Jr. claimed he was not very satisfied with his run.
Editor's note: And Leclerc literally impressed me to the point I cannot wait for Ferrari to be back at their pace for Leclerc to fight with Verstappen. I hope Mercedes find a replacement for the irreplaceable Hamilton because these 2 boys have the talent to tear up anyone else. Mostly, someone like Bottas.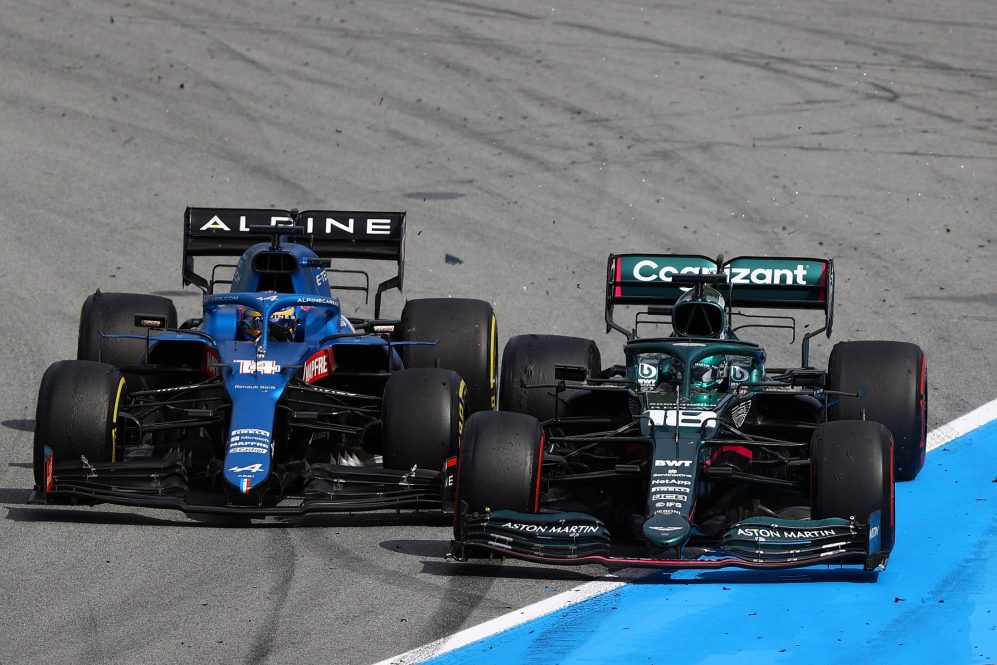 Aston Martin 
Even after four GPs things looked pretty much the same for the British race car manufacturer at Barcelona, as it was still unable to find its mojo. Things weren't any different for its 4 times World Champion driver, Sebastian Vettel, who still doesn't seem confident in his AMR21. With both cars starting outside the top 10 due to weak qualifying performance, it was always set to be a difficult day for AM and so it proved.
Lance Stroll overtook Alonso on merit to run in P10 for much of the race, but had to pit earlier than his rivals on the second time around which proved costly. He so nearly made another move on the Spaniard stick late on, but had to use the escape road and wound up giving the place back. Stroll finished the race at P11 with Vettel following later on at P13, the exact same spots both the drivers began the race.
Editor's note: All this time Stroll was trolled for being there just because of daddy's cash and he is proving every race why he deserves a seat in F1. Seb though, makes me sad. I remember his name only at the top of the points table and right now, he is 4 races down and has no points yet.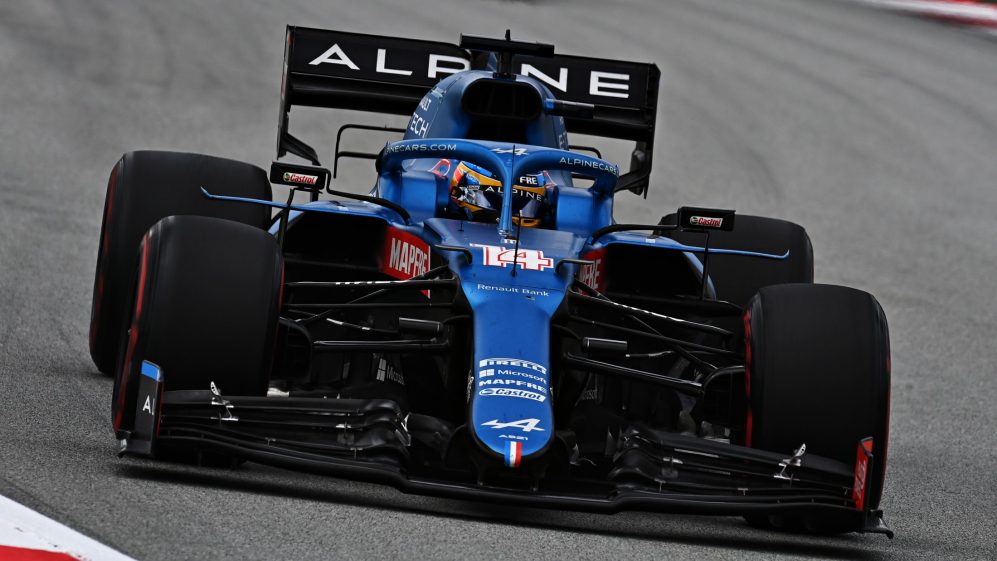 Alpine 
Alpine's Esteban Ocon was one of the only two players at Sunday's Catalunya race who stuck with just a one-stop strategy. And it almost worked for him until Ricciardo, Sainz and Norris all three passed Ocon's fading Alpine A521 in the final stint to claim sixth, seventh and eighth position respectively. The French had to settle for an unsatisfactory P9 at the end line. He had a neck to neck close run with Lando Norris though, but a few more laps and he may well have dropped out of the points altogether. Still, considering how bad the Alpine cars were performing, his points finish is nothing short of a miracle.
On the other end of the table, his teammate Fernando Alonso too had a disastrous run at home (one he wouldn't like to keep in his memory lanes). He had an intense battle for the final point when he clashed with AM's Lance Stroll at Turn 1. And even after putting the sixth fastest lap on the Sunday evening, the wounded Spaniard couldn't do any better than P17.
Editor's note: If Esteban's driving does not impress you, make sure to change your sport of interest. Since we were discussing a Hamilton replacement at Mercedes, Esteban seems like one hell of a choice. Especially a fierce battle (literally) between him and Max and Leclerc in the mix.
Alfa Romeo 
Talking about being disastrous, it has to be Antonio Giovinazzi's 35-second pit stop at the Spanish GP to claim the trophy of the segment (if there is one). The team had tried to take advantage of the early Safety Car period due to Yuki Tsunoda's retirement on track by bringing the Italian into the pits. But a quick-thinking mechanic spotted one of the tyres that appeared to have a puncture, so the team had to grab a whole new set to fit into his car.
(Wait, there's more!) Giovinazzi then lost time as he had to follow an FIA delta on his dashboard behind the safety car, instead of being allowed to rejoin the pack, which would usually be the case. The double delay meant that the Italian lost any advantage he might have gained from the strategic move, and he eventually finished 15th. His teammate, Kimi Raikkonen, outperformed him with the help of a single pitstop strategy, crossing the chequered flag at 12th.
Red Bull Racing
The mood was set, the conditions were good, there was a hope or two of Max overtaking Lewis before T1 and guess what, he did just that. Hard, yet clean racing from the Dutch meant he caught Lewis napping and led the race. As for his teammate, Perez too, was on a charge as he quickly gained two spots on the first lap.
Soon came the time for pitstops and the Red Bull crew, who delivered a 1.93 second stop for Max last time out in Portugal, somehow managed to throw it away as they served Verstappen in 4.2 seconds! Now, in F1's dictionary, a pitstop can make or break your race and with Max, it was the latter.
A slow stop meant he lost valuable time and ground against Lewis. While all of this was happening, Sergio was fighting with Daniel for P5, a position in which he managed to finish his race in. Max, however, was being chased by Lewis Hamilton like an angry bull (tables turned) as the 7-time Champion made his stop much later and hence, his tyres were fresher than Max's. That strategy follow up from Hungary 2019 worked even better this time as Lewis was gaining almost 1.9 seconds in one lap at one point in the race. That is HYPER fast!
In the end, Hamilton did catch him, after-all, he was lapping up to a second of a lap quicker than Verstappen. Car No.33 came home in P2, with an additional point for the fastest lap, and now trails Lewis by 14 points.
Editor's note: While Verstappen is a wonder kid at RedBull, that second Redbull seat is yet to prove itself useful after the departure of Daniel Ricciardo in 2018. I mean Perez has been such a fan favorite and everyone commends his performance but, he has not been able to perform under pressure and took way longer to get past Ricciardo in a Mclaren, for P5. We are all hoping for Perez to be the next Ricciardo at RedBull and not the next Bottas at Mercedes. An abysmal performance overall. These are situations where Redbull need their second driver and they are yet to find one.

Williams F1
George put his car P15 on the starting grid, whereas Nicholas Latifi was down in P19. When Yuki brought out the Safety Car, Williams pulled out a fantastic double-stack for both of its cars. Later, the race was rather dull and as expected. George had the pace to fight with Alonso for P10 at one moment but the 'issues' of the Williams machine stopped him from scoring his first-ever points for the team. As for Latifi, he ended his race in P16, benefitting from Tsunoda's retirement and Antonio's pitstop blunder.

Haas F1
Mick started his race in P18, and managed to gain two spots, nothing less than a massive feat considering the car he's driving. His teammate was still hovering around last place, that is where he finished his race in, after once again managing to come between the race leader. As for Mick, after having fought with Giovinazzi, Latifi, and even Russell, he was back in P18 to take the chequered flag.

McLaren F1
The team didn't have a particularly amazing Qualifying and so, suffered a lot come Sunday. However, Daniel quickly made progress to race at a respectable P5, while Lando was still down in P9. After then, it was a straightforward race for them – after Daniel's stop, he rejoined in P8, but made his way to P6 where he finished his race and on Lando's side of things, the Brit ended his race in P8. Surely, not a great day at the office for Woking.
Editor's note: Nothing good to see here except Daniel's epic defense against Sergio Perez's Redbull. Daniel's P5 and his consistency under pressure does not get as much respect as it deserves. For those who want to know more, watch the 2018 Monaco GP.

AlphaTauri
Before the race even began, Gasly was in trouble after it was found that he started his race out of grid slot meaning a penalty was bound to hit him. Speaking of hitting, Yuki Tsunoda, who publicly questioned his team's choices, was hit with engine troubles and had to retire at T10. Karma, Yuki?
For his start shenanigans, Pierre was awarded a 5-sec time penalty, which he served at his pitstop, meaning he rejoined in last place. Soon after, he was on Vettel's tail to have a go at P14, which he did and surprisingly, even made his way up to P10 to bring home a single, yet valuable point. Although he was later given a penalty point on his Super License for the way he started his race. The result remain unchanged.
Editor's note: A usual day at the office here. Gasly proving he was always worthy of the Redbull seat and Yuki's car stopping for some reason. The reason this time though, was a technical fault. Not Yuki's spinning or sliding around. Imagine if RedBull showed the same patience they had shown for Albon towards Pierre Gasly. He could have very well been fighting for wins or even the championship. Being friends with Hamilton does give you that mindset.