Formula 1
Order from Chaos as Red Bull dominate the 2021 Azerbaijan Grand Prix! Vettel and Gasly fill up the top 3
As Petyr 'Littlefinger' Baelish once said, "Chaos isn't a pit; Chaos is a ladder". Well, it most certainly was for Checo, Vettel and Gasly at Baku. For Bottas, Hamilton and Verstappen, the City of Winds was nothing more than a bad dream, something they would want to forget as soon as possible.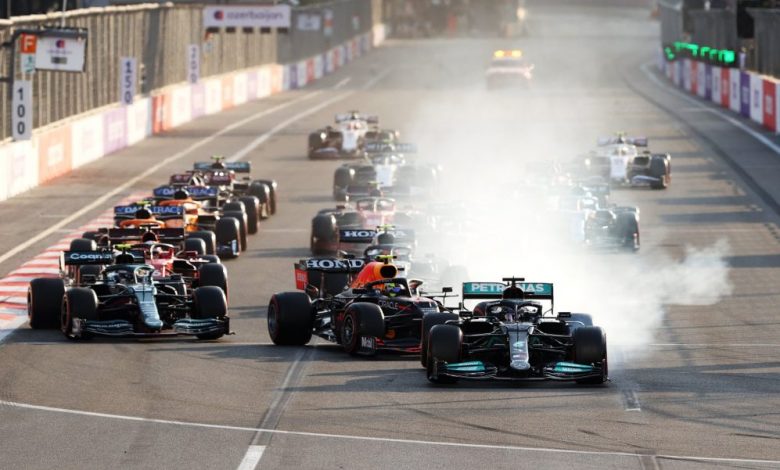 Whoa! What was that? That was our reaction throughout the Azerbaijan GP. Both the championship contenders were out of the points (one being out of the race). Hamilton finishing behind Schumacher (no not Michael… Mick… Mick Schumacher) and also behind Nikita Mazepin, Verstappen out of the race, Vettel on podium, and Checo bagging the victory, Baku certainly kept us on the edge of our sofas the whole time.
The events at the Sunday race were nothing less than any action-packed drama thriller. By the end of the race, Aston Martin gets their first-ever F1 podium, Red Bull extended their lead in the constructors' championship and Mercedes go home without a point. What? You're not alone, we are asking the same! What, on earth happened to Hamilton at the restart? 
For the first time in lord knows how long, Bottas, Hamilton and Verstappen all failed to score points while Perez picks up a tidy 25. To sum it up in three words "A helter-skelter afternoon". The Baku City Circuit lived up to its reputation for producing dramatic moments. Long live the Azerbaijan Grand Prix. Let's not waste any more words here and allow us to take you straight to what happened at the City of Winds.
Red Bull
RBR bag their second consecutive victory, and the third overall of this season. But this time it's not Max Verstappen who crossed the chequered line first. The new member at RBR camp this season, Checo Perez steamed across the finish line as the winner. Mexican driver, Sergio Perez won a dramatic stopped and re-started Azerbaijan Grand Prix for Red Bull on Sunday after a tyre blowout denied victory to his Dutch teammate. And the worst part is, the tragic crash happened just before the final 2 laps, whilst he was leading.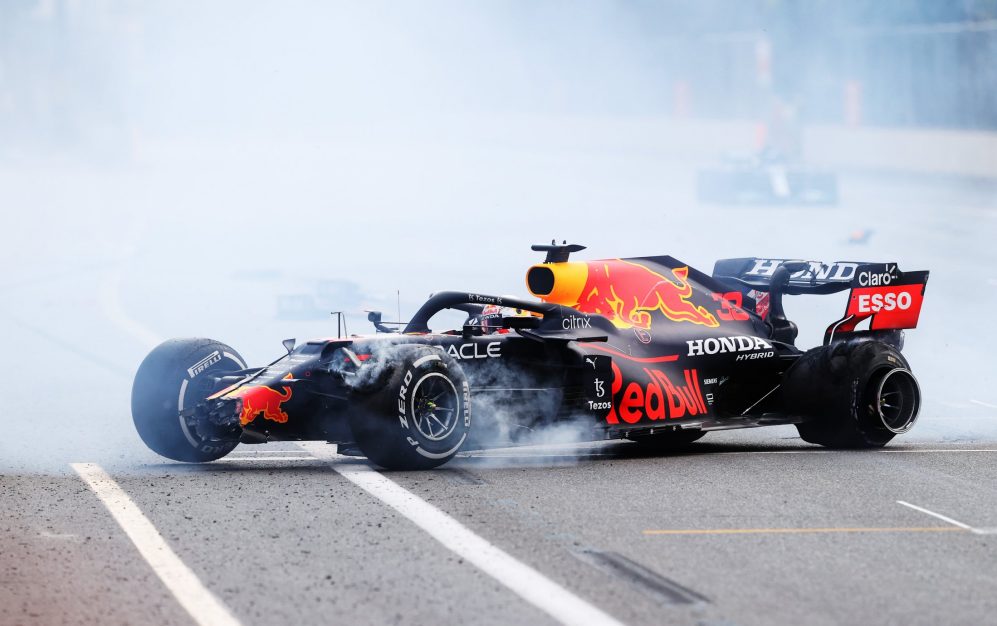 Max Verstappen moved his way to the front of the pack after starting at P3 in the opening 12 laps. The Dutchman was comfortably heading his Red Bull teammate and Mercedes' Lewis Hamilton when his left-rear tyre suffered an apparent blowout on the pit straight, sending Verstappen into the wall at around 200mph. Poor Max.
But thanks to the disastrous restart of Lewis Hamilton, Verstappen will be breathing a sigh of relief as he still remains atop the drivers' standings. However, his frustration of losing 25 points clearly reflected while kicking out at the tyre. A day of mixed emotions at RBR camp.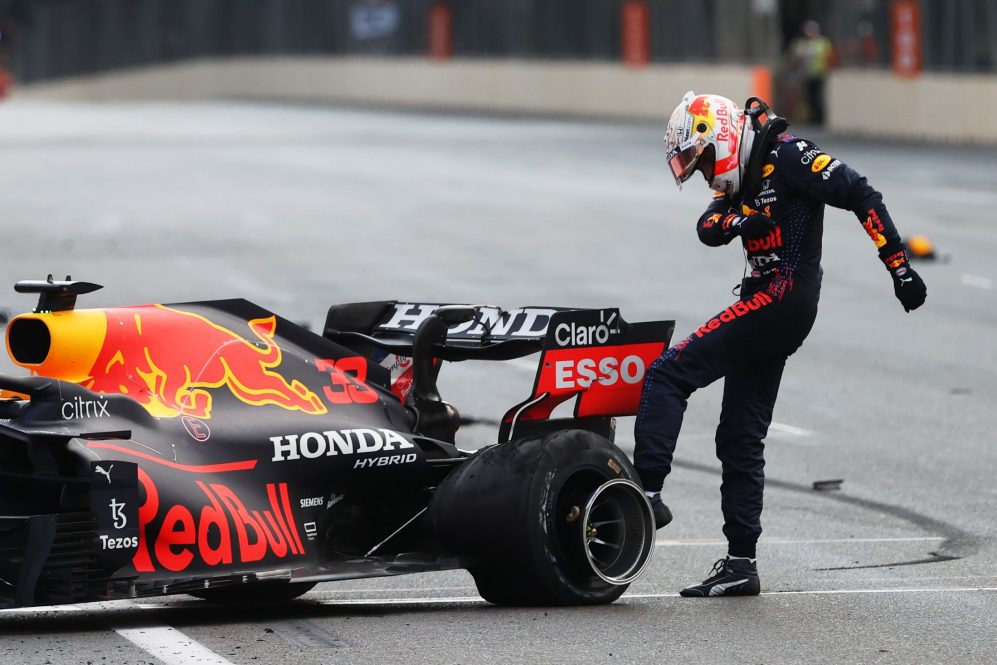 Editor's note: FULL CREDIT needs to be given to Max V's teammate and an extremely talented racer, Sergio Perez. After the dreadful Monaco and the race before, I'll be honest, I lost hope. I thought Perez will have the same fate as Gasly and Albon and something really is cursed with that second RBR seat. But, Perez changed that and flipped it upside down for good. In simple words, something definitely clicked at Baku and Perez was absolutely FLYING. Perez was simply out of reach of Hamilton in the middle sector and after NUMEROUS attempts on the straights, Lewis still couldn't take him. That's considering the fact that Mercedes absolutely flies on straights.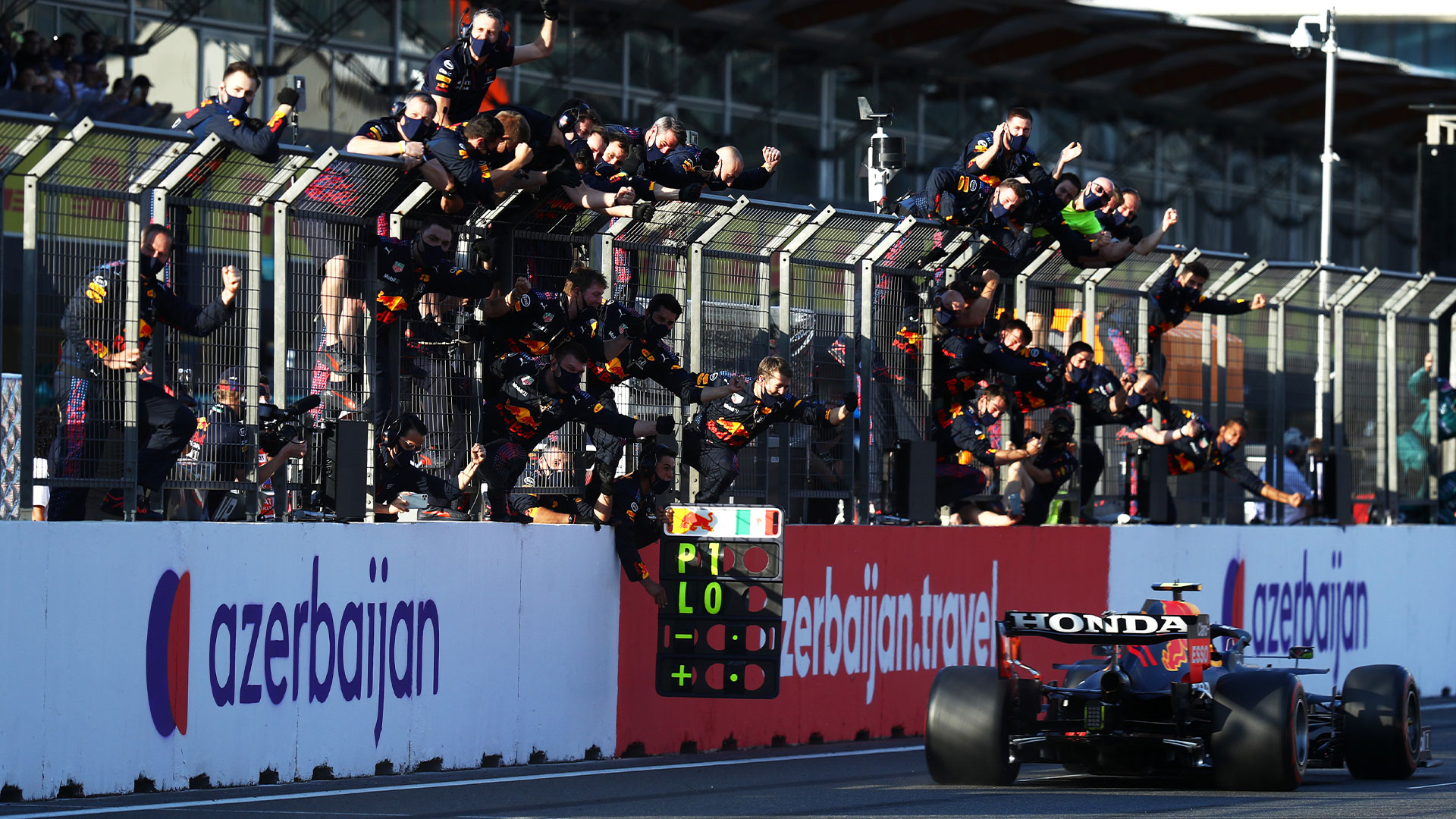 Moreover, I think Perez drove better than Max at some points. First of fall, he made up FOUR places in the first few laps. INCREDIBLE! His restart was also great as he closed Hamilton down to the other side putting him under pressure. Overall, he is the king of tyre management and if it wasn't for Max taking the lead in championship, I think Perez COULD'VE overtook Max if not for some silent team orders. Overall, bow down to this man and keep a close watch on him! He's back.
Aston Martin Cognizant
Sebastian Vettel who finished second for Aston Martin in the Sunday's race assured everyone that his performance at Monaco GP was certainly not a one-time lucky miracle. Whoever doubted that though. I mean who even doubts Vettel? The four-time world champion definitely found his mojo back in the streets of Monte Carlo a fortnight back. Vettel enjoyed his finest race in Baku since Mexico 2019. The German driver was 'over the moon' with his first podium of the season even after starting from 11th on the Baku grid.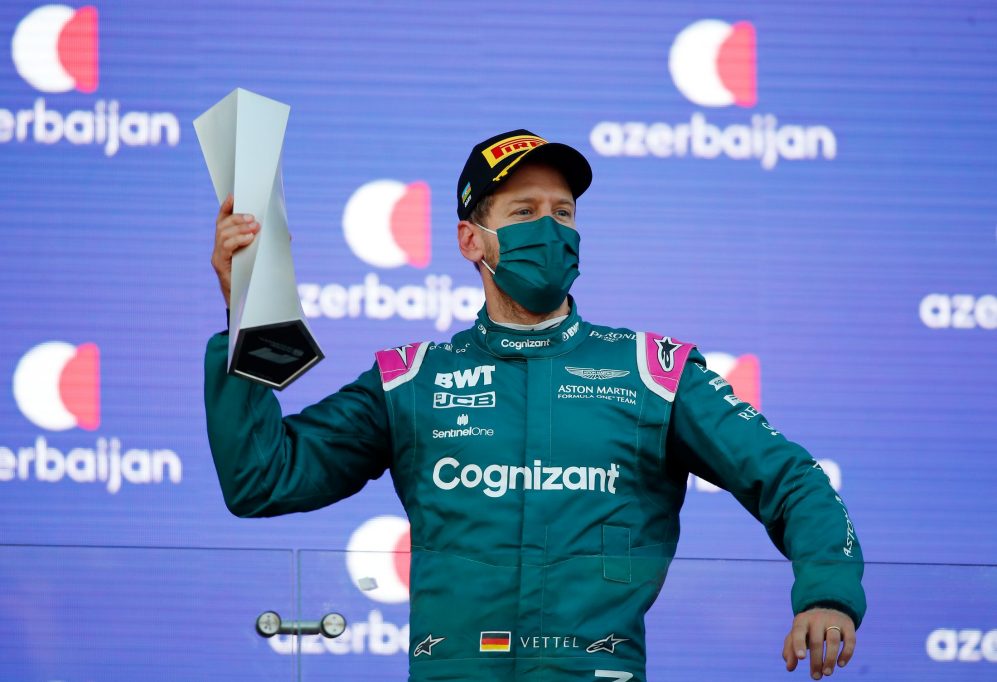 Both Vettel and AM struggled with what we can say a 'very rough' start of the season, but now with the British automakers first ever podium, the camp must have a celebration post-match. And why shouldn't they! No just Vettel give Aston Martin their best finish yet, but his stunning driving got him the Driver of the Day title for a second consecutive Grand Prix.
For his teammate, Lance Stroll, Baku wasn't that pleasant experience as he faced a similar fate as RBR's Verstappen. On Lap 30 of the race, Stroll appeared to suffer a blowout near the pit entry and spun violently into the wall, bringing out a Safety Car. Coincidently, the spot is quite near to the site of his Q1 crash from Saturday.
Editor's note: Thinking… still thinking…. more thinking. No. Still no words to describe Vettel's performance. Before the season started, I had claimed we COULD actually see Ham vs Vettel again considering both share the same engine and A LOT of that chassis. And… voila! Although, that feeling of utter satisfaction when us fans heard Vettel laughing and giggling crossing the chequered flag was irreplaceable.
McLaren F1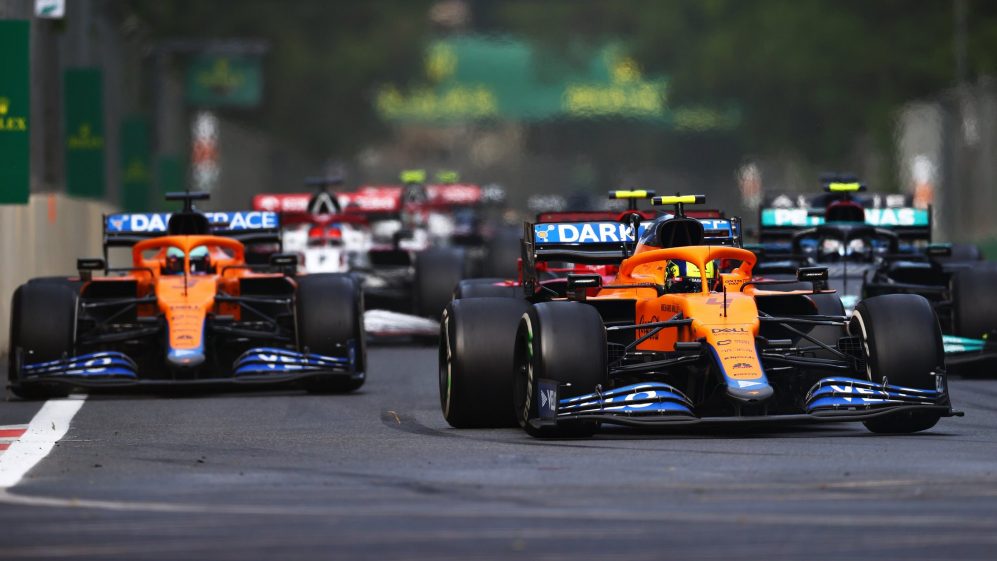 Well, the week at Baku was creatively not what the British race team had hoped for after Monaco's podium with Lando Norris' P3. The poor performance at the Saturday qualifier meant both Lando Norris and Ricciardo had to start with a respective place of P9 and P13. However, the racers tried well to gain a few positions before crossing the chequered flag.
Norris went for a very early pit stop in an effort to undercut his rivals, and the strategy paid off. The late red flags further helped the British-Belgian driver to hold on to that position as he was allowed to change his tyres. As for his Australian teammate Ricciardo, he managed some on-track overtakes but, on a day where the midfield took two podium spots, McLaren found themselves too far back to capitalise on those opportunities.
Mercedes-AMG Petronas F1 Team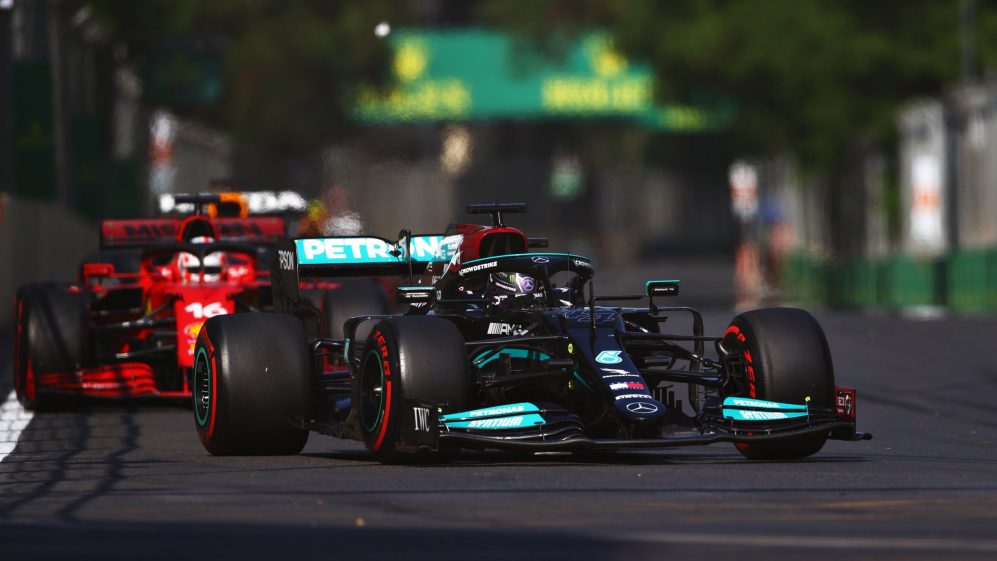 Oh boy! Where do I even begin with? After Saturday's Qualifying session, Lewis put his car in P2, whereas Bottas was down in P10. Considering Bottas couldn't finish his best lap because of the red flagged qualifier… okay! By the way, as reported by me earlier, I have lost respect for Valtteri once again. More on that later.
The race got underway, Lewis had a good start, but since the distance to Turn 1 was under 140m from Pole, he couldn't do much, but as soon as Lap 2 came, he flew past the Ferrari of Charles Leclerc and took the lead. It was, at that very moment, I thought that this race was done and dusted. If only I had placed my bets on the final outcome…
Valtteri meanwhile was running a race of his own – hovering around P10, sometimes down in P11, then after the pitstops in P14, too, but even then, God bless the hilarious team at Mercedes, they thought that Bottas could get P5, in a race where a Mercedes driver is going backward for no good reason. Overconfidence, eh? Needless to say, Bottas proved them wrong.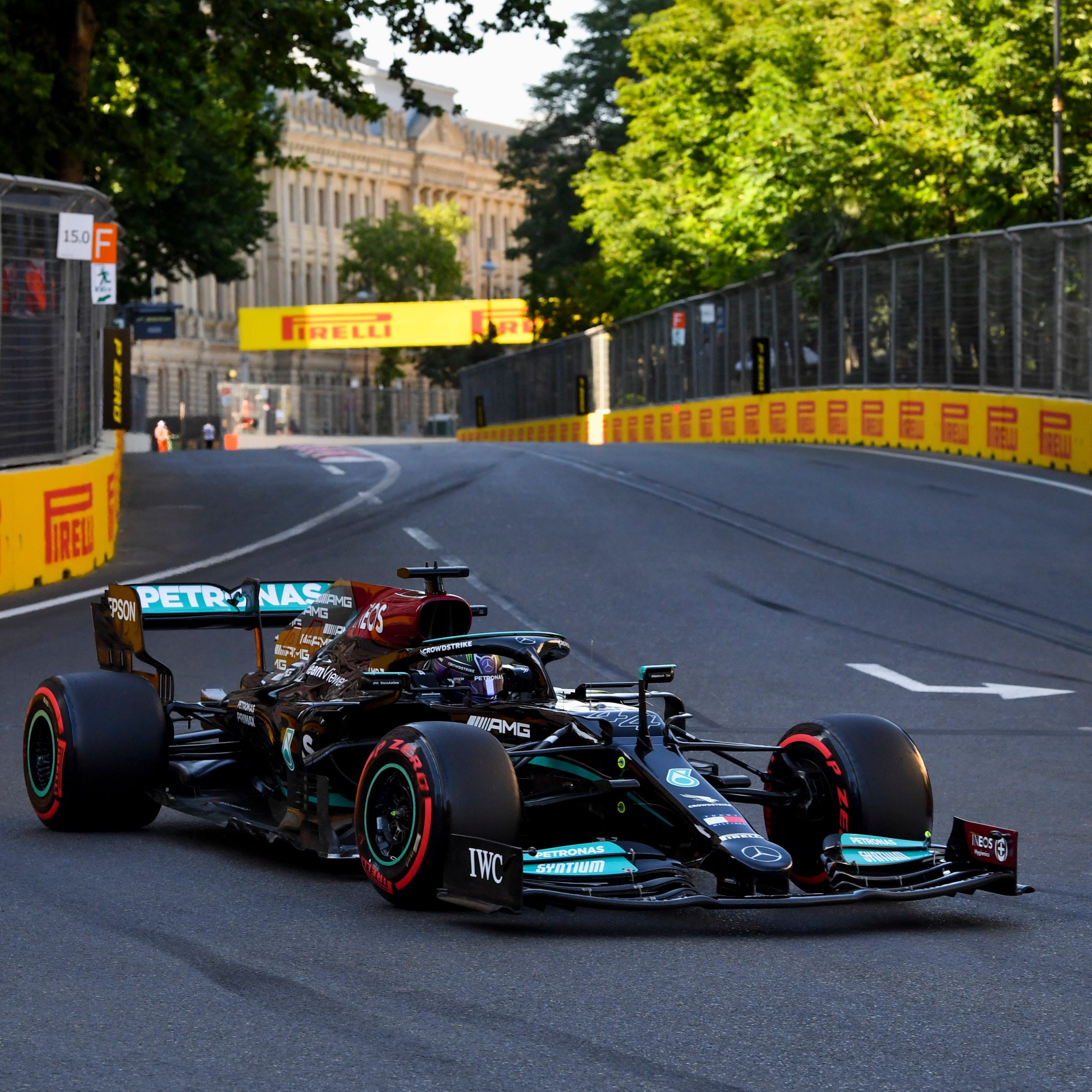 It was time for Lewis to make his stop, but he had to wait until Gasly passed him in the pits, meaning it was a slow stop (I think it was 4.2secs), thus meaning he lost the chance and valuable time to Max Verstappen. He even lost his lead to Perez who literally FLEW in a lap before pitting to make up time for the stop. Perez' stop was also around 4 seconds but still he managed to come out ahead of Lewis.
Later in the race, Hamilton was steadily catching Perez for P2 but, it was nowhere as easy as Hamilton has had it for the 2020 season. It was his championship rival in car No.33 whose hard tyres wore out (without any warning) bringing out the Safety Car and then the Red Flag. After a brief waiting period, all hell broke loose.
It was declared a 'Standing Start' for the restart, Lewis lined up in P2, again, but his brakes were smoking by some margin. To make matters more worse for him and entertaining for us, Lewis confirmed that he accidentally kept the 'Brake Magic' function button switched on, a setting on the steering wheel that heats the brakes quicker by altering hybrid regeneration and brake bias settings.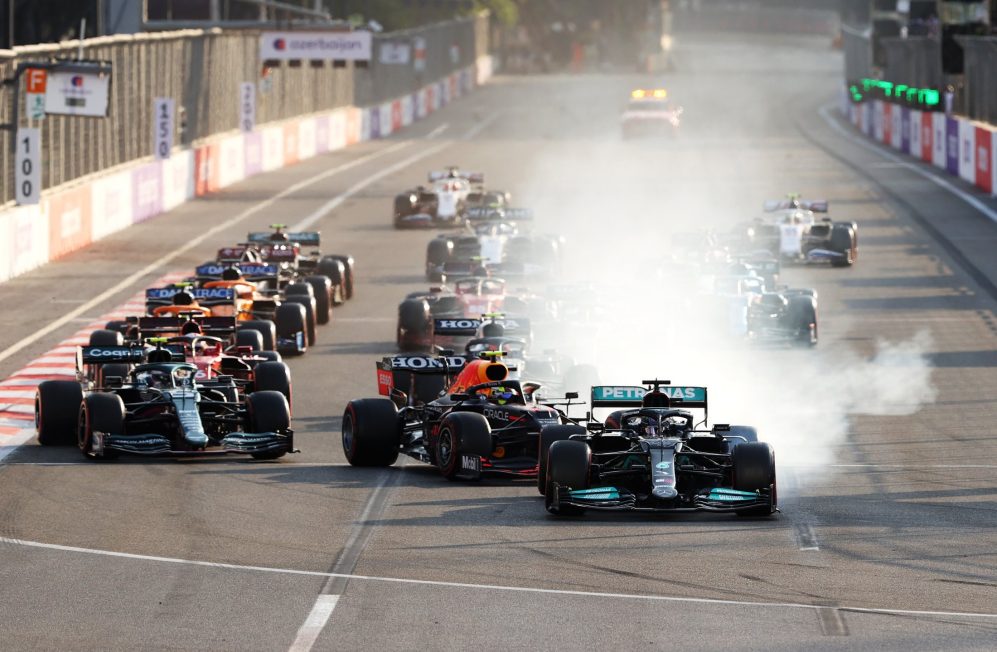 What did it mean? Well, he went straight down the escape route into T1, and there it was, the race ended for him there and then. "It's a marathon, not a sprint", said Lewis as he got ready for the restart. Safe to say, he was quite eager to do whatever it took.
The Brit finished in P15, Bottas finished in P12. George Russell was, at one point, about to overtake him, but couldn't. He is in deep trouble, the Finn. One for the trivia: the last time Mercedes failed to score any points was back in 2012, the US Grand Prix, with Nico Rosberg and Michael Schumacher driving.
Editor's note: I have been hearing a lot of mumblings about Hamilton being a 'loser' and the self proclaimed new fanboys claiming to know it all. So, to clear things up with facts, RBR is a the fastest car on the grid this season by SOME margin and Hamilton has still been absolutely competitive. He is merely 2 points behind as compared to Bottas who is well… IDK where in the list.
Bottas and Hamilton are driving the same car so you can imagine what this car is like. Lewis is facing a real challenge after a very long time and it is inevitable to see even the best lose their consistency and patience under this much pressure. So… bear with it. Moreover, it is toxic for the sport to be divided fans when we can have an enthralling last race championship battle. Coming over to Valtteri, it seems like RBR and Mercedes switched roles where there was no support driver for the Mercedes top driver and there were 2 championship drivers at Red Bull.
Scuderia Ferrari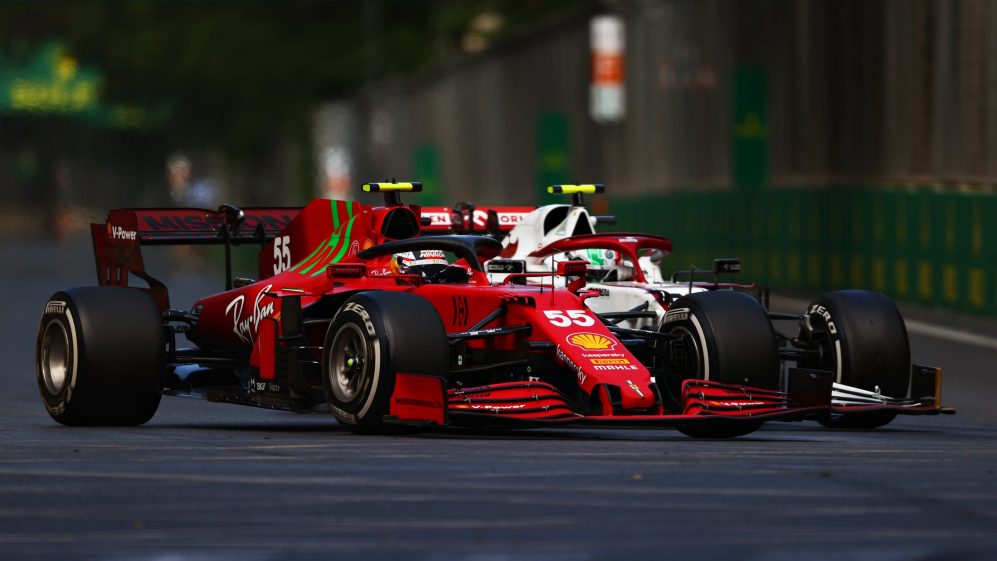 Was Charles Leclerc even on Pole? Now that the race is over, I am asking this question to myself. Well, he was, and unlike Monaco, he started the race. He does say, however, that since he had to avoid a tree branch at T15, he had to give up his lead to Lewis, and safe to say, Leclerc never could fight back after that.
Sainz started the race in P5, a brilliant effort, but both the Ferrari drivers didn't have the race pace to challenge for the win, though they could fight for the podium positions. Not in the hands of Carlos, no. The Spaniard who took a sensational podium in Monaco, made a costly mistake when he locked up into the Castle Section and made a quick visit to the escape road. He found reverse quickly, but couldn't find his lost mojo.
After the Red Flag period, Leclerc and Gasly were fighting for P3, but eventually, Charles lost out and finished his race in P4. As for Sainz, he came home in P8.
Editor's note: I am not one of the 'tifosi' but I sure am impressed with Ferrari. Them creating a hospitable environment for two drivers and not making it toxic. The two drivers sharing great camaraderie and Ferrari making a comeback is amazing. To be honest, I expected better performance from Sainz Jr. but, I'll give him time. It's a developing Ferrari he's driving after all!
Alpine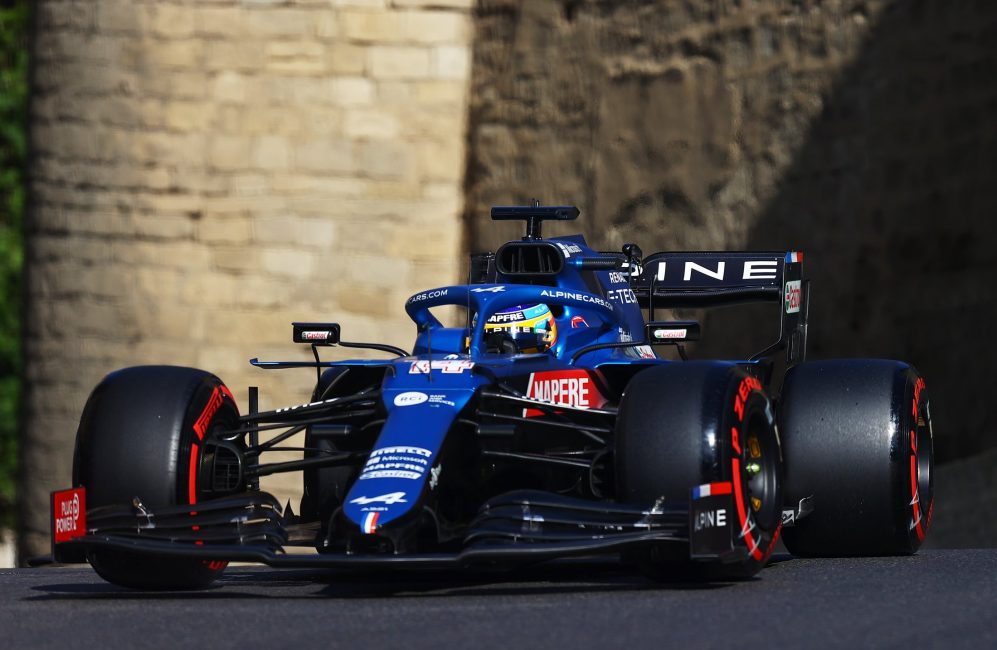 Alpine got an early blow with Esteban Ocon retirement due to a loss of power when the race was just four laps old and their hopes of scoring looked bleak as Alonso struggled for pace and dropped from P8 to P13 during the race. But the red flag due to Max Verstappen's crash neutralised the race and after the restart, Alonso made up four places in two laps to secure his best F1 result in 3.5 years.
Alfa Romeo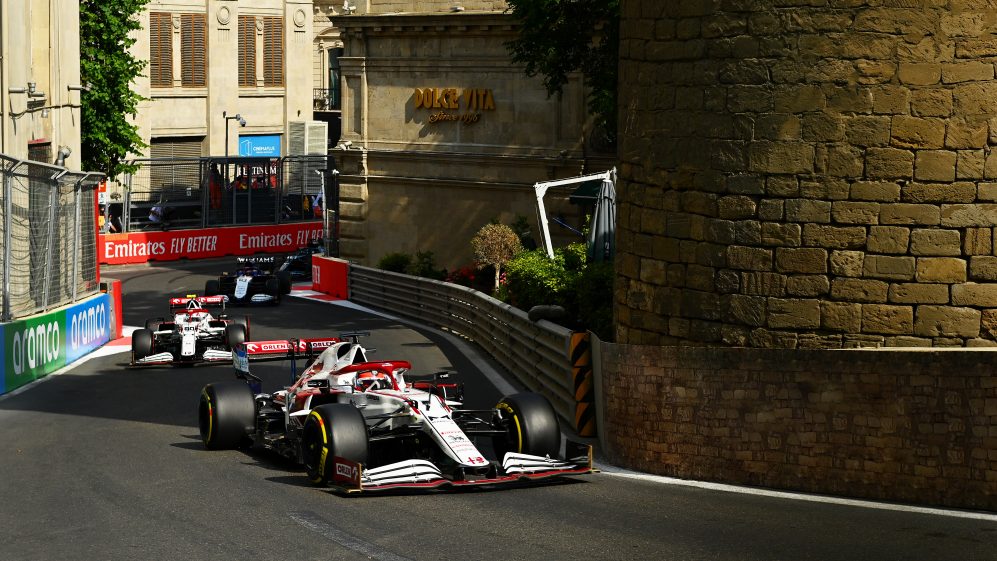 A similar story to the Alpine but without the disaster. Starting respectively at 14th and 20th position on the Sunday grid, Kimi Raikkonen and Antonio Giovinazzi managed to produce better results on the race day in comparison to their qualifier runs. The Alfa pair ran out of the points for much of the race, but both climbed back through the order. Raikkonen even took the last point for Alfa Romeo, opening his tally for the season. And not to forget a fine move he pulled on his fellow countryman Bottas at one point of the race. The Finnish veteran started on mediums and passed his teammate Giovinazzi for the final point on Lap 50. The Italian himself enjoyed a recovery from last to 11th.
Editor's note: As it's being said for some time now, start paying attention to Giovinazzi. his race pace, tactics and tyre management is incredible. He has good consistency as well. He just needs a competitive or equal car and I think the 2022 regulations will bring him to the top 5.
AlphaTauri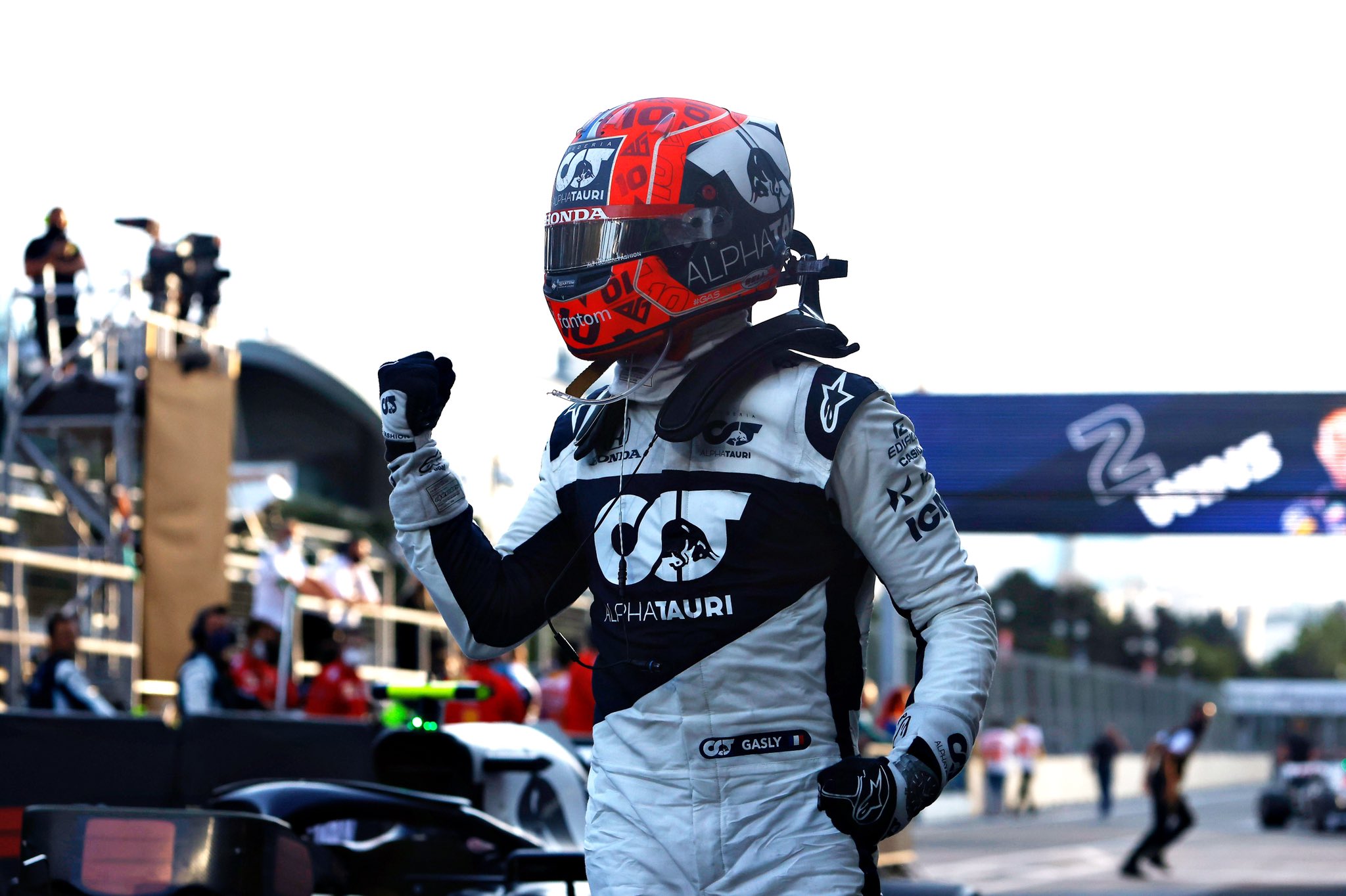 For once, Franz Tost & Team would've wanted both the drivers to score good points on Sunday. Gasly has been doing that regularly, but Yuki's performance has been dismal. It turns out, all he needed to bring back his confidence was to shift near to the factory in Italy. Did it work? You bet!
Pierre started in P4 with his teammate in P7, but both lost a position each in the first few laps. Both of them were engaged in battles with those around them like Vettel on Yuki and Charles on Pierre, but both of them came victorious in their ways as Gasly scored yet another podium and Tsunoda finally brought in some points in P7.
Editor's note: Oh what do I say about both these drivers. One is an over achiever and walks the talk. One is an aggressive under-achiever touted to have an "acrobatic style." Couldn't see that of much help to Tsunoda. Although, Gasly has been… outstanding. He took his RBR incident VERY seriously and of course, RBR should've given him more chances.
Haas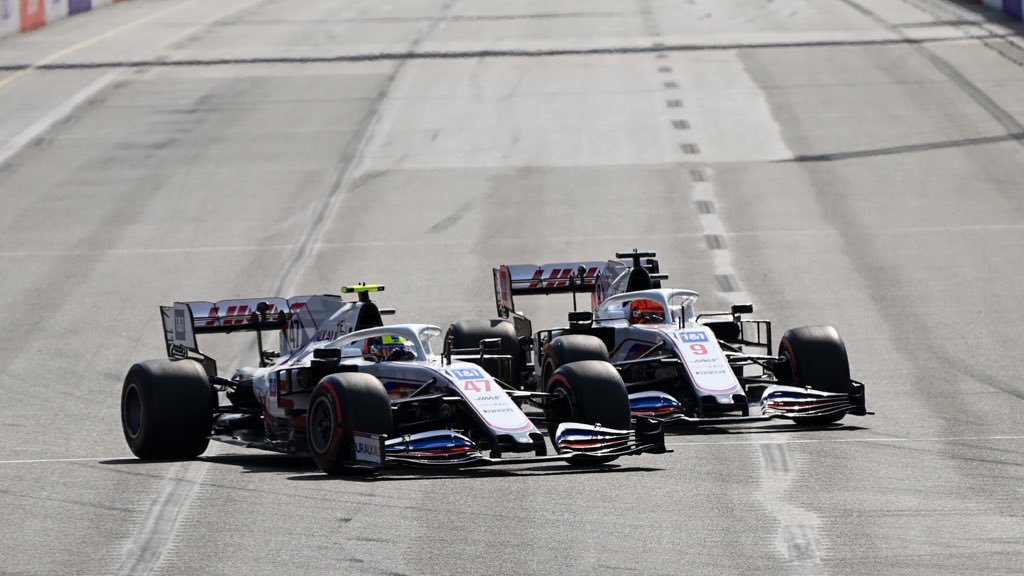 Thanks to Lance Stroll and Antonio Giovinazzi not qualifying on Saturday, both the Haas drivers started from the second-last row. At the start, Mick made contact with Stroll, but to his defense, he was sandwiched between him and Antionio I think it was. No damage was done.
Mazepin lived up to his full potential and ran wide at T4, bringing out the Yellow Flags for a few seconds, but nothing serious. Pitstops came, Mick got in, issues with his left-rear meant he lost valuable time in the pits but under SC conditions.
The race ended with MSC in P13 and Mazepin in P14, although a video that was made to go live later showed that on the last lap, when Mick tried to overtake his teammate, Nikita being who he is, suddenly closed the doors on Mick and somehow, by the grace of God, an accident was averted. Mick couldn't stay quiet and bashed his teammate's driving on the radio, later.
Williams Racing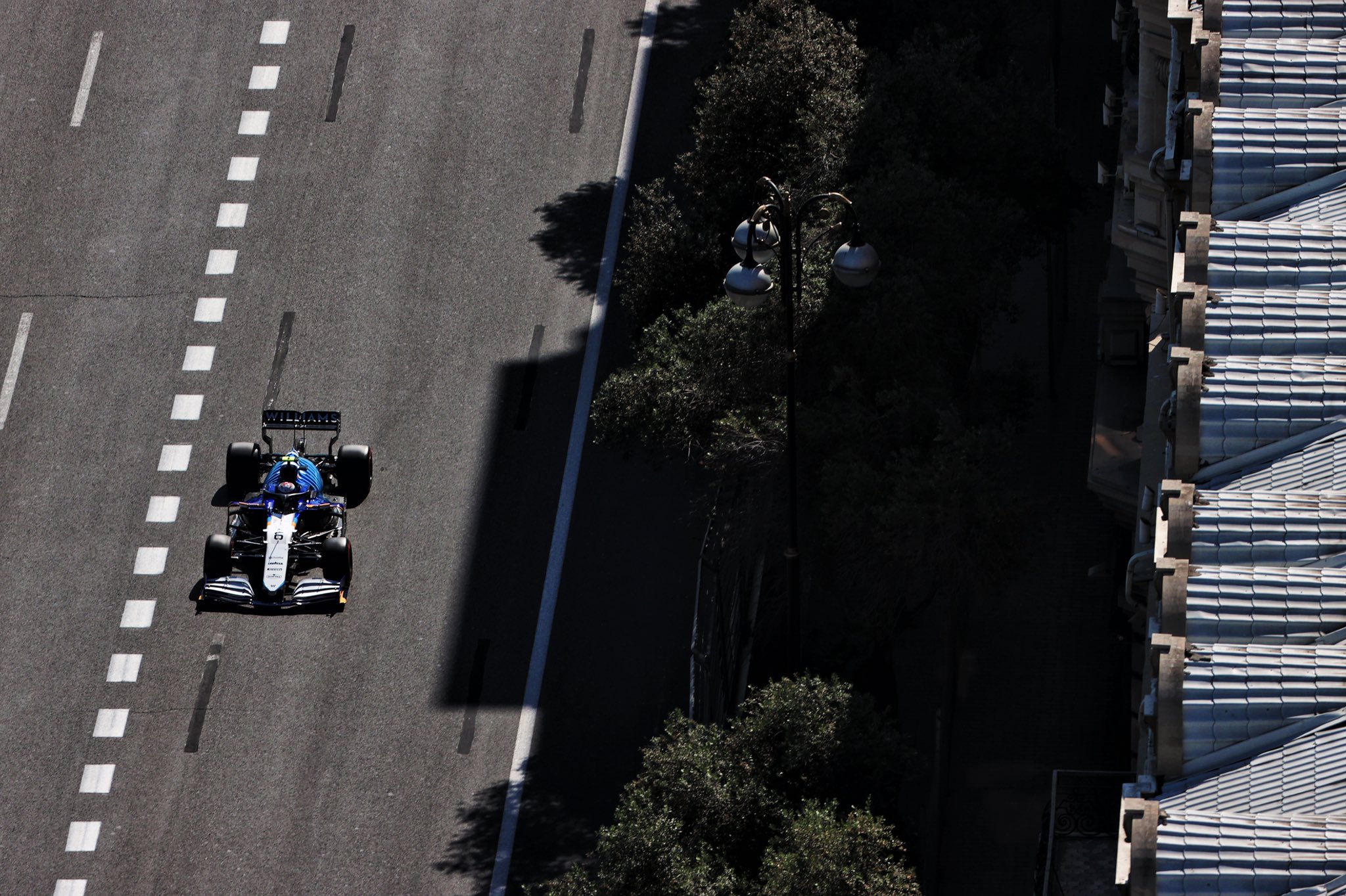 The team knew that it didn't have the pace for points, so had to try something different, which is why it decided to pit George right after Lap 1 to go on the Hards and possibly see the chequered flag. It was a bland race for the team, nothing major happened, except when under SC conditions, Latifi was supposed to come through the pitlane like the other drivers, but due to the confusion and error of the team, remained out and had to pay a price of the same. He was given a total of 30-sec time penalty, whereas Russell's Williams lost power yet again, and had to receive a DNF in front of his name.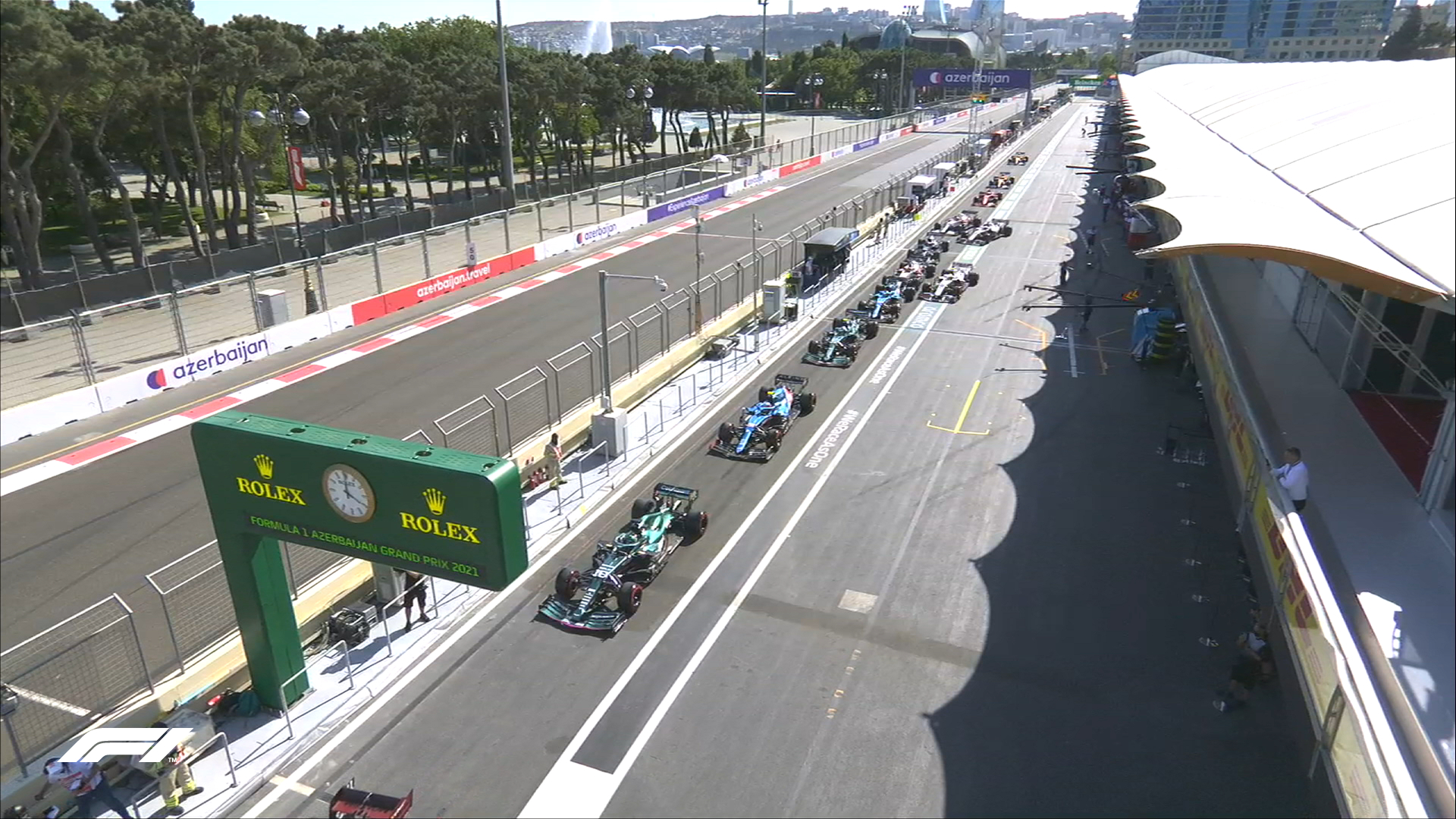 The only silver lining I think is that it is certainly looking like Bottas' seat at Mercedes is his to loose. We now have two weeks to recover from the chaos of this weekend before the F1 championship moves on to another continent for the next round, scheduled at Circuit Paul Ricard. Well, we for sure, need a lie-down. Well done Baku. The racing mania will return on Jun 18th with the French Grand Prix. What a season this is turning out to be. Bring on the next round!