News
Mahindra Thar vs Force Gurkha off-road capabilities
The battle for India's prime off-road king has begun!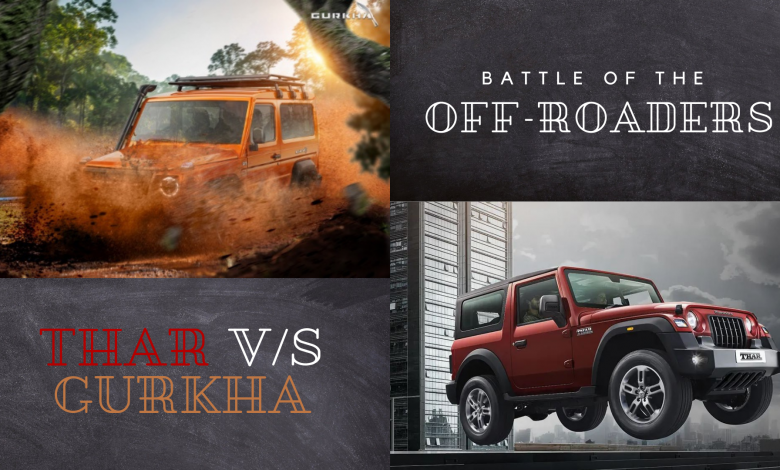 The Mahindra Thar and the Force Gurkha have always been India's go-to cars in terms of entry level off-roaders. And while they used to be budget, they aren't anymore. But the increase in price is well worth it in this case (unlike Apple iPhone 13).
They've had a few variants and facelifts in their time and the only other option in terms of off-roaders for Indians for a long time has been the Maruti Gypsy, though that car had the issue of not being updated since the time when humans discovered fire, so it was really never a feasible option- and hence, the Thar and Gurkha prevailed!
Let's take a quick look at the offroad-specific stats, and compare the two cars on paper to see which one might likely prevail.
Approach Angle:
Ground Clearance:
Gurkha: 205mm
Thar: 226mm
Departure Angle:
Breakover Angle:
Water Wading Capability
Gurkha: 700mm
Thar: 650mm
On paper, the Thar is better, save for the water wading capability of the Gurkha, which is superior. The Thar also has a more powerful engine, which produces more power and torque as compared to the Gurkha (Thar: 128HP/300NM; Gurkha: 90HP/250NM). Interior-wise as well, the Gurkha is nowhere close to being as specced-out as the Thar, as the Thar has a lot more features, and the tech onboard is also far better.
It's likely the Thar will prevail over the "desi G-Wagon" that is the Gurkha, as it is better in most aspects, though once both are put head to head in a real-life scenario, we should get a definitive answer!