Formula 1
FIA confirms a record-breaking 23-race F1 calendar for 2022
The FIA just released the provisional calendar for next year, and there are a whopping 23 races scheduled, just as we stated before.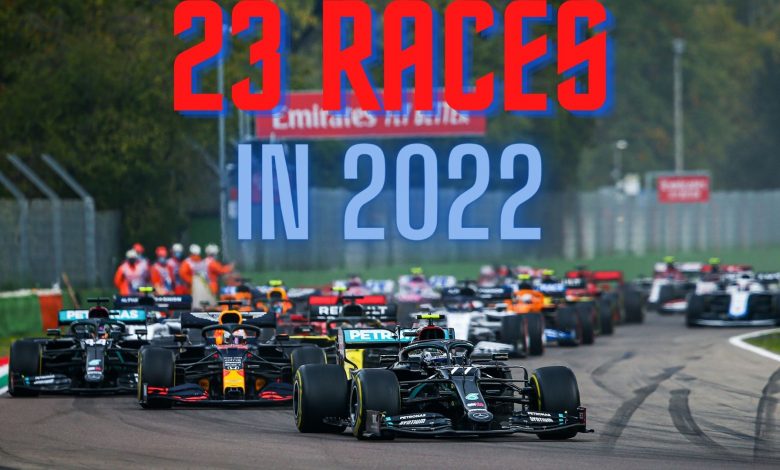 F1 has just announced that 2022 will see 23 race weekends, the most ever seen on an F1 calendar. The season will start in Bahrain on 18th March, and Abu Dhabi will see out the season on November 20th. Races will be far more tightly packed together than they are already, which will create a unique challenge logistically!
Here's the entire calendar:
| Date | Grand Prix | Venue |
| --- | --- | --- |
| 20 March | Bahrain | Sakhir |
| 27 March | Saudi Arabia | Jeddah |
| 10 April | Australia | Melbourne |
| 24 April | Emilia Romagna | Imola* |
| 8 May | Miami | Miami** |
| 22 May | Spain | Barcelona* |
| 29 May | Monaco | Monaco |
| 12 June | Azerbaijan | Baku |
| 19 June | Canada | Montreal |
| 3 July | United Kingdom | Silverstone |
| 10 July | Austria | Spielberg |
| 24 July | France | Le Castellet |
| 31 July | Hungary | Budapest |
| 28 August | Belgium | Spa |
| 4 September | Netherlands | Zandvoort |
| 11 September | Italy | Monza |
| 25 September | Russia | Sochi |
| 2 October | Singapore | Singapore* |
| 9 October | Japan | Suzuka |
| 23 October | USA | Austin* |
| 30 October | Mexico | Mexico City |
| 13 November | Brazil | Sao Paulo |
| 20 November | Abu Dhabi | Abu Dhabi |
*subject to contract
**subject to FIA circuit homologation
An interesting thing to note is how there isn't a single triple-header despite the hectic calendar. There are multiple double-headers, 9 to be precise. Something the F1 fans dearly want is for the season to end at Interlagos but, we can kiss that dream goodbye! (Cue: Money money money!)
The only 'real' new circuit on the calendar will be Miami, which will host the 5th race of the season. Although, it is yet to go through FIA's circuit homologation. It will also make USA the only country other than Italy to have 2 races next year, with USA having COTA (Austin) and Miami while Italy has Imola and Monza. China has been excluded from the calendar.
Yet another interesting thing is how the season will start and end in the Gulf countries, just like it has this year. It's surprising to see Saudi Arabia be the host for just the second race of the year, but nonetheless this is what the calendar will look like next year. Also, it's sad to see Portimao go, it's a fun track!
"We are excited to announce the 2022 calendar as we prepare to enter a new era for the sport with brand new regulations and cars for next year that are designed to create closer racing.

"This season has been incredible so far with great battles on the track, large audiences tuning in and fans returning to the races after the impact of the pandemic. We look forward to welcoming more fans back next season and hope 2022 feels more normal than the life we have all experienced in the past two years."

"We are very pleased with the interest in Formula 1 from places that want to host races and the growth of the sport and believe we have a fantastic calendar for 2022 with destinations like Miami joining famous and historic venues. The pandemic is still with us, and we will therefore continue to be vigilant and safe – to protect all our personnel and the communities we visit."

–President and CEO of F1, Stefano Domenicali
"The impressive 2022 FIA Formula One Championship calendar is the result of the great work made by Formula 1, led by Stefano Domenicali and his team, in strong synergy with the FIA.

"Over the past two years, F1 has shown remarkable resilience. This is clearly demonstrated by the continued growth of the sport despite the important challenges of the pandemic.

"The 23 Grands Prix in 2022 will be an exciting showcase for the all-new cars and I am looking forward to it."

-President of the FIA, Jean Todt
Let's hope for a great season next year with a tense championship battle, akin to the one we're enjoying right now! Fingers are firmly crossed, I can't wait to see how next year pans out!