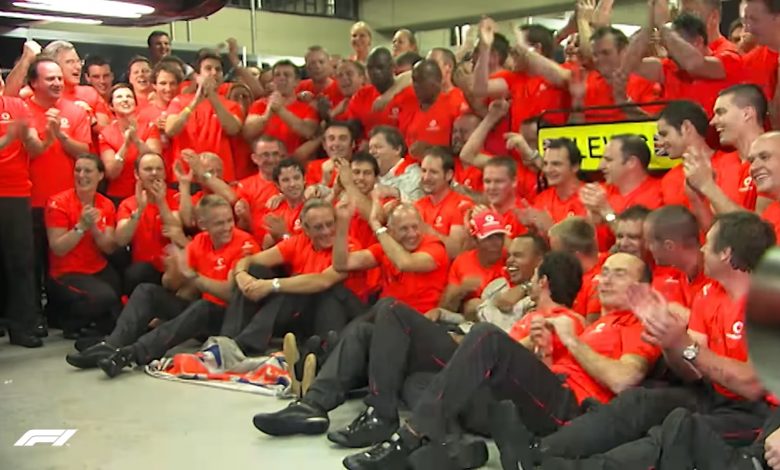 I'm going to attempt to take you back through time. 13 years ago precisely, to 2008. The PS3 and Xbox 360 were hot property, Iron Man and WALL-E had just released, and the top music charts looked like this. If that makes you feel old, then just take a moment to realise that this was the year when Lewis won his first F1 title with McLaren after a tense and nail-biting finish to the season, in his 2nd year in F1!
The 2008 season was one which we might never see again. It had redemption, heartbreak, drama, emergence of a new talent and above all- unpredictability. Here are a few key moments of the 2008 season:
Kubica's massive 2007 crash was a thing of the past when he redeemed himself the year after (2008) by winning in Montreal in a fantastic display of talent.
Seb Vettel shocked not just the F1 paddock, but the entire F1 world by winning, at Monza, in a Toro Rosso! The German really gathered all the attention around himself and showed the world what he was truly capable of.
Massa's engine failed just 3 laps from the end of a dominant display at the Hungarian GP, handing the lead and eventual win to Kovalainen, which would be the Finn's only victory in the sport.
The Crashgate scandal of Singapore took place, which still haunts the sport to this day. It was another sad race for Massa, who lost out on a potential win, which eventually cost him the championship.
Lewis proved to the world his sheer prowess in the wet by winning in absolutely dominant style at Silverstone, and driving with absolute skill. The race highlights show that even when others spun and made mistakes, Lewis absolutely dominated.
As is obvious from these few pointers, the 2008 season was anything but normal. Anyone could have a car breakdown or failure at any point, and tactics were incredibly unique as well. It all came to a head at the very last round at Interlagos, where provided Lewis finished 6th or lower, Massa would win the race. The shenanigans of the entire season rested on one single race, held at the Autodromo Jose Carlos Pace in Sao Paulo, which was the season finale and championship decider.
Simply put, Ferrari and Massa did nothing wrong in that race. They chose great strategy calls, and dominated the entire race from start to finish, and won the race, and to put it in the words of James Allen, he did everything he needed to do. In fact, as soon as Massa crossed the line victorious, the entire Ferrari family started celebrating madly. However, further back, Hamilton was not done just yet.
He passed the struggling Toyota of Timo Glock on the very last lap, on the very last corner, of the very last race of the season, finishing 5th and winning the championship by ONE point. If that's not the most dramatic finish to a championship ever, I don't know what is. Lewis had done it- in his second season in the sport, he had won the coveted World Driver's Championship! The entire Ferrari crew started destroying their pit in anger and I can never forget Lewis' head bowed down and in tears as his father came to console him.
This is just a brief throwback to an era of F1 where the words "rain in 10 minutes" actually meant that rain was on it's way, engines conked off like anything, and the unpredictability in the sport was at an all-time high. Lewis has been on top form right since he started in F1, and 13 years ago, it came to fruition for him.
That was a brief look-back at the events of 2008, with an added emphasis on the most important race of the year, the last round at Brazil. Even though 2008 might seem like ages ago, it just puts into perspective how absolute on form Lewis has been driving for the past few years, even when he's nearing 40 soon. Lewis is an absolute unit of Formula one nowadays, and with this brief look-back, its shows that it's always been this way, right since he joined the sport a whole 14 years ago!
It was exciting to reminisce on one of the best F1 seasons of all time, and we can only hope for such a championship decider in today's time….. or can we? The Max-Lewis battle this year has palpable action, and we've given our thoughts on the same in this article. Do give it a read, it shines a light on many things about the current season of F1 as well!
P. S. – This last corner overtake to win a championship is exactly why we CANNOT discard either of the current championship protagonists. If there's any driver I believe to pull off a last corner manoeuvre like Lewis from 2008, it's Max Verstappen in his 2021 RB16B.