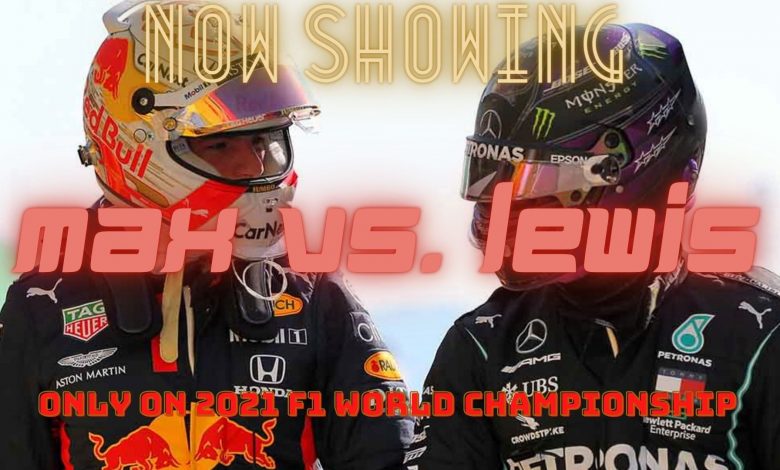 So, it's finally time to discuss the inevitable- who will be the one to take the F1 2021 crown home on the 12th of December? To put it simply… Who do we think will win this year's championship? I'll let Kimi answer that one real quick.
For those of you interested in the longer answer, let's take a look at some factual evidence and recent form, because as F1 fans that's something we love doing the most! There are two very divided opinions on the matter, and even writing a simple viewpoint on internet forums about the same will garner you a lot of hatred nowadays. On that note, here's a disclaimer. The opinions expressed are based on the competence of the writers and the available data for the upcoming races. we don't have any intention to harm the sentiments of any of the true F1 fans. As for those who believe Drive To Survive tells real stories, we don't care! Enjoy.
Choose Your Contender:
Lewis Hamilton
7-time world champion, statistically the most successful driver in F1 history, and the only driver to win a race in every season he has competed in, Lewis is undoubtedly the hybrid era's Schumi. And again, statistically even beats Schumacher. He dropped onto the scene in 2007 and immediately set the F1 world alight, taking on a two time world champion and immensely experienced teammate regarded as one of the sport's best, Fernando Alonso. Oh and he did it with ease coming oh-so-close to winning the title in his rookie year. A first for any driver.
He's always been a quick guy, and has very rarely faltered. Even when he did not have the best machinery at his disposal such as in 2009 and 2013, he managed to perform well. This winner's mentality has seen him win 7 driver's titles (2008, 2014, 2015, 2017, 2018, 2019, 2020) which ties him with Michael Schumacher, take a record-setting 100 wins and currently also sits on 101 pole positions, and also 176 podiums.
Hamilton's dominance is not new. He was a dominant guy in his entire junior career and back in 2013 when he switched to Mercedes, many considered it the end of his career. The rest as they say, is history. Merc and Hamilton's pairing has been the most successful partnership in F1 and the 'dominant' car that he has was put together with his help. This is a guy who won the German GP from 14th on the grid to take his title in his hands again. This is the guy who overtook Timo Glock for P5 at the last turn of the last race of the season in 2008 to take his first world title. In fact, that happened thirteen years ago yesterday. This is Lewis Hamilton.
Max Verstappen
This is the favourite Dutchman. Where he goes, an orange cloud follows him. He's the current championship leader Max Verstappen! Right from his debut in 2015 at the ripe old age of 17, his aggressive driving style and sheer grit on the racetrack turned many heads. He won on his Red Bull debut in 2016, putting down a statement of intent right away. He's always been a driver others give a bit more space to, for reasons that some consider as rash and the others as skill. Let me tell you, its both. The words rash and racing go together. If you have to follow the four wheeled driving rules, drive your super car in London. Although, one must not be a 'torpedo' either. Max is in the middle. Sometimes rash, sometimes skilled but definitively proving himself worthy of the championship. Verstappen's biggest advantage is in his name. Max! He literally is.
He has 18 wins in total, 8 of which have come in 2021, with possibly more to come considering this article is written before the Mexican GP! Now, don't let his stats from the past 7 years fool you. Just go back and watch the US GP to know this guy's potential. If you think Gasly has been on fire in his AlphaTauri, you must watch Max master that Toro Rosso in his rookie season. Plus, if SIX of the EIGHT Formula 1 writers believe he'll be champion, he must be some driver.
This year has been the one where we've seen Max perform at his peak, taking wins and battling hard even in adverse conditions, and being in the lead showing no signs of nervousness or pressure competing with a guy like Hamilton. If you remember, even Vettel lost his nerve leading the German GP in 2018 which was a smooth victory for him. He's performing at his absolute peak, and is the favourite for many this year to take home the W!
What about the final 5 races?
The remaining five races and the championship decider is going to be based on number of factors. Strategies, Driver pace, teammates, PU reliability, tire management, etc. The term "strategy" here doesn't refer to race strategy, but instead team strategy. Perez and Bottas will play immensely important roles in these last 5 races. Speaking of which, let's take a brief look at the next few races, and see which car will be better suited to which track. These are assumptions based on historical data after all, so take them as they come!
Mexico- Favours the Red Bull more
High altitude means higher downforce hence, despite one of the longest straights on the F1 calendar, Mexico needs downforce. The last 3 visits to Mexico have resulted in Red Bull getting stellar results, even if in 2019 it was a bit of a clumsy affair for Max. The team got what has been a rare 1-2 in qualifying back in 2018, and Max won the race in 2017 and 2018. This doesn't mean that Mercedes will be struggling. In fact, quite the opposite. Merc have won the race in 2015,2016 and 2019. Both Lewis and Max are tied on 2 wins at Mexico, though I feel like Red Bull's car will be better suited to the track at the Autodromo Hermanos Rodriguez. Especially because of Mercedes' engine issues and the sheer confidence RedBull are carrying from the US GP win.
Brazil- Favours the Red Bull, but only just
Yet again, high altitude gives Red Bull the edge over Merc in terms of the car. The past 2 appearances for Red Bull nearly resulted in back-to-back wins, but despite that they have a good track record here. Their car has been on the podium and set many fastest laps around here, and in the last 2 visits in 2018 and 2019 the Red Bull was the superior car around the adored Brazilian track. Though Merc may have notched up wins in 2014, 2015, 2016 and 2018, I feel like Red Bull's car will be slightly better suited for the track. Interlagos will also see the Sprint Qualifying format see it's third iteration, which will mean that Perez and Bottas' role will be essential in helping out their teammates in securing a good result. If there's any place likely suited for Lewis' engine penalty, it could be here. And that would once again have a HUGE impact on his winning hopes.
Qatar- An Unknown, Could possibly favour the Red Bull
I'm not saying this with certainty, but Red Bull's car performs well in medium-speed corners, and the Losail circuit has quite a few of those turns. In fact, it is considered to be a Moto GP track more than an F1 track by the F1 community. A long straight, followed by somewhat whip-shaped corners could make the Red Bull the better car there. However, as we saw with Turkey, it all depends on how well the Red Bull can work it's tyres at the start phase, which will be critical for the race. Especially the front tyres. If they are through that challenge, this busy track is theirs for the taking. It's all an assumption after all, but given the recent trend Red Bull could be favourites here.
Saudi Arabia- An Unknown, Could possibly favour the Mercedes
Mercedes' car has very little drag in the straights, and the Saudi track layout comprises of many long straights. Sure, there might be some technical sections but the majority of the track is a quick and flowy section taken at 100% or just below 100% throttle. In my opinion, this could favour the Merc car a bit more. This track reminds me of Vietnam in a few ways, but a bit better- only a bit though. Passing will be difficult, so provided Merc extract the most out of their car, they'll find Saudi easy enough!
Abu Dhabi: Possibly equal footing, but history leans towards Mercedes
Abu Dhabi is a tough one to get right. Sure, it has two long back-to-back straights, but it also has quite a few technical sections in Sector 2 and 3, full of sharp turns. Oh, what's that? They've changed the layout to improve racing? A few of the technical portions of Sector 2 and 3 have been changed for this year's iteration, which could possibly lead to a very close fight, though I'd have to say Merc could likely have the upper hand here. With a few of the the technical section eliminated, the slow and medium-speed corner advantage Red Bull had will likely suffer, which will open up the door to Mercedes to swoop in and lead the way. Qualifying is uber-important, as will be choosing the right strategy- we don't want to see either Max or Lewis stuck behind another car for the entirety of the race a-la Alonso with Petrov in 2010, now do we?
What else is important?
Team strategy will be essential in these final few races, and now isn't the time to be playing the good guy game for either team. It's essential both Perez and Bottas bring up their game by a few notches, and support the team in whatever way they can. I'm hoping that neither side resorts to dirty manoeuvres during the races, and hopefully both can maintain respect and decency in their on-track battles. Now, while both Perez and Bottas are not number 2 drivers, they both have no scope of a championship win here and could very well play the team player game.
If anything, Bottas could learn a thing or two about how to be fast and in sync with your world champion teammate to attack the rival instead of being grumpy and making it easier for the rival. That doesn't mean that Sergio has been flawless. Sergio NEEDS quali pace although, it is his first year at Red Bull so he doesn't get as harsh of the treatments as someone who has been in the team for 4 years without even a scope of championship victory.
Moreover, Mercedes need to buckle up and not crack under pressure. I can't believe we have to say this for this team but they have not been doing great with their strategies. The US GP is the biggest example. Mercedes are also struggling with their PU reliability issues which is a first for this team and even the German carmaker as a whole known for their impeccable German engineering.
A final note would be to mention engines. Mercedes has expressed concerns over Lewis' engine, and expects to have to take a new engine at some point in these next few races for Lewis, the timing of which will be critical. Mercedes' reliability with their engine parts is very alarming, considering how they've fitted more engines to the sister car of Valtteri this season than there are stars in the sky! Obviously an exaggeration, but 6 engines is very alarming for the durability of these cars.
That's not to say Honda engineers will be chilling and eating sushi- they also need to be alert as well, because though their engines may have shown good reliability the entire year, they must not overwork them. The last thing either side needs is more grid penalties, or worse possibly DNF's thanks to engine issues. However, given the recent trend a penalty is more than likely on it's way for Lewis, and if it goes a bit wrong for Red Bull then for Max as well!
CONCLUSION:
Sahil: Considering all the above factors, Max's victory seems to be the more probable possibility. Max has shown his true race pace and we saw how well the team calls have gone. Firstly in Sochi with the rains where they got P2 when even P10 seemed impossible and then in Austin. Moreover, I think Max is aware that this might be his best shot at the title in all of the upcoming seasons, so he'll do all he can.
Prakhar: The current confidence, skill and overall package of Max and RedBull seems to be the real deal but they are up against Lewis Hamilton who won his first title by overtaking Glock at the last turn of the last race to overturn Ferrari's celebrations. Out of the 2 F1 writers who believe Lewis can win, one is senior writer and famous F1 pundit Lawrence Barretto. So, I genuinely still think Lewis has a chance.