Formula 1
Valtteri Bottas takes a sensational pole at the 2021 Mexican GP! Saturday highlights from Autodromo Hermanos Rodriguez
FP3 was alright in terms of action, with qualifying having it's fair share of drama and quite an unexpected result at the end!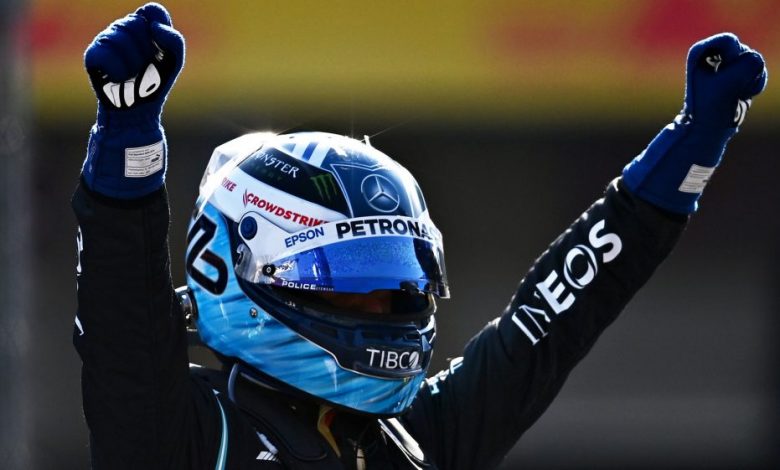 Saturday (Sunday for us Indians!) running at the beautiful Autodromo Hermanos Rodriguez was interesting, with FP3 having a tad bit of action though not much, while Qualifying saw a fair bit of entertainment, with Bottas surprising everyone with a great lap, and a fantastic pole position! In FP3 itself we learnt that both Ocon and Norris would join Tsunoda and Stroll at the back of the grid on Sunday, after both drivers took new power units.
📰 UPDATE 📰

Esteban will have a new engine for this weekend's Mexico City Grand Prix – his fourth of the season. All components of the power unit will be brand new for Qualifying and the Race.#MexicoGP pic.twitter.com/lXMpFUCLKE

— Alpine F1 Team (@AlpineF1Team) November 6, 2021
Ahead of tomorrow's #MexicoGP, the team have decided to replace @LandoNorris' power unit. pic.twitter.com/vVtuMXvxHb

— McLaren (@McLarenF1) November 6, 2021
Let's wait no further, and get straight into the events of FP3 and Qualifying!
FP3
FP3's start was rather quiet, with not too many drivers taking an interest in getting out on track early. Yuki was the first one out on track, and complained about the oil being slippery. Once others followed suit, Carlos showed everyone exactly how slippy the oil was, by doing what he called a "nice drift"!
📻: "Nice drift"

Carlos has a tricky moment across the oil spot on track 👀#MexicoGP 🇲🇽 #F1 pic.twitter.com/vWa3TmxBcu

— Formula 1 (@F1) November 6, 2021
After a bit of a wait, everyone else emerged out on track as well. The top spot kept changing names- Leclerc, Hamilton, Verstappen, Checo Perez, etc to name a few all led the session at one point. What didn't change from yesterday's session, however was drivers still choosing to go over the beautiful pristine grass at Turn 1 instead of the tarmac, after locking up! Both Fernando and Lewis had massive lockups there.
Big lock-ups for Lewis Hamilton and Fernando Alonso at Turn 1 😳#MexicoGP 🇲🇽 #F1 pic.twitter.com/YrZADoWk3p

— Formula 1 (@F1) November 6, 2021
Leclerc had a spin at Turn 3, damaging his tyres. Lando joined Lewis and Alonso in going over the grass at T1, and it was deemed to be high brake pressure which caused the Briton to go off. Bottas suffered from traffic at the end of his lap, and just like Yuki at Imola, called the situation "Traffic Paradise"!
As Yuki Tsunoda once said: #MexicoGP 🇲🇽 #F1 pic.twitter.com/bwV0NJPBIU

— Formula 1 (@F1) November 6, 2021
The sheer roar of the crowds towards the end of the session meant only one thing- Checo went to the top of the timesheets, almost 2 tenths clear of Max and over 6 tenths clear of Lewis in P3! Red Bull look incredibly strong through Sector 2 and 3, though with a slight edge in Sector 1 we can't rule Merc out for a possible surprise (yet)!
Red Bull's sheer pace is a bit scary, though we shouldn't rule out Merc at all. McLaren seem to have picked up the pace, though a bit of a surprise was the Alpine's sheer lack of pace. Most only ran soft tyres all throughout the session, apart from Gasly, Alonso and Stroll, all of whom used Mediums at some point. Next up is quali, and all I hope for is an interesting session!
Qualifying
I can confirm after watching Qualifying, that yes, it was quite an interesting session!
Q1
Within a few minutes of Q1 starting, the red flag was shown- Stroll had gone into the barriers at the last corner HARD. It was a very violent impact, though thankfully Lance emerged unhurt. The barrier took a while to get repaired, which pushed back every other session. Kimi had a weird moment when the yellows were shown, crossing over from the track into the pitlane and then immediately back out again. He'll have to go to the stewards, for what is best described as an odd incident!
Nearly there#MexicoGP 🇲🇽 #F1 pic.twitter.com/K8c2e0qd7N

— Formula 1 (@F1) November 6, 2021
Once the session resumed, there were just under 11 minutes to go. It was almost like a race to get to the line first! Once everyone completed their laps, it was obvious that the Alpine team had some issues- Alonso was out in Q1! It was very close for Russell as well- he was behind Latifi throughout the session until his last Q1 run.
❌ ELIMINATED IN Q1 ❌

Alonso 📸
Latifi
Schumacher
Mazepin
Stroll#MexicoGP 🇲🇽 #F1 pic.twitter.com/ce6h06xaYd

— Formula 1 (@F1) November 6, 2021
The usual few culprits were eliminated, though I'm certain Stroll and Alonso could've done better, but that's just how racing works!
Q2
Consider for a moment how Alpine must be feeling, after realising that the car without the penalty was eliminated in Q1, while the car with a PU penalty made it through to Q2! The session was rather uneventful for the most part, though Giovinazzi crashed in the final few moments, and nearly ruined many people's laps.
❌ ELIMINATED IN Q2 ❌

Vettel
Raikkonen
Russell
Giovinazzi 📷
Ocon #MexicoGP 🇲🇽 #F1 pic.twitter.com/mUsb0kr42s

— Formula 1 (@F1) November 6, 2021
Ocon had a slightly weird moment with the yellows on his final run, when he apparently slowed down at a time where he didn't need to, ruining his fast lap in the process. Nonetheless, let's go onto Q3.
Q3
I did say to not rule out Mercedes despite RB's obvious advantage, didn't I? Well, you should have taken my word for it.
Merc seemed to have had an upper hand in the first Q3 runs, and Red Bull messed up their first run when they sent Checo out too far ahead of Max, which meant that the benefit of the tow was not available to Max on his first run. Couple that with a wheelspin moment at Turn 6 ruined Max's chance of having a good lap.
Can Red Bull respond?

We're about to find out #MexicoGP 🇲🇽 #F1 pic.twitter.com/56oVGwJ4vY

— Formula 1 (@F1) November 6, 2021
It just wasn't meant to be, however. On their final runs, both RB's went out in a bit of traffic, while both Mercs emerged a bit further behind, in clear air. RB misjudged Checo's distance to Max YET AGAIN, this time putting him too close! Checo was distracted by a slow-moving Tsunoda at Turn 10 hampering an already not-so-great lap for Max. None of the top 4 improved, which gave way to a completely unexpected result at a Red Bull favourite track- we got a Mercedes 1-2! And we got a Mercedes front row lockout for the first time this season.
Max's post qualifying interview was proof of how badly he wanted this to be his way. Although, he did make us note that P3 is a better position than P2 here in Mexico. But then again, just like Checo was there to gift his position to Max in the US GP, one can expect Bottas to do the same. There's an arrow straight at the beginning of the race that ends in a 90° turn. What could possibly go wrong with a 12 point difference right?
Nobody could touch Valtteri Bottas in qualifying 💪#MexicoGP 🇲🇽 #F1 pic.twitter.com/STQNNRhZvV

— Formula 1 (@F1) November 6, 2021
Valtteri's first lap was self-admittedly one of his finest ever, and this instance goes to show that each and every lap in F1 matters! It also helped the Silver Arrows that the track was quite a bit hotter than it was in the morning, which favoured their cars more. Also, a great lap by Gasly to put himself 5th, and a great effort by Sainz as well to put himself just 0.002 ahead of Ricciardo!
With all the grid penalties, the lineup has been shaken up for tomorrow's race! This is how the updated lineup looks like:
Mazepin will start in a career-best 15th place, while Alonso moves up 4 places from his original qualifying position of 16th. P16-P20 will be on the move tomorrow, and I'll make a wild prediction- Tsunoda will be the one who makes up the most ground tomorrow as he has been showing great pace all weekend. Let's see how tomorrow's race unfolds- I can't wait to see what happens!