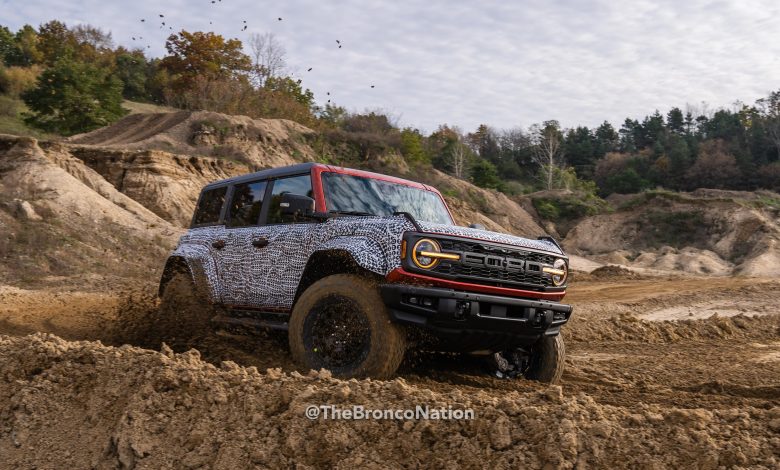 About 3 weeks ago, the CEO of Ford put out a tweet about the Bronco Raptor, and it was quite self-explanatory what he though about the car after reading his tweet. He said:
Hold on to your butts. #FordBroncoRaptor pic.twitter.com/2c1uAcolaV

— Jim Farley (@jimfarley98) September 21, 2021
The Bronco Raptor has been shown to the public thanks to a few pictures revealed via the Bronco Nation Forums website, a place for Bronco enthusiasts to discuss about the car. At an undisclosed location in the US, the car was tested by Bronco Nation members, and they have revealed some great information about it as well.
The car will sit on ginormous 37″ wheels, and the car will be thrust forward by what is expected to be the 3.5L EcoBoost V6, which could provide a similar power output as the one in the F-150 Raptor, the car can be expected to have around 350HP- not a bad figure!
The car's offroad prowess is immediately apparent, and a few of the exterior details have also been changed up. The car is taller than any other Bronco available, and has a newer suspension, and a slightly more aggressive exterior design as well.
The car will be available starting from summer of next year, and more details would soon follow on the Bronco Nation website as well. With the recent Chevy Beast concept and now this, the off-road cars just keep coming, and they are all amazing at the same time!
Sources: CarAndDriver, Bronco Nation Forums