Formula 1
These are the top 5 races from an incredible 2021 Formula 1 season
From crashes to mistakes, penalties and battles- the 2021 F1 season saw it all, and here are our picks for the top 5 races of the year.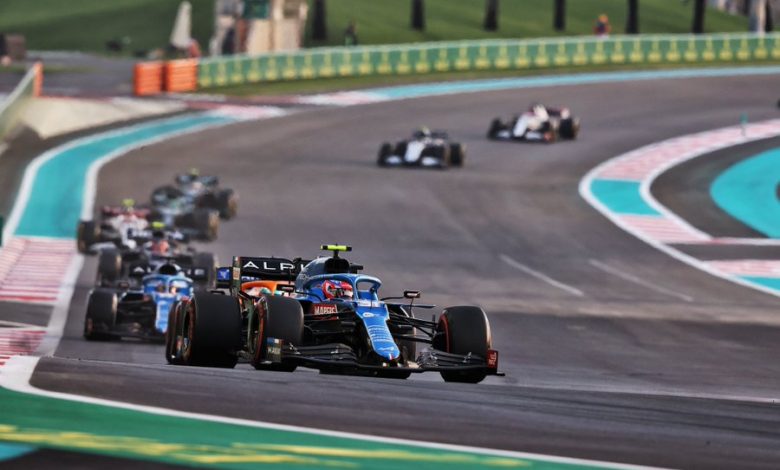 There was drama, there was action. There was happiness, there was sadness. There was rage, there was pure joy. And at the end, there were two! We know how the F1 season ended, with the Netherlands producing their first world champion in the form of Max Verstappen, while Lewis Hamilton put up possibly the most valiant title fight ever, with the title being decided on the last lap of the season- and no, that's not a made-up statement!
For the first time since 2012, we saw more than 5 drivers win races, with 6 drivers winning races over the year- Verstappen, Hamilton, Bottas, Perez, Ricciardo and Ocon. Ocon and Ricciardo were the only two to not reach the podium after their wins, though the entire year saw so many entertaining races, it was a bit difficult to settle for 5!
Here's our pick of the 5 best races of the year, in chronological order.
Emilia Romagna Grand Prix, Imola (18th April)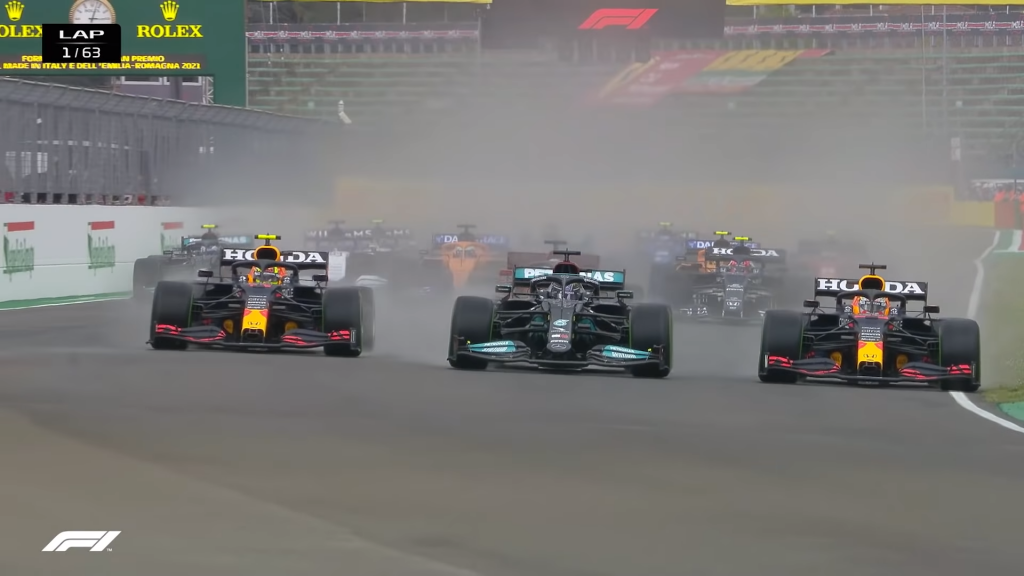 Result: Verstappen (P1), Hamilton (P2), Norris (P3)
The second race of the season was the venue of many things, though the most apparent was how from here on out, the season would be one which would be hotly contested! After losing out in qualifying, Max asserted the fact that he wasn't here to sit back, and he was here to take control. This was never more apparent than at Turn 2, when he went side-by-side with Lewis, taking the lead going into Turn 2. Neither wanted to back out, though Lewis had to concede in the end.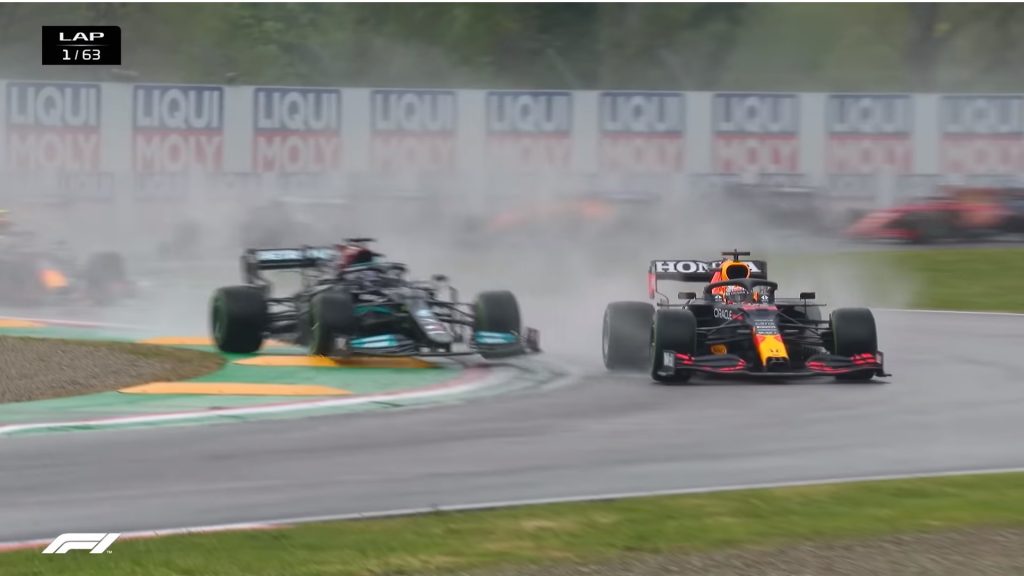 After retirement for Latifi and a mistake from Schumacher, a Safety Car and more, Mercedes and Red Bull's battle resumed. The pitstop phase was crucial, and Mercedes had a slow stop, allowing Max and Red Bull to successfully get the undercut on them. On Lap 31, once Hamilton lapped future teammate Russell, he slid off into the gravel after hitting a damp patch of track. In his bid to recover, he went straight into the wall, which broke his front wing.
It was an incredibly rare mistake from Lewis- one us fans haven't seen in a while! Another thing to keep note of- provided Lewis would've gotten through Russell without issue, the next car he'd have to lap would've been of teammate Bottas- who was having a torrid race of his own!
It seemed like this mistake would set Lewis back massively, as he fell from 2nd to 7th, and he hadn't even made his pitstop to change the front wing! However, this worry was soon put to rest, as Russell and Bottas had a humongous accident- keep in mind that Valtteri was racing George for position. Who was in a Williams. Who was in 9th, while the Finn was in 8th. Why he was that far back is unbelievable, though it became clear- a Mercedes junior had just crashed with a current Mercedes driver, causing the team a lot of social media anguish, and a massive repair bill as well! Russell was livid with Bottas, even giving him a *bonk* on the helmet, though he would later accept blame as well.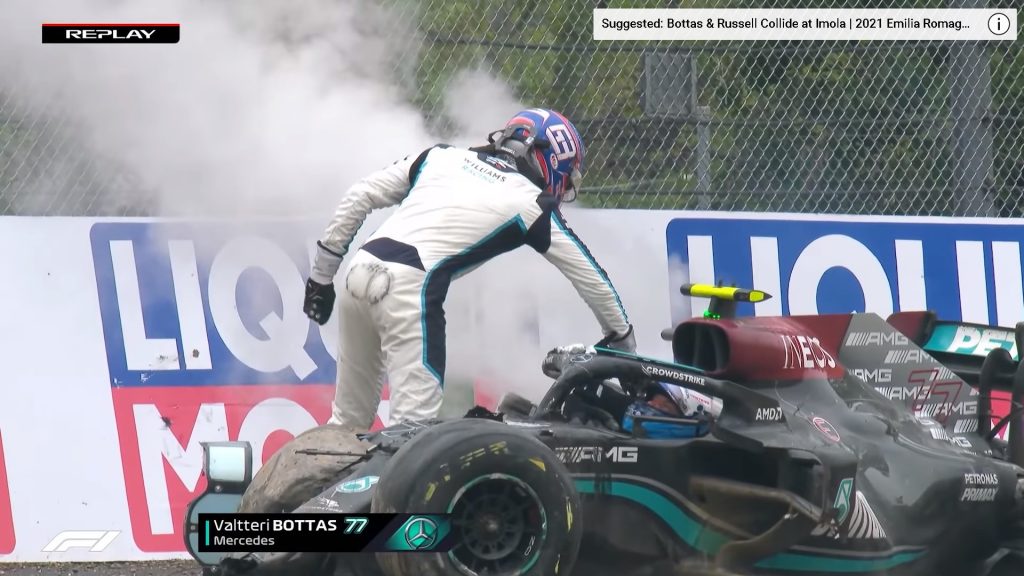 There was a massive amount of debris strewn across the track, and a red flag was deployed. At the restart, Max flew away, though further behind Lewis' mistake turned out to not matter much for the Briton, as he was able to take a new front wing, catch back up to the field, and resume his progress up the field. Post that, Max flew away, while Lewis treated us to some great overtakes, and he made a late but great pass after a fantastic battle with Lando, who was struggling with tyres.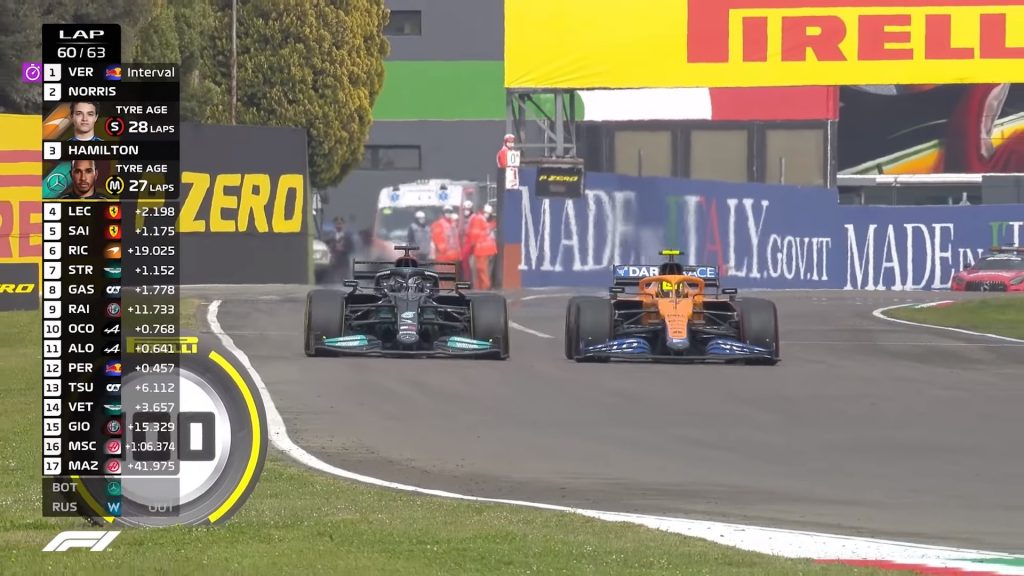 This was a pivotal race for the championship- neither second driver for the top teams scored as Perez also spun out, while Lando and Charles drove stellar races to finish P3 and P4 in the end, pipped only by Lewis in a much quicker car. It was McLaren's first podium of the season, and Ferrari's first consecutive double points finish since 2019. It was only the second race, though we got a taster of what was to come! Oh, and MazeSpin spun on the last lap (I know, what a surprise)! (Full Race Report)
Azerbaijan Grand Prix, Baku (6th June)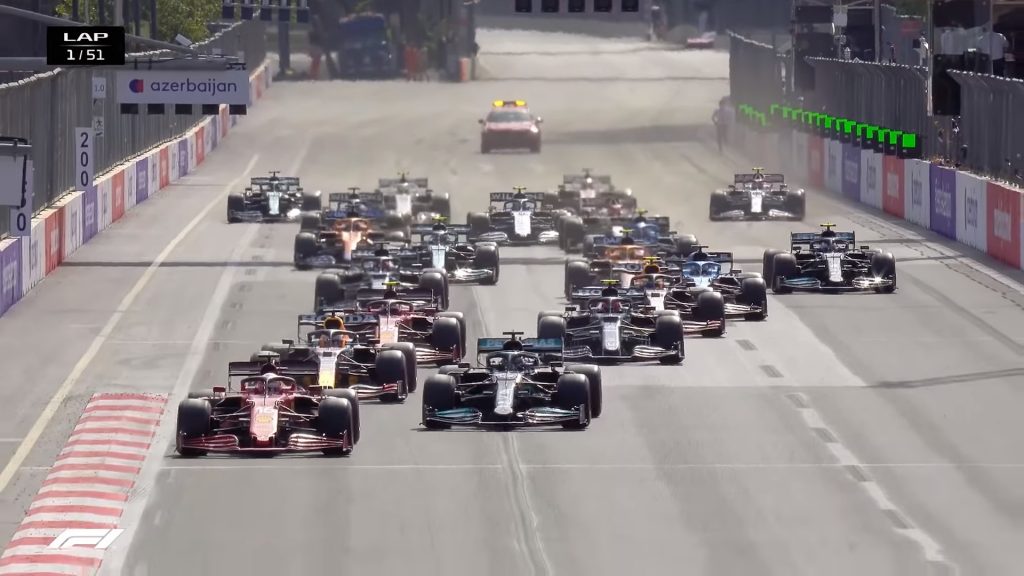 Result: Perez (P1), Vettel (P2), Gasly (P3)
Qualifying for the Azerbaijan GP saw a huge surprise- Charles Leclerc and Ferrari on pole on a track which wasn't best suited for their car! It was the second race in a row that the red flag decided the outcome of qualifying, with Ferrari benefitting on both occasions. Immediately what was apparent at the start was how comfortable Perez seemed with the car, as he made a stunning and beautiful move around the outside of Gasly at Turn 3, asserting his strength!
Leclerc was easily passed by Lewis, Max and Perez, and not much happened until the pitstop phase. Lewis was the first to stop, though crucially had to wait longer in the pit box due to having to wait for Gasly to pass. Red Bull bit the bullet and pitted both Max and Checo respectively one after the other in the immediately succeeding laps. Despite a slow stop for Checo, both Red Bulls jumped the Mercedes, who was understandably upset at the whole situation!
On Lap 31, as it seemed like the race would settle into a rhythm and the usual boring "follow the leader" race would ensue, Lance Stroll had a massive accident while on the hard tyre. His tyres had done 31 laps, and his rear left had failed in spectacular fashion. The Safety car was called out, and the pit entry was also closed. The saga with rear right hard tyre was yet to finish though, as this crash was simply foreshadowing a much more important event later on in the race!
At the restart, both Red Bulls got away clean, and Lewis followed them in P3. Further back, Vettel was making up huge ground after starting 11th, as he had managed to claw his way back up to P4! The German had a stellar drive, and was cutting through the field with ease. It seemed like P4 would be the best he could achieve, given the sheer speed of the Mercedes and Red Bull.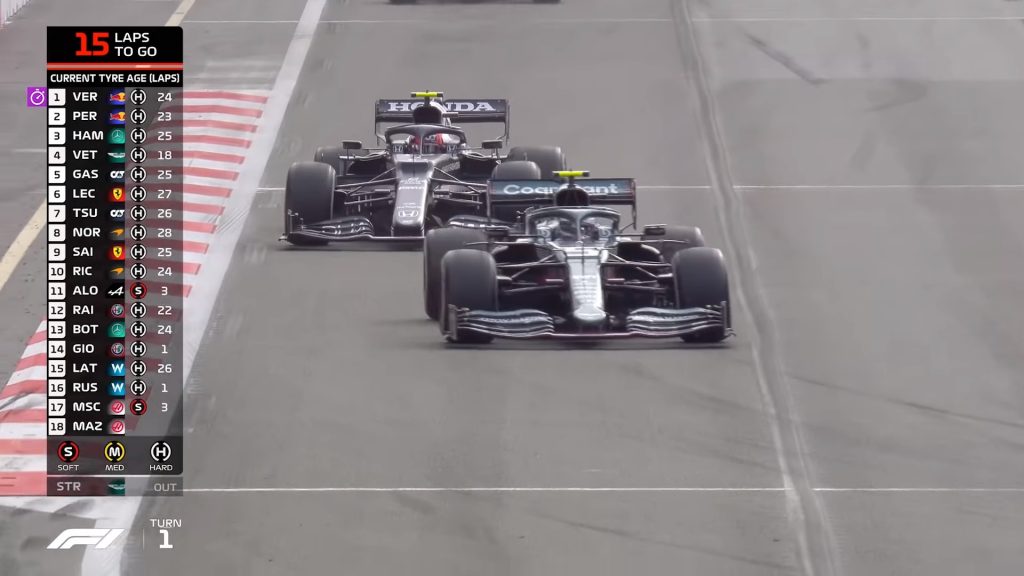 On Lap 46, most of us were settling down to see a Red Bull 1-2 and Lewis finish P3. Surely with just 5 laps to go, nothing wacky and uncharacteristic would happen to any of the leaders, right? Well, that's exactly what happened. The rear left tyre saga ended, though not before it ensured Max got a rear left puncture at high speed, ruining the Dutchman's race and forcing him to retire, and also ensuring that the first Red Bull 1-2 in a long while disappeared, just like that.
As the car was stuck in a dangerous place, the Red Flag was put out once again. Race Control decided to let the cars race for two more laps- Lap 50 and Lap 51. Everyone put the soft tyres on, and while waiting for the lights to go out, Lewis' brakes were billowing smoke like mad. The lights went out quick, and Lewis jumped Checo to go into the lead, though that was only momentary. Lewis locked up, and went straight into the run-off! Another rare mistake from Lewis saw crucial championship points fall out of his hand, and caused high drama.
It was later revealed that Lewis had accidentally activated "Brake Magic" while upshifting at the start, which is a mechanism which alters the brake bias to favour the front tyres for warm-up. While he rued this mistake, Leclerc, Norris and Gasly had a tussle for P3, while Checo Perez led the way followed by Vettel. The race ended with Perez winning, followed in P2 by Vettel and P3 by Gasly. It was a dramatic result, though it had just resulted in Perez's first win with his new team, Aston Martin's first podium and yet another fantastic podium for AlphaTauri!
This race was a thrilling one-we saw both championship contenders score nada, while the dark horses had a fantastic result. It was a very valiant effort by Leclerc and Norris, who finished 4th and 5th. Yet again, a small segment for our dear MazeSpin; he almost drove teammate Schumacher into the wall while defending for 13th place! (Full Race Report)
Hungarian Grand Prix, Mogyorod (1st August)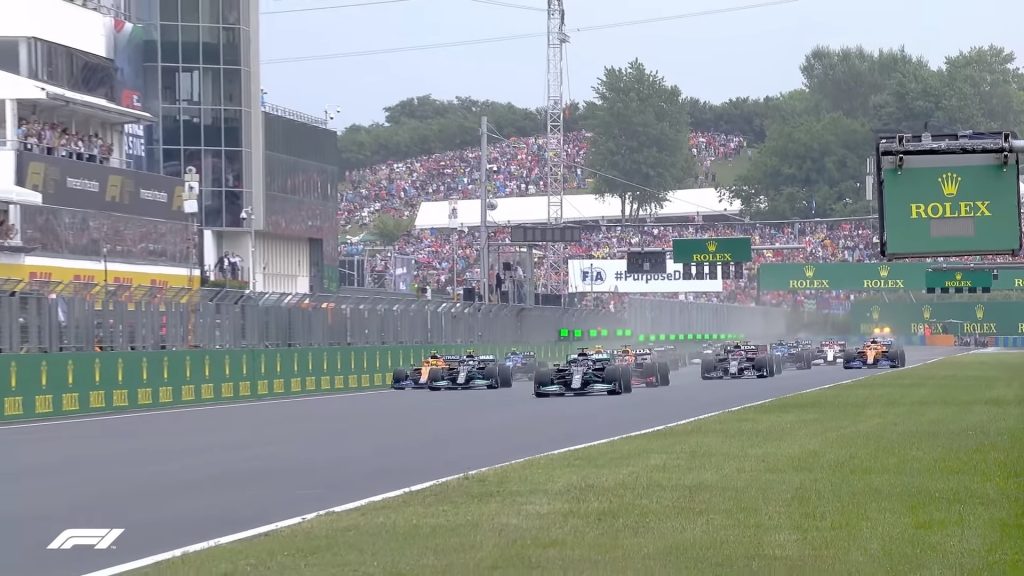 Result: Ocon (P1), Hamilton (P2), Sainz (P3) [Vettel finished P2 on-track but was disqualified due to insufficient fuel]
Yet another wet race, yet more drama. Lewis and Valtteri qualified P1 and P2, though at the start Lewis was the only one who got away without any drama. Valtteri had a terrible start, and was jumped by 3 cars- Norris, Perez and Verstappen. He might've thought of various ways to get past them, though he utilised the most unique technique of them all- a triple kill! He caused a massive accident at Turn 1, taking out himself Norris and Perez, while Max's right hand side part of the car was severely damaged in the process as well.
Further back, Stroll wasn't content with Bottas hogging all the action, so he got into it as well by driving right into Leclerc at Turn 1, taking out himself and Leclerc while giving Danny Ric considerable damage. It showed the potential for carnage and drama caused due to wet weather perfectly, and was incredibly dramatic to say the least!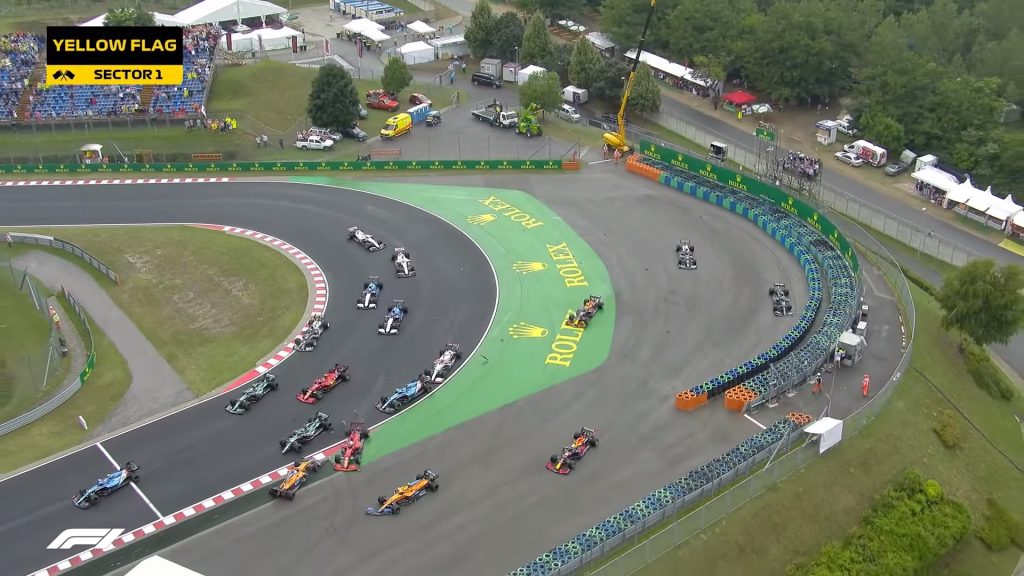 The Red Flag was put out to clear the debris absolutely strewn across the track. While the cars waited in the pitlane for the green flag to be shown, Max's damage was assessed and it became immediately apparent that he would have an incredibly tall mountain to climb to salvage anything from the race. He was racing with effectively half a car- we can just imagine the amount of downforce he lost, and that too on a track where downforce and aero is needed in spades!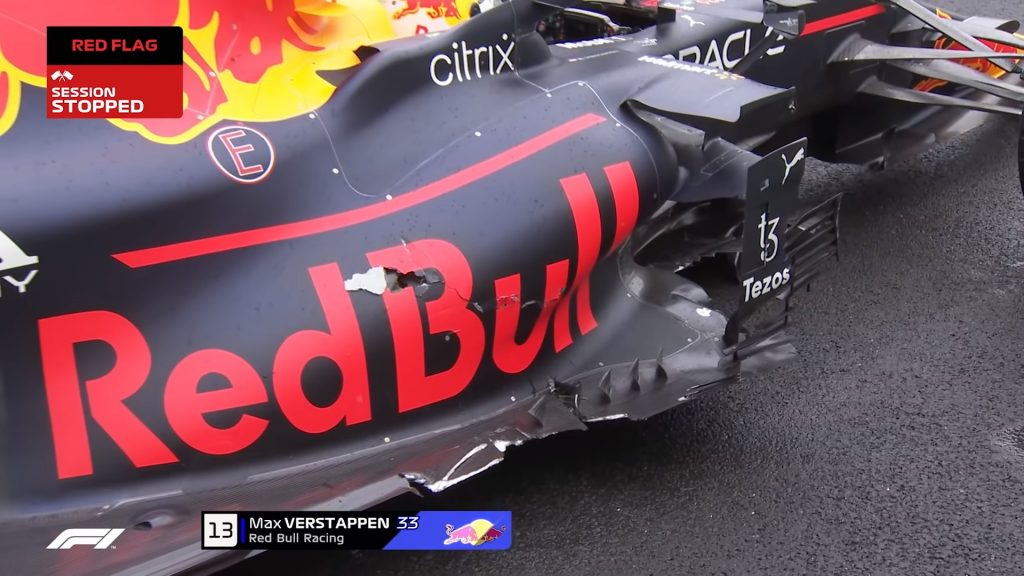 As the cars left the pitlane, the track seemed to be extremely dry. Russell even radioed over to his team: "At this rate, everyone is going to box", and he was absolutely right. But hold on… Lewis carried on to the grid on intermediate tyres, while everyone else pitted for dries! Surely this was a mistake on either side's part? It was, and we saw a sight we never expected to see- only one car started the race on the grid, while the others did it from the pitlane after taking on new dry tyres! To say it was a spectacle to behold is an understatement- it was just unbelievable!
As all the other cars filed out onto the track, Russell led the way though he had to let everyone pass as he overtook others illegally while in the pitlane. Once the kerfuffle was sorted out a bit, we saw the new race leader in the form of Esteban Ocon, followed by Sebastian Vettel in P2 and- wait for it- Nicholas Latifi in P3!
Lewis had to pit the immediate next lap, and dropped down to last. After a few strategic moves, he managed to get past those ahead of him- namely the stricken Verstappen and Ricciardo, and then he went on a manic charge up the field. We saw a fantastic little tussle between Verstappen and Schumacher for P10, and Max came out on top. This proved that a Haas without any damage was still slower than half a Red Bull!
Lewis then went on a charge, while Max struggled thanks to having little downforce and drag as well caused due to the damage. The middle portion of the race saw Lewis close up the gap very quickly, given the car advantage he had. Late into the race, on Lap 55 he was gaining an awful lot every lap to those in front, and he caught up to the back of Alonso. It would surely be an easy pass, right? After that he could cruise to P1 after beating out Vettel and Ocon. However, all that's written here was proven wrong by one man- Fernando Alonso.
For the next 9 laps, Alonso kept Hamilton behind despite being in a far slower car. The perfect car placement, tactical driving and just his sheer skill all saw the Spaniard defend fantastically against Lewis. It was obviously also useful for his own race, though this battle helped out Ocon the most, as Alonso bought him extremely valuable and crucial time, which did eventually prove to be fruitful. And, if the official F1 channel deemed this battle worthy enough to make a Top 5 list about it, you know for certain it's a great one!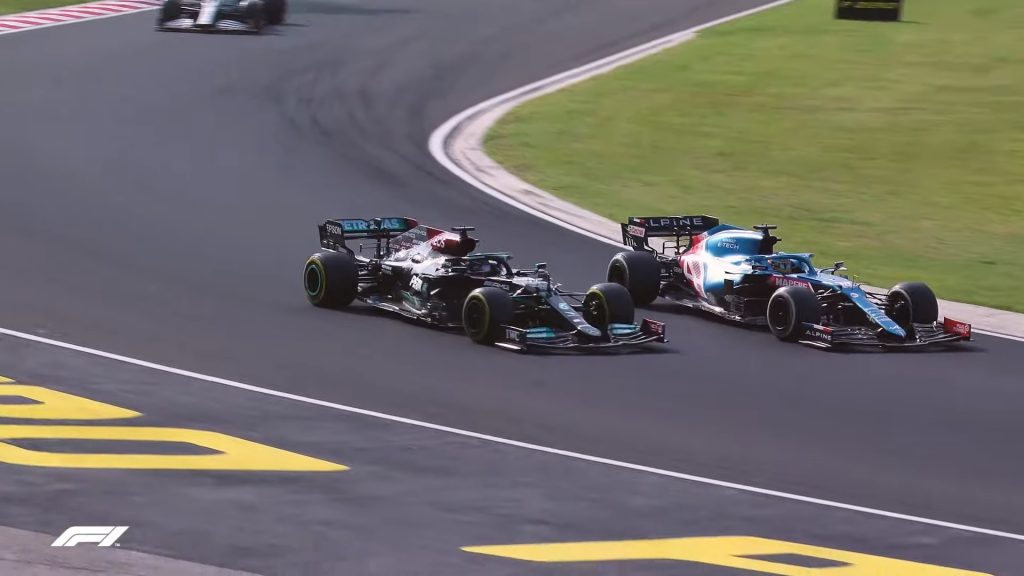 He did pass the speedy Spaniard, and soon sent Sainz packing as well. However, it waas too late. Alonso had done his job- Lewis ran out of laps to catch up to and overtake Ocon, and finished P3 on the road, with Ocon taking his first race win, and Vettel his second podium of the year. Unfortunately, Vettel's car didn't have sufficient fuel for a sample, and he was promptly disqualified, moving everyone up a spot, which then saw Hamilton finish P2 and Sainz finish P3. However, it was pure elation for the Alpine team- who took their first win under their current guise, and it was all thanks to Alonso! Their drive in formation was just way too beautiful to watch.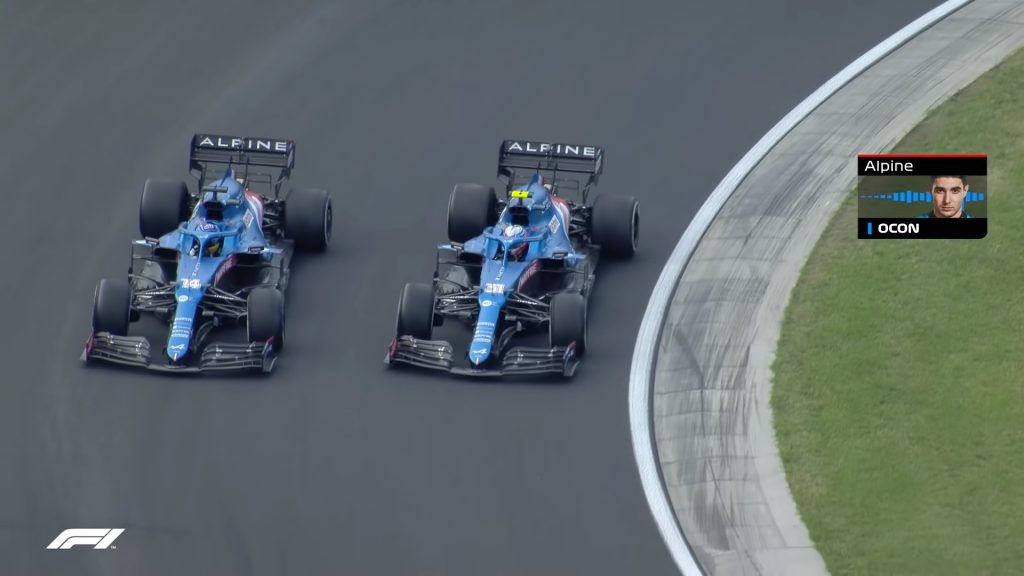 Max only managed to take 2 points away from the weekend even after Vettel's DQ, so it was a contrast in the fortunes of both rivals in Hungary! Oh, as for Mazepin, he made contact with Raikkonen in the pitlane, ending his race then and there. For the first time in a while, it was a DNF for him caused not due to his own mistakes! (Full Race Report)
Russian Grand Prix, Sochi (26th September)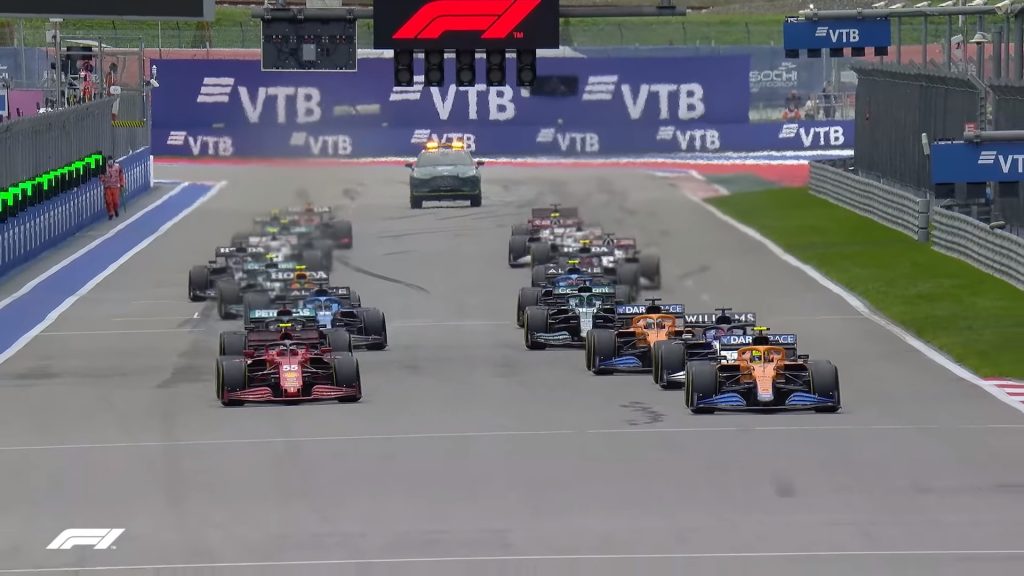 Result: Hamilton (P1), Verstappen (P2), Sainz (P3)
Qualifying for the Russian GP was unbelievably crazy, as it gave us a McLaren-Ferrari-Williams top 3! Max took an engine penalty for the race, as did Bottas who was sent back to hamper Max's progress. The Qualifying report has all this in detail- it was craziness! Lando Norris took the first and currently only pole of his F1 career, with ex-teammate Sainz in second.
The start was quite crazy- Sainz had a poor launch but a great getaway, and shot into the lead. Further back, Bottas and Verstappen were making slow but steady progress up the field. Alonso showed the entire F1 world how easily rules could be manipulated when he simply straight-lined Turn 2-3, and got away without even a warning!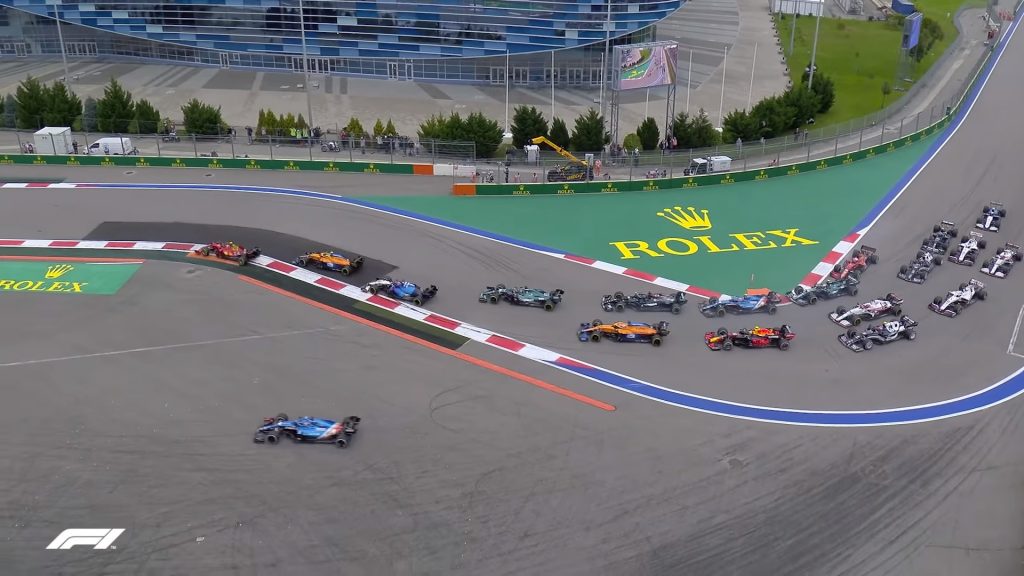 A few laps passed, and Valtteri, who was sent back 10 places to hinder Verstappen's progress seemed to let the Red Bull driver by way too easily! Once he cleared Bottas, he started his charge, though he had quite a scary moment at Turn 7, when Leclerc almost clipped and nearly destroyed his front wing. A few laps on, Norris got past Sainz and started disappearing into the distance- he seemed unstoppable.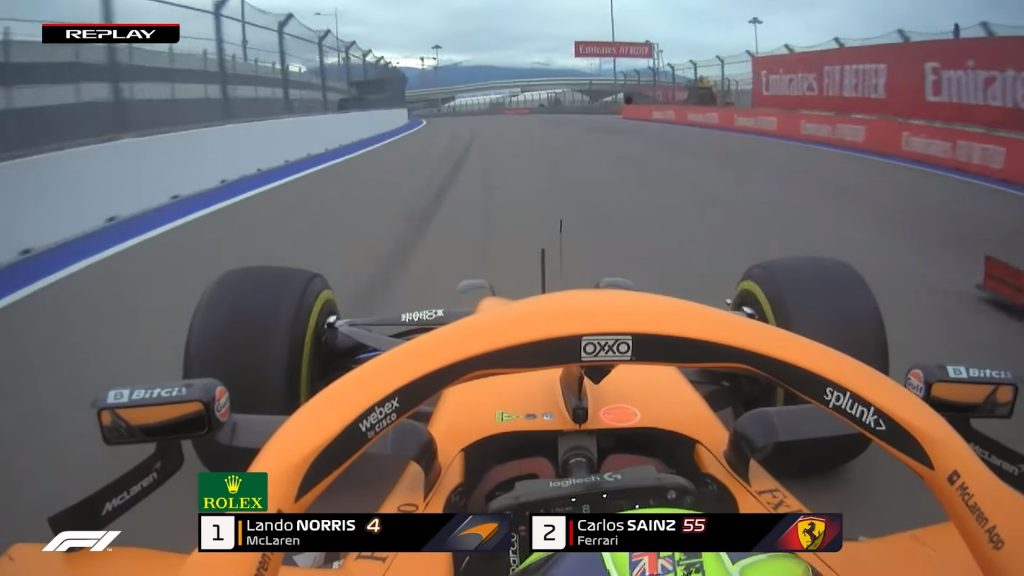 After the pitstop phase, the race stagnated for a while, up until Lap 45, when the rain started to pour. By this point, Lewis had made his way up to P2, while Lando held onto P1. On Lap 47, drama ensued. Lewis was unable to get close to the McLaren driver, though with the rain they both had a gamble to make- stay out on dries and risk it to the end, or pit for intermediates and hope the rain would increase. And guess what? They chose differing strategies!
Lando risked staying out, while Lewis bit the bullet and pitted. Unfortunately for Lando, the rain just came pouring down, and oh boy did it pour. Lando slid off the track, though us in India weren't able to see that thanks to Hotstar- something about which we've written here as well!
Lando risked it all, and fell short by a few laps. His dream weekend had gone to absolute ruin right at the end, as he finished a lowly 7th. His team radio was a clear indicator of how badly he wanted to hold onto it, as he clearly said "NO" when asked if he wanted to stop! Both Astons also made contact, ruining their races. These few pictures explain the situation in quite an apt manner: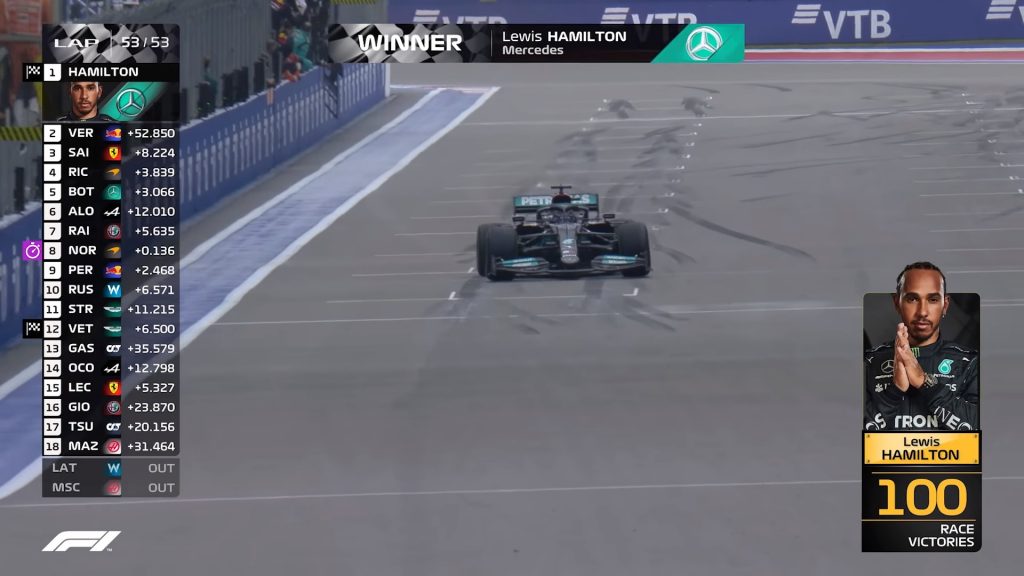 Lewis meanwhile made the most of choosing the right tyres, by taking the win- his 100th career win, a feat unlikely to be toppled anytime soon! Max finished P2, and Sainz finished a surprise P3. Sochi had high drama at the end, with drivers like Norris, Leclerc, Perez and more struggling due to making the wrong call, while the likes of Hamilton, Verstappen, Sainz, Bottas and even Russell benefitted by making the right call. Talk about a dramatic way to achieve a milestone like a 100th win- the satisfaction is unparalelled though! (Full Race Report)
Sao Paulo Grand Prix, Sao Paulo (14th November)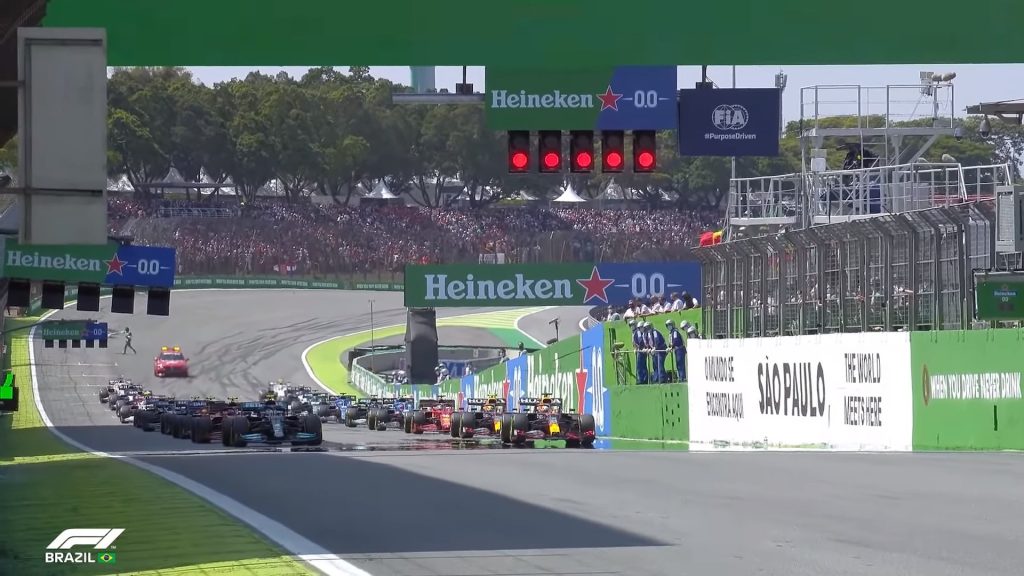 Result: Hamilton (P1), Verstappen (P2), Bottas (P3)
If there ever was a comeback story in Formula 1, this was it. The Sprint Race on Saturday at Sao Paulo saw Lewis start dead last after being disqualified due to a DRS infringement. He drove a stunning race to get up to P5, though a 5-place penalty for changing his engine saw him start P10. Effectively, what he had to do over the weekend was a last-to-first challenge, and he did exactly that!
At the start, Bottas, who had won the sprint race had a poor getaway, and was swamped by both Red Bulls. Further back, Lando made contact with Sainz and got himself a puncture. At Turn 4, there was a huge scrap, as many cars battled one another, and once the drama had cleared it became obvious- Red Bull had aced the start, as both their cars sat 1st and 2nd!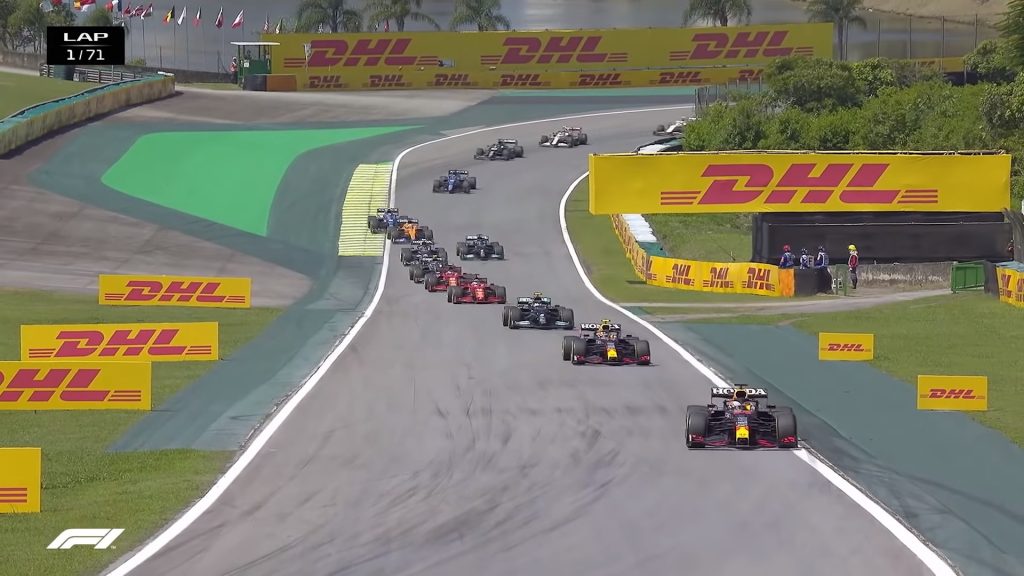 Lewis was making moves from 10th on the grid, and immediately started disposing off the smaller prey. He wasted no time getting past the Ferraris, and was up into P4 quickly. He was even royally let past by teammate Bottas, who slowed down and let Lewis go after the team told him to do so. Lewis was free to attack the Red Bulls then and man did he do that!
Lewis then soon caught up to Checo Perez, and passed him, only to be re-passed by the Mexican a few corners later! It was a bold move by the Mexican, who bought Red Bull and Max a bit more time from a charging Lewis. On the next lap, he was passed for good by Lewis, though a bit of help to the team wouldn't go underappreciated by the audience watching!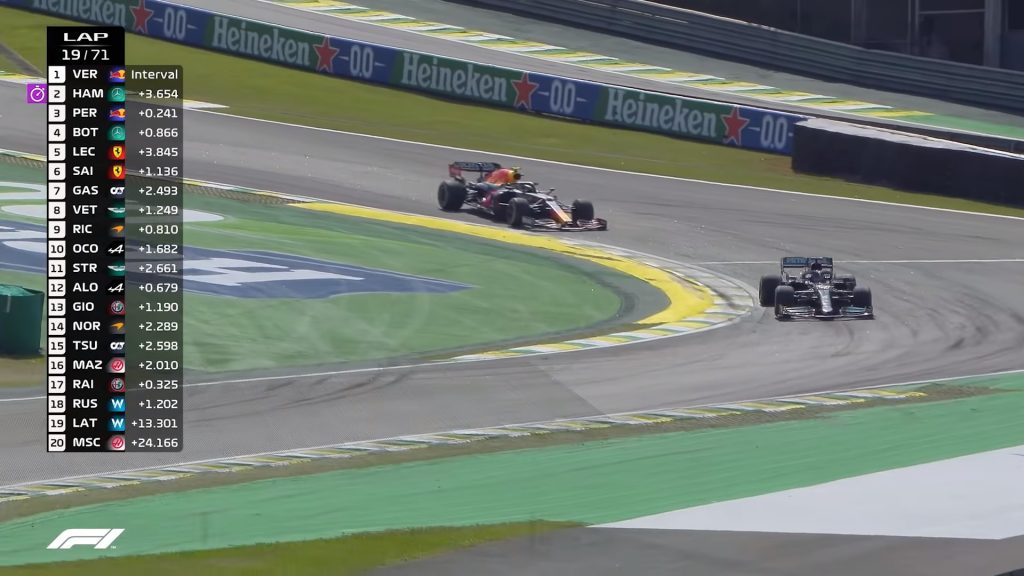 The VSC was then deployed to clear debris on the track, which quite conveniently helped Bottas jump Perez! Around Lap 48, Lewis got really close to Max, who was starting to struggle with tyres. The Red Bull driver could do nothing as Hamilton, aided by DRS came closer and closer- and at Turn 4, when it seemed like the move had been done, Max pushed Lewis wide in a begrudging manner, as he was quite reluctant to let the Mercedes driver by.
Over the next laps, Lewis made attempts to get closer to make yet another move, and it came after 12 whole laps, on Lap 59. He did the exact same move, but due to virtue of being closer he made the move stick. Max then fell back from Lewis, and the race ended with Lewis in P1, Max P2 and Bottas P3. This was THE race that basically made everyone question Michael Masi too.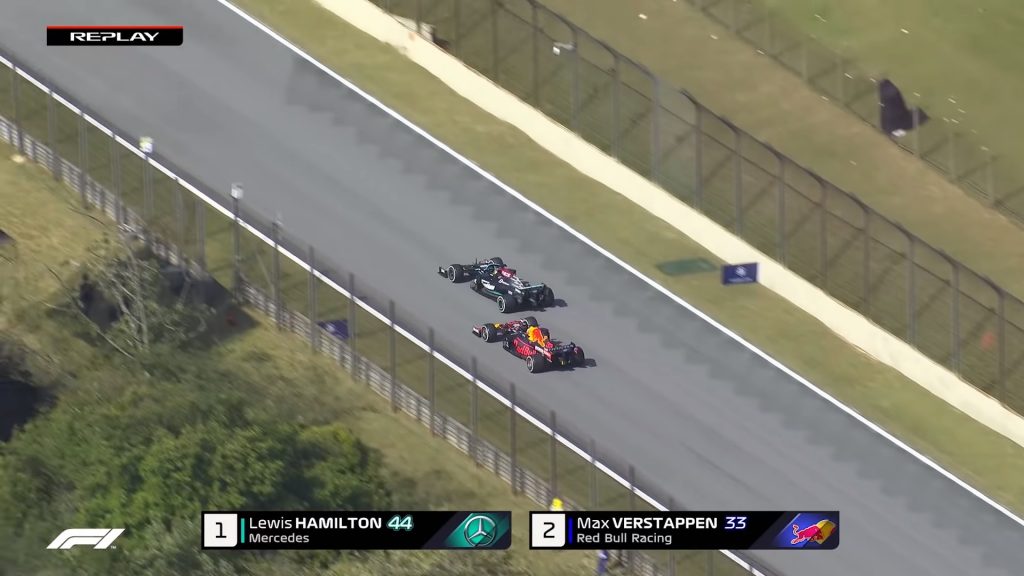 Further back, there was a 3-way fight for P7 between Alonso, Ocon and Gasly. It was a great battle, though Gasly did eventually come out on top. It was quite nice to see the battle for the minor points positions being shown live on TV- the battle was very fierce and enjoyable!
Lewis had just achieved a challenge that was only attempted in the F1 videogame- to go from last to first and win the race! He was aided by a quick car, though his sheer pace and consistency is what won him this race. Persevearance paid off, and he won in fine style. (Full Race Report)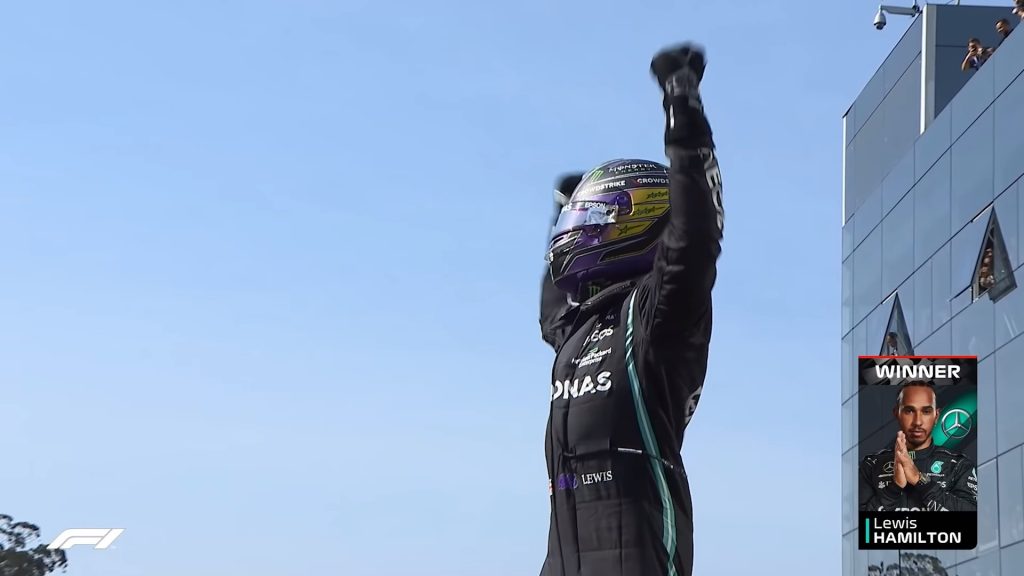 Those were our picks for the top 5 races of 2021. Drama was never too far away, and we had some magnificent and fantastic races all throughout the year. Bravery, consistency, action, all made up the season, and it was just amazing to be a witness to this glorious season. We're thankful for having the opportunity to witness this season, that's for sure!