Formula 1
Charles Leclerc takes another pole as Norris gifts Mclaren with a P4 at the 2022 Melbourne GP Qualifying
2022 is the first time anyone other than Lewis Hamilton sits at pole in Melbourne in the hybrid era from 2014.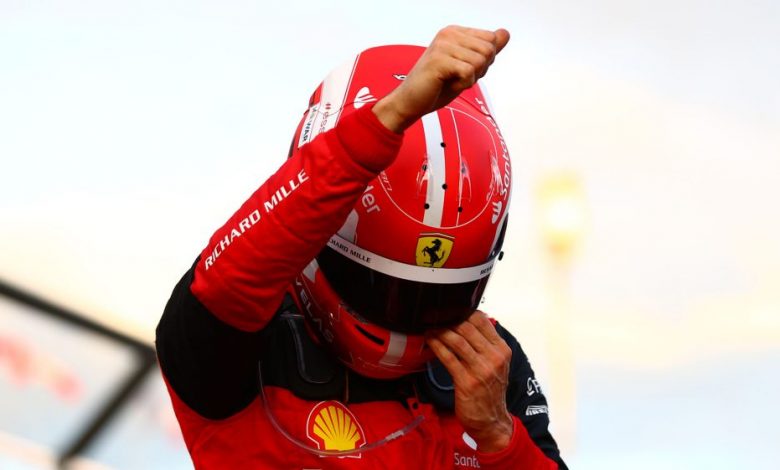 Charles Leclerc holds off a superMax Verstappen to get pole at the 2022 Melbourne GP Qualifying. His 1:17.868 is not only a new track record but is the only 1:17 time on the Albert Park street circuit to date! Wanna know about more records, well here are a few interesting ones:
Valtteri Bottas ends his continued Q3 appearances with a streak of 103 Q3 entries, a record in F1.
Only five teams made Q3, the minimum number possible.
Carlos Sainz's P9 was the first time a Ferrari has qualified outside the top five in Melbourne since 2014.
Lewis Hamilton's fifth is the first time he's been outside the top three in Australia since 2010, when he was 11th for McLaren.
All of Leclerc's three career wins were from pole.
Max Verstappen grabbed Red Bull's first front row start in Australia since 2014 when Daniel Ricciardo started second for the team. He has also never started greater than fourth at Albert Park previously.
After the relinquishment of the fourth DRS zone, the Australian GP was done giving us its curveballs. But, as we saw, it was far from over. The most surprising show of pace has been from the Mclarens who were earlier looking like Aston Martin companions but did flip the script, especially with Norris outqualifying both the Mercedes.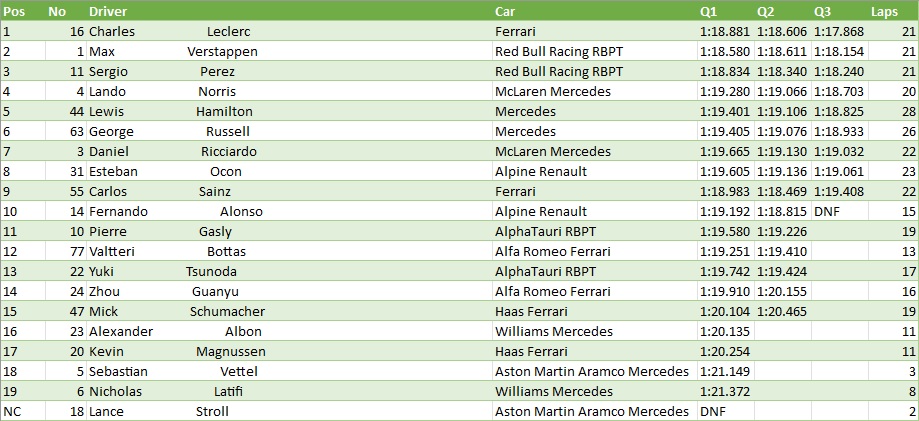 The P2 and P3 occupiers from RedBull namely Verstappen and Perez did lead the Q1 and Q2 sessions respectively. Then came Q3 where not only did they look strong but, Perez managed to one up Verstappen by 1/1000th of a second! We knew more times are yet to come and boy they did.
Lewis Hamilton could not have a nice lap at the first try but went on for another seconds before the chequered flag came in to give a nice tight lap slotting in at P5, still far behind the leaders and now even McLaren. Lando Norris' P4 not only came as a shocker but "felt like pole" to him as he revealed in an interview later. I concur.
In P7 was Mclaren's second driver (oops) Daniel Riciardo who is still on the hunt for his ace race pace to beat his teammate at his new team since 2021. He finished in P7 some 3/100ths of a second ahead of Alpine's Esteban Ocon. Coming over to Alpine, it was the stupidly fast teammate of Ocon who set a purple sector 2 and was looking to be in contention for a top 3 spot as he put his car in the sand.
Fernando Alonso is gaining pace faster than he is losing age and we're all for it tomorrow! A disappointing finish for Carlos Sainz in P9 who seems to be having the same fate lately as Valtteri Bottas had in Mercedes. Both of their opponents are impeccably fast and world championship contenders with almost an error-free driving ability consistently. Then again, the same goes for Sergio Perez accompanying Verstappen.
All in all, if you missed the qualifying, DO NOT miss the race because at one point in qualifying it seemed like everyone was already racing. Here are the updates after the qualifying regarding penalties or grid drops:
Williams' Alex Albon has been disqualified from the results of qualifying for the Australian Grand Prix, after his Williams team were unable to provide the FIA with a sufficient fuel sample from his FW44.
Aston Martin's Lance Stroll receives a three-place grid drop for causing a collision to retiring luckless Nicholas Latifi from the qualifying.