Formula 1
Norris tops FP3 as both Aston Martins red flag the session – 2022 Melbourne GP FP3 highlights
Norris went 1:19.117 in FP3 at Australia showing a surprisingly fast Mclaren stating again that this season is NOT what it seems from the first few races.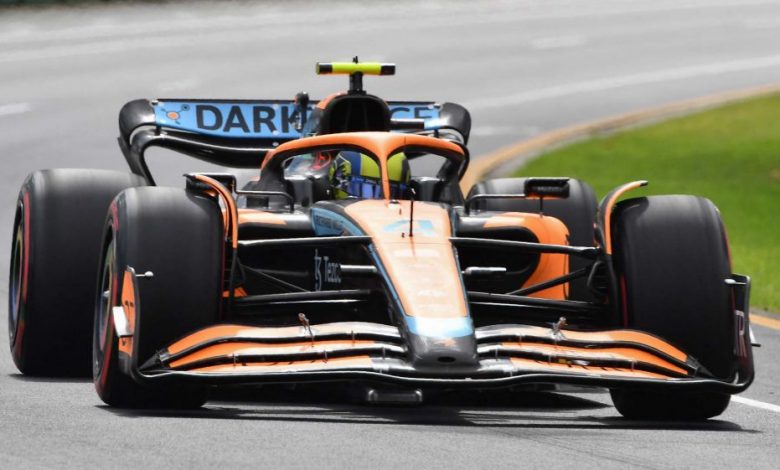 Lando Norris set the fastest lap of FP3 for McLaren just ahead of Chares Leclerc's F1-75 at the 2022 Australian Grand Prix. There have been numerous drivers going off-track in difficult conditions with both the Aston Martin drivers crashing out in separate incidents. It was Stroll's crash though, that red flagged FP3 and we saw Vettel once again on a scooter only this time he was the pillion rider.
[tie_slideshow]
[tie_slide]
[/tie_slide]
[tie_slide]
[/tie_slide]
[/tie_slideshow]
Most drivers in FP3 went with the softest C5 compound from Pirelli and grip was definitely at a premium from early on itself. At T10 just 20 mins into the session we saw Sebastian Vettel spin and crash in the barriers with his teammate having a similar crash at T11 terminating the session. Max Verstappen also spun around at T13 disrupting his fast looking lap on the medium tyres. But, all these lap times started to tumble down as Norris went blisteringly fast in his papaya orange McLaren with 1:19.117 on the clock. This goes to be just .139 seconds slower than Leclerc's fastest lap in FP2 which was already a lap record for this circuit! The worst part came when Norris was asked to "bail out" from a fast flying lap due to a supposed power unit issue.
Leclerc followed Norris behind by 0.132s as Perez followed him just 0.016s adrift. It was Fernando Alonso as the next surprise in the top 5 in the pink Alpines that are looking to be absolutely swift while Sainz rounded up the top 5 0.302s adrift of the leader and best buddy Lando Norris.
Just before Vettel's crash, Lewis Hamilton, who was P8, tapped the wall but escaped at Turn 11, while George Russell (P11) seemed to struggle too with a trip through the Turn 3 gravel after the red flag. Between the two Mercedes lied the alumnus Valtteri Bottas of Alfa Romeo in P9 followed by Yuki Tsunoda of AlphaTauri in P10.
Tsunoda's team mate Pierre Gasly was around half a tenth back in P12 with Esteban Ocon a whisker behind in P13 which is not quite a whisker compared to his teammate Fernando Alonso in P5. Mich Schumacher checked on Vettel after the crash and finished P14 ahead of Zhou Guanyu in P15. After such a tricky and surprising FP3, we are looking forward to the qualifying.