News
Ferrari set the pace as Mercedes pace worsens – 2022 Melbourne GP Free Practice 1 & 2 highlights
While it looks like another close battle between Ferrari and RedBull, Mercedes drivers Lewis and George are frustrated with their cars.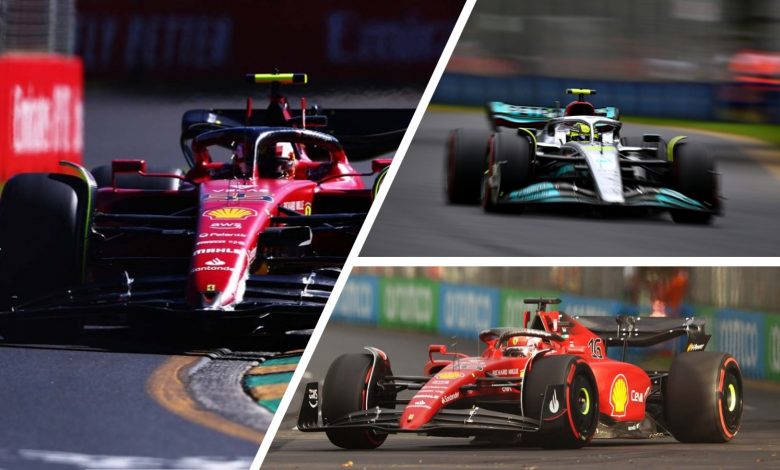 It was a fresh start for Australia that hosted the first GP since 2019. Yesteryear's season opener is finally back on the calendar and we're all for it. Did you check out the track changes and the preview before the race weekends? Australia has been locked out of the world for long due to COVID and the Albert Park street circuit is what definitely gives a breath of fresh air to Australians and F1 fans alike. What is also a breath of fresh air is the constant unknown in the equation of race pace of these 2022 cars.
Moreover, this is the first daytime race since the 2021 Qatar GP in November! Ferrari pulled one over everyone with their phenomenal F1-75 as RedBull got in with that monstrous PU. Mercedes on the other hand has got something wrong. At least what it seems to be after 2 races and 2 Practice sessions at the 2022 Australian GP. Let's check out the highlights.
FREE PRACTICE 1
Carlos Sainz topped the 1st session on Pirelli's softest C5 compound with team mate Charles Leclerc slotting into second. The Spaniard clocked a 1m 19.806s with Leclerc 0.571s adrift, the championship leader having run into the gravel on his out-lap and then backing out of his second attempt.
Red Bull's Sergio Perez – who caused one of two red flags when he lost a piece of bodywork – was third with a late quick lap on the soft, a couple of tenths ahead of team mate Max Verstappen, though the reigning champion set his quickest lap much earlier in the session.
The first surprise came from McLaren showing a turn of pace, after a challenging start to the season as they battle to get on top of a front axle issue. It was Lando Norris in fifth and home favourite Daniel Ricciardo in eighth. Alpine's Esteban Ocon was P6, a fraction adrift of Lewis Hamilton in the leading Mercedes at Albert Park, which features several corner changes for this year and has been resurfaced for the first time since F1 started coming to Melbourne in 1996. Yuki Tsunoda debuts on this track with only a single simulator run for the same and slotted in at P11. It was then the ailing Mercedes of their new signing George Russell in P12 right ahead of Sebastian Vettel's Aston Martin which brought out a red flag late in the session when his Mercedes-powered Aston Martin lost power with just 18 laps on the board.
Pierre Gasly was brought in the second Alpha Tauri at 14th, ahead of Zhou Guanyu who happens to be one of four drivers, including Tsunoda, Nicholas Latifi and Mick Schumacher, who haven't driven at Albert Park. Lance Stroll parked his Aston Martin in 16th, with Alex Albon the leading Williams in 17th with a mega 1.2s gap from team mate Latifi in 19th. Haas looked off the pace as per their new standards with Kevin Magnussen, who arrived at the track late after experiencing some nausea overnight, 18th, and team mate Schumacher 20th – a full 4.543s off Sainz's P1 pace!
FREE PRACTICE 2
Valtteri Bottas's medium tyre pace was strong but he later dropped down to seventh for Alfa Romeo when the softs were equipped. He finished just ahead of McLaren's Lando Norris. Daniel Ricciardo was in the other Mclaren managing only P10 at his home track with the AlphaTauri of Pierre Gasly splitting the papaya-coloured Mclarens on the leaderboard. Back of the grid in P11 was Mercedes' George Russell while Lewis Hamilton could only manage P13 for the Mercedes. They were separated by the Alpha Tauri of Yuki Tsunoda. Lewis and George's W13s struggled for traction at the back end a lot as Lewis almost crashed going into the gravel. It was a rather hard day at the office for Mercedes as Russell seemed visibly frustrated while Lewis limiting his answers to one words, still smiling through the interviews.
Lance Stroll brought out the only red flag of the session when a piece of his Aston Martin's wheel cover flew off with 10 minutes remaining. The Canadian finished 14th ahead of Alfa Romeo's rookie Zhou Guanyu. K. Mag took P16 having really struggled for mileage in FP1. The Williams' duo ended in P17 and P19 for Albon and Latifi respectively who were split by Magnussen's team mate Mick Schumacher in 18th. The four-time world champion Vettel turned fireman Seb in FP1 and then a scooter driver with a post-session lap of the circuit. Vettel didn't emerge for FP2 and therefore ended up 20th, without a time on the board – the team having had to replace his Mercedes power unit that caught on fire in FP1.