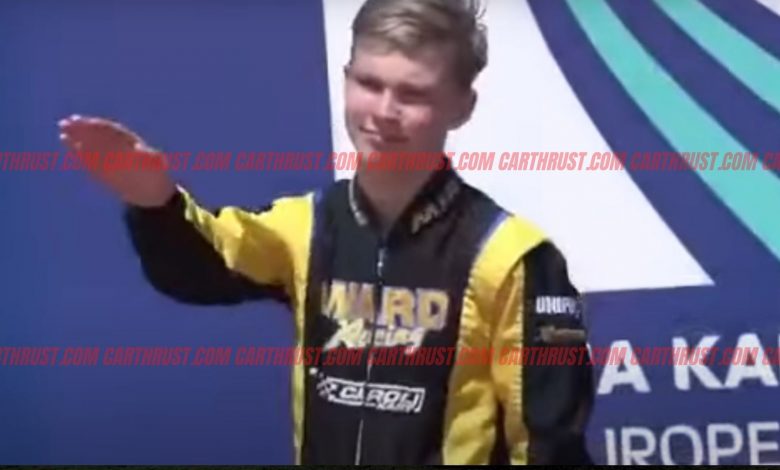 The simplest way to ruin a promising career early is to do dumb things, that too when the world can see you live! 15-year old kart racer Artem Severyukin has effectively ended his career early after doing teh infamous Nazi salute on the podium of an FIA-sanctioned kart race in Portugal.
The Russian is a champion in the category, but his achievements cannot exclude him from having the decency and etiquette to be a racing driver. The FIA have launched an investigation into the matter, but it might as well be over for him- his team, Ward Racing have released an official statement wherein they have confirmed that Artem's actions were not representative of the team's beliefs, and they have promptly terminated his contract with immediate effect.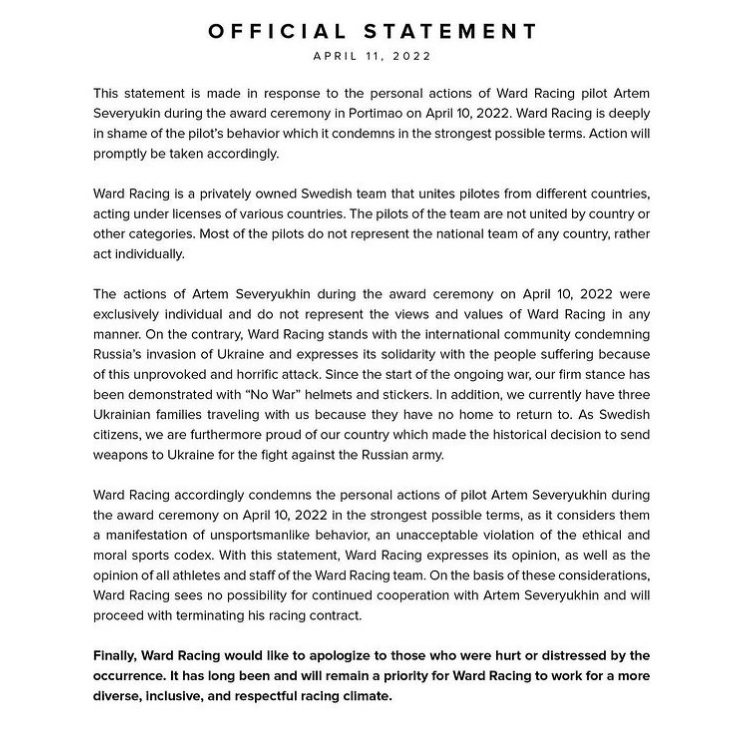 Of course, not one to want to have his career end early, he posted an "apology" video on his Instagram wherein he showed his sadness and regret for the actions done by him. However, the video is so incredibly forced and fake that one would need to be really hard-pressed to find an ounce of actual regret in it. In fact, all it reminds me of is the ridiculously fake and hilarious apology videos YouTubers do- wiping non existent tears, having a low and monotone voice, but most importantly begging for an apology so that their revenue stream keeps them afloat a bit longer. You can view his apology here.
The problem now is that if another racer makes a mistake and apologises, and even if his apology is genuine then because of the more stringent protocols followed post this incident, they could lose their career thanks to the actions of Artem here. Mistakes can be made by all, but they should be given a chance to provide their part of the story as well. What I mean to say by the above few lines is that another driver's genuine apology for a mistake could be looked over due to such fake apologies taking centerstage, and driver actions like this tarnishing the name of motorsport.
In the case of Artem here though, his story found its conclusion early the very moment he had a chuckle at what he did, which just confirmed that he was well aware of what he was doing and yet chose to do so.
He is not the first kart racer in a while to be involved in a controversey- in 2020, a Tony Kart driver called Luca Corberi also was under fire for throwing a bumper at his rival mid-race. No, that's not a joke, he really did that and also went and beat him up post-race. It isn't limited to karting though- F2 driver Alessio Deledda was also under fire for overspeeding and of course, Haas F1 driver Nikita Mazepin was involved in an "entanglement" just a few days post the announcement that he would be an F1 driver in 2021. Regardless of what might've happened to the others, Artem's actions will taint and probably end his career for good. Talent is one thing, but if there's no humbleness or humility in oneself and ego takes up all the room, then success doesn't stay with you for long. The truth of this statement goes beyond motorsport and into the real world as well.