Formula 1
It's a Ferrari front row lockout at Miami! Qualifying highlights
A closely-fought battle ended with Leclerc on top followed by teammate Sainz and current championship rival Verstappen in P3.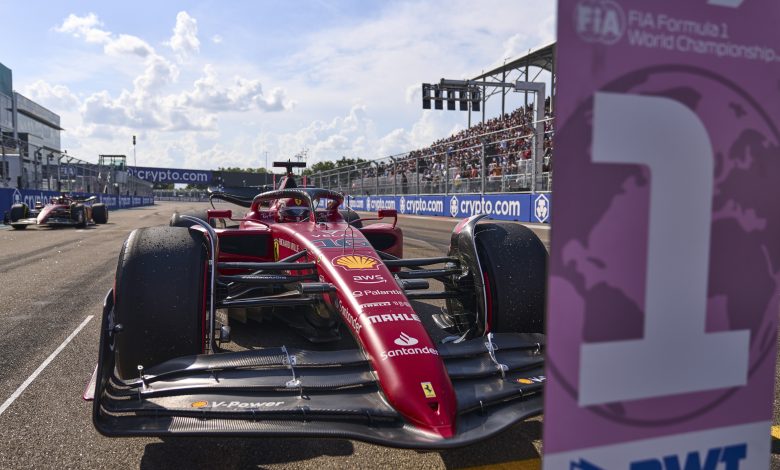 Qualifying for the Miami GP was an interesting affair, as apart from a few mistakes from drivers we didn't really see any major mistakes or errors. However, that's not to say the session was boring, as especially towards the end we had an incredibly close finish as the top 3 were separated by no more than 2 and a half tenths of a second! Here's the full rundown from qualifying.
Q1
Q1 saw many drivers make mistakes on their first runs, and it wasn't until the final runs that we got a clear picture of who would make it through and who wouldn't! The Ferrari and Red Bull duos lead the way as usual, however further back it was very chaotic. Tyre warm-up was crucial, and some just couldn't get enough heat into their tyres to be able to get in a decent lap early on!
Lewis Hamilton got out of Q1 only with his last run, while Zhou was impeded by traffic on his fast lap. It was also curtains for Magnussen and the Williams pair, as neither Albon nor Latifi managed to get out of the relegation zone. As we learnt from FP3, Ocon didn't take part in Qualifying and will hence start tomorrow's race from last place.
❌ OUT IN Q1 ❌

16. Magnussen
17. Zhou Guanyu
18. Albon
19. Latifi
20. Ocon (did not participate) #MiamiGP #F1 pic.twitter.com/0otkfd0Cl9

— Formula 1 (@F1) May 7, 2022
Q2
Q2 was more of the same, though this time we had a few surprise exits early on. As the 15 cars piled out onto the track, yet again the Red Bulls and Ferrari cars were the class leaders as all others fought to secure their spot in Q2. As the final runs approached, it became clear that it would be a very closely fought battle!
Alonso felt like he was impeded on his last run by compatriot Sainz, while Russell had a poor session after suffering from porpoising issues and making a mistake on his fast lap. Vettel had tyre warm up issues, while Ricciardo suffered from a delay to his session start as Mick Schumacher rounded off the top 15, the young German outqualifying teammate Magnussen for the first time in his career as a result.
❌ OUT IN Q2 ❌

11. Alonso
12. Russell
13. Vettel
14. Ricciardo
15. Schumacher #MiamiGP #F1 pic.twitter.com/1slLEPxdqS

— Formula 1 (@F1) May 7, 2022
Q3
Q3 saw a close battle at the end of the drivers' first flying laps, as the top 3 were separated by just 0.080 seconds in all! It was Max on top followed by Charles and Carlos, while Perez was half a second behind and in P4. As the final runs approached, it became very crucial that drivers had to get their fast laps in as soon as possible.
We saw the Ferrari duo of Leclerc and Sainz trade purple sectors, and cross the line to improve and take 1st and 2nd respectively while we waited for Verstappen to finish his fast lap, but there was an issue- he wasn't going fast!  A mistake in Sector 1 forced him to back off, and lose out on a shot at pole as there was no time left in the session. It gave Ferrari their first pole since Melbourne as a result.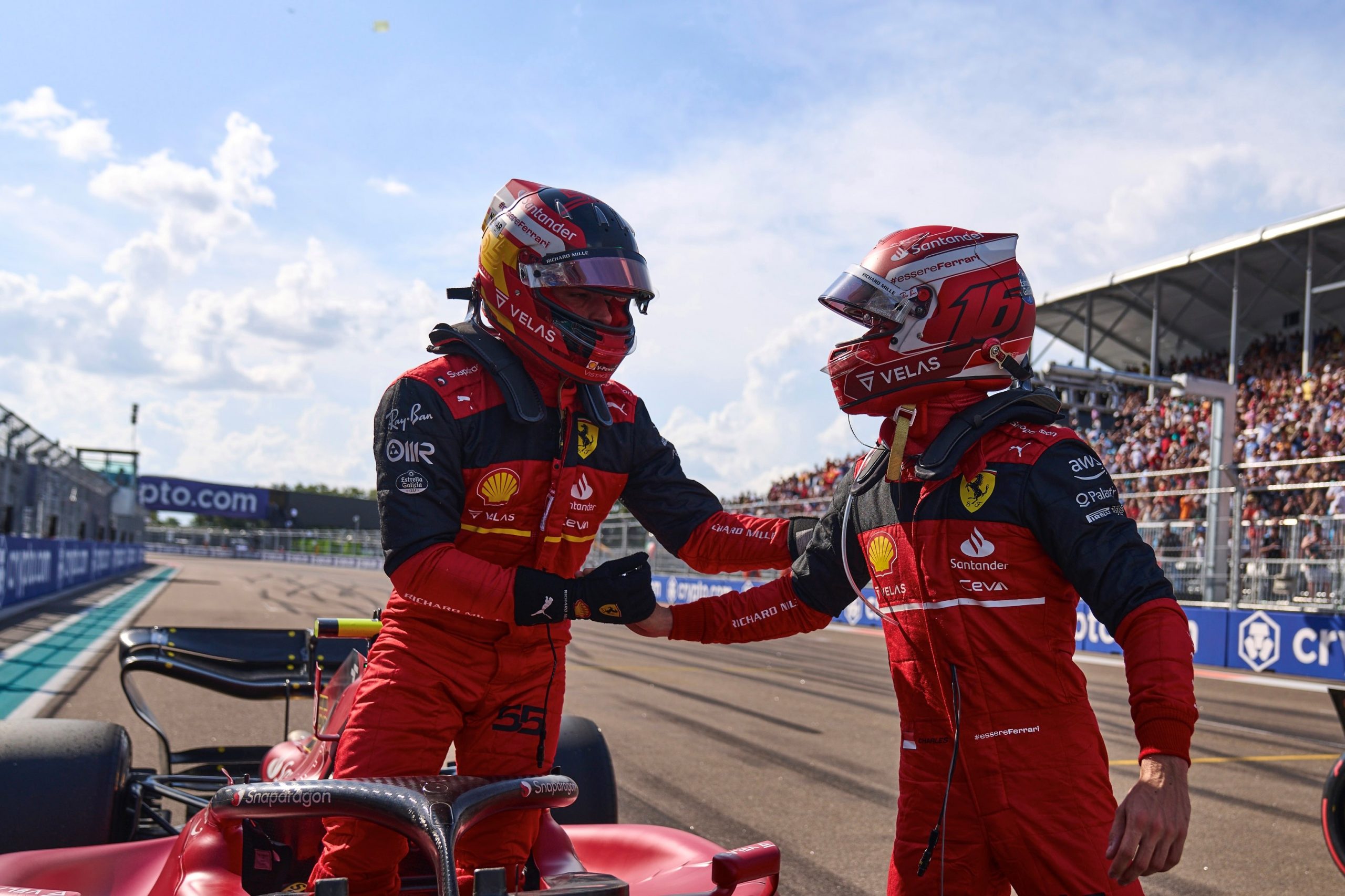 Further back, Perez remained P4 while Bottas took a stunning P5 for Alfa beating out ex-teammate Hamilton in doing so. Pierre Gasly made it P7 for the AlphaTauri team while teammate Tsunoda was P9, as the duo sandwiched McLaren driver Norris who qualified P8. Lance Stroll got into Q3 for the first time since Turkey last year, though only managed P10 in the end.
Charles Leclerc takes pole position no. 3️⃣ for the 2022 season! 💪#MiamiGP #F1 @Charles_Leclerc pic.twitter.com/j3E2TilsbF

— Formula 1 (@F1) May 7, 2022
[toggle title="Qualifying Timings, Miami 2022″ state="close"]
POS
DRIVER
Q1
Q2
Q3
1
16
 
FERRARI
1:29.474
1:29.130
1:28.796
25
2
55
 
FERRARI
1:30.079
1:29.729
1:28.986
26
3
1
 
RED BULL RACING RBPT
1:29.836
1:29.202
1:28.991
18
4
11
 
RED BULL RACING RBPT
1:30.055
1:29.673
1:29.036
21
5
77
 
ALFA ROMEO FERRARI
1:30.845
1:29.751
1:29.475
20
6
44
 
MERCEDES
1:30.388
1:29.797
1:29.625
21
7
10
 
ALPHATAURI RBPT
1:30.779
1:30.128
1:29.690
22
8
4
 
MCLAREN MERCEDES
1:30.761
1:29.634
1:29.750
22
9
22
 
ALPHATAURI RBPT
1:30.485
1:30.031
1:29.932
21
10
18
 
ASTON MARTIN ARAMCO MERCEDES
1:30.441
1:29.996
1:30.676
21
11
14
 
ALPINE RENAULT
1:30.407
1:30.160
14
12
63
 
MERCEDES
1:30.490
1:30.173
15
13
5
 
ASTON MARTIN ARAMCO MERCEDES
1:30.677
1:30.214
15
14
3
 
MCLAREN MERCEDES
1:30.583
1:30.310
15
15
47
 
HAAS FERRARI
1:30.645
1:30.423
19
16
20
 
HAAS FERRARI
1:30.975
11
17
24
 
ALFA ROMEO FERRARI
1:31.020
9
18
23
 
WILLIAMS MERCEDES
1:31.266
10
19
6
 
WILLIAMS MERCEDES
1:31.325
10
Q1 107% time – 1:35.737
Note – Ocon failed to set a qualifying time and races at stewards' discretion.
[/toggle]
Conclusion
Pain for some, gain for others! Max's mistake was supremely costly to his qualifying cause, and forced him to watch from the sidelines as his close competitors gained an advantage on him. However, pole isn't enough, and the track as a whole is an unknown for teams and drivers alike!
Strategy will be crucial- do teams opt for a 1-stop or do they go for a more aggressive but possibly lengthier 2-stop option? What about potential Safety Cars? The weekend has also shown us that mistakes can be made quite easily around this track, and the wall comes at you quicker than you can say "Howdy!"
Ferrari's advantage should give them the upper hand, but this is F1- anything could end up happening. Do not miss the race- it should be an interesting watch!