Formula 1
Leclerc on pole with a possible Mercedes return! 2022 Spanish GP Qualifying highlights
An exciting qualifying session ended with misery for Verstappen and delight for the Scuderia, as Mercedes closed their gap to the leaders.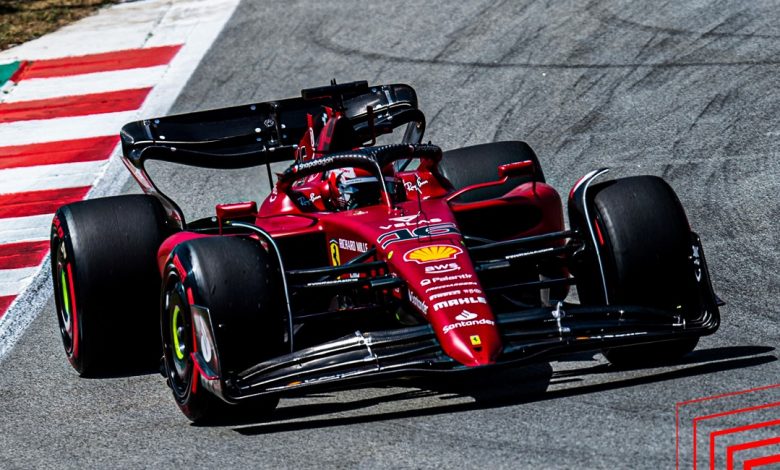 Qualifying for the Spanish GP was exciting mainly because we had many unexpected moments and even a few shocks. Ferrari and Leclerc had been the favourites all weekend long up to this point, but not even they had it easy, especially once the final part of Qualifying came near! Both the Mercedes have bounced back rather well by stopping the bouncing of the actual car. Russell is coming to his own with his consistently better laps than Hamilton. So, without any further ado here's the full report from Qualifying at Barcelona.
Q1
Q1 saw both Ferraris and Verstappen lead the way, though the majority of the action was focussed on the incredibly competitive midfield. The Mercedes duo of George Russell and Lewis Hamilton also showed some very good pace, staying in the top 5 for the majority of the session.
As the clock ticked down, the Haas team might certainly have been doubting their chances of a good qualifying, but they needn't have worried! Mick ended the session a comfortable 11th, while Kevin actually split the two Mercedes cars with P5 at the close of the session. There was also a lot of bunching up going on up and down the track, as drivers backed off to get a clear run on their laps, which affected some drivers who weren't even able to start their laps.
Unfortunately for the Green Red Bul.. I mean Aston Martins, both cars were eliminated in Q1, which would certainly have been a massive blow to their morale. However, a person whose morale will certainly be low will be Fernando Alonso, who will start a lowly 17th for the race tomorrow, having had his last flying lap hampered by a slow-moving McLaren in front of him. Both Williams cars were also eliminated, and will start tomorrow's race on the last row in 19th and 20th.
ELIMINATED IN Q1

Heartbreak for home fans as Alonso exits qualifying early

Vettel
Alonso 📸
Stroll
Albon
Latifi #SpanishGP #F1 pic.twitter.com/6elQjzaeS7

— Formula 1 (@F1) May 21, 2022
Q2
With the start of Q2 we heard a message from the AlphaTauri pitwall to Gasly, which stated that drivers wouldn't be allowed to slow down, which was done so to avoid bunching up and possibly hamper drivers who would be on their fast laps. Both Ferraris and Verstappen emerged on used soft tyres for their first runs, which obviously put them on the back foot.
George Russell set the initial pace, though once the drivers completed their second runs Max finished the session on top. Both AlphaTauris were eliminated, as was Ocon, Zhou and Schumacher. The German finished P11, and was so incredibly close to getting into Q3, and he would be rueing his lost opportunity… or was he?
A track limit violation saw a laptime deletion for Norris, which promoted Mick into the Top 10 and Q3 for the first time in his career. One's pleasure is another's loss, as Lando had to settle for P11, joining the others to take no further part in the session.
Q2 CLASSIFICATION

Mick Schumacher gets into Q3 for the first time 👏#SpanishGP #F1 pic.twitter.com/bNv3MyvE7M

— Formula 1 (@F1) May 21, 2022
Q3
Q3 would be the most important session of all, as the Top 10 would be determined at the end of it. As the drivers ended their first flying laps, everyone from the top 3 teams had their name popping up on the timing boards- Sainz, Verstappen, Hamilton, Russell, Perez. Wait, where's Leclerc?
The Monegasque had a spin on his first flying lap, having to then obviously abort his lap. Lucky for him, he had enough time for another run, and have another shot at success. However, he would have to set a great lap to topple championship rival Verstappen's pole time.
On their final runs, Charles came out on track first followed by the rest of the field. While he was on his lap, we received confirmation that Max had suffered an engine issue, and would take no further part in the session. He was informed by the team to pit at the end of the lap, ending his hopes of maintaining pole position.
When he had to, Charles came through. Despite the earlier spin, he had done enough on his final flying lap to secure pole by over 3 tenths of a second! He was followed by Max in P2, and teammate Sainz in P3. The Mercedes duo of Russell and Hamilton had a good showing with 4th and 6th respectively, while Perez split them with P5 at the end.
The pressure was on and @Charles_Leclerc delivered 💪#SpanishGP #F1 pic.twitter.com/FXPRHNE9J1

— Formula 1 (@F1) May 21, 2022
[toggle title="2022 Spanish GP: Qualifying Timings" state="close"]
POS
DRIVER
Q1
Q2
Q3
1
16
 
FERRARI
1:19.861
1:19.969
1:18.750
12
2
1
 
RED BULL RACING RBPT
1:20.091
1:19.219
1:19.073
16
3
55
 
FERRARI
1:19.892
1:19.453
1:19.166
16
4
63
 
MERCEDES
1:20.218
1:19.470
1:19.393
14
5
11
 
RED BULL RACING RBPT
1:20.447
1:19.830
1:19.420
17
6
44
 
MERCEDES
1:20.252
1:19.794
1:19.512
15
7
77
 
ALFA ROMEO FERRARI
1:20.355
1:20.053
1:19.608
18
8
20
 
HAAS FERRARI
1:20.227
1:19.810
1:19.682
18
9
3
 
MCLAREN MERCEDES
1:20.549
1:20.287
1:20.297
15
10
47
 
HAAS FERRARI
1:20.683
1:20.436
1:20.368
18
11
4
 
MCLAREN MERCEDES
1:20.838
1:20.471
12
12
31
 
ALPINE RENAULT
1:20.880
1:20.638
9
13
22
 
ALPHATAURI RBPT
1:20.707
1:20.639
15
14
10
 
ALPHATAURI RBPT
1:20.719
1:20.861
15
15
24
 
ALFA ROMEO FERRARI
1:20.476
1:21.094
15
16
5
 
ASTON MARTIN ARAMCO MERCEDES
1:20.954
6
17
14
 
ALPINE RENAULT
1:21.043
5
18
18
 
ASTON MARTIN ARAMCO MERCEDES
1:21.418
6
19
23
 
WILLIAMS MERCEDES
1:21.645
6
20
6
 
WILLIAMS MERCEDES
1:21.915
9
Q1 107% time – 1:25.451
[/toggle]
Conclusion
An interesting qualifying session saw Ferrari come out on top, while Verstappen had issues in his final flying lap for the second weekend in a row. With this performance, Ferrari are in strong contention for the victory tomorrow, but nothing can be guaranteed in F1!
Max Verstappen will be itching to get a good start and take the lead, while Mercedes' progress up the field will be interesting to monitor. The midfield will be a closely-fought battle, as the likes of Haas, McLaren, Alpine, AlphaTauri and Alfa Romeo battle it out for the minor points positions. The race will not be one to miss- stay tuned for the race report tomorrow!