Formula 1
The Grand Prixview for the 2022 Azerbaijan GP
Baku, Baku, Baku.... one of the sport's most-loved street circuits is back, and with it brings some newfound excitement and unpredictability!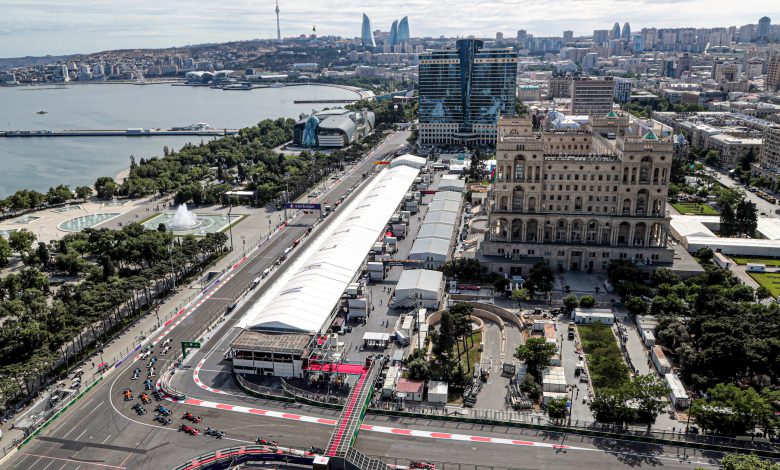 Yes, F1's back in Baku! The streets of the city surrounded by the Caspian Sea are well-loved by F1 fans the world over for providing us with unpredictable racing, red flags, big crashes and overall unpredictable results! With that in mind, here's what we should be keeping an eye out for this weekend.
Good racing built into Baku's DNA
Don't bank on it too much, but it's possible Baku could provide us with the best racing and an unpredictable action we'll see all year. The proof of this lies in the fact that Baku's unique nature with extremely long straights but also tight and twisty turns create a unique challenge for the drivers, and with these 2022 cars and tyres it is an unknown which team's car will favour the track! And for proof of this, let's take a brief look back through time.
2016: The inaugural race around the streets was called the European GP, and though it resulted in a dominant win for Nico Rosberg, it also saw Sergio Perez take P2 in qualifying, take a grid drop for changing gearbox and then finish a surprise third by the end of the race.
2017: The 2017 edition of the race is possibly tied with being the most entertaining race around here- red flags, teammates coming together, decisively bold overtakes and title rivals clashing saw the race end with Daniel Ricciardo as the winner, and Lance Stroll taking his maiden podium after a drag race to the line with Valtteri Bottas!
2018: 2018 saw the now infamous "I think Ericsson hit us" radio message broadcast, both Red Bull drivers collide while battling one another, Bottas losing a guaranteed win on the penultimate lap and Sergio Perez yet again scoring at one point what seemed to be a very unlikely podium!
2019: The 2019 iteration of the race was the most stagnated, with little happening in the race in terms of drama as Valtteri Bottas made up and defeated the ghosts of 2019 by winning in dominant style, though Ricciardo and Kvyat did have an embarrassing crash mid-race!
2021: Well, 2021 is the race which is tied with 2017 in terms of excitement and drama- Red Bull's masterclass of a strategy paying off with both cars jumping Lewis on-track, Lance Stroll's massive accident, Sebastian Vettel's charge back up the field, Verstappen's crash and subsequent red flag, and a chaotic restart seeing Hamilton make a decisive mistake, Vettel and Gasly taking unlikely podiums as Perez won the race!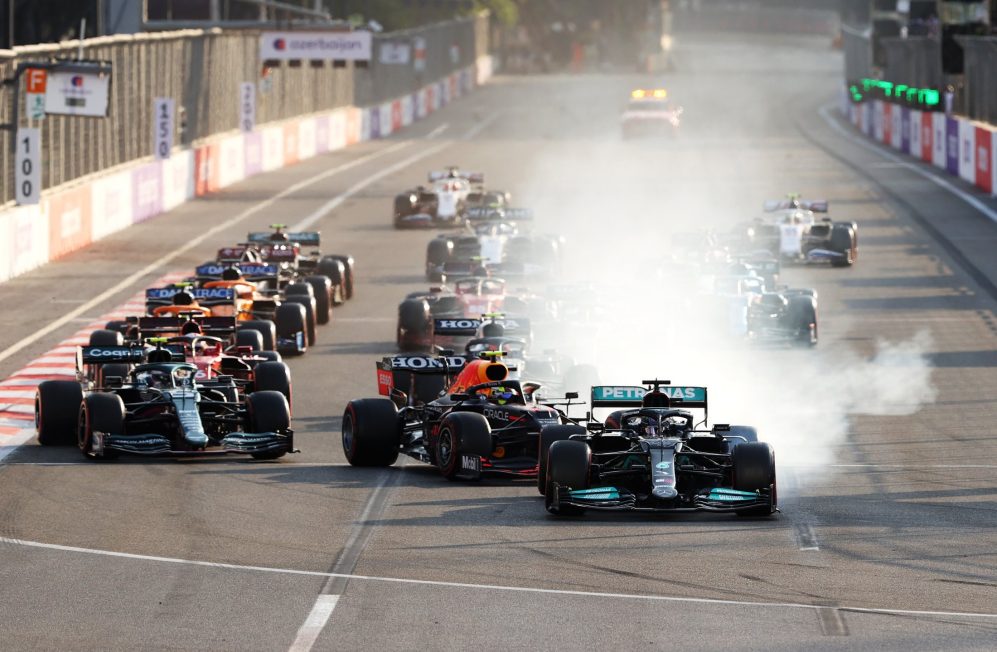 Sainz eager to prove himself
2021 was a fantastic year for Carlos Sainz, but 2022 just hasn't started in the way it should have. He's had two retirements, been in the gravel trap in 3 separate races and just been well off teammate Leclerc's performance all season long. Amongst the top two teams in Red Bull and Ferrari, as of now he's the only driver to not have a single win under his belt, though he's keen to disprove that statement.
His record at Baku is mixed with 7th and 8th placed finishes, a solitary 5th and a solitary DNF. Last year's edition saw him make a mistake at the Castle section which saw him lose valuable track position and time, though he did recover decently to finish 8th in the end. With the F1-75 being as fast and competitive as it is, surely it should challenge for a win under the proper circumstances.
The fast nature of the Baku circuit should suit the Ferrari car, but Red Bull will certainly be hounding them if they're not the fastest car. What's good for Carlos here is that there are no gravel traps around the tight walls of the city, so there's no place for him to spin!
Resumption of the Max-Charles battle
The past few rounds have seen the title battle sway towards Verstappen, while Leclerc has been left to ponder on what could have been. Bahrain and Saudi Arabia were two examples of races where the two were nearly inseparable, and had close fights which determined the eventual winner of the race. Baku could well be the place where the battle resumes as opposed to it being one-sided!
Consider this- both Max and Charles are very fast around Baku, but neither of them have ever stood on the podium here! That's an interesting stat for all the stat-hungry fans out there, but both will be eager to work towards disproving this stat soon, as they are finally in capable machinery which can see them finally take at least their first podium if not their first win around these streets.
The duo are separated by just 9 points, so all's to play for this season between the two. With Perez just 6 points behind Leclerc, it's the Ferrari driver who's going to have some trouble caused by the quick duo of Verstappen and Perez, though both Ferrari drivers could themselves also give Red Bull a hard time.
Sergio's strength in Baku
Another very important consideration is Checo Perez who won the 2022 Monaco GP after submitting to team orders in Spain allowing a win to teammate Max Verstappen. Here's what Checo's history at Baku looks like. P1 in 2021, P3 in 2016, P3 in 2018 and P6 in 2019. Checo's ability at those ninety degree corners of the Baku street circuit are phenomenal. Looking to his current form which is arguably the peak form of his career, we're looking at a very interesting internal battle at RedBull racing that I am not sure they're ready for owing to the 2018 Baku incident.
Drivers looking to match or defend their result from previous years
Pierre Gasly scored the third podium of his career after defending from Leclerc on the very last lap of the race in 2021, and after doing so scored 15 crucial points and finished 3rd in the race- and he's said that the aim is to have a repeat of this result!
Sebastian Vettel scored a surprise P2 last year after benefitting from Verstappen and Hamilton's misfortunes, though with how the Aston Martin has been in 2022 it seems unlikely he'll be able to repeat this result. He does however have a record of never having finished lower than 4th in every year he's taken part in the race!
Daniel Ricciardo won the 2017 edition after chaos and drama was all avoided by him, and he won after starting a lowly 10th on the grid. His season up to this point has been forgettable to say the least, though Baku tends to be a race where he has a decent run except for when he crashes into other people as he did in 2018 and 2019!
Lastly, Lewis Hamilton has won the race once in 2018, and even that was thanks to his then-teammate Bottas' misfortune of getting a puncture on the penultimate lap. His season upto this point has been disastrously underwhelming, and he'll be hoping to get his season back on track soon – what better place to do it than Baku?
In Conclusion
Baku is well-loved by F1 fans the world over, and all you need to do to see proof of this is to watch any race highlight from the race held here in the previous years to realise why it's such a fan favourite track and has the capability to provide some fantastic racing!
The weather is quite stable with sunny conditions all weekend, so we shouldn't expect any changeable weather on any of the race weekend's days. It's one less spanner in the works, but a race in the dry at Baku tends to be more exciting than some wet races!
Lastly, Alfa Romeo are running a special livery to celebrate the Tonale being launched and reaching major European showrooms. It does look cool, but will it help the team and bring them any success? Only time will tell!