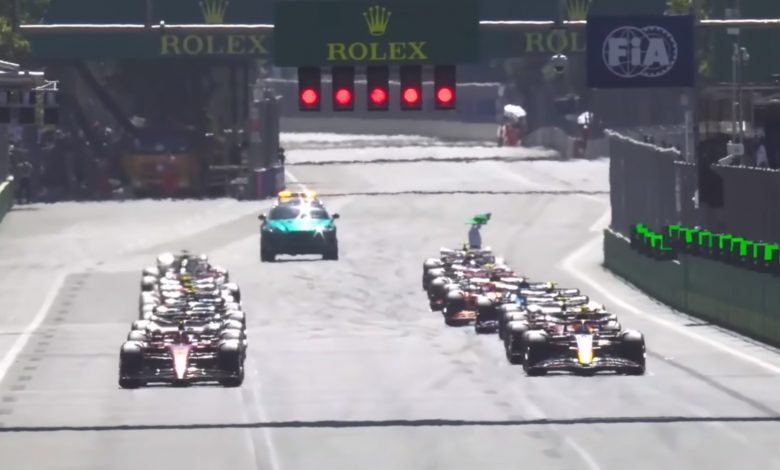 The 2022 Azerbaijan GP had its fair share of entertainment, though it will likely not be remembered as one of the classics of the year due to a lot of stagnated periods of running during the middle and ending parts of the race. It was absolute bliss for Red Bull and both their drivers, while it was anguish and absolute misery for the Ferrari pairing who after this race have lost a lot of ground on Red Bull. To be precise, Ferrari are now a whopping 80 points behind Red Bull in the standings. Let's not wait any further and jump straight into the race analysis!
The race start and the initial few laps
The race would take place under the sweltering sun, a far cry from the race start of the previous race in Monaco. Temperatures ranged in between 46 to 48 degree Celsius. Most drivers chose the medium tyres, while an optimistic handful chose the hard tyre compound. As the drivers made their way around the formation lap, they were preparing their minds to get a good launch owing to the short run upto Turn 1 which wouldn't let them have much of the slipstream of the car ahead.
At the start, pole-sitter Leclerc locked up at T1 and fell back behind a fast-starting Perez who was told right before the start to have his 'elbows out.' The two swapped places even before they reached Turn 1. Not much happened apart from a few overtakes for the minor places, though out in front Checo kept increasing the gap to Leclerc behind while Sainz in the other Ferrari was steadily falling back, unable to keep up with the top 3. Sainz even came on the radio exclaiming how fast the RedBulls were. He wasn't wrong as we found out later on that the RedBulls had a straigh-tline speed advantage of around 10 KPH!
It then became a game between Max and Charles as to who would get P2, Leclerc had better corner exits while Max had the straight line speed and DRS. Lap after lap, the two jockeyed around with Max making many attempts but never coming close enough, and Charles held on to P2, though on a knife's edge. It has to be said, especially after a phenomenal qualifying, Charles Leclerc has shown skills of a world champion and his calm mindset definitely makes him even more perfect to win. His team needs to stop letting him down or he might need silver arrows.
The two kept battling, and we got our first major indication of trouble which was brewing for the Ferrari engines in the land of fire. No sooner than Lap 9 had started, we saw the scarlet red Ferrari of Carlos Sainz parked by the side of the track in the run-off area, and the woes had just begun.
Ferrari's woes and the pitstop phase
Carlos Sainz had faced a BBW (brake-by-wire) failure which caused his car to shut down and at the time it was mentioned as a hydraulic issue. The Ferrari team were probably taken aback by this, as despite making a clever call to pit Leclerc onto hards under the succeeding VSC, the stop was almost 6 seconds long – which cost the Monegasque a lot of time.
A few others pitted during this time apart from Leclerc- this included Russell, both AlphaTauris and Haas cars, Hamilton and Vettel. Hamilton's stop was slow, and he lost out to Vettel by the time they exited the pits. In fact, Hamilton joined at P12 as Russell maintained P4 owing to double stacking at Mercedes and priority obviously going to Russell who qualified ahead of Hamilton. Hamilton's drive after this was a phenomenal one which earned him a well-deserved Driver-of-the-day by fans.
Interestingly, Red Bull kept both cars out, and on Lap 14 all of Mexico sighed when they heard the "No fighting" radio message to Checo over the radio. The two Red Bulls swapped places, and now Max was in the lead with Checo P2, and Leclerc about 10 or so seconds behind. With Leclerc closing in fast, RB decided to pit Checo and even he had a slow stop emerging well behind Charles. A note on the team orders at RedBull, it was to make sure that RedBull don't have a double DNF like in 2018 at this venue when Daniel and Max ran collided. Max was simply unthinkably fast and nothing would've stopped him from overtaking Perez anyway. But, this wasn't team orders at Mercedes to Bottas or we'd have seen a mountain of hate and criticism towards Hamilton even though it would be a similar situation.
A few laps later Max pitted as well, and emerged net P2 behind Leclerc. The pitting under VSC definitely seemed to be going so well for Leclerc – track position was his and he was leading the Azerbaijan GP… for a whole two laps! His engine let out a puff of smoke, and he came on the radio to the team, and that was curtains on his race- Charles was out. Within 10 laps, both Ferraris had retired – absolute anguish for the team and for the Tifosi!
The race carried on as usual, with the some entertainment in watching Alonso's fight to stay ahead of both McLaren cars, and the old championship foes in Hamilton and Vettel fighting their way through the field. While attempting a move around the outside of Turn 3 on Ocon, Vettel out-braked himself but quickly did a 180 degree spin and was back on his way- giving us a light bit of entertainment.
Stagnation of the race, a late VSC and the race finish
A few laps later, Zhou Guanyu who was making good inroads and had just overtaken teammate Bottas was forced to retire after more Ferrari PU troubles. About 10 laps of nothingness followed in which apart from a few overtakes nothing exceptional happened. Then, yet another bit of misfortune rained down on Haas when Magnussen's PU conked off, and he pulled off on the side of the track and retired. To recover his car, the VSC was called out.
This determined split strategies in the top 10, as both Red Bulls and Mercedes cars pitted, so did Ricciardo and Ocon however both AlphaTauri cars stayed out on their old hard tyres in a bid to retain track position ahead of the others. They ran in good points positions thanks to not pitting, but they still had to complete 20 odd laps.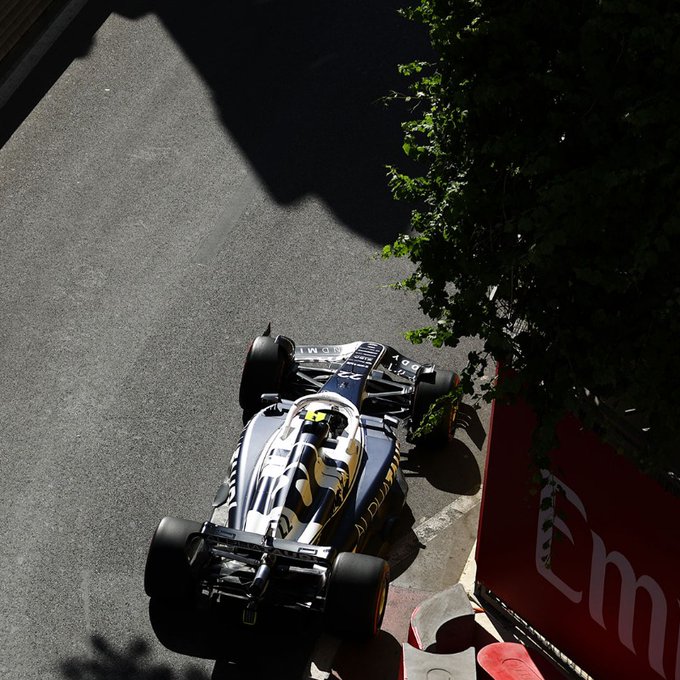 Hamilton easily got past Tsunoda, and a few laps later Gasly as well. Gasly was held up by Latifi for almost the entirety of Sector 2 as Latifi refused to get out of the way while being lapped. The Williams driver received a 5-second penalty, which added to his woes as he had earlier received a 10-second stop go penalty for his mechanics working until too late while the car was on the grid.
Gasly's teammate Tsunoda was also in trouble with his own car! The young Japanese driver had only half his DRS flap open, which is of course a breach of the regulations and a possible hazard to other drivers should the stray part fly off and hit another driver. He received a black and orange flag, indicating that he would have to come into the pits and either retire or somehow have the team fix the issue.
The team did have a fix in the form of duct tape! Yeaup! They simply taped Tsunoda's rear wing, and told him over the radio to not use any DRS for the rest of the race. He had to oblige, though it was weird to see the most technologically advanced sport in the world use such a measure to fix thr issue. Now we as F1 fans can buy a piece of tape and say that we're using technology used by the highest calibre of motorsport in the world eh! It seemed to be an odd decision considering Tsunoda was never making it into points anyway.
Out in front, Max was told to refrain from using DRS and was told to manage his pace and tyres. His experienced engineer wisely gave the reasoning for this to Max as "You know what it's like to lose a race around here", and if you aren't aware of what I'm talking about, towards the end of Lap 46/51 Verstappen's tyre blew out and he was out. Max obliged, and remained unchallenged for the rest of the race. His teammate Checo Perez came home in P2 with the fastest lap, while George Russell came home a stellar P3.
Lewis Hamilton battled back issues all race thanks to his car bouncing at such extremes that you could hear the porpoising over the sound of the engine. He cam home a thoroughly fought P4 earning himself Driver of the Day in the process. Pierre Gasly was a fantastic P5, as was Sebastian Vettel who finished P6, which is the lowest he's ever finished around Baku. Alonso was 7th, and came home ahead of the two McLarens though this time it was Daniel ahead of Lando. In the last points-paying position was Ocon, who was also the last car to not be lapped.
[toggle title="Race Result for the 2022 Monaco GP" state="close"]
POS
DRIVER
CAR
LAPS
TIME/RETIRED
PTS
1
1
 
RED BULL RACING RBPT
51
1:34:05.941
25
2
11
 
RED BULL RACING RBPT
51
+20.823

s

19
3
63
 
MERCEDES
51
+45.995

s

15
4
44
 
MERCEDES
51
+71.679

s

12
5
10
 
ALPHATAURI RBPT
51
+77.299

s

10
6
5
 
ASTON MARTIN ARAMCO MERCEDES
51
+84.099

s

8
7
14
 
ALPINE RENAULT
51
+88.596

s

6
8
3
 
MCLAREN MERCEDES
51
+92.207

s

4
9
4
 
MCLAREN MERCEDES
51
+92.556

s

2
10
31
 
ALPINE RENAULT
51
+108.184

s

1
11
77
 
ALFA ROMEO FERRARI
50
+1

 lap

0
12
23
 
WILLIAMS MERCEDES
50
+1

 lap

0
13
22
 
ALPHATAURI RBPT
50
+1

 lap

0
14
47
 
HAAS FERRARI
50
+1

 lap

0
15
6
 
WILLIAMS MERCEDES
50
+1

 lap

0
16
18
 
ASTON MARTIN ARAMCO MERCEDES
46
DNF
0
NC
20
 
HAAS FERRARI
31
DNF
0
NC
24
 
ALFA ROMEO FERRARI
23
DNF
0
NC
16
 
FERRARI
21
DNF
0
NC
55
 
FERRARI
8
DNF
0
Perez scored an additional point for setting the fastest lap of the race. Latifi received a five-second time penalty for ignoring blue flags.
[/toggle]
[toggle title="Driver Standings after the 2022 Monaco GP" state="close"]
[/toggle]
[toggle title="Constructor Standings after the 2022 Monaco GP" state="close"]
[/toggle]
Now, here's the driver ratings for the 2022 Azerbaijan GP!
1st: Max Verstappen
A clean and well-managed race saw the Dutchman take home maximum points and extend his championship advantage even further. He is now comfortably ahead of Leclerc, and behind him in P2 sits his teammate, so it's smooth sailing for Max as of now at least!
Rating: 9/10
2nd: Sergio Perez
Checo had a fantastic start and led most of the start phase, and was an obedient team player as he did not fight Max at all and came home 2nd to make it a Red Bull 1-2, albeit falling back massively after ceding place to Max. He did bag the fastest lap though, in a good effort by the Mexican.
Rating: 9/10
3rd: George Russell
George was superb all weekend. He outpaced Hamilton, and was silently being as consistent as he could ever have been and thanks to the Ferrrari's misfortunes he finished on the podium. His streak of top 5 finishes in 2022 is now 8 races – no one has even come close to being able to match this feat. Yet another consistent drive by him.
Rating: 9/10
4th: Lewis Hamilton
Lewis has been getting a lot of flak by the couch critics, but this weekend he proved that he's no old man. A great drive despite severe porpoising issues which almost broke his back saw him finish an amazing P4, and the effort he put in was apparent when it was shown that he could barely get out of the car thanks to his aching back. A stellar drive by the 7 time world-champion!
Rating: 9/10
5th: Pierre Gasly
A great strategic move to leave both cars out on old tyres by the team paid off with Gasly scoring fantastic points, and P5 being his highest finish of the season yet means he's finally jumped ahead of teammate Tsunoda in the standings. I believe this race weekend was liked by pierregasly!
Rating: 8.5/10
6th: Sebastian Vettel
Sans his mistake, Vettel might've even been in contention to get a 9/10. As he himself said, the spin cost him a possible chance to fight Hamilton, though to finish P6 in a bad car while your teammate languishes well outside the points is a good showing to say the least!
Rating: 8.5/10
7th: Fernando Alonso
Fernando had a quiet race but managed P7 brilliantly mainly thanks to Alpine's incredible straight line speed which helped them in Sector 3. It was a good haul of points for the Spaniard when he needs a bit of a kick to get his season underway!
Rating: 8/10
8th: Daniel Ricciardo
After what seeemed to be an eternity, Daniel finally scored some well-deserved points and finished ahead of teammate Norris. The team had to step in and ask Lando to hold position in the end, but Daniel had obliged earlier in the race when asked to do the same, albeit reluctantly. Still, P8 isn't a bad finish!
Rating: 8.5/10
9th: Lando Norris
Lando had a decent showing with P9, though he could've been P8 or even P7. Teammate Ricciardo made up places thanks to a well-timed VSC, else apart from that Lando might have well been fighting Alonso. He did hold back and obey team instructions and in the end, and took home 2 points.
Rating: 8.5/10
10th: Esteban Ocon
Esteban had a quiet race, and inherited P10 thanks to Tsunoda's misfortunes. Apart from that nothing memorable as such happened in his race, and the Frenchman was somewhat disappointed to only score one solitary point from the whole weekend.
Rating: 7/10
Honourable Mentions:
Yuki Tsunoda: The young Japanese driver was looking set for points until a DRS failure robbed him of what could well have been a potential P6 or P7 finish, bitterly disappointing for him to end the race in the manner that it did.
RATING – 8.5/10 for the young Japanese driver who's been showing real progress lately.
Charles Leclerc: Charles had a stunning qualifying, and pushed to the limit after a poor start only for his engine to fail. This is the third race in a row that a win has been snatched from him quite unfairly, and the fourth race in succession that he has failed to convert pole into victory. One has to feel sorry for Charles!
RATING – 10/10 simply based on his qualifying lap and the 10 laps he drove in the race.
Zhou Guanyu: The young rookie was doing well until a car failure took away a chance at points from him. Mechanical retirements are now common for Zhou, but on a weekend when he was sometimes outperforming his experienced teammate Bottas, it has to hurt that bit extra.
RATING – 9/10 for the Chinese driver who's doing a stellar job in his premiere season of Formula 1 and might I add staying unnoticed for it.