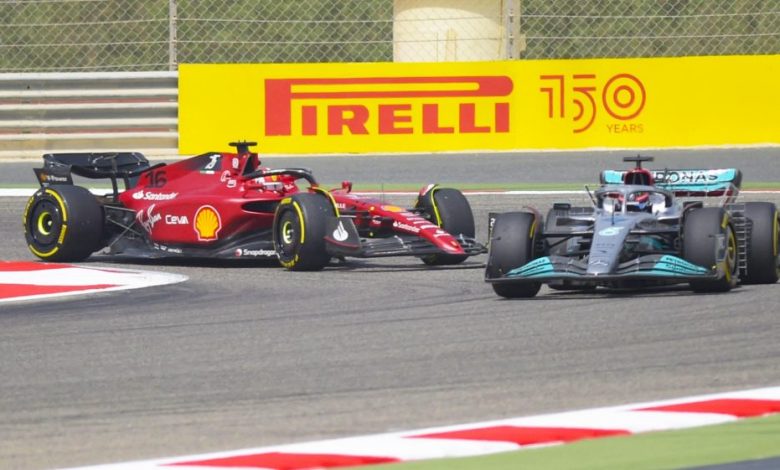 "Ferrari suffer a double DNF", "Mercedes have an undriveable car", "Yet another disaster of a weekend for Ferrari", "Mercedes languish in qualifying" have now become common headlines 2022 in the world of F1. To those unaware it might just seem like a case of temporary bad luck, but to those who have been in the know about Formula 1 these past few years, know that something's not right- so what is it?
In 2017 and 2018 Mercedes and Ferrari were almost tripping over one another in their hotly contested championship battle. From 2019-2021 Ferrari were out of the running thanks to having a mid-field car akin to what Mercedes has in 2022. The only team to be able to fight with these giants – Red Bull Racing rejoined the battle for title supremacy in 2021 against Mercedes after having been dormant from 2014-2020.
In 2022, even before the start of the season there was speculation that this season would be the first in a long time where we would witness a titanic championship battle between 3 teams in the form of Red Bull, Ferrari and Mercedes, and the hype was real. Although, the hype soon started to turn into anxiety when Merc unveiled their 'zeropod' design with most fans thinking Mercedes W13 will be a rocket-ship on 4 wheels and that they are sandbagging. How is it then, that just 8 rounds in Red Bull sits a mind-blowing 80 points ahead of Ferrari, while Mercedes struggles to even come on the podium unless a few of the top teams have a retiring car. Mercedes are almost a second away from RedBull essentially fighting in the mid-field with a car that breaks backs… literally!
The venue is the 2022 Bahrain GP. Ferrari have developed what seems to be a really good car so, provided things go well, they could be in the mix for the title. Mercedes were coming off strong, fresh from clinching their 8th consecutive Constructor's title and almost their 8th consecutive Drivers' title as well. Red Bull were aiming to clinch both championships, and do one better than they did in 2021.
The end of the weekend saw Ferrari break their 911-day race win duck, Mercedes struggle all weekend only to achieve a decent result thanks to Red Bull's disastrous double DNF hardly a few laps from the end. By the end of the race, it was clear Ferrari were in for the championship and an equally fast RedBull Racing pacing alongside them. Mercedes on the other end were quite literally on the other end. It seemed then, that the battle would be between Ferrari and Red Bull for the title, though something shocking was how far back Mercedes had fallen since the 2021 Abu Dhabi GP!
The rounds progressed, and we finally end up at Baku, and here's a brief run down of the stats post-race which give an idea of what happened in these past 8 races:
Lewis Hamilton was out in Q1 purely based on pace at the Saudi Arabian GP for the first time since 2009 owing to what seemed to be a dangerously undriveable Mercedes W13 swerving around.
Carlos Sainz struggled to put pace in that Ferrari in almost every race, and has been well off teammate Leclerc's pace. That was a shocker considering how decent his performance was in 2021 which was his first year at Ferrari.
Charles Leclerc is achieving pole positions with relative ease. He has had 6 out of 8 pole positions in 2022 but has not been able to convert his most recent 4 consecutive pole positions into a race win. 3 of them owing to his team's blunders.
Red Bull on the other hand, despite the double DNF at Bahrain and another DNF for Max at Australia, are absolutely dominating the field, winning every race since Imola.
Both of Red Bull's drivers look to be in top form and the only hint of RedBull slowing down is if their starts to exist a Vettel-Webber like rivalry between Max and Sergio.
So how has this happened? How did an expected 3-way battle, supposedly to be dominated by the zero-pods Mercedes W13, become a 2-way title battle and then converted to a RedBull absolutely dominating? Let's break all 3 team's races down to understand where it all went wrong for them.
Bahrain: Ferrari secure a 1-2 with Leclerc and Sainz while RB suffer a double DNF, but their misfortune promotes Mercedes into 3rd and 4th place respectively.
Saudi Arabia: Hamilton struggles the entire race and only bags P10 while teammate Russell is P5, and the Ferraris and Red Bulls battle all race which ends with Max winning from Leclerc, Sainz and Perez.
Australia: Ferrari and Red Bull suffer one DNF each due to Sainz and Verstappen retiring respectively, while Leclerc dominates and wins from Perez and Russell. Hamilton finishes in 4th.
Imola: Disaster for Ferrari at home, as Sainz is spun and forced to retire while Leclerc makes an uncanny mistake. Hamilton is stuck behind Gasly all race long and finishes outside the points, while RB secure a 1-2 finish and Russell is 4th.
Miami: Verstappen wins from Leclerc, Sainz, Perez, Russell and Hamilton in a dull race.
Spain: Sainz spins but carries on while Leclerc suffers an engine issue and has to retire, while Hamilton plays catchup the entire race. RB secure yet another 1-2 as Russell finishes 3rd.
Monaco: Strategy blunder by Ferrari sees them throw away a 1-2 while Red Bull benefit from this and the finishing order is Perez, Sainz, Verstappen and polesitter Leclerc falls to 4th. Russell is 5th while Hamilton is a distant 8th.
Azerbajan: Disaster for Ferrari sees Sainz retire with BBW failure, while Leclerc's engine expires with plumes of smoke billowing from the back. RB secure yet another 1-2 finish while Mercedes secure a 3-4 with Russell and Hamilton, albeit being so far off the Red Bulls that sans the Ferrari troubles they wouldn't have gotten a podium.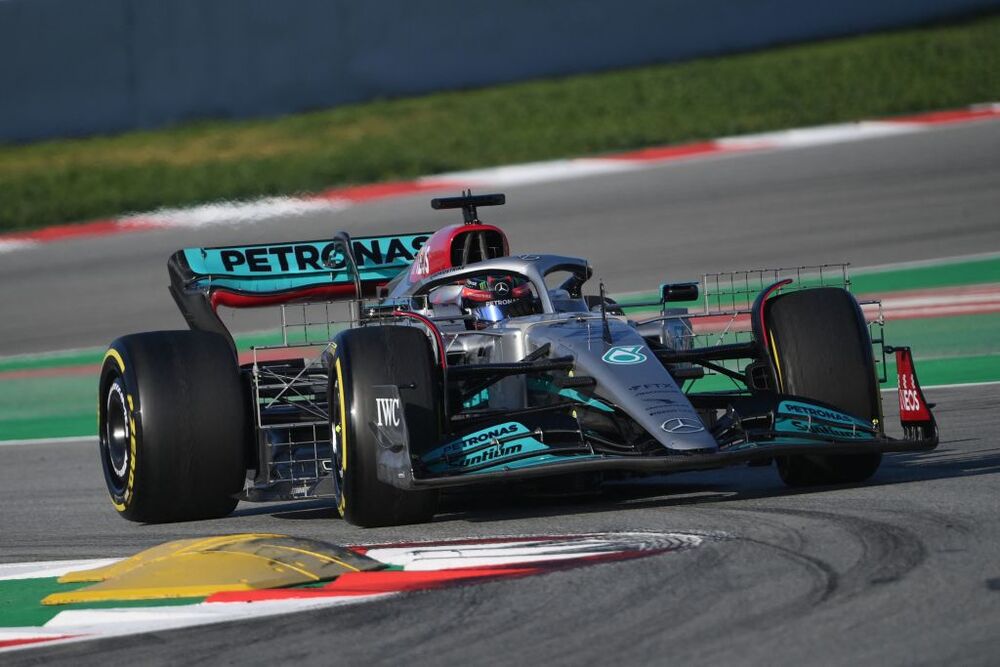 With this in mind, let's see where it's gone wrong for both Ferrari and Mercedes and what they could possibly do to remedy this.
Ferrari's Issue: 
The major issue with Ferrari is their inconsistency in the races. Leclerc does the job on Saturday, but Ferrari fumble more often than not on Sunday either with their strategy or with reliability. Two engine-related DNFs and bad strategy have seen Leclerc lose 75 potential points, which is inexcusable at this point in the season. As for Sainz, he seems to have accepted being the #2 driver for all intents and purposes.
At the moment, he's just way too far behind Leclerc in every race and has only finished ahead of him when Charles has been screwed over by reliability or strategy. Don't let that fool you though as Sainz needs one good weekend to gain his confidence back. He had really good pace in Baku and even his race engineer feels the same plus his extension with Scuderia will definitely add as another booster. If Ferrari can get a grip on their reliability issues and maybe bring a few upgrades to the car like how RB have done in the starting few races, they still have a chance to salvage something out of what seems to be a disastrous middle part of the season after starting so well. They need to be quick though- there are only so many races in a calendar year!
Mercedes' Issue:
Mercedes' issue is plain and simple – the car. George Russell quickly became Mr. consistent as Lewis Hamilton happily accepted the role of the more experienced driver of the team trying out different setups for the team to work on the car. This was revealed by Toto Wollf post Baku and Mercedes also admitted they took their cars and drivers a little too far. The W13 is proving to be very unlucky for Mercedes as this is the longest they've gone since 2011 without even achieving a single victory. The W13 is just not as fast or as the Ferrari or Red Bull, and despite showing flashes of improvements in Miami and Spain they are just miles behind in terms of performance.
The frustrating bit is that it is an aerodynamic masterclass but it does it way more that physics allows which leads to porpoising. In a recent video brief, their technical director explained that this isn't porpoising to that extent and is basically the car's suspension and the track's bumps not being a great combo. Their only saving grace is their reliability- unlike RB and Ferrari, Merc have not faced a single reliability concern until now, and both cars have finished every race- it's just their car's pace, or lack thereof which holds them back.
As for the drivers, Russell is used to outperforming poor machinery so he's able to perform well, while this is the first time in about 13 years that Lewis has a car incapable of even winning races (last was the 2009 McLaren), and he's just not found his mojo with the W13 yet. Provided Merc bring the proper upgrades over the season, they could be challenging for wins at least, and possibly even the second spot in the championship considering how RB isn't looking to relinquish the top spot anytime soon.
Thanks to this, here's what the constructor's championship looks like post the Azerbaijan GP (only top 3 teams):
Conclusion
Ferrari's tendency to have all the provisions only to then shoot themselves in the foot has seen a fast car be plagued with severe unreliability and their own mistakes in terms of strategy and more see them now sit a whopping 80 points behind RedBull. Mercedes, put simply, are out of contention for anything this year apart from developing a car that gets back to Mercedes levels by 2023. Formula 1, like other things in life, involve a lot of luck as well. RedBull have been on receiving end of some really good fortune since the 2021 Abu Dhabi GP changed Verstappen's destiny. Ferrari and Mercedes are on the other end right now as their count of fortuitous gains seems to have run out and needs some cooling down. Hamilton's seems to be taking a beating everytime there's a safety car and Leclerc is simply very very unlucky.
Ferrari's team principal Mattia Binotto labelled the terrible reliability and subsequent DNFs as "a concern." Understandably, being a team principal he won't say anything more but, this is not just a concern, this is wasted golden opportunities for victory. As for Mercedes team principal Toto Wolff, he labelled the car as a "s***box" but did say that he backed Mercedes' engineers to find a solution for the same. Their issues can be put down to the car being simply noncompetitive – they struggle to even be within 20-30 seconds of the leaders sometimes.
Ferrari and Mercedes are in a downward spiral, and this is allowing for Red Bull to run away unchallenged. They are winning races on the fly and take a commanding championship lead in doing so. However, this is Formula 1, and anything can happen in F1 as the late great Murray Walker once said. Provided Ferrari and Mercedes make the right calls and do the right things, who knows what could happen – after all, Red Bull's run of good luck and good form won't last forever!