Formula 1
Verstappen leads the way as rain looms over the track – FP1 highlights from the Canadian GP
As the drivers ventured around the Circuit Gilles Villeneuve for the first time since 2019, we saw a host of mistakes and errors though thankfully no major crashes.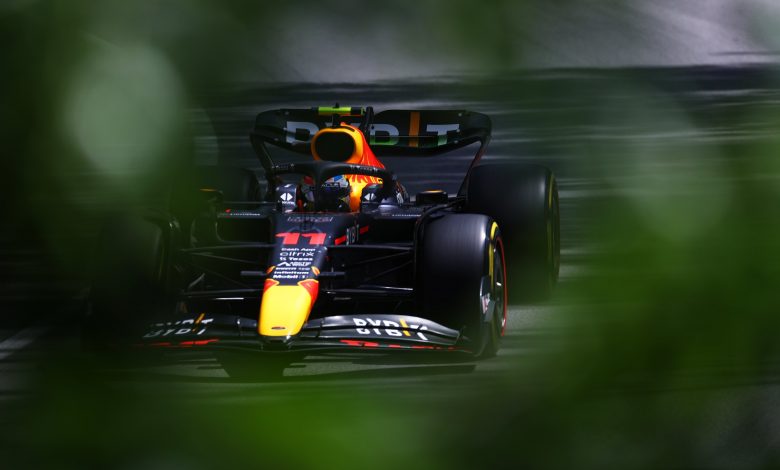 FP1 for the Canadian GP was a rather uneventful session , with not much happening apart from the odd lockup or missed braking point being the only bit of entertainment we got all session. Nonetheless, it was the first time in 1105 days that an F1 session had been held at the Circuit Gilles Villeneuve, and here's the session report.
The start of the session was quiet, with not much in terms of action. Drivers slowly filed out onto the track, though as soon as it got underway it was over for Esteban Ocon, the Frenchman's front right brakes smoking which forced him to make an early and quite unscheduled visit to the pits, though thankfully for him it didn't end his session. It later emerged that a stray paper towel had hampered his running– an unusual obstacle for an F1 car!
Drivers split their choice of tyre, with the soft tyres and medium tyres having quite similar pace,,at least during this session. Alonso had a close call with the infamous Wall of Champions, though Yuki did clobber the wall at Turn 9 though thankfully for him he was able to continue on.
That was a close one, @alo_oficial! 😅

The @AlpineF1Team ace managed to avoid the wall and finished practice third 🙌#CanadianGP #F1 pic.twitter.com/nF6M0p0Tid

— Formula 1 (@F1) June 17, 2022
We saw a very brave groundhog partake in some daredevil activities, and emerging victorious from it as well- a happy ending! Traffic was a concern in the final stages of the session, with a few drivers having their laps affected due to slower moving traffic ahead of them. The session ended with Max Verstappen leading the way from the two Spanish drivers , Sainz and his compatriot Alonso. Interestingly, while most fast laps were set on the soft tyre, Alonso's was set on the mediums. El Plan in action!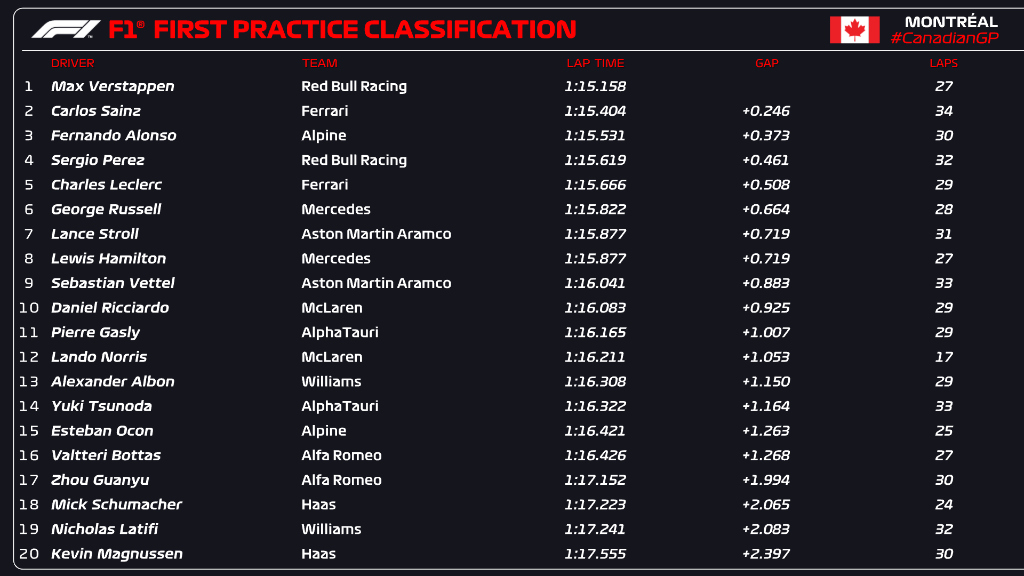 Leclerc, Ocon and Tsunoda will all change their engines this weekend, with Tsunoda set to start from the back of the grid. This session also saw Leclerc finish outside the Top 2 in a FP1 session for the first time this year, and he was an uncanny half a second down on Verstappen's fastest time.
The Aston Martin duo looked strong, with Stroll looking to perform well at his home track. The other Canadian didn't have such a good FP1, finishing the session P19. Haas and Alfa Romeo look like they'll have a tough weekend ahead, while the midfield looks to be quite closely matched. As we wait for FP2, the threat of rain looms heavy on the drivers as dark clouds covered the track for most of FP1- let's see what programs the teams decide to run in FP2, coming next up!