Formula 1
Verstappen edges ahead of Leclerc by 0.081 seconds – FP2 highlights from the Canadian Grand Prix
The running order was a bit shuffled in FP2, as we saw a few surprise results up and down the field.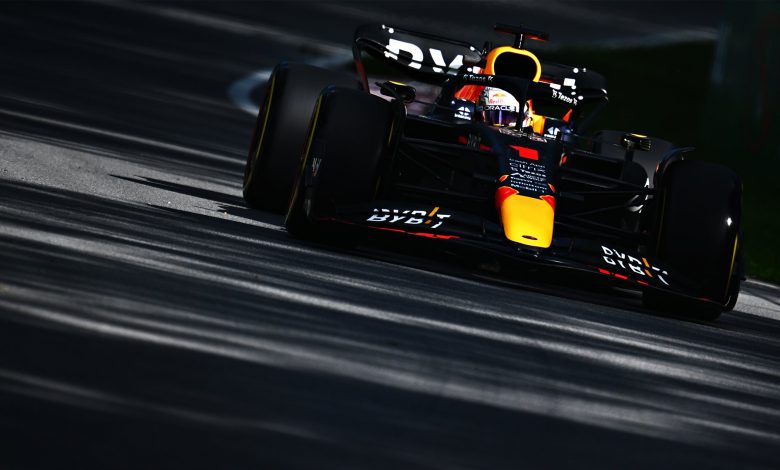 FP2 just like FP1 was a quiet session, with not much happening in terms of drama and the session mostly being devoid of action. Drivers were still finding the limits, and some pushed beyond the limit and will be investigated by the FIA post the session for it. Without any further ado, here's the session report.
The start of the session saw drivers come out on different tyres, with some opting for the hard tyre as well. The initial few laps were quiet, but soon Bottas was forced to come into the pits after a car issue ended up being terminal, with anti-stall being enabled on multiple occasions all around the lap.
Max continued to dominate the track, though was being closely followed by both Ferrari cars, Leclerc being just over 8 hundredths behind Max. Further back, both Aston cars and Gasly cut the track in an unacceptable manner as per the FIA at the Turn 13-14 chicane, and are under investigation for the same currently.
[Not liked by the FIA]#CanadianGP #F1 pic.twitter.com/x2eCvSKkB6

— Formula 1 (@F1) June 17, 2022
Good friends and former teammates Lando Norris and Carlos Sainz had a close call in the pitlane, though made it through without making contact with one another. Max was told over the radio that a few drops could approach the track by the end of the session, though if he was worried about it he needn't have been, as despite dark clouds hovering over the track the heavens did not open at the end of the session after all.
Max led the session, followed closely by Leclerc and Sainz in P2 and P3. Vettel surprised everyone by going a fantastic P4, while Alonso was an equally brilliant P5. Towards the end we saw drivers focus on high fuel runs, and traffic troubled quite a few drivers on their hotlaps.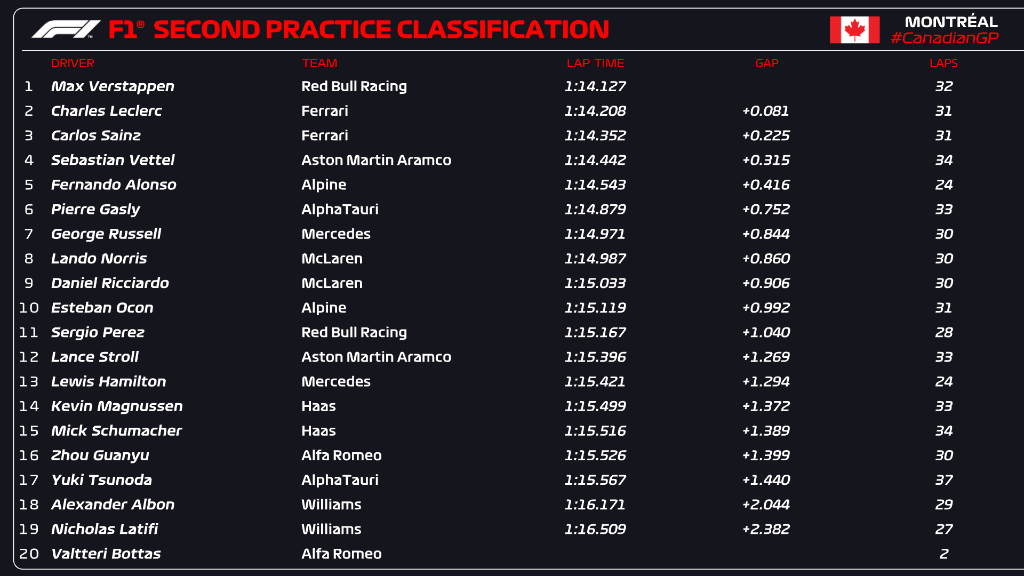 McLaren were a comfortable P8 and P9, while the top 8 comprised of drivers from 7 different teams! Perez had a poor run on his hotlap on the softs which only got him P11, while Hamilton had an even worse session, finishing unlucky P13. Haas seemed to have picked up the pace, though the battle to avoid being the slowest team will likely be a close one come Qualifying.
And with that, Friday practice is over. The likes of Alpine and Aston Martin have shown some good pace, while Max seems to be in control. With the possibility of penalties affecting the grid, the lineup is most certainly not clearly defined- at least not as of now. We might see some surprises- do stay tuned for Qualifying tomorrow!