Formula 1
Alonso leads the way from Gasly as the pecking order is shuffled up at a wet Montreal- FP3 highlights
With rain showers present throughout the session, FP3 saw the usual culprits missing from the top of the timesheets.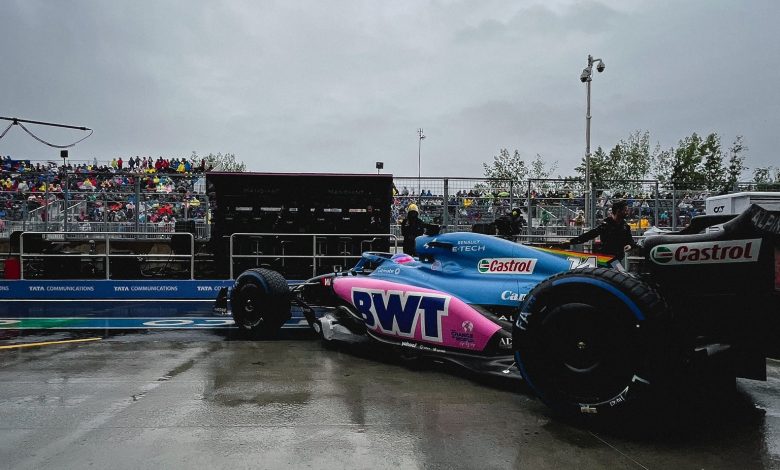 FP3 was a damp and wet session around the Circuit Gilles Villeneuve, the final time teams and drivers had a chance to practice their setups and race pace prior to Qualifying and the all-important race. Unfortunately, the heavens opened and rain showers were on the track throughout the session, curtailing much in terms of progress for the drivers.
The session started with drivers coming out on the full wet tyres, as they struggled to navigate their way through the spray. We saw many mistakes and errors by drivers, and considering how FP1 and FP2 were dry it's understandable why they struggled.
We saw a whole host of mistakes- the likes of Sainz, Magnussen, Vettel, Tsunoda and many others struggled on the wet track despite being on the full wet tyres, showing how difficult the track was to drive on. Alonso and Vettel were doing well and were temporarily P1 and P2- are we back in 2012 already?
Alonso P1
Vettel P2

Rolling back the years! 😀#CanadianGP #F1 pic.twitter.com/5SLeFGcA3j

— Formula 1 (@F1) June 18, 2022
As the session progressed further, the track became drier but was certainly in no shape for the slick tyres, so the drivers came out on the intermediates. Despite the track being faster, it certainly wasn't about to let the drivers have a smooth time- Magnussen and Verstappen had very, very close calls and almost went into the wall in the process as well, though held it together.
The session ended with Alonso on top, leading Gasly and Vettel who were a superb P2 and P3 respectively. Alonso's Alpine teammate Ocon was P4, with the two McLaren cars in P5 and P6. Russell was the highest-placed usual suspect, but even he was down in 7th!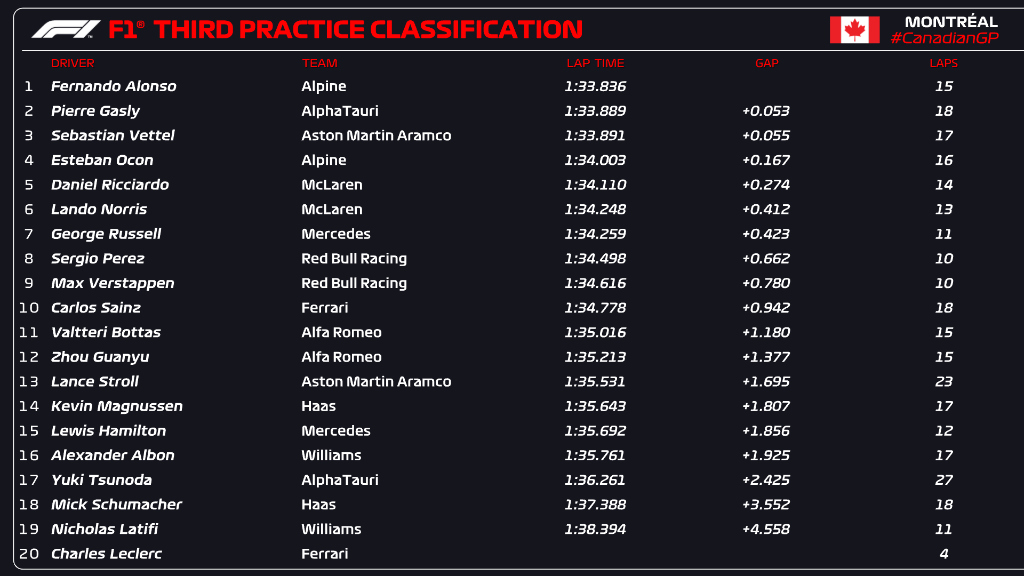 The two Red Bulls were P9 and P10, while Sainz was sandwiched between them and the two Alfa Romeo cars. Lewis Hamilton was an uncanny P15, while 3rd-placed driver in the championship Leclerc did just 4 laps, and as per the latest news will start right at the back of the grid after taking all new engine elements, and will accompany Yuki Tsunoda on the back row of the grid. Next up is Qualifying, and with the session scheduled to be held in wet conditions, it certainly isn't one to be missed!