Formula 1
A resurging Mercedes, superfast Ferrari and the RedBull struggle! 2022 British Grand Prix Free Practice highlights
Some wet weather, a fierce Hamilton and struggling RedBulls graced the tricky, wet and windy running in Free practice at Silverstone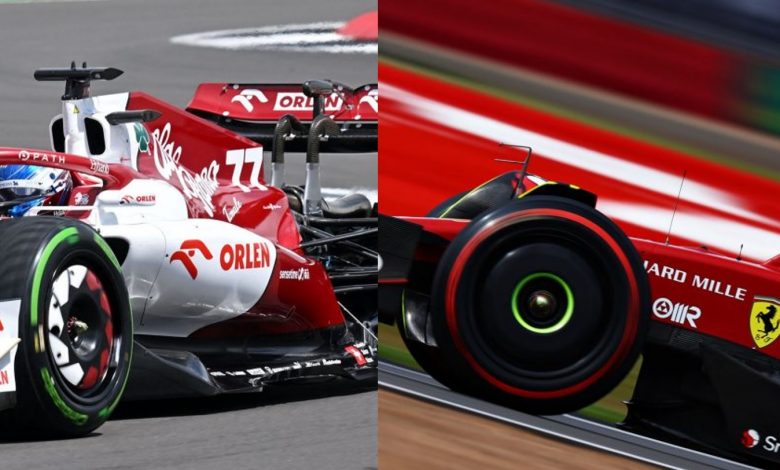 Free Practice 1
Straight away if you see the time sheet, we have ex-teammates Valtteri Bottas and Lewis Hamilton in the top 2 amongst only 10 of the 20 drivers who set a lap time. The rest, including both RedBulls, could only do shakedown laps in the extremely greasy and wet conditions. It was so bad that only turn 6 and 7 was good enough for full inters. Yet, it was Lewis Hamilton who went out on slicks owing to the rather dry track apart from T6 and 7 securing himself P2 in his quick looking Mercedes.
Mercedes have brought in a host of changes for increased downforce at this smooth and high speed corners of Silverstone. There's a new floor in place as well to help with the porpoising as Hamilton explained that the porpoising didn't feel harsh on the body anymore. For teams like Mercedes, Haas, Alpine, Williams and Aston Martin, it was a very frustrating session as the teams couldn't gather much data from a rainy session. It stopped during the end of the session with a choice of taking the slicks on the inters where we saw Hamilton going for the slick.
Securing P1 was Hamilton's ex-teammate and best friend on the grid, Valtteri Bottas. Bottas did a stellar job with a lap time of 1:42.249 taking his Alfa Romeo quicker than the Ferraris as well. Tricky conditions even meant that there wasn't much action in terms of lap-times as well since only 10 drivers set their laptimes while the remaining 10 only did some shakedown laps. Here's the timing sheet:
POS
DRIVER
TIME
GAP
LAPS
1
77
 
ALFA ROMEO FERRARI
1:42.249
9
2
44
 
MERCEDES
1:42.781
+0.532

s

10
3
55
 
FERRARI
1:42.967
+0.718

s

8
4
16
 
FERRARI
1:43.801
+1.552

s

7
5
47
 
HAAS FERRARI
1:43.895
+1.646

s

3
6
24
 
ALFA ROMEO FERRARI
1:46.171
+3.922

s

4
7
20
 
HAAS FERRARI
1:48.161
+5.912

s

3
8
18
 
ASTON MARTIN ARAMCO MERCEDES
1:51.243
+8.994

s

5
9
22
 
ALPHATAURI RBPT
1:51.373
+9.124

s

5
10
5
 
ASTON MARTIN ARAMCO MERCEDES
1:59.168
+16.919

s

5
11
63
 
MERCEDES
2
12
11
 
RED BULL RACING RBPT
3
13
31
 
ALPINE RENAULT
2
14
14
 
ALPINE RENAULT
1
15
23
 
WILLIAMS MERCEDES
1
16
3
 
MCLAREN MERCEDES
4
17
10
 
ALPHATAURI RBPT
3
18
4
 
MCLAREN MERCEDES
4
19
6
 
WILLIAMS MERCEDES
1
20
1
 
RED BULL RACING RBPT
3
Free Practice 2
A fully dry Free practice was the need of the hour and we got just that with FP2. Albeit, it was a gust of wind that caught out the likes of George Russell, Max Verstappen, Lando Norris and the likes at Turn 3. The headwinds were seen at the end of FP1 which continued to challenge the drivers in Turn 3. It was an unpleasant moment for those that went too deep due to the winds.
Topping the time sheets was Ferrari's Carlos Sainz giving us a rather quick 1:28.942, just 0.163s faster than Lewis Hamilton who was leading Lando Norris by 0.013s only. A confusing part of the session was that the Mercedes were dangerously close to the top 2 in terms of race pace but were somehow not able to manage the same over a single lap. This could mean a very interesting qualifying as we see a rather fast Mclaren rise up. The Mercedes team also studied drafting as the British fans saw their favourites George Russell chasing and overtaking Lewis Hamilton. Hamilton went on with an aggressive setup that exaggerated bouncing on the corners losing a part of the floor of Hamilton's W13. Interestingly, Hamilton was able to feel that at almost 200 KPH!
It was Max Verstappen in P4 behind Lando Norris who was again almost outperforming his car. Verstappen though, wasn't too unhappy with the struggle of RedBull as they know they have the pace and expected the Ferraris to be quite quick. What we should keep our eyes out for is a possible Mercedes resurgence which might just set off RedBull. Here's the timing sheet:
POS
DRIVER
TIME
GAP
LAPS
1
55
 
FERRARI
1:28.942
28
2
44
 
MERCEDES
1:29.105
+0.163

s

21
3
4
 
MCLAREN MERCEDES
1:29.118
+0.176

s

29
4
1
 
RED BULL RACING RBPT
1:29.149
+0.207

s

18
5
16
 
FERRARI
1:29.404
+0.462

s

25
6
14
 
ALPINE RENAULT
1:29.695
+0.753

s

19
7
11
 
RED BULL RACING RBPT
1:29.753
+0.811

s

17
8
63
 
MERCEDES
1:29.799
+0.857

s

29
9
3
 
MCLAREN MERCEDES
1:29.902
+0.960

s

26
10
18
 
ASTON MARTIN ARAMCO MERCEDES
1:29.942
+1.000

s

17
11
77
 
ALFA ROMEO FERRARI
1:30.000
+1.058

s

29
12
5
 
ASTON MARTIN ARAMCO MERCEDES
1:30.057
+1.115

s

20
13
31
 
ALPINE RENAULT
1:30.238
+1.296

s

12
14
23
 
WILLIAMS MERCEDES
1:30.263
+1.321

s

14
15
24
 
ALFA ROMEO FERRARI
1:30.271
+1.329

s

27
16
22
 
ALPHATAURI RBPT
1:30.338
+1.396

s

29
17
20
 
HAAS FERRARI
1:30.480
+1.538

s

27
18
10
 
ALPHATAURI RBPT
1:30.510
+1.568

s

28
19
47
 
HAAS FERRARI
1:30.609
+1.667

s

29
20
6
 
WILLIAMS MERCEDES
1:31.326
+2.384

s

27